Our Best Gluten-Free Recipes of 2022
We are wrapping up 2022 with a list of our best gluten-free recipes from 2019. From best dinner recipes, easy chicken recipes, healthy muffin recipes, dessert recipes and warming soups, these gluten-free recipes are absolute the best!
What is only gluten free recipes blog?
If you are new to onlyglutenfreerecipes (OGFR), our recipes are well known for their 15 minutes hands-on prep time. Each recipe link goes directly to the recipe and facts that relate only to the recipe. You know what I am talking about!
The recipes are put together quickly and can be made by novice cooks or seasoned chefs. In addition, the recipes are made without refined sugar whenever possible, and we use healthy fats such as extra virgin olive oil.
This year we added an instant pot category. The instant pot recipes have been very successful, so keep checking for the latest gluten-free instant pot recipes because there is more to come.
Currently, we have well over a thousand gluten-free recipes on our website featuring countries such as Thailand, Eastern Europe, India, Mexico, and Italy and more.
We started in 2014 and have been rapidly growing each year. This post features only the best gluten-free recipes downloaded in 2019.
Gluten-free products
With the explosion of the gluten-free diet, gluten-free products are on the rise, and sales are projected to exceed $2 billion the following year. This makes buying gluten-free ingredients much easier compared to 10 years ago when gluten-free products were difficult to find.
One thing I would like to talk about is gluten-free flour blends. Sometimes I will use a gluten-free all-purpose flour blend in my baking. The reason is to simplify the recipe. BUT, please keep in mind that all blends are made with different ingredients.
Some blends also include milk, so if you are vegan or follow a dairy-free diet, this flour blend is not for you. This is why in my recipes, I recommend which gluten-free flour blend works the best in that particular recipe.
The results may vary if you decide to use a different blend than the one I suggested. There is one blend I will NEVER use. It is the one that includes bean flour. This blend does not work in my gluten-free baking. Sorry 🙁
And please, if you have any questions or concerns, email me, and I will respond as soon as possible. I always love to hear from you!
What is Celiac disease? The quick answer.
Celiac disease is an immune-mediated enteropathy driven by dietary gluten present in wheat, rye and barley. Celiac disease is a somewhat common disease, and yet we still know so little about it, and in many cases goes undiagnosed.
If you follow a gluten-free diet because you are gluten-intolerant, have Celiac disease or use gluten-free products because you feel it is a healthier choice, these gluten-free recipes are for you.
Our Best gluten-free recipes of 2022
Knowing which are the best gluten-free recipes may help you decide which recipes you should try first.
Balancing the vegetables with noodles and the flavourful sauce is the success of this stunning dish. Stir fries are a quick way to cook and the short time means all the ingredients retain most of their flavour, texture and nutrients
Keep it simple tonight with this easy one-skillet chicken dish. The Santa Fe Skillet Chicken dinner has excellent blended flavours combined with beans, corn, tomatoes and topped with melted cheese.
Using fresh and simple ingredients is what makes this potluck Italian pasta salad flavourful and light. The pasta, tomatoes and bocconcini are marinated in fresh parsley, basil, garlic, fresh lemon juice and olive oil, making this gluten-free salad unforgettable
Cottage pie also known as shepherd's pie, what is the difference? The difference is the meat. Shepherds pie is made with lamb and cottage pie is made with beef. This deliciously flavoured cottage pie has fluffy cheesy potato topping and can be made in less than an hour.
This indulgent dish is fragrant and spicy but not excessively hot. The effect is exotic but not overpowering. This casserole is layered with lamb, potatoes, collards and cheese baked in a light cream
Ordinarily, chicken paprikash is served over pasta or rice. In this recipe, I cooked the pasta in the sauce allowing the pasta soak up flavours of the amazing sauce. This one pot wonder takes only 25 minutes to cook, making this an easy gluten free weeknight meal that even the pickiest eater will love
Using only a few ingredients this recipe takes minutes to whip up. The chocolaty brownies come out light and scrumptious. I have added walnuts to this paleo brownie recipe, which is entirely optional but the walnuts add flavour and a just the right texture
When it comes to gluten-free noodles, Soba (buckwheat noodles) are most nutritious. I have adapted this amazing noodle dish to a vegan recipe so everyone can enjoy it. In addition, the sauce will make you drool, tying everything together perfectly. For Monday night dinner, this spicy soba noodle dish is the best, because you can have it on the table in less than 30 minutes.
With only a few basic ingredients, you can make gluten-free thumbprint cookies that your entire family will love. What I love about this gluten-free cookie recipe is that you can personalize it by using a jam of your choice. Because the jam sweetens the cookie, I was able to cut back on the sweetener. I recommend doubling the recipe because they go very fast.
If you are following a keto diet, you will enjoy these Minnie blueberry cheesecakes. All you need is 6 ingredients and they take only minutes to prepare. The best part, you don't have to bake them and the cheesecakes taste heavenly. Now you can have a keto dessert without worrying about the extra carbs! Total net carbs per each cheesecake is only about 2.25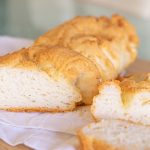 The bread is crusty on the outside and soft and pillowy on the inside. If you love white bread, this recipe is for you. The recipe is super easy to whip up using only 7 ingredients plus the basics such as water and salt. There is no lengthy kneading, and the results are exceptional.
The recipe is super simple. Only 6 ingredients, imagine that. To make the cookie, I first started with almond flour. Then to sweeten them, I added powdered sugar. To keep them buttery tasting, I added some butter, and for an added bite, I added finely chopped pecans. Once they finished baking, I coated them in some powdered sugar.
Most delicious African beef stew slow-cooked in a coconut sauce flavoured with African spices. Cooking with ethnic spices adds diversity and uniqueness to our food, such as in this recipe. The spices such as ginger, paprika, curry and cinnamon combined with coconut milk enhance the flavours of the tender beef and veggies.
Tiramisu is an amazing traditional Italian dessert oozing with rich cream, ladyfingers and coffee liquor. This gluten-free tiramisu is made from scratch, including the ladyfingers. The recipe may seem complicated, but it is actualy straight forward
Hungarian goulash can be served as a stew or as soup, depending on how much water you add to the goulash. The traditional Hungarian spices are what give this Goulash authentic and robust flavour. When serving the goulash as a stew traditionally you would add pasta
This vegetarian stuffed butternut squash recipe is simple to make, gluten-free and all you need is four ingredients plus spices. The squash is stuffed with a most delicious gooey cheesy filling which is made with yogurt, cheddar cheese and green onions. This recipe is super easy to put together making this an easy healthy meal for a busy weeknight.
When it comes to gluten-free baking, there is nothing simpler to make than scones. Savoury scones are especially popular because they can replace bread for when making sandwiches
Moroccan chickpea and rice salad is about spices and plenty of fresh lemon juice. This simple to prepare vegan dish isn't a weekday salad, but an exotic "company's coming" salad. The salad is packed with intense flavours and various textures. It is healthy and most delicious!
An excellent way to use up overripe bananas is to make banana bread. In this recipe, I wanted more flavour than just bananas, so I added my favourite blend of chai spices such as cinnamon, nutmeg, cardamom and fresh ginger. Because I wanted to keep this recipe healthier, I didn't add sugar and used only olive oil for fats
Crispy Gluten-free Southern Fried Chicken. Many of us love fried chicken, especially when it is coated in a tasty, crispy coating. In this southern recipe, the chicken is coated in a light egg-free buttermilk batter seasoned with spices. I have also added flaxseed to the batter, which gives the chicken that crispy coating.
Preserving the past in this classic walnut date loaf without gluten is magical. See why it is so healthy and oh so delicious. Dates are rich in fiber and iron and walnuts are rich in omega-3 fats and powerful antioxidants. For a boost of energy or a healthy breakfast, have a slice of this highly nutritious walnut date loaf
Roasted Stuffed Poblano Pepper is a very tasty Mexican dish! Poblano pepper filled with delicious ingredients such as black beans, cheese, tomatoes, cilantro and lime juice bring out a stunning harmony of flavours. When your appetite calls for Mexican food, nothing beats a roasted stuffed poblano pepper.
This is probably one of the easiest gluten-free cookie recipes I have created. All you need is 4 ingredients and a food processor. The delicious cookies are chewy on the inside, crispy on the outside and are made without refined sugar.
Let me show you how to make hearty casserole dinner for a lazy night. Typically chicken enchilada is an assembly of various ingredients and then rolled in a corn tortilla. In this gluten-free chicken enchilada casserole, there is very little work, and the result is a lasagna type casserole with chicken. Think of it as enchilada lasagna, you will love it!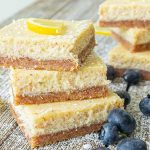 These Keto Cream Cheese Lemon Bars are silky smooth, lemony with a buttery shortbread almond crust. Besides being keto, they are gluten-free and grain-free. Does it get any better than this? The combination makes for a truly dreamy, summer dessert and only about 3 net carbs per slice :-).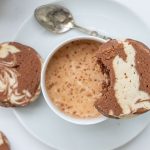 Made with only six simple ingredients that you probably have in your pantry already. Butter, gluten-free flour, cocoa, vanilla, salt, and sweetened only with pure maple syrup. The shortbread cookies are pretty almost looking like the top of a cappuccino, and they are extra delicious.
This gluten-free, vegetarian burrito has all the delicious ingredients of a burrito but without the tortilla. This Mexican dish is made with black beans, tomatoes, bell peppers, rice, cheese, and plenty of cilantro. For the spices, I used the traditional chili powder, cumin and garlic
The bread has everything you are looking for in a white sandwich bread. Firstly it is delicious, light, soft, moist and tastes just like the sandwich bread you had when you were growing up. This is a basic gluten-free white sandwich bread recipe, so feel free to add some chia seeds, flax seeds, or pumpkin seeds if you wish
In this ramen salad, I used baby kale, edamame beans, julienned carrots, water chestnuts, roasted cashews, green onions and plenty of sesame seeds. To finish the salad I made the most flavourful sesame ginger dressing, trust me, it is so good! The salad got 10 out of 10 in our test kitchen.
Finding a gluten free bread recipe that is simple to make and tastes as good as this bread is not easy. In our test kitchen, we tried numerous combinations of ingredients to create bread that is healthy, tastes good and is simple enough for anyone to make.This rustic bread is packed with seeds and grains and is nutritious and delicious.
Who said gluten-free baking has to be complicated? This simple gluten-free cheese bun recipe uses only 4 ingredients plus salt. The tasty buns have a sourdough texture with cheese throughout. I especially like them toasted or lightly grilled on a barbecue and served with sliders.
Start your day with moist and delicious gluten free banana apple muffins. These dairy free muffins are sweetened mostly with fruit, and are high in protein and fiber. I promise you these muffins will melt in your mouth and your family will never know these banana apple muffins are gluten free.
Gluten-Free Spicy Chinese Noodles is a dish all about fresh crispy veggies mixed with noodles and flavoured with a spicy, chili garlic sauce. This Asian dish is better than take out, and you can make it under 30 minutes. There is so much flavour going on in this simple to make Chinese noodle dish
This is definitely the keto pasta recipe to add to this month's healthy recipes. Just imagine a low carb pasta smothered in the most flavourful Italian tomato cheese sauce. The sauce is spiced up with oregano, basil and bay leaves and to give the sauce some texture I added grated zucchini.
In this easy gluten-free recipe, I added coconut curry flavour making the broth rich and tasty. Ramen can be served just in a broth, but also with vegetables, soft boiled eggs, pork or chicken slices. This recipe is a quick version of the delicious soup keeping the flavours intense and delicious.
Beautiful, moist, fresh cranberries, dates, pecans and honey, makes for the most delicious holiday bread. In this recipe I am using my favourite ingredient, fresh cranberries, It doesn't get more festive than that. I have added a few dates to add sweetness and balance the tart cranberries.
Chickpea date fudge brownies are delightfully rich and indulgent, yet it is simplicity itself to prepare. I have added coffee and cardamom to this recipe, making this dessert more flavourful than your typical brownie. When following a restricted diet, it is nice to find a dessert recipe that is vegan, gluten-free and sugar-free
Just imagine tasty creamy broth with loads of tender veggies and noodles, it doesn't get any better than this. In this recipe I have explored with a new flavour and added cashew butter, adding rich flavour bringing this gluten-free ramen to another level
I can't tell you how delicious these gluten-free muffins are. They are moist and light, flavoured with chai spices, and the cranberries add a little sourness making them so good! I used olive oil for fats and zucchini to keep them moist.
If you were on a search for the perfect gluten-free oatmeal raisin cookie, you must try this recipe. I promise you will not be disappointed. Packed with raisins, hint of cinnamon and nutmeg, this gluten-free oatmeal raisin cookie is a winner! This cookie recipe is also dairy-free and refined sugar-free.
Shortbread is festive on its own but add a chocolate pecan layer over the shortbread and, well you know what I am talking about. It screams delicious!! I promise you, this chocolate pecan shortbread dessert will melt in your mouth
Who doesn't love a freshly baked muffin made from scratch? This is a basic gluten-free muffin recipe that can be used for a variety of muffins. I wanted to create a plain gluten-free muffin batter that is simple with as few ingredients as possible. The fun part is, you add your own mix-ins. There are many mix-ins options, such as berries, nuts, seeds, chocolate chips, cocoa, chopped apples, grated carrots, raisins the list is endless.
Thank you for your continual support and warm emails because this is why I work so hard and continue to create new recipes. I hope you enjoy our selection of the best gluten-free recipes from 2022.
Let's Connect!
Be sure to FOLLOW US on FACEBOOK or, check us out on PINTEREST. And don't forget to sign up for our newsletter. We always have something new and exciting for you!
Many thanks!
Kristina xx