Gluten-Free Spicy Chinese Noodles
Prep Time
10 Minutes
Difficulty
Beginner
Cook Time
15 Minutes
Serves
4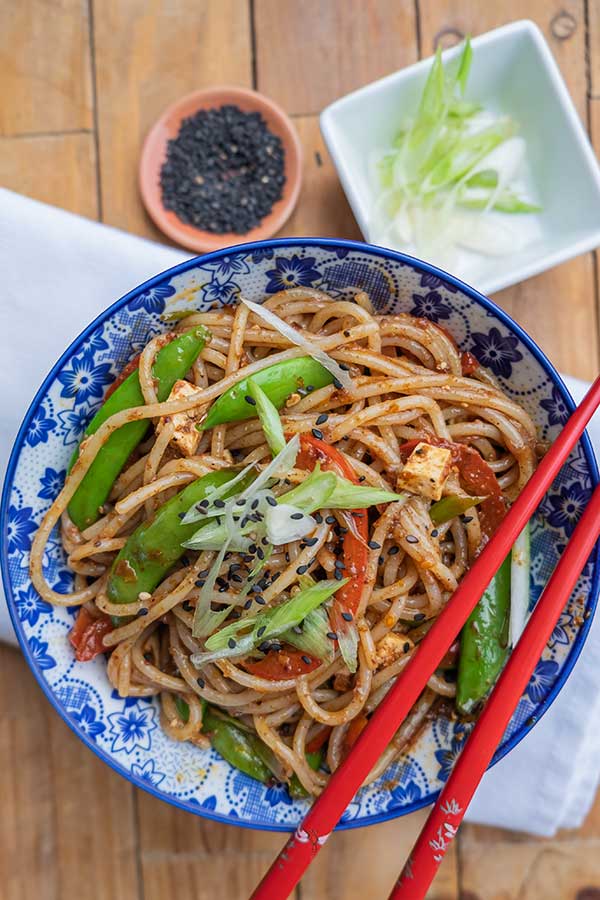 Average Rating: 5 | Rated By: 6 users
Gluten-Free Spicy Chinese Noodles is a dish all about fresh crispy veggies mixed with noodles and flavoured with a spicy, chili garlic sauce. This Asian dish is better than take out, and you can make it under 30 minutes. I must admit I love Chinese food, but eating out is not an option, because Asian food in most restaurants is not gluten-free. This tasty spicy Chinese noodle dish is healthier than take out because it is prepared without gluten, msg, unhealthy fats and loads of salt. This is why I always make Asian food at home. The fresh tender veggies are prepared to a crispy texture, the noodles are perfectly cooked, and everything is smothered in the most delicious chili garlic sauce flavoured with Chinese spices. There is so much flavour going on in this simple to make Chinese noodle dish. And did I mention that you can make this dish at a fraction of the cost. Although this is a vegan dish, you can easily change it by adding shredded cooked chicken, pork or chopped scrambled eggs. So if tofu is not your thing, replace it with your favourite protein. If you want to keep it vegan, replace the tofu with mushrooms. I especially love portobello mushrooms, because they are super flavourful
Only five minutes of prep time!
Most Asian dishes are all about prepping food. You know, chopping, slicing cleaning the veggies, getting the ingredients ready. Once everything is prepped, the entire dish takes only minutes to cook. In this recipe, the veggies I used are green onions, snow peas and bell peppers so very little prep time. Add the garlic, ginger and spices and top with sesame seeds. YUM! Once the noodles are cooked, you are almost done. The sauce takes virtually one minute, then you add the veggies and coat them in the delicious hot sauce. They take about 2 minutes to cook, leaving them crispy on the outside and tender on the inside. In the end, add the noodles and coat them with the chili garlic sauce and veggies. How easy is that? If you love Asian inspired dishes, check out the gluten-free recipes.
Ingredients
1 Tbsp. Toasted sesame oil or regular sesame oil (I prefer the toasted)
1 Tbsp. Minced or grated fresh garlic
1 Tbsp. Grated fresh ginger
2 Tbsp. GF low-sodium Tamari sauce
2 tsp. Pure maple syrup or desired sweetener
4 green onions, thinly sliced, plus some for topping
1 1/2 cup snow peas, trimmed
1 red or yellow bell pepper, cut into thin strips
8 oz. firm tofu cut into 1-inch cubes (optional)
Optional toppings; sliced green onions, white or black sesame seeds
Instructions
Cook the noodles per package directions in well salted water until al-dente. Then drain, do not rinse. The sauce will stick to the noodles if you do not rinse them.
When the noodles are almost done cooking, you can start the sauce; heat a large wok or a large non-stick pan over medium heat. Add sesame oil, garlic, ginger and spices. Stir and cook for about 30 seconds
Add tamari sauce, maple syrup, and hot chili oil. Stir well to combine Add green onions, snow peas and bell pepper and cook for 2 minutes stirring often. Stir in tofu and coat well with the sauce
By now, the noodles should be cooked and drained. Add the noodles and carefully mix to coat the noodles with the sauce and veggies. Done!
Note; depending how spicy you like the noodles, start with 1 teaspoon of hot chili oil, then taste and add more if you wish.
Similar Recipes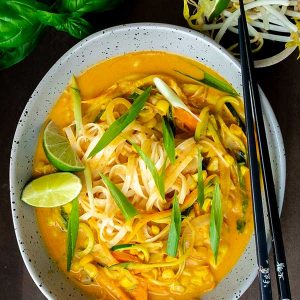 Coconut Curry Noodles With Fresh Vegetables (Vegan, Gluten-Free)
If I have a favourite curry noodle dish, this Coconut Curry Noodles with Fresh Vegetables is probably on top of my list. Healthy ingredients, simply prepared delivering oodles of flavour in a nutritious way. To make this coconut curry noodle dish, I used a mix of carrots, fresh corn, and zucchini. For the flavour I […] Read More
Prep Time
15 Minutes
Difficulty
Easy
Cook Time
10 Minutes
Serves
4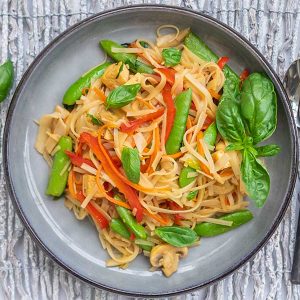 Gluten-Free Saucy Thai Noodles
This gluten-free Saucy Thai Noodles dish tastes just like takeout Thai food. The rice noodles and fresh vegetables are coated in the most delicious sweet and spicy Thai sauce made from scratch. You can add tofu or chicken, but it is not needed. This Thai noodle recipe is super easy and speedy, making it a […] Read More
Prep Time
15 Minutes
Difficulty
Easy
Cook Time
15 Minutes
Serves
4 - 6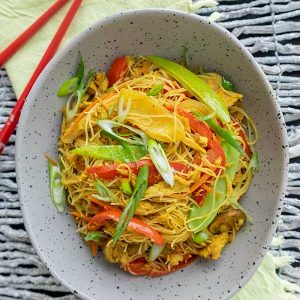 Leftover Turkey Singapore Style Noodles (Gluten-Free)
Leftover Turkey & Singapore Style Noodles – Let's talk about leftovers! I don't know about you, but I always have plenty of turkey leftovers and not enough gravy. Let's face it, turkey without gravy doesn't quite make it. So, this recipe using leftovers had to be flavourful, simple and with noodles. Noodles are my favourite, […] Read More
Prep Time
15 Minutes
Difficulty
Easy
Cook Time
10 Minutes
Serves
4