Gluten-Free Korean Noodles – Vegan
Published on Aug 20, 2022
by
Kristina Stosek
Prep Time:

10 minutes
Cook Time:

15 minutes
Serves:

4
​This post may contain affiliate links, please see our
privacy policy
for details
If you're looking for a delicious and easy vegan noodle dish, these gluten-free Korean noodles are a must try recipe! This Korean meal is made with rainbow colored nutritious vegetables, a spicy Korean sauce and toasted sesame seeds, changing simple noodles into an extra tasty noodle dish.
And best of all, this recipe takes just minutes to prepare! Another spicy noodle dish you may enjoy is the Gluten-Free Shanghai Buckwheat Noodles Recipe or the Gluten-Free Spicy Chinese Noodles.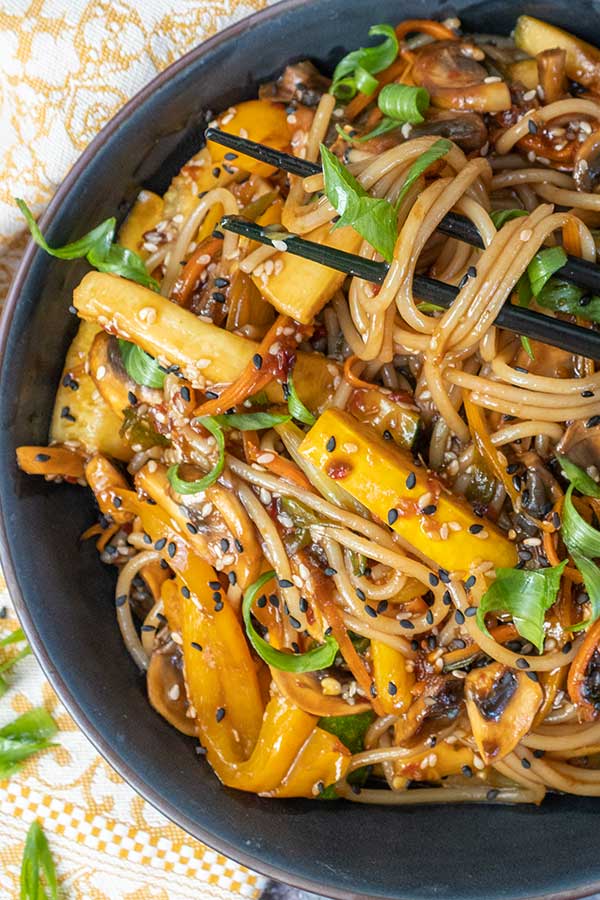 What are Korean noodles?
Korean noodles called called "guksu" or "myeon", are a type of glass noodle made from the starch of mung beans, potatoes, sweet potatoes, and or tapioca starch.
Glass noodles taste similar to wheat pasta, but they're slightly softer and are similar to rice noodles. They are usually thin and round and have a chewier texture.
Korean noodles can be eaten plain or with various toppings such as vegetables, meat or fish. They are a popular ingredient in Korean cuisine and can also be used in several dishes such as soups, stews and stir-fries.
Are Korean noodles gluten-free?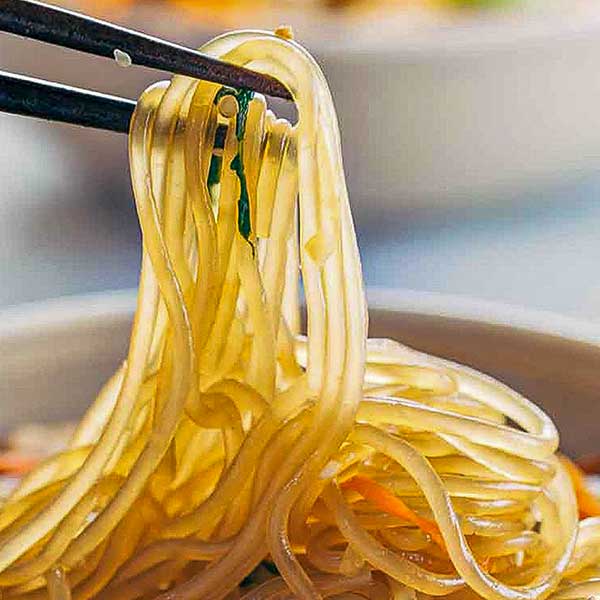 No, not all Korean noodles are gluten-free. However, many gluten-free options are available that are made from gluten-free starches.
How to cook Gluten-Free Korean noodles?
The noodles are cooked in boiling water like most other noodles. And are often added to stir-fried recipes, giving them a unique chewy texture.
Gluten-Free Vegan Korean Noodles recipe details
Prepare your veggies. You can use any vegetables as long as they are thinly sliced. The one exception is zucchini. It can be cut to bite size pieces because it cooks very quickly.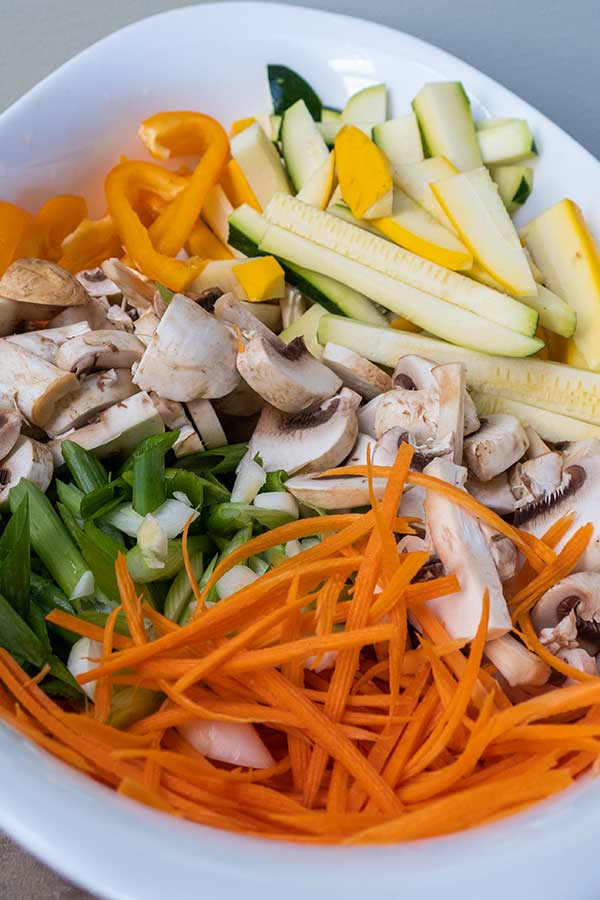 Cook the noodles per package directions and set them aside until you are ready to start the recipe.
Start with making the spicy Korean sauce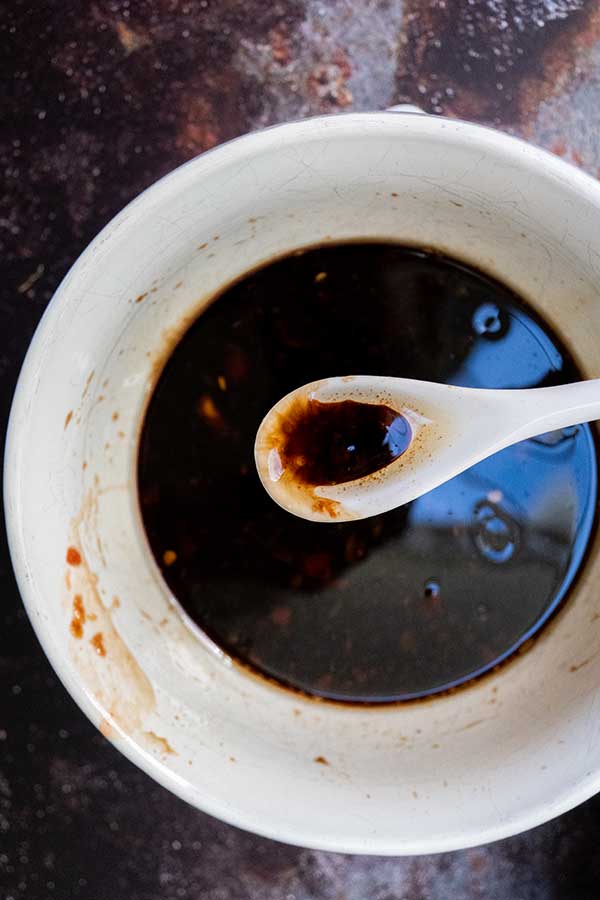 Follow with stir-frying the veggies in sesame oil and half the sauce. The reason for adding only half the sauce is that the veggies soak up the sauce and flavour, leaving you without sauce for the noodles.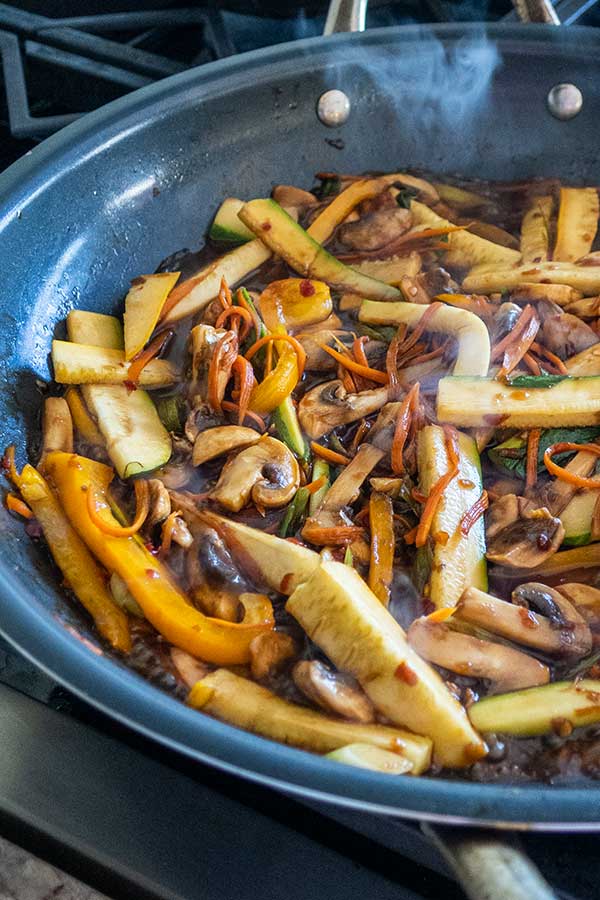 To finish, add the noodles, sesame seeds and remaining sauce. Cook while gently stirring until the noodles are coated with the sauce and heated through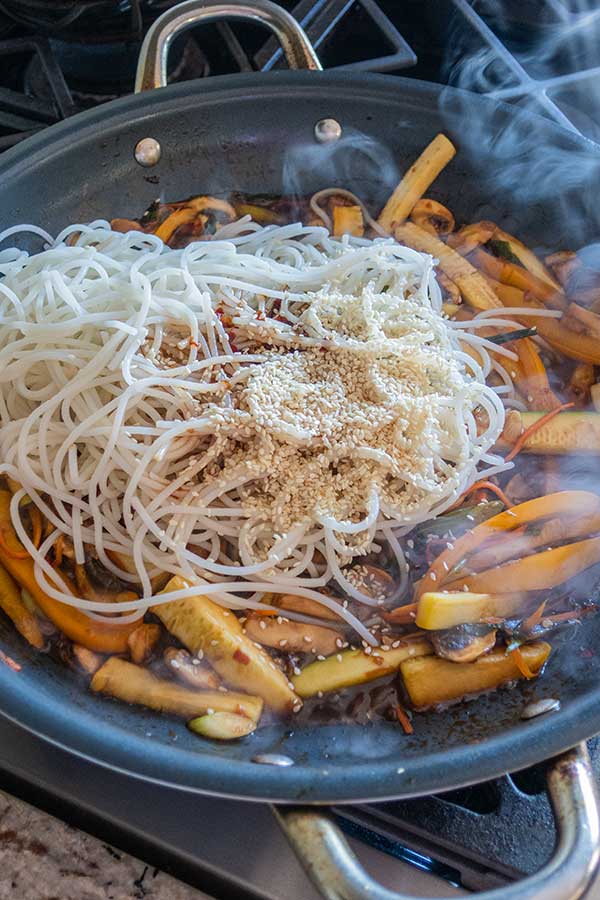 Once done cooking, allow the noodles to rest for about five minutes. This will allow them to soak up the flavorful sauce making the gluten-free noodles very tasty.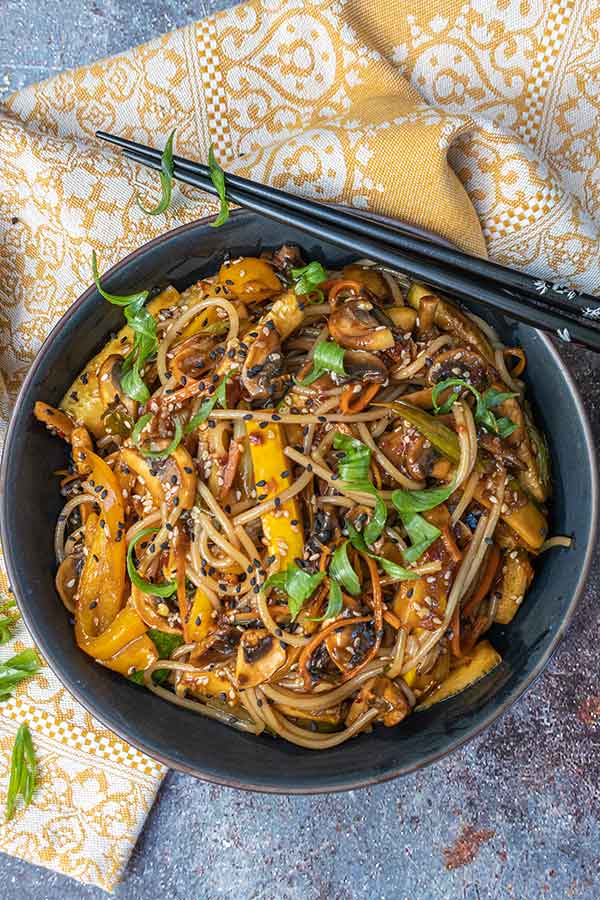 Serve with a sprinkle of toasted sesame seeds and sliced green onions.
Best sides to Korean noodles
Here are some ideas:
1. Kimchi – this traditional Korean side dish is made of fermented vegetables and is a great way to add spice and flavor to the noodles.
2. Protein – you can add fish, chicken or beef. Or plant-based protein like Crispy Tofu With Spicy Ginger Sauce
3. Salad – a light green salad often adds freshness to this Korean dish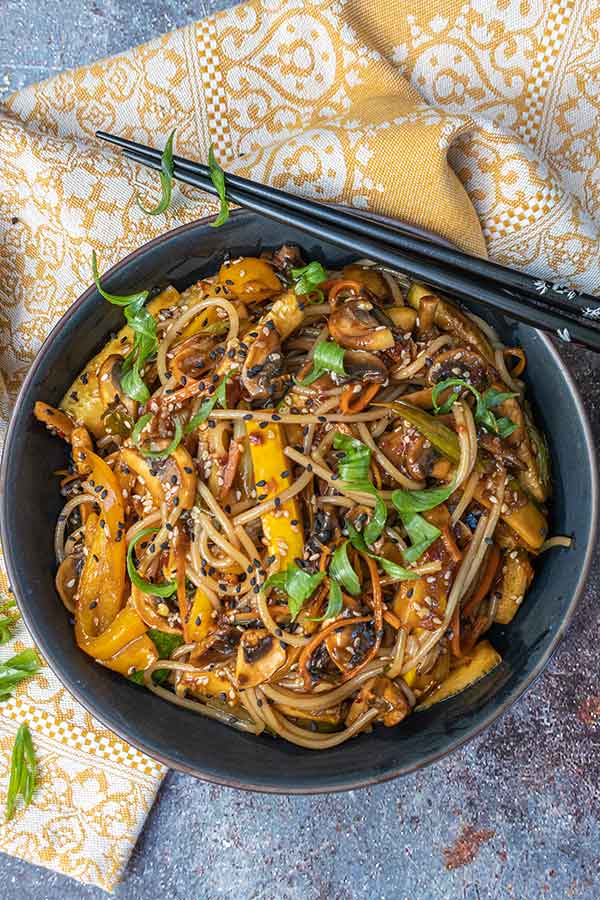 suggestions for plant-based protein
You can add plant-based protein to this gluten-free Korean noodle recipe and keep the recipe vegan. Ingredients like tofu, shitake mushrooms, edamame, peas, legumes and nuts are good sources of plant-based protein and fiber.
If you're looking for a delicious and healthy vegan meal, give this recipe a try. You can't go wrong with this spicy, gluten-free Korean noodle dish. These noodles are coated with a flavorful spicy sauce, packed with nutritious veggies, and the recipe is super easy to make. Enjoy!
Let's Connect!
Be sure to FOLLOW US on FACEBOOK and PINTEREST.
Many thanks!
Kristina xx
Gluten-Free Korean Noodles – Vegan
Published on Aug 20, 2022
by
Kristina Stosek
Instructions
1.

2.

Combine all the ingredients in a bowl

3.

4.

Heat sesame oil over medium-high heat in a wok or a large skillet. Add the vegetables and stir fry until the vegetables start to soften, about 3 minutes

5.

Add half the sauce and cook for 1 minute

6.

Add the noodles and sesame seeds and top with the remaining sauce. Gently stir to coat the noodles with the vegetables and cook until the noodles are heated through. Set aside for 5 minutes, then gently stir. 

7.

To serve, divide the noodles between bowls and top with thinly sliced green onions and extra sesame seeds. Enjoy!
Leave a Comment
Kristina
Sheila the recipe is at the bottom of the post
I can't find the recipe for the sauce ?? I see the picture. No recipe? Did I miss it?