Crispy Tofu With Spicy Ginger Sauce
Prep Time
5 Minutes
Difficulty
Easy
Cook Time
10 Minutes
Serves
4 small appetizers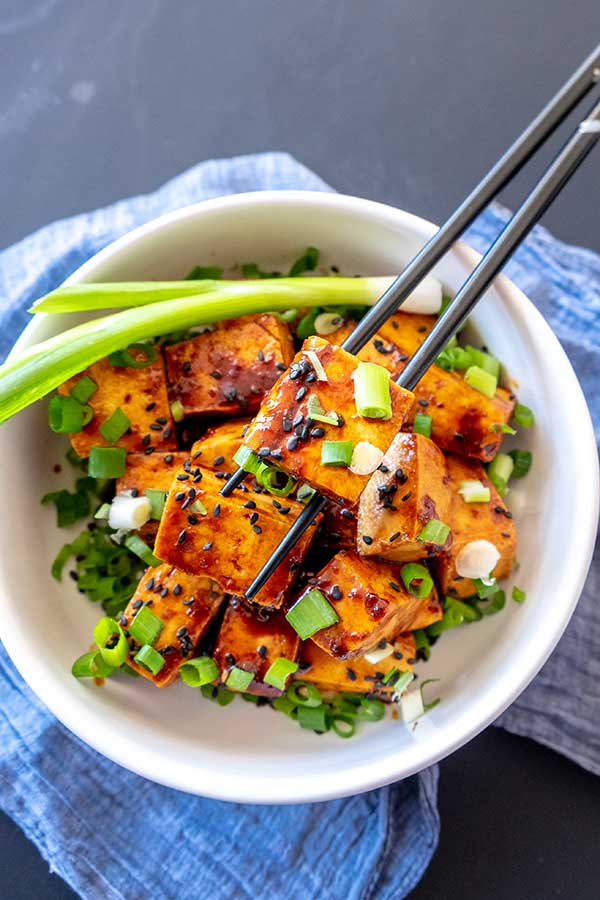 Average Rating: 4.5 | Rated By: 18 users
Enticingly delicious, Crispy Tofu With Spicy Ginger Sauce → So few ingredients and only a few minutes of cooking, turns simple tofu into the most flavourful light vegan meal or a snack.
Tofu is the milk of soya beans. Rich in protein and virtually tasteless, the silky textured tofu works exceptionally well with tasty sauces.
Tofu is like a sponge, it will absorb the flavours in which the tofu is cooked in. In some countries, they refer to tofu as the 'meat of the fields'
Only two steps to make this crispy tofu with spicy ginger sauce.
First, you crisp tofu cubes in some hot coconut oil. Then you add a sauce that is flavoured with tamari sauce, ginger, sriracha, maple syrup, garlic, sesame oil and vinegar.
The sauce is simple to make, all you do is whisk everything together and then add to the wok with the crispy tofu. Heat the sauce while coating the tofu until it starts to thicken. This takes about 2 minutes. Done!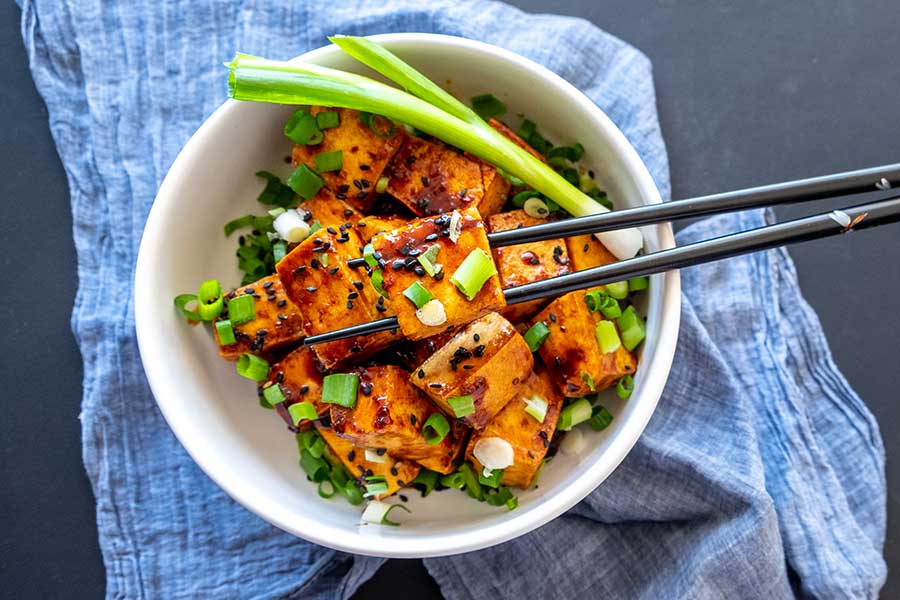 To serve, if you are thinking of a light lunch serve the tofu over rice. If you are looking for a snack serve as is.
I often serve this vegan dish as an appetizer when I am entertaining. Just before serving top with freshly sliced green onions and sesame seeds.
The best part, you can make this incredibly delicious crispy tofu dish under 15 minutes. Another spectacular tofu recipe is the Rice Noodles Red Pepper Snow Peas and Tofu in Curry Sauce
Ingredients
350 g package extra firm tofu, drained and dried with paper towel, cut into 1 1/2-inch cubes
1 Tbsp. Coconut oil
1 Tbsp. fresh minced ginger
1 Tbsp. pure maple syrup
1 garlic clove, minced
2 tsp. toasted sesame oil
1 tsp. Rice vinegar
1/2 tsp. tapioca starch
2 green onions (spring) thinly sliced
1 Tbsp. Black sesame seeds for topping (optional)
*As an Amazon Associate and member of other affiliate programs, I earn from qualifying purchases. Please check out my sponsorship and disclosure policy page for more details
Instructions
Using a wok or a large non-stick pan heat coconut oil over medium-high heat. Add tofu cubes and cook on all sides until crispy. About 5 minutes
While the tofu is getting crispy, using a medium bowl whisk together tamari sauce, ginger, sriracha, maple syrup, garlic, sesame oil, vinegar and tapioca. Add to the wok and reduce heat to low. Cook while coating the tofu and the sauce starts to thicken. About 2 minutes
Transfer to serving bowls and sprinkle with green onions and sesame seeds
Similar Recipes
Tandoori Faux Chicken Quinoa Bowl (Vegan, Gluten-Free)
I am super excited about this Tandoori Faux Chicken Quinoa Bowl – there is so much flavour going on in this Indian spiced vegan dish. Whether you are following a plant-based diet or need a break from meat, this dish is beyond delicious even without meat! ♥ For the tandoori faux chicken. In this recipe, […] Read More
Prep Time
15 Minutes
Difficulty
Easy
Cook Time
25 Minutes
Serves
4
Soba With Vegetables In Coconut Ginger Sauce
A bowl of healthy soba topped with a rainbow coloured vegetables cooked in the most flavourful coconut ginger sauce. This gluten-free healthy noodle dish is oozing with so much flavour and various textures, making it a bowl of comforting goodness!  What is soba? Authentic soba are noodles made from buckwheat flour and are often used […] Read More
Prep Time
15 Minutes
Difficulty
Easy
Cook Time
35 Minutes
Serves
4
Gluten-Free Vegan Schnitzel
Gluten-Free Vegan Schnitzel is so good that you will add it to your weekly repertoire of recipes – There is nothing more satisfying than a crispy schnitzel. Yes, a little indulgent, but oh sooo good! Schnitzels originate from Austria and are typically made with veal, pork or chicken coated with flour, eggs, and breadcrumbs, then […] Read More
Prep Time
10 Minutes
Difficulty
Easy
Cook Time
6 each Minutes
Serves
4