Crispy Tofu With Spicy Ginger Sauce
Published on Jul 14, 2018
by
Kristina Stosek
Prep Time:

5 minutes
Cook Time:

10 minutes
Serves:

4 small appetizers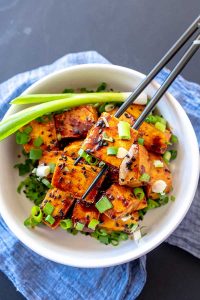 ​This post may contain affiliate links, please see our
privacy policy
for details
Enticingly delicious, Crispy Tofu With Spicy Ginger Sauce — So few ingredients and only a few minutes of cooking, turns simple tofu into the most flavourful light vegan meal or a snack.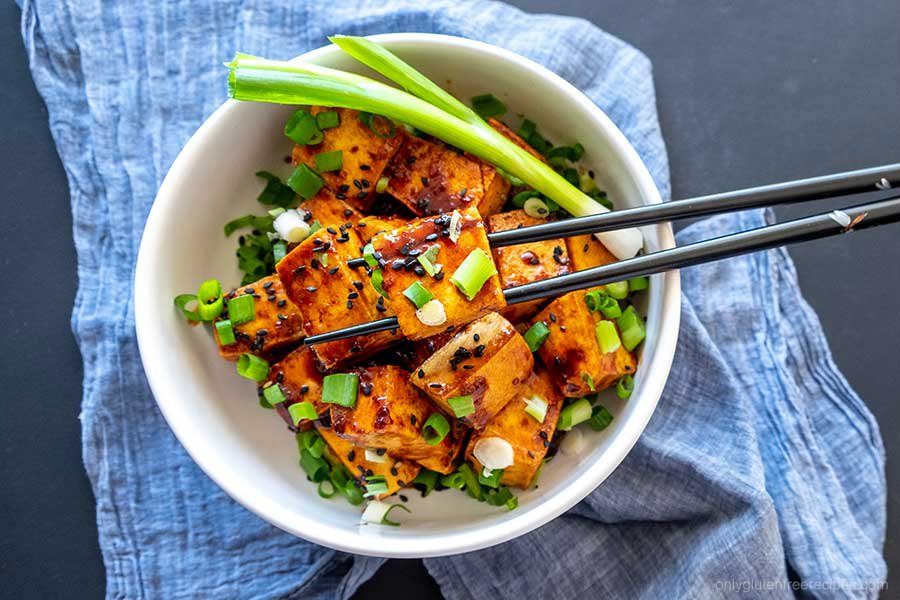 What is tofu?
Tofu is the milk of soya beans. Rich in protein and virtually tasteless, the silky textured tofu works exceptionally well with tasty sauces.
Tofu is like a sponge, it will absorb the flavors in which the tofu is cooked in. In some countries, they refer to tofu as the 'meat of the fields'
2 step crispy tofu with spicy ginger sauce recipe
First, you crisp tofu cubes in some hot coconut oil. Then you add a sauce that is flavoured with tamari sauce, ginger, sriracha, maple syrup, garlic, sesame oil and vinegar.
The sauce is simple to make, all you do is whisk everything together and then add to the wok with the crispy tofu. Heat the sauce while coating the tofu until it starts to thicken. This takes about 2 minutes. Done!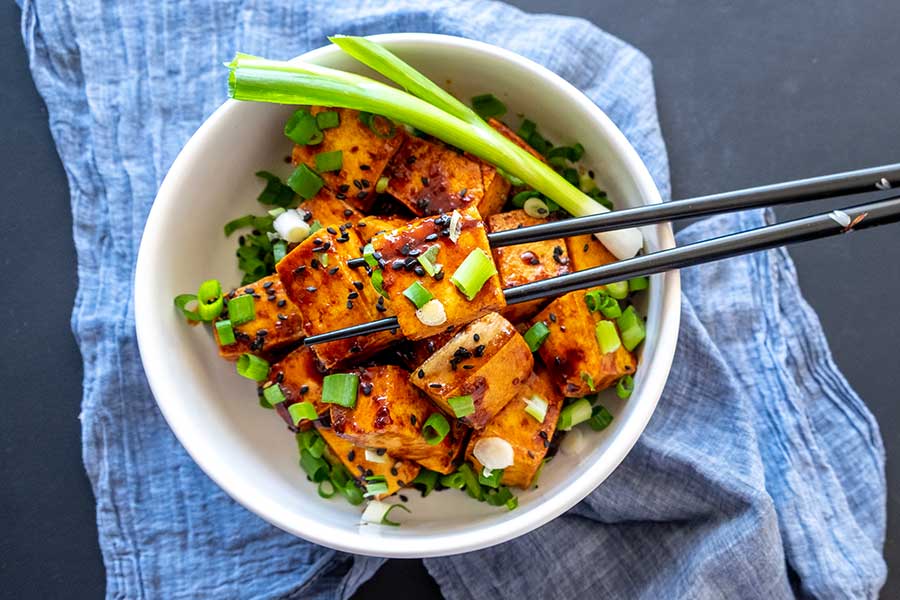 What to serve with Crispy Tofu With Spicy Ginger Sauce?
If you are thinking of a light lunch serve the tofu over rice like the flavorful 5 Spice Rice With Raisins or the exotic Saffron Rice With Mint. Or for a snack, serve as is.
I often serve this vegan dish as an appetizer when I am entertaining. And to add freshness, just before serving a sprinkle of freshly sliced green onions and sesame seeds.
The best part, you can make this incredibly delicious crispy tofu dish in under 15 minutes. Another tasty tofu dish is the Rice Noodles Red Pepper Snow Peas and Tofu in Curry Sauce.
Let's Connect!
Be sure to FOLLOW US on FACEBOOK and PINTEREST. And don't forget to sign up for our newsletter, the form is at the bottom of this page. We always have something new and exciting for you!
Many thanks!
Kristina xx
Crispy Tofu With Spicy Ginger Sauce
Published on Jul 14, 2018
by
Kristina Stosek
Instructions
1.

Using a wok or a large non-stick pan heat coconut oil over medium-high heat. Add tofu cubes and cook on all sides until crispy. About 5 minutes

2.

While the tofu is getting crispy, using a medium bowl whisk together tamari sauce, ginger, sriracha, maple syrup, garlic, sesame oil, vinegar and tapioca. Add to the wok and reduce heat to low. Cook while coating the tofu and the sauce starts to thicken. About 2 minutes

3.

Transfer to serving bowls and sprinkle with green onions and sesame seeds