Gluten-Free 5-Spiced Rice With Raisins
Prep Time
15 Minutes
Difficulty
Easy
Cook Time
30 Minutes
Serves
4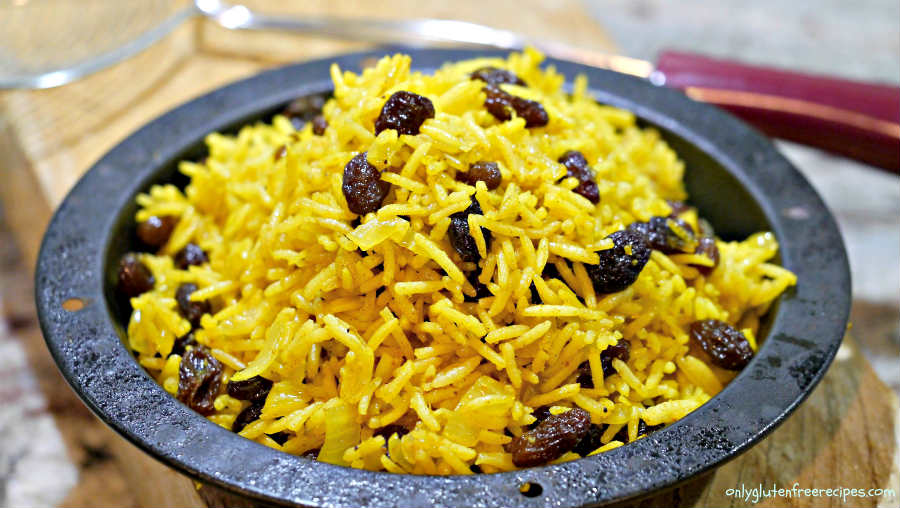 Average Rating: 4 | Rated By: 1 users
This rice is lightly spiced with Asian spices and sweetened with raisins. When you are serving chicken, pork or beef, adding this flavourful rice will add a bit of ethnicity to your gluten-free meal.
Ingredients
1 ¾ cup GF basmati rice
3 cups water
1 GF bay leaf
½ tsp. sea salt
1 Tbsp. + 1 tsp. coconut oil or extra virgin olive oil
1 small sweet onion, finely chopped
2 garlic cloves, minced
1 Tbsp. freshly grated ginger
½ tsp. GF ground cinnamon
½ tsp. GF turmeric
½ tsp. GF curry powder
1 cup GF sulfite-free raisins
1 Tbsp. pure maple syrup
Instructions
In a medium-size pot add rice, water, bay leaf, sea salt and 1 teaspoon of coconut oil. Bring to boil, cover and reduce heat to low. Cook for 15 minutes. Remove from the heat, discard bay leaf, fluff up the rice with a fork and cover for another 5 minutes.
In a non-stick frying pan or wok add 1 tablespoon of coconut oil and onions. Cook over low heat for 5 minutes. Add garlic, ginger, cinnamon, turmeric and curry powder and stir to combine
Add raisins and maple syrup, and then while stirring add rice in batches until done. Remove from the heat and enjoy
Similar Recipes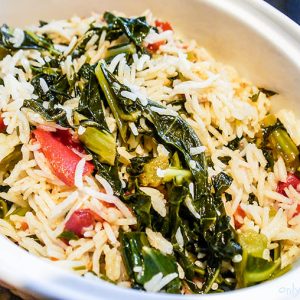 Collard Greens Tomato and Garlic Rice
Stay on top of tasty rice delights with healthy collard greens, tomatoes, and garlic. This vegetarian side is loaded with super nutrients such as vitamin A, K, C, Calcium and is also high in fiber. Collard greens make a nice change to kale or cabbage Read More
Prep Time
10 Minutes
Difficulty
Easy
Cook Time
25 Minutes
Serves
4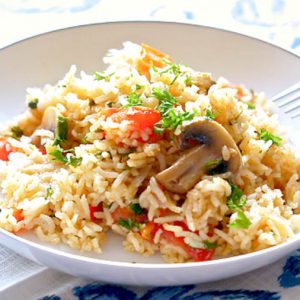 Gluten Free Spanish Rice Recipe
The rice in this recipe is flavoured with spices and vegetables.  Serve as a vegetarian main with a salad or as a side with ribs or chicken Read More
Prep Time
10 Minutes
Difficulty
Easy
Cook Time
25 Minutes
Serves
4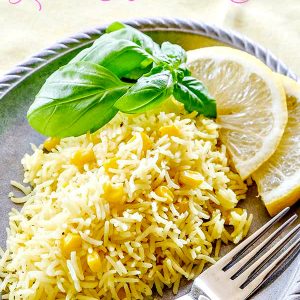 Indian Lemon Rice with Corn Recipe
Why have plain rice when you can indulge in this easy to make Indian lemon rice with corn dish. The rice is perfectly flavoured with Indian spices and then finished with fresh lemon juice. One of the wonderful things about this rice dish is its versatility. Serve with curry, vegetable stews, and meats or simply […] Read More
Prep Time
5 Minutes
Difficulty
Beginner
Cook Time
20 Minutes
Serves
4