5 Spice Rice With Raisins
Published on Aug 08, 2022
by
Kristina Stosek
Prep Time:

15 minutes
Cook Time:

30 minutes
Serves:

4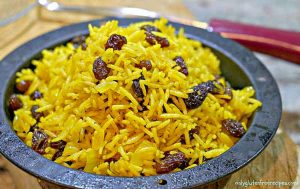 ​This post may contain affiliate links, please see our
privacy policy
for details
If you're looking for a delicious and healthy way to spice up your rice, look no further than this gluten-free 5 spice rice with raisins recipe! This dish is packed with flavor, thanks to adding 5 different spices, fresh ginger and sweet raisins.
Following a gluten-free diet can be challenging. Many common foods contain gluten, and it can be difficult to find substitutes that are both tasty and nutritious. Even spices, not all spices are gluten-free.
What is a 5 spice blend?
5-spice is a blend of 5 spices commonly used in Chinese cooking. The five spices are cinnamon, cloves, fennel, star anise, and Sichuan pepper.
This spice blend adds flavor to meats, soups, and stews. You can also use it to make a simple seasoning for rice or noodles.
When I created this Chinese-style rice recipe, I tweaked the spices, which made this rice dish even more delicious.
As mentioned above, we know what the original 5 spice mix is. However, I wanted a little extra flavour, so I replaced the Chinese 5 spice blend with turmeric, cinnamon, bay leaf, curry powder and fresh ginger.
I also added maple syrup. The extra sweetness complimented the spices, fresh ginger and especially the raisins.
Why add raisins to rice dishes?
Raisins are a common ingredient in Chinese rice dishes.
There are many reasons to add raisins to rice. Raisins add sweetness, flavor, and texture to the rice. They can also help to keep the rice moist.
Raisins are a healthy addition to rice, as they are a good source of fiber and vitamins.
You can add raisins to rice before or after cooking. If you add them before cooking, the flavors will have a chance to meld together. If you add them after cooking, the raisins will retain their shape and texture.
Either way, raisins make a delicious and healthy addition to rice.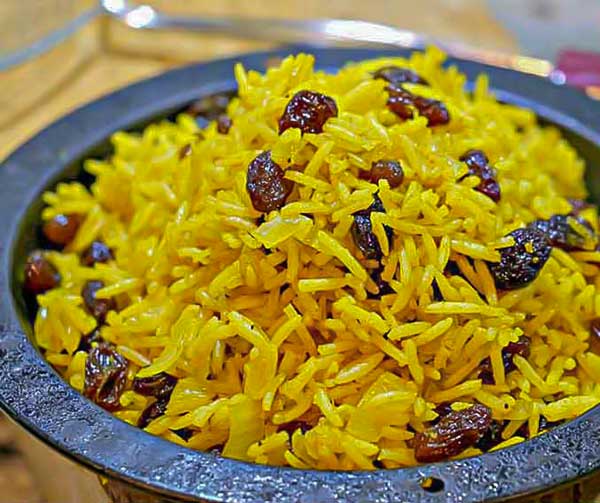 FAQs about 5 spice rice
What is gluten-free 5 spice rice?
5 spice rice is a Chinese dish flavoured with cinnamon, cloves, fennel, star anise, and Sichuan pepper.
Is rice gluten free?
Yes, rice is naturally gluten free.
How do you make 5 spice rice?
5 spice rice is made by cooking rice in a mixture of five spices, a sweetener, oil and water or broth.
Serving suggestions for 5 spice rice?
There are many things you can serve with the Chinese rice side dish. Some popular options include chicken like the fabulous Crispy Chicken a l'Orange, beef, vegetables, and keep it plant-based and serve the rice with Crispy Tofu With Spicy Ginger Sauce.
Is 5 spice rice spicy?
No, the spices used to flavor the rice are typically not spicy. Instead, they are earthy with a tendency to sweetness.
Is rice healthy?
There is some debate over whether or not rice is healthy food. Some people believe it is healthy because it is a good source of complex carbohydrates. Others believe that rice is not a healthy food because it is high in starch.
Rice does contain a lot of starch. However, it is also a good source of complex carbohydrates. Complex carbohydrates are an essential part of a healthy diet. They help to keep your blood sugar levels stable and give you lasting energy.
Rice is also low in fat and calories and a good source of vitamins and minerals. It also contains fiber, which can help to promote digestive health.
Rice is an integral part of a healthy diet.
recipe substitutions
If you're looking to make a gluten-free version of this dish, you can make a few substitutions. First, instead of using regular rice, use gluten-free rice. Some rice brands are not gluten-free.
You can substitute the raisins for other dried fruit, such as apricots, dried cranberries or dates.
Lastly, use a gluten-free spice blend instead of the regular one to keep this recipe gluten-free. Not all spices are gluten-free.
Best variety of rice for Chinese rice dish
A couple of different types of rice can be used for Chinese rice dishes. Jasmine rice is popular as it has a light and fluffy texture. Basmati rice is another good option, as it has a slightly nutty flavor.
If you're looking for a gluten-free rice dish packed with flavor, this spiced rice with raisins is a great option. This dish is perfect on its own or as a side dish to the main course.
conclusion
One of the best things about this recipe is that it's so easy to make. You don't need any special ingredients or equipment. It takes only about 30 minutes from start to finish. And it's a great way to use up leftover rice. Enjoy!
Let's Connect!
Be sure to FOLLOW US on FACEBOOK and PINTEREST.
Many thanks!
Kristina xx
5 Spice Rice With Raisins
Published on Aug 08, 2022
by
Kristina Stosek
Instructions
1.

Rinse the rice in a fine mesh strainer under cold water until the water runs clear

2.

In a medium-size saucepan, add rice, water, bay leaf, salt and 1 teaspoon of coconut oil. Bring to a boil, cover and reduce heat to low. Cook for 12 minutes or until all the liquid is absorbed. Remove from the heat, discard bay leaf, fluff up the rice with a fork and cover for another 5 minutes

3.

In a non-stick frying pan or wok add 1 tablespoon of coconut oil and onions. Cook over low heat until the onions are transluscent. Add garlic, ginger, cinnamon, turmeric and curry powder and stir to combine

4.

Add raisins and maple syrup, and then while stirring add rice in batches until everything is well mixed. Enjoy hot