Crispy Chicken a l'Orange Recipe
Prep Time
10 Minutes
Difficulty
Easy
Cook Time
120 Minutes
Serves
6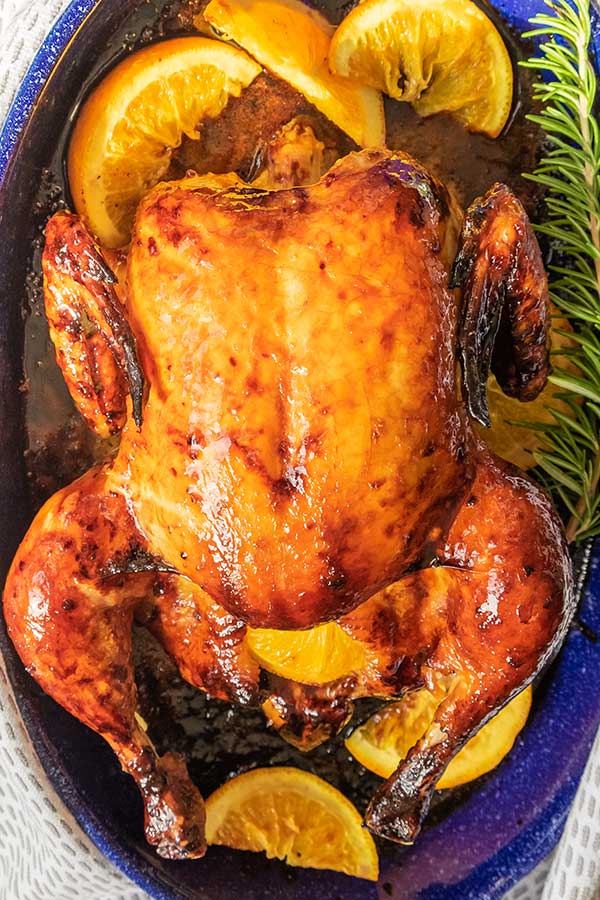 Be the first to rate this recipe.
This Crispy Chicken a l'Orange is utterly delicious. I based this recipe on a duck a l'orange, a recipe that originated in Italy and then migrated to France. To prepare this chicken, you first marinate it in a sweet and sour sauce, then roast to perfection. The recipe may seem complicated, but it is super easy to make. What I love most about this chicken a l'orange is the skin. The skin is super crispy, and has the most delicious tangy flavour…it is sooo tasty! The chicken is roasted to a golden orange colour and is super flavourful throughout. If you know how to roast a chicken, you will find that this recipe is just as easy. The chicken a l'orange doesn't have to be made only for special occasions, even though it tastes and looks amazing. If you are looking for a chicken dish that is more than just roasted chicken, this recipe is for you.
Several sides go exceptionally well with this chicken dish. My favourites are mashed potatoes and sewed red cabbage with apples, but you can also add roasted veggies, garlic mashed fauxtatoes, beet salad or vegan dirty rice. Chicken is probably one of the most prepared foods at home. Why not try something different and delicious such as this chicken a l'orange recipe. This dish is fantastic for when the company is coming, your guests will be impressed. Enjoy!
Ingredients
3 - 4 lb. chicken
3/4 cup orange juice concentrate
1/2 cup (1 stick) salted butter
1/3 cup honey
1 Tbsp. Orange zest
1 Tbsp. Grated ginger
1 garlic clove, grated or minced
Himalayan salt 
1 large orange, halved
Instructions
Lightly rub the entire chicken with salt
In a saucepan, add orange juice, butter, honey, orange zest, tamari sauce, ginger, garlic and 1 teaspoon of salt. Simmer over medium heat until the butter has melted and everything is blended
Bring sauce to room temperature, then refrigerate until the sauce solidifies into a paste
Rub the entire chicken inside and out with the sauce and place one half of orange in the chicken. Place the chicken in a roasting pan. Cut the other half of the orange into wedges and place around the chicken. Refrigerate for 2 - 4 hours. You should have about half a cup of sauce left for basting
Place the chicken into a preheated oven at 350 F and roast for about 1 1/2 to 2 hours, basting as needed. If the chicken starts to get too dark after about an hour, cover it with foil paper until done roasting. The internal temperature of the chicken should read 165 F when fully cooked
Similar Recipes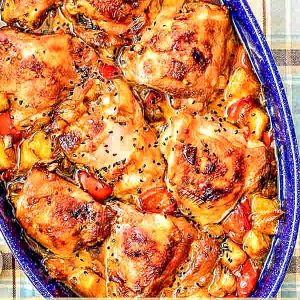 Baked Hawaiian Chicken with Pineapple
This gluten free baked chicken recipe takes minutes to prepare with amazing results. The chicken is tender with crispy skin smothered in Hawaiian pineapple sauce. Pineapple is surprisingly tasty in savoury dishes such as this one, giving it a zesty fresh flavour rather than sweet. Serve with any one of our gluten free rice sides Read More
Prep Time
15 Minutes
Difficulty
Easy
Cook Time
45 Minutes
Serves
6-8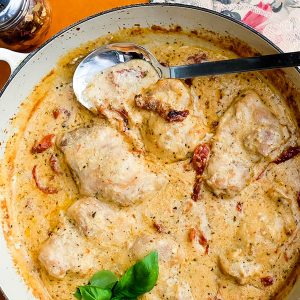 Chicken With Sundried Tomatoes in Cream Sauce
Discover a simple way to cook gourmet chicken in a flavourful Asiago cream sauce. Stumbling on this amazing dish through my travels in northern Italy, I have decided to include it in my favourite dinner recipes. The tender chicken soaks up a mildly flavoured cheese sauce infused with sundried tomatoes, and seasoned with Italian herbs, […] Read More
Prep Time
10 Minutes
Difficulty
Easy
Cook Time
35 Minutes
Serves
4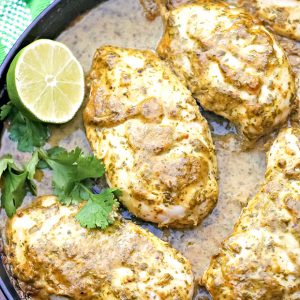 Cilantro and Lime Chicken
If you are looking for a healthy chicken recipe, look no further. Simple ingredients easily prepared to deliver complex flavour in a nutritious way. The chicken is marinated for ultimate flavour, and then baked keeping the chicken tender and juicy. Serve with quinoa, rice or steamed veggies. This naturally gluten free chicken dish doesn't get […] Read More
Prep Time
10 Minutes
Difficulty
Beginner
Cook Time
30 Minutes
Serves
4