Garlic Mashed Fauxtatoes (Keto)
Published on Jun 30, 2019
by
Kristina Stosek
Prep Time:

5 minutes
Cook Time:

10 minutes
Serves:

4 - 6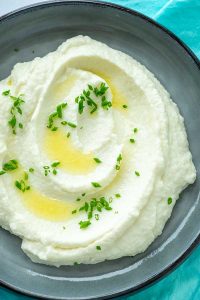 ​This post may contain affiliate links, please see our
privacy policy
for details
Delicious, creamy and without the carbs, garlic mashed fauxtatoes. You may be wondering what fauxtatoes are? Fauxtatoes are made with cauliflower, whipped with cream cheese, garlic, and a hint of nutmeg until silky smooth and creamy. The fauxtatoes taste just like the buttery mashed potatoes we love so much but without the extra carbs keeping this recipe keto-friendly.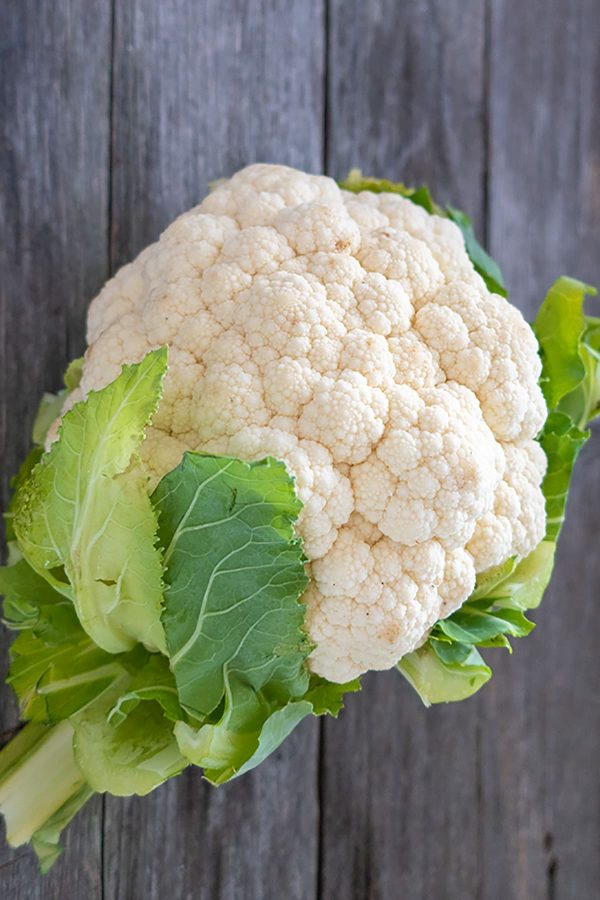 Making garlic mashed fauxtatoes is easier than making mashed potatoes. You don't need to peel potatoes, you will need only five ingredients, and everything is whipped up in a food processor in seconds.
steps to make garlic mashed fauxtatoes…
To start, add about one inch of water to a large pot. Add salt, garlic and cauliflower florets. Cover and cook until the cauliflower is fork-tender. The cauliflower is being steamed, you don't want to boil the cauliflower in water, or the fauxtatoes will be watery.
Once the cauliflower is tender, drain well and pat dry with paper towels. You should get as much moisture out of the cauliflower as possible. By removing extra moisture from the cauliflower, the texture of the fauxtatoes will be rich and creamy.
The cauliflower is now ready to be whipped with cream cheese and a pinch of nutmeg. I used a food processor because it gave me the creamiest, fluffiest texture. You can also use an immersion blender, and you will get almost the same results. But, it takes a little more work.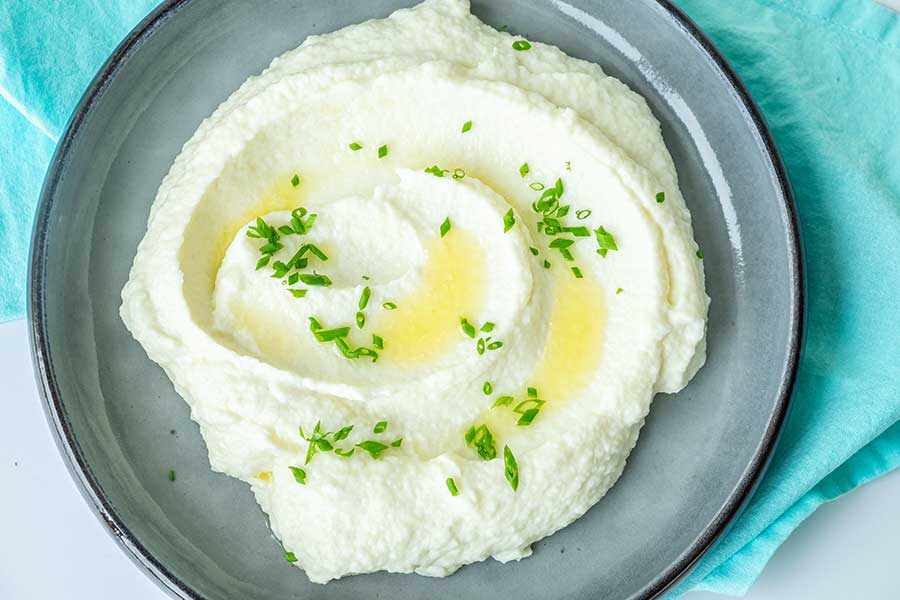 I can't tell you how delicious this side dish is. Once you taste the creamiest fauxtatoes, you will never go back to the classic mashed potatoes. And the best part, this is a low-carb recipe making it keto-friendly.
pros and cons…
The pros are creamy, yummy, easy to make, healthier than potatoes, packed with fiber and nutritionally rich. The cons, cauliflower is a bit pricier than potatoes, and you will have to make extra because everyone will have seconds.
Garlic mashed potatoes are an excellent way to introduce a healthy vegetable to your diet. Even if you are not into cauliflower, you will love this side dish. If you ask me, there is nothing to think about here!
Please give this healthy cauliflower recipe a try. I think you will be impressed by the creamy texture and gentle flavour of this fauxtatoes vegetarian dish. The best way to serve this healthy side dish is with your favourite protein. I especially like to serve the fauxtatoes with stuffed pork tenderloin with spinach and goat cheese. Enjoy!
Garlic Mashed Fauxtatoes (Keto)
Published on Jun 30, 2019
by
Kristina Stosek
Instructions
1.

Add 1 inch of water into a large pot

2.

Bring the water to a boil, add garlic, 1/2 teaspoon of salt and cauliflower. Cover and allow the cauliflower to steam over medium-low heat until fork tender about 10 - 12 minutes. Drain well and pat with paper towels to remove as much liquid as you can. This is very important to get creamy, silky texture

3.

Place the cauliflower with cream cheese and nutmeg into a food processor or use an immersion blender and puree until smooth

4.

Season with salt and pepper and top with fresh herbs, chives and or melted butter
Leave a Comment
Kristina
i agree, so light and creamy. Thank you Jessica
Kristina
I must say this is the best cauliflower mash I have tasted!
I am so happy you like them Jonathan , yes the keto potatoes are super creamy, thank you.