Garlic Mashed Fauxtatoes (Keto)
Prep Time
5 Minutes
Difficulty
Beginner
Cook Time
10 Minutes
Serves
4 - 6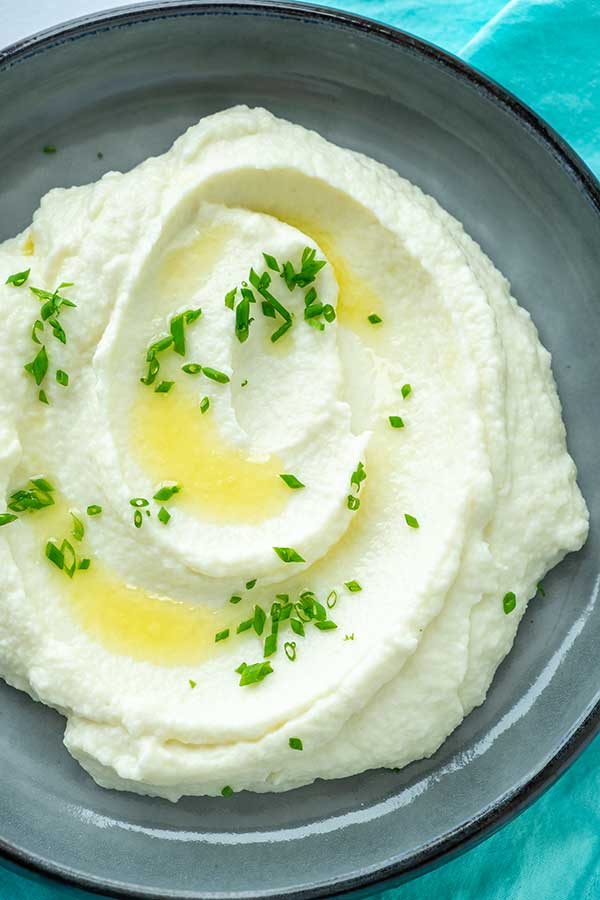 Be the first to rate this recipe.
Delicious, creamy and without the carbs garlic mashed fauxtatoes. You may be wondering what fauxtatoes are? Well, it is mashed potatoes without the potatoes 🙂 Silky smooth, fluffy,  lightly flavoured with garlic and super creamy without adding cream. What I love about this recipe, it is made simply using only 5 ingredients, and it takes only 15 minutes to make. This is a keto friendly recipe, so if you are following a low-carb diet, this recipe is for you!
Once you try this potato dish, you may never go back to traditional mashed potatoes. Healthier, lighter, low-carb, packed with flavour and super creamy…nothing to think about here. Enjoy!
Ingredients
1 large cauliflower, trimmed and cut into florets
3 garlic cloves, minced
1/2 cup cream cheese
1/8 tsp. GF ground nutmeg (optional)
Himalayan salt and GF ground black pepper
Optional toppings; fresh herbs, chives, melted butter
Instructions
Pour enough water into a large pot so that you have about 1-inch in the pot
Bring the water to boil, add garlic, 1/2 teaspoon of salt and cauliflower and cover the pot. Steam the cauliflower over medium-low heat until tender about 8 - 10 minutes. Drain well and pat with paper towels to remove as much liquid as you can. This is very important to get creamy, silky texture
Place cauliflower with cream cheese and nutmeg into a food processor or use an immersion blender and puree until smooth
Season with salt and pepper and top with herbs, chives and or melted butter
Similar Recipes
Creamy Turnip and Carrot Mash
This creamy turnip and carrot mash is vegan, dairy-free, paleo and keto friendly, making it a favourite side to any entree. Turnip is one of the top superfoods we often forget about. It has a rich nutritional value comprising of vitamins K, A, C, E, B1, B3, B5, B6, B2 and folate. When it comes to […] Read More
Prep Time
15 Minutes
Difficulty
Beginner
Cook Time
25 Minutes
Serves
6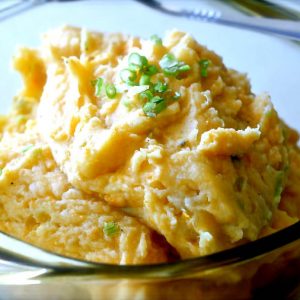 Sweet Potato Acorn Squash Mash
Looking for a healthier option of mashed potatoes? Try this delicious sweet potato and acorn squash mash recipe. This side of sweet potato acorn squash mash is simple to make and is packed with healthy nutrients. Dairy-free option included. Read More
Prep Time
15 Minutes
Difficulty
Easy
Cook Time
60 Minutes
Serves
4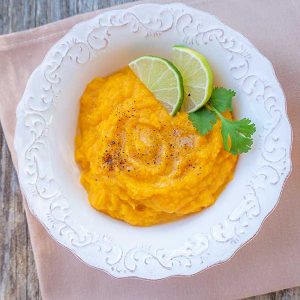 Yam And Sweet Potato Mash With Coconut Milk
Yam And Sweet Potato Mash with Coconut Milk. This vegan dish is a healthy and creamy replacement for mashed potatoes. The yams and sweet potatoes are seasoned with fresh garlic, cumin and fresh lime juice. To make this mash extra creamy, I added coconut milk. Yam and sweet potato mash is a delicious and colourful […] Read More
Prep Time
15 Minutes
Difficulty
Easy
Cook Time
10 Minutes
Serves
4