Stuffed Pork Tenderloin with Spinach and Goat Cheese
Prep Time
15 Minutes
Difficulty
Easy
Cook Time
50 Minutes
Serves
4
Average Rating: 5 | Rated By: 14 users
If you haven't tried Stuffed Pork Tenderloin with Spinach and Goat cheese, brace yourself! It's an experience. Tender pork stuffed with tasty spinach and goat cheese filling, lightly flavoured with garlic. For extra flavour, the tenderloin is rubbed with flavourful thyme, black pepper and maple syrup seasoning, giving the tenderloin the most delicious crispy coating. 
 I have added enticing apple horseradish sauce recipe for those that love to smother their meat in sauces with some heat
This gluten-free recipe may sound complicated, but it is super easy to make. This pork tenderloin boasts an array of exciting flavours and textures. Adding steamed vegetables or light salad to this delicious stuffed pork tenderloin is all you need. Need more recipes made with pork? Check out our selection of delicious gluten-free pork recipes here ->
Ingredients
3 Tbsp. extra virgin olive oil, divided
2 garlic cloves, chopped
6 oz. fresh baby spinach
8 oz. goat cheese or you can also use feta cheese
About 1 ½ lb. pork tenderloin
1 tsp. sea salt
½ tsp. coarsely ground black pepper
½ tsp. dried thyme leaves
2 Tbsp. pure maple syrup, divided
APPLE HORSERADISH SAUCE
1/3 cup sour cream
1 Tbsp. GF mustard
2 tsp. horseradish
1 apple, peeled and finely grated
¼ cup fresh orange juice
*As an Amazon Associate and member of other affiliate programs, I earn from qualifying purchases. Please check out my sponsorship and disclosure policy page for more details
Instructions
In a large pan heat 1 tablespoon of oil over medium heat, add garlic and then spinach. Stir-fry for 3 minutes or until spinach has just wilted. Transfer to a bowl and add goat cheese. Stir to combine
Make a lengthwise cut down the center of the tenderloin, cutting to but not all the way through the other side. Spread the meat flat and pound the meat using a mallet to about 3/4-inch thickness in a shape of a rectangle
Combine remainder of the olive oil with salt, pepper, thyme and 1 tablespoon of maple syrup. Brush half the spice mixture over the tenderloin
Spread the spinach mixture over half of the the spiced side. Roll firmly jellyroll style starting at the spinach end. Secure with wooden skewers
Preheat oven to 410 F and line a baking sheet with foil.
Place the tenderloin seam down on the prepared baking sheet and brush with remaining spice mixture. Roast uncovered for 50 minutes
APPLE HORSERADISH SAUCE (optional)
In a blender add sour cream, mustard, horseradish, the remainder of maple syrup, grated apple and orange juice. Blend until creamy. Heat the sauce just before serving do not boil
Ultimately if you do not have time to make the sauce, serve the pork tenderloin with gluten free mustard, mayonnaise or horseradish. To serve, slice the tenderloin to about 1 ½-inch thick slices and spoon the sauce around the meat
Similar Recipes
Orange Spiced Pork Tenderloin Recipe
Enjoy this decadent pork tenderloin dish that proves extravagance can be easy.  The tenderloin is marinated in an orange spiced sauce, making this dish unforgettable. Serve with rice or potatoes and your favourite vegetable side Read More
Prep Time
5 Minutes
Difficulty
Easy
Cook Time
60 Minutes
Serves
4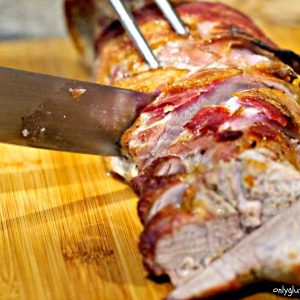 Pork Tenderloin with Bacon
Tender pork tenderloin flavoured with maple syrup and wrapped in crispy bacon. Simply amazing recipe! The  spiced rice with raisins will make a wonderful side to this succulent pork tenderloin Read More
Prep Time
15 Minutes
Difficulty
Easy
Cook Time
60 Minutes
Serves
4
Spicy Moroccan Pork and Pepper Kebabs
In this recipe, the kebabs are made with pork tenderloin and seasoned with Moroccan spices. The wonderful part about this recipe is, that the kebabs are made in the oven or on a barbecue.  The sweetness of the added red pepper makes this tapa recipe especially delicious. Read More
Prep Time
15 Minutes
Difficulty
Easy
Cook Time
25 Minutes
Serves
8 skewers