Best Stewed Red Cabbage With Apples – Vegan Recipe
Prep Time
20 Minutes
Difficulty
Easy
Cook Time
25 Minutes
Serves
6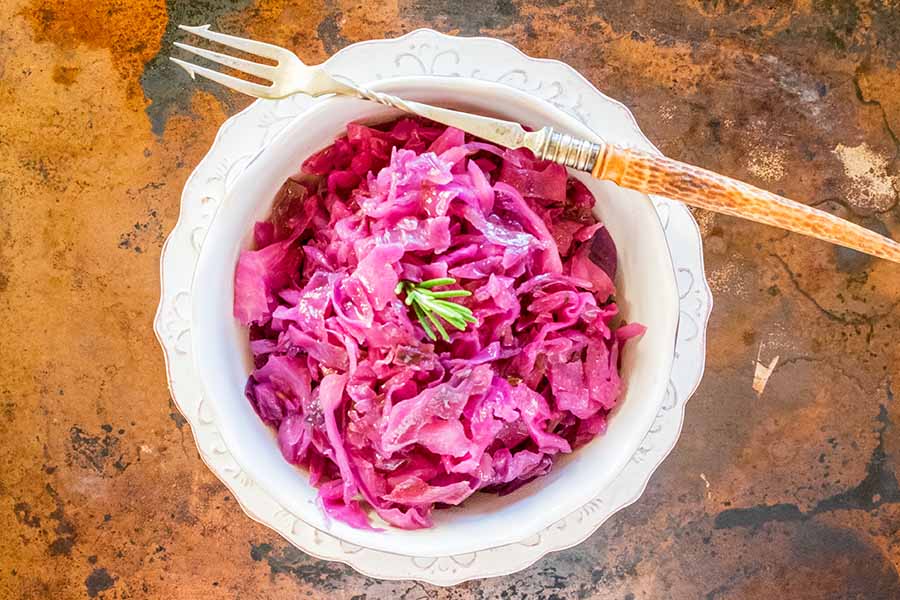 Average Rating: 5 | Rated By: 5 users
Healthy and delicious Stewed Red Cabbage With Apples…such a simple side dish to make that carries such a punch. This is a zesty side of stewed red cabbage you can add to your favourite main. If you are looking for healthiness, this vegan dish is packed with antioxidants, fiber and vitamin C. The flavour is mouthwatering, and the cabbage has a perfect texture.
This zesty stewed red cabbage with apples will upstage any side. A little different from a side of grilled asparagus, roasted brussel sprouts with shallots or roasted maple ginger carrots. What I love about this vegan side is, you can prepare it a day or two in advance, and it will taste even better.
When holidays come around, entertaining a large family or friends is pretty stressful. This is why making sides well in advance will save you time and bring your stress level down at your busiest time. This tasty veggie side is one of those dishes you can have ready when needed. A side dish you don't have to worry about when you are super busy in the kitchen.
what makes this stewed red cabbage taste so good?
Typically the classic cabbage side is made with oil, seasoned with salt, pepper and a splash of vinegar. This recipe is a little different. It is made with onions, apples, caraway seeds, healthy apple cider vinegar, maple syrup and a hint of nutmeg. The red cabbage is sooo good! And the recipe is super easy to make.
Stewed red cabbage is a popular Eastern European dish. It is often served with stuffed pork tenderloin, schnitzel, roast chicken or duck. In this recipe, it is the apples that make this side dish especially tasty. The apples add natural sweetness complimenting the red cabbage.
Next time the holidays roll around, or you have a barbecue for friends, try this stewed red cabbage with apples side. In our home, this healthy and refreshing cabbage side is always a big hit with everyone. Enjoy!
Ingredients
2 Tbsp. extra virgin olive oil
1 sweet onion, chopped
1 medium size red cabbage head, thinly sliced
2 apples, peeled, cored and sliced (I used Gala apples)
1/2 tsp. GF caraway seeds
Sea salt and GF ground black pepper to taste
1/2 tsp. GF ground nutmeg
¼ cup apple cider vinegar
2 Tbsp. pure maple syrup
*As an Amazon Associate and member of other affiliate programs, I earn from qualifying purchases. Please check out my sponsorship and disclosure policy page for more details
Instructions
Using a large saucepan, heat olive oil over medium heat. Add onions and saute for about 5 minutes, until the onions are translucent
Add cabbage, apples, caraway seeds, salt, pepper and nutmeg. Cover and stew over medium-low heat for 15 - 20 minutes, until the cabbage is just tender. Stirring as needed
Add apple cider vinegar and maple syrup. Stir to combine. Taste and adjust seasoning if needed. Enjoy!