Gluten-Free Peking Style Chicken
Prep Time
5 Minutes
Difficulty
Beginner
Cook Time
55 Minutes
Serves
8 pc
Average Rating: 5 | Rated By: 8 users
Fingerlicking Peking Style Chicken. I know the recipe sounds complicated, but it's not. This dish originates from Beijing and is traditionally made with a duck. 
I wanted to use chicken in this Peking-style recipe because it is simpler and faster. 
The simple details for Peking style chicken recipe!
To make this gluten-free exotic chicken dish is super easy. First, mix the ingredients for the sauce, then coat the chicken and bake. How easy is that? 
The chicken has the tastiest sticky and sweet flavour, just like the traditional Peking duck. To serve, add one of our delicious rice dishes or with a cucumber salad
To make this Peking-style chicken recipe into an appetizer, use chicken wings and reduce the baking time by about 5 – 7 minutes.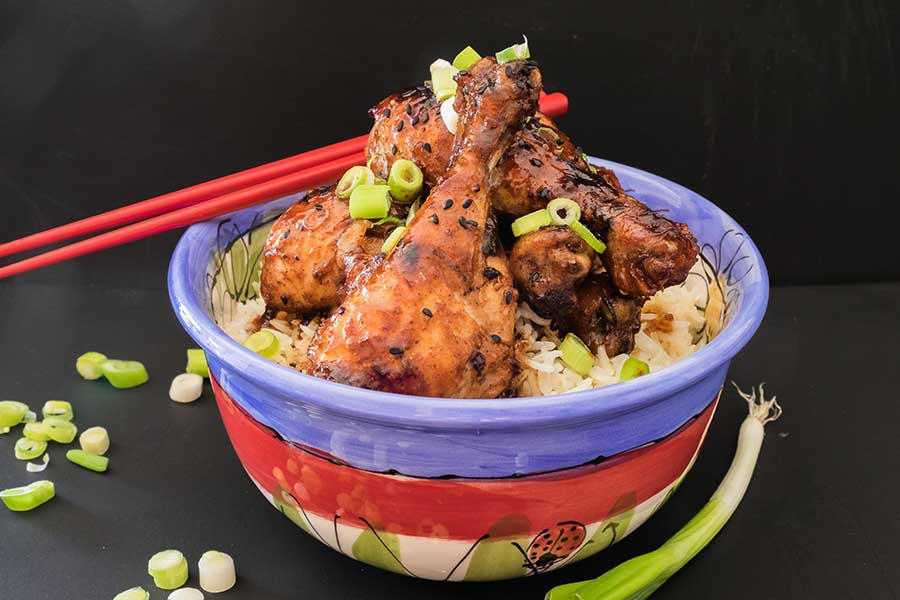 The Peking-style wings are always a huge hit when entertaining a large crowd or during sports events like the Super Bowl. Enjoy!
You will find more gluten-free chicken recipes here->.
Ingredients
¼ cup liquid honey
3 Tbsp. GF ketchup
2 Tbsp. GF Tamari sauce
1 Tbsp. apple cider vinegar
2 garlic cloves, minced
2 tsp. minced ginger
1 tsp. sesame oil
½ tsp. GF ground cinnamon
½ tsp. GF ground coriander
½ tsp. GF ground black pepper
½ tsp. sea salt
¼ tsp. GF ground cloves
8 chicken drumsticks, skin on
½ cup thinly sliced green onions
1 Tbsp. white or black sesame seeds (optional)
*As an Amazon Associate and member of other affiliate programs, I earn from qualifying purchases. Please check out my sponsorship and disclosure policy page for more details
Instructions
Preheat oven to 400 F and line a large rimmed baking pan with parchment paper. The pan should be large enough so that the chicken pieces are not touching
Whisk together honey, ketchup, tamari sauce, apple cider vinegar, garlic, ginger, sesame oil and spices in the baking pan
Add the chicken and coat well with the sauce. Cover with foil and bake for 30 minutes
Remove foil, turn the chicken pieces over and bake for 15 - 20 minutes longer, or until the chicken is thoroughly cooked and has a sticky lightly charred coating
To serve, place chicken on a serving platter and spoon the sauce from the pan over the chicken pieces. Sprinkle with green onions and sesame seeds
Similar Recipes
Gluten-Free Baked Honey Garlic Chicken
Gluten-Free Baked Honey Garlic Chicken – the most delicious super crispy chicken coated with a honey garlic sauce topped with sesame seeds and green onions. I used to love ordering this chicken dish when I'd get takeout, and I missed it once I went gluten-free. This crispy chicken flavoured with honey garlic sauce offers the […] Read More
Prep Time
15 Minutes
Difficulty
Easy
Cook Time
30 Minutes
Serves
4