Cabbage and Fennel Citrus Salad
Published on Mar 11, 2018
by
Kristina Stosek
Prep Time:

10 minutes
Cook Time:

minutes
Serves:

4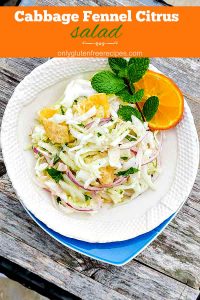 ​This post may contain affiliate links, please see our
privacy policy
for details
Cabbage and Fennel Citrus Salad – Sometimes, you need a healthy helping of something fresh, crunchy and satisfying. This salad fits the bill. It's tasty and filling and keeps well when refrigerated.
When we think of cabbage salad, we think of coleslaw. This elegant salad is more than that because it is packed with a nutritious mix of vegetables and fruit. The cabbage and fennel citrus salad is made with sweet and tangy flavours and a whole lot of crisp. It is so refreshing.
In this recipe, I combined the crispy cabbage with super healthy fennel and red onions. For natural sweetness, I added pears and oranges. The sweet and tangy flavours of the vegetables and fruits are highlighted with fresh mint and a light vinaigrette. Everything ties together beautifully.
♥

How to serve cabbage and fennel citrus salad?

With the weather warming up, this salad is a refreshing way to spruce up a light protein such as salmon, chicken or a veggie burger. If you are following a plant-based diet, add some roasted pecans or walnuts.

When following a weight loss or low carb diet, it is essential to include a lot of fiber and healthy nutrients in your everyday meals. This cabbage and fennel citrus salad has it all, plus a lot of deliciousness 🙂 Enjoy!
Cabbage and Fennel Citrus Salad
Published on Mar 11, 2018
by
Kristina Stosek
Instructions
1.

In a large bowl toss everything together

2.

Cover and refrigerate for 1 hour

3.