Chicken Pot Pie with Potato Crust
Published on Feb 29, 2016
by
Kristina Stosek
Prep Time:

20 minutes
Cook Time:

45 minutes
Serves:

4 - 6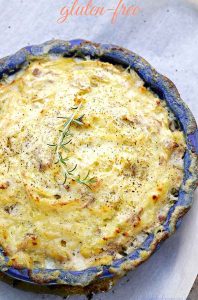 ​This post may contain affiliate links, please see our
privacy policy
for details
In this gluten-free chicken pot pie, you will relish the flavours of tender chicken and vegetables immersed in rich gravy and topped with the most delicious potato crust. When it comes to comfort food, chicken pot pie is often on top of the list.
With complex flavours, creamy gravy, lots of veggies, tender chicken and a potato crust, this is a must make gluten-free dinner recipe. I kept the flavours pretty traditional with a bit of extra seasoning, but the crust made this warming pie.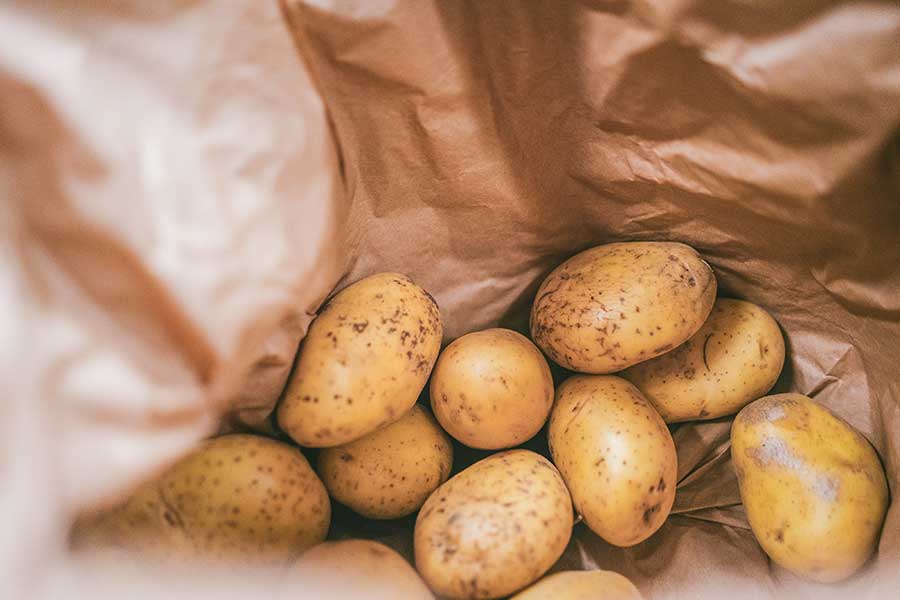 chicken pot pie with potato crust – the details
To make this pie is pretty straightforward. First, you cook fresh yellow potatoes with garlic. The garlic adds a subtle flavour to the crust, and then you mash them with milk or non-dairy milk and olive oil and season with salt and pepper. That's it.
the filling,
For the filling, simmer the veggies with chicken, lots of herbs and spices, a little cream and tapioca starch. Then, fill your pie dish with the creamy chicken and vegetable mixture and top with the mashed potatoes.
Once the pie starts to bake, the gravy seeps through the potato topping adding extra flavour to the crust. This is a very simple gluten-free dinner recipe.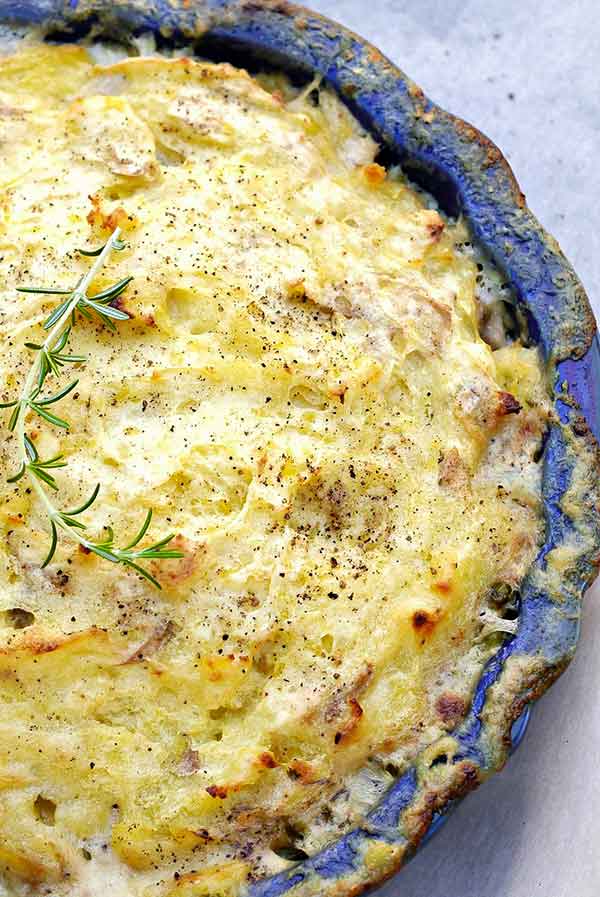 The pot pie is creamy, packed with veggies, chicken, herbs and topped with the most delicious potato crust. This dish is so good!! There is nothing too complicated about this gluten-free chicken pot pie, even a novice cook can master this gluten-free chicken pot pie recipe.
What I love about this chicken pot pie with potato crust recipe!
In this easy pie recipe there is no flour, just veggies, chicken, herbs and spices. For the creaminess, I added milk or you can use cream. Also, you can use dairy-free milk of choice. The pie will be just as delicious.
Traditional chicken pot pie is usually made with pastry, but you will find that this special crust makes this dish taste even better. If you like meat pies, try our classic gluten-free shepherd's pie. Enjoy!
Chicken Pot Pie with Potato Crust
Published on Feb 29, 2016
by
Kristina Stosek
Instructions
1.

Cook potatoes with garlic in salted water until tender

2.

Drain the water and whip the potatoes with milk until creamy, you can add more milk if needed. Set aside

3.

4.

Heat olive oil over medium heat, add onions and saute for 5 minutes

5.

Stir in spices until fragrant and then add chicken. While stirring cook chicken until slightly brown about 5 minutes. Add wine, bring to low simmer, cover and cook for 10 minutes

6.

Add corn, peas, mushrooms, carrots, celery and season with salt. Continue cooking covered for 5 more minutes

7.

Whisk together milk and tapioca starch and stir into the sauce. Cook until sauce thickens. Remove from the heat and stir in parsley

8.

Fill oven proof pie dish with filling and top with potatoes. Drizzle with oil and sprinkle with black pepper. Place on a baking sheet lined with parchment paper and bake in a preheated oven at 375 F for 25 – 30 minutes or until the top is golden and bubbling

9.

Rest for 20 minutes before serving
Leave a Comment
This is incredible.. and what's more incredible is that it is dairy and gluten free.. I've served this dish frequently and no one can tell ..
Kristina
yes Susan you can, I would bring the filling to room temperature before baking
Could you make filling the day before, refrigerate overnight, and the next day add potato topping and bake? Thank you.
Thank you, and the potato starch is an excelent idea. I have used arrowroot powder before and it works nicely as well. Enjoy!
This recipe is delicious! My family has requested this once a week :) I used chicken breast instead of thighs - just a personal preference. I also broiled it for about 5 minutes to brown the topping. Instead of tapioca starch I used potato starch as that's what I had on hand. I also doubled it and made it in a 9 x 13 glass dish - we had enough for leftovers for the 4 of us. Thanks for the recipe - look forward to making it again!