Classic Shepherd's Pie Recipe
Published on Oct 22, 2016
by
Kristina Stosek
Prep Time:

15 minutes
Cook Time:

75 minutes
Serves:

6 - 8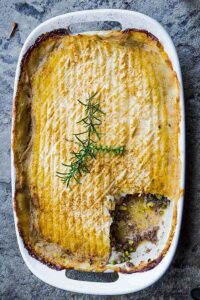 ​This post may contain affiliate links, please see our
privacy policy
for details
When it comes to comfort food, few dishes can rival a hearty shepherd's pie. This classic British dish is typically made with ground lamb, vegetables, and a creamy mashed potato topping.
Following a gluten-free diet doesn't mean you have to miss out on this comforting dish. This gluten-free shepherd's pie recipe uses a few simple swaps to make it safe for those who are celiac or have gluten intolerance. And the best part? It still tastes just as good as the original!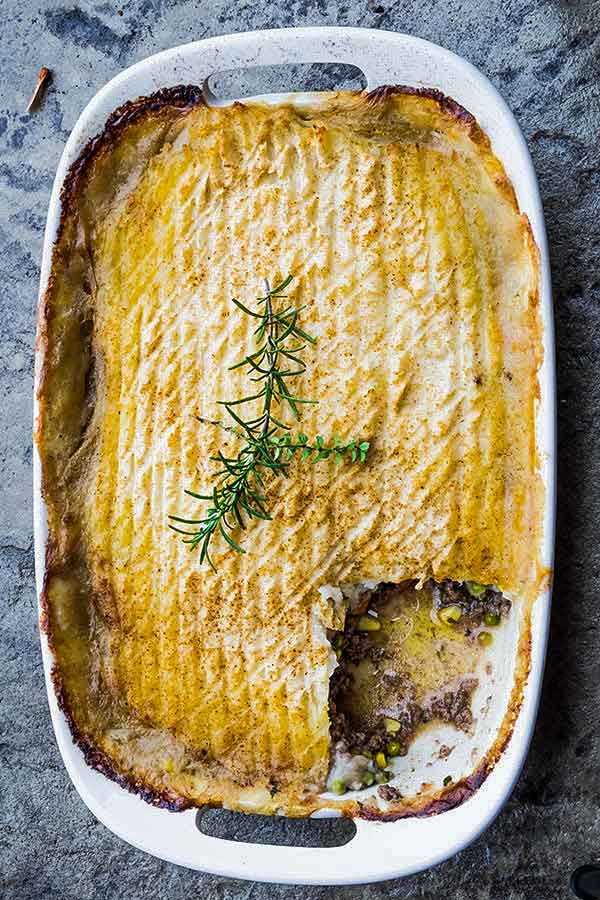 What is shepherd's pie?
Shepherd's pie is a traditional English casserole without pastry. This classic dish has two layers, ground lamb with vegetables in a rich, thick gravy and a mashed potato topping baked in a casserole dish. It is said to have originated in the 18th century.
shepherd's pie vs cottage pie
The pies are almost identical, except shepherd's pie is made with ground lamb and cottage pie with ground beef.
This casserole dish is hearty and filling, making it a perfect weeknight meal for cooler weather. In addition, it is also easy to make.
FAQs about shepherds pie
People often ask about shepherd's pie and whether it is a good dish for those on a gluten-free diet. Here are some frequently asked questions:
What is a traditional shepherd's pie recipe?
The recipe is a traditional English dish made with lamb or mutton, potatoes, carrots, and other vegetables. The dish's name comes from the fact that it has a topping of mashed potato patterned to represent sheep's fleece.
Is shepherd's pie gluten free?
Yes, this particular shepherd's pie recipe is gluten free. Most ingredients in this casserole are naturally gluten free. However, you will need a gluten free thickener for the meat mixture. I used tapioca starch in this recipe, but you can also use corn starch.
Can I make shepherd's in advance?
Yes, you can prepare the casserole and freeze it before baking. Just be sure to thaw it completely, then bake as per the recipe directions.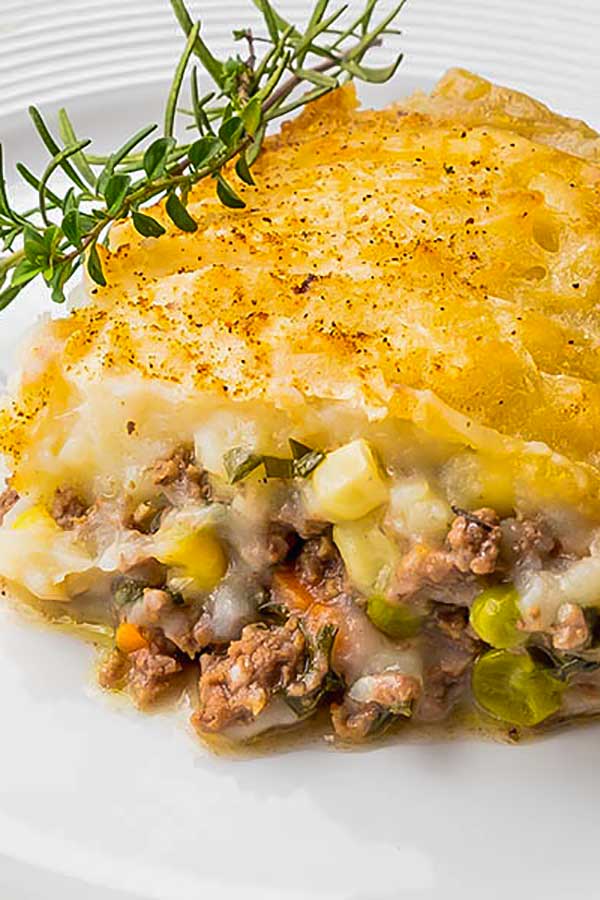 Can I use other meat in this casserole?
You can use various meat in a shepherd's pie recipe, but the most common is lamb. Other meats you can use include ground beef, chicken, pork or turkey.
Can I use leftover roast beef in shepherd's pie?
Yes you can. If you have leftover roast beef, you can replace the ground meat. Simply cut the meat into small chunks or roughly chop in a food processor and cook it with gravy and vegetables.
toppings
There are so many delicious options for toppings on shepherd's pie! Our favorites include shredded cheddar cheese, chopped green onions, chives or crumbled bacon.
You can also replace the potatoes with mashed sweet potatoes. Or keep it dairy-free with Yam And Sweet Potato Mash With Coconut Milk.
seasoning for shepherd's pie
You will need a few key things to get that perfect flavor.
First, you should use fresh herbs. The fresh herbs will elevate the flavor of the dish. The classics are rosemary, thyme, and parsley.
If fresh herbs are unavailable, you can replace them with dried herbs.
To enhance the flavor of the pie, even more, replace water with gluten free beef broth or homemade mushroom broth.
Finally, you need to generously season your shepherd's pie with salt and pepper. I like to use more pepper than salt, but it is really up to your personal preference.
What to serve with shepherd's pie?
There are a few different ways you can serve shepherd's pie. The most common way is with a light salad, or green beans or peas are usually served alongside this casserole.
storing
Once the casserole has cooled, tightly wrap the dish with aluminum foil and store it in the fridge for up to three days.
freezing
When it comes to freezing this casserole, there are a few things you need to keep in mind.
First, make sure that the pie is completely cooled before freezing. Otherwise, you risk the casserole being freezer burned.
Second, wrap the pie tightly in plastic wrap or aluminum foil. This will help keep out any excess air and prevent the pie from drying.
Lastly, label the pie with the date to know when it was frozen, it will last for up to 3 months in the freezer.
To reheat the pie, thaw overnight in the refrigerator and then reheat it in a 350 F degree oven until warmed.
If you've never had shepherd's pie before or are looking for a delicious and easy gluten-free dinner, try this classic British recipe. It will surely please everyone at the table.
Classic Shepherd's Pie Recipe
Published on Oct 22, 2016
by
Kristina Stosek
Instructions
1.

In a large saucepan over medium heat sauté onions in olive oil until soft

2.

Add lamb, rosemary and thyme and cook until the meat is no longer pink. Add ½ cup water, salt and black pepper, cover and simmer for 30 minutes

3.

Add carrots, peas, corn, parsley and apple cider vinegar, cover and continue cooking 10 minutes longer

4.

Whisk ½ cup of water with 1 tablespoon of tapioca starch and add to the meat mixture. Continue cooking over medium heat until the sauce thickens, about 3 minutes. Set aside

5.

Meanwhile, boil the potatoes in water with 1 teaspoon of salt until tender. Drain, add butter and milk and whip until creamy. Taste and adjust salt if needed

6.

7.

Spread the meat mixture in an 8-x 12-inch casserole dish. Top with mashed potatoes in an even layer and sprinkle with paprika. Place the dish on a rimmed baking sheet and bake for 30 minutes or until the potato topping is golden

8.

Rest for 20 minutes before serving