Very Best Falafel Burger – Gluten Free
Published on Aug 16, 2022
by
Kristina Stosek
Prep Time:

10 + soaking minutes
Cook Time:

8 minutes
Serves:

6 - 8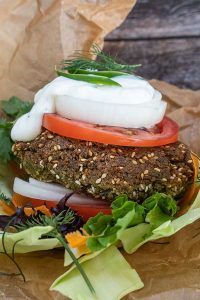 ​This post may contain affiliate links, please see our
privacy policy
for details
I know you will love this recipe if you're looking for the best gluten-free falafel burger. Today I will introduce you to the delicious world of falafel burgers and show you how to make a crispy delicious plant-based burger at home.
Falafel burgers are an excellent option for those looking for a hearty and healthy meal. They are perfect for vegans and vegetarians, as well as those who are trying to avoid meat. And best of all, they can be made entirely gluten-free.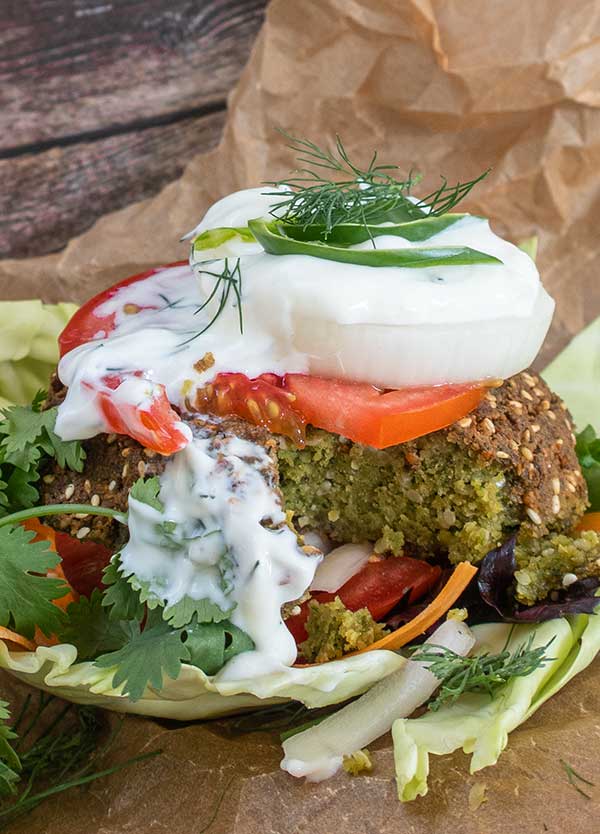 What is a falafel?
Falafel is often a deep-fried patty or ball made from ground chickpeas, fava beans, or both. In addition, it is packed with fresh herbs, spices, onions and sesame seeds.
Where does falafel originate from?
The answer may surprise you: falafel is actually of Middle Eastern origin, specifically from Egypt. It is a popular street food originally made with fava beans.
However, over time, other ingredients like chickpeas (garbanzo beans) and lentils have become popular substitutes. If you are looking for plant-based recipes, check our complete list of gluten-free vegan recipes.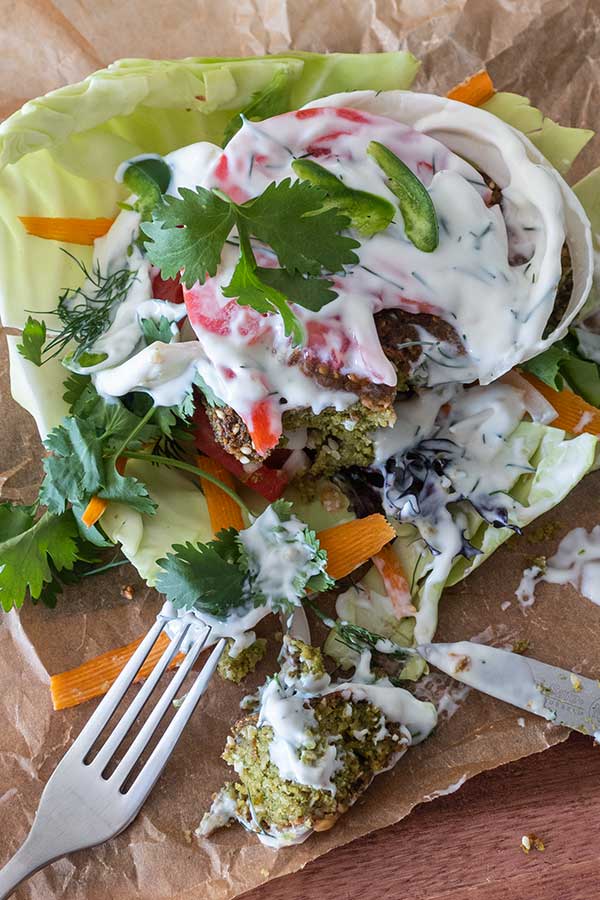 How to serve falafel burger?
Here are some ideas:
-Serve on a bed of greens or in a gluten-free pita pocket with tzatziki sauce and chopped tomatoes.
-Stack your burger high with all your favorite toppings, like avocado, feta cheese, and red onion and serve in a gluten-free hamburger bun.
-Make a falafel burger wrap by spreading hummus on a gluten-free tortilla and adding your burger, lettuce, and tomato. Then, roll it up and enjoy!
With so many delicious ways to enjoy falafel burgers, why not try them today?
common spices in falafel
Falafel's recipe contains various common spices like cumin, coriander, and garlic. I also added cardamom, a spice that made these patties even tastier.
While you can find pre-made falafel mix at most grocery stores, making your falafel from scratch is easy and healthier because you control the ingredients.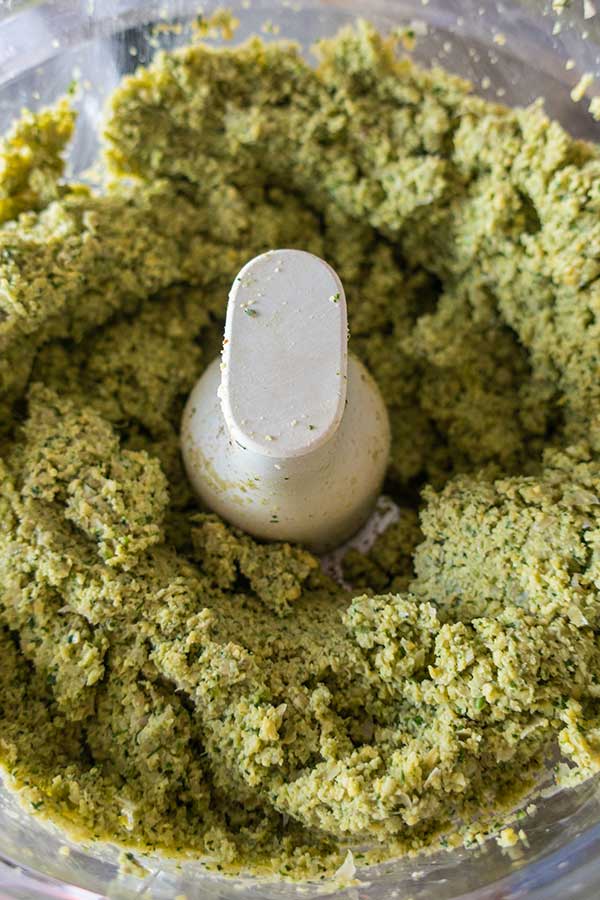 To make falafel patties, combine all ingredients in a food processor and shape them into patties. Then, fry in hot oil until golden brown, nothing to it!
Is falafel burger gluten-free?
If you're looking for a plant-based and gluten-free burger, you'll want to try a falafel burger! While falafel is often made with wheat flour, many restaurants and home cooks now use gluten-free alternatives like chickpea flour or rice flour.
Is falafel burger healthy?
There's no denying that falafel burgers are delicious. But are they healthy?
Whether you're vegetarian, vegan, or just looking to add more plant-based foods to your diet, a falafel burger is a healthy option. Not only are they delicious, but they're also packed with nutrients, protein and fiber. Another burger you may enjoy is the Salmon Burger with Water Chestnuts.
When falafels are fried, it is best to use a healthful oil for deep frying. The two options for healthier oils are coconut oil and olive oil.
This said, falafel burgers could be part of a healthy balanced diet.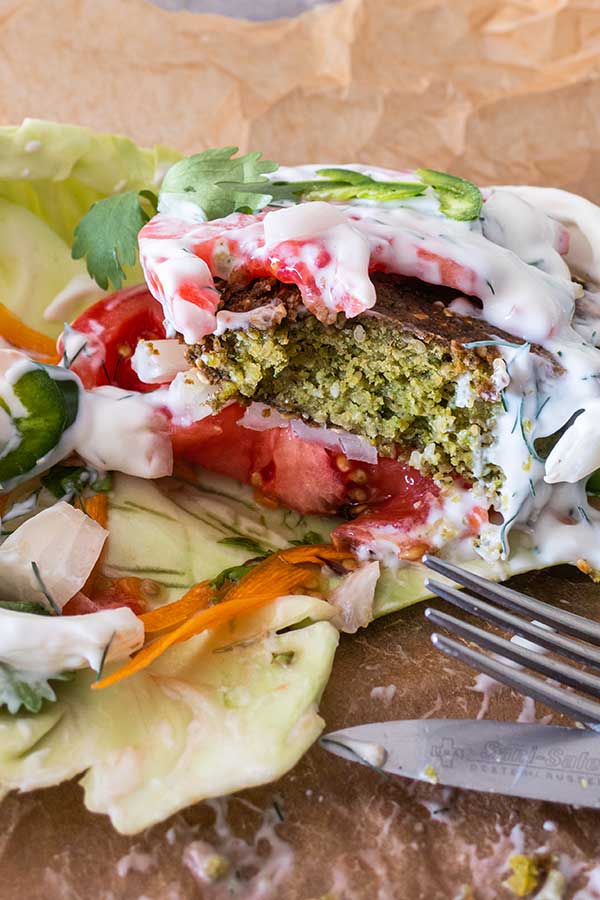 storing and freezing
Form the dough mixture into patties and place on a baking sheet lined with parchment paper, and place in the freezer. Once the patties are frozen, store them in a freezer bag in the freezer.
They will keep up to 3 months when frozen. And you can cook the patties straight from the freezer.
Cooked falafels can be stored in the fridge for up to 3 days by placing them on a plate and loosely covering them with plastic wrap. To reheat, place them on a baking sheet in a 350 F oven until heated.
What does baking soda do to chickpeas?
To tenderize chickpeas for the falafel recipe, you must soak them in cold water overnight.
Adding baking soda to the soaking water will help tenderize the beans. This is because it speeds the deterioration of pectin, essential to plant cell structure and strength. Add 1/2 teaspoon of baking soda to 1 cup of dried beans.
Everyone should try a falafel burger at least once. They are hearty and super tasty. In addition, they are a healthy plant-based and gluten-free replacement for meat burgers. Enjoy!
Let's Connect!
Be sure to FOLLOW US on FACEBOOK and PINTEREST.
Many thanks!
Kristina xx
Very Best Falafel Burger – Gluten Free
Published on Aug 16, 2022
by
Kristina Stosek
Instructions
1.

Soak chickpeas in cold water with 1 teaspoon baking soda for 24 hours. The water should cover the chickpeas by 2-3 inches, as they'll triple in size. 

2.

Drain and rinse the chickpeas and add to a food processor with garlic, green onions, lime juice and sesame oil. Process until the mixture resembles coarse sand, scraping sides as needed

3.

Add parsley, cilantro, dill, jalapeno, cumin, coriander, cardamom, pepper and salt. Pulse until combined, and the mixture resembles coarse sand

4.

Transfer the mixture into a bowl and stir in chickpea flour and 1/2 teaspoon baking soda. Cover the bowl and refrigerate for a minimum of one hour 

5.

When ready, fill a skillet 1 inch up with oil. Heat the oil over medium heat

6.

Using a spoon, scoop about 3 tablespoons of the falafel mixture and form into patties (3/4 inch in thickness each). Fry them for about 3 minutes per side until golden and crispy

7.

Place the cooked falafel patties on a plate lined with a paper towel and place in a warm oven (160 - 170 F) until ready to serve.
Leave a Comment
Kristina
I think you can, I have not tried to do them in an air fryer.. Let us know how they turn out Julie
Can you use an air fryer?