Homemade Gluten-Free Hamburger Buns
Published on Apr 08, 2022
by
Kristina Stosek
Prep Time:

10 + minutes
Cook Time:

25 minutes
Serves:

6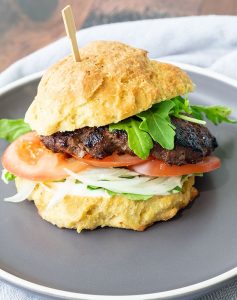 ​This post may contain affiliate links, please see our
privacy policy
for details
Light with a soft crumb Homemade Gluten-Free Hamburger Buns Recipe. With each bite, you will enjoy the softest, tastiest burger bun, after all, grilled burgers are only as good as their buns. The temperatures are slowly rising, so why not dust off the barbecue.
This means burgers and healthy salads, especially potato salads. But let's face it, hamburgers are always a must at any cookout! So why not add a reliable, no-fail gluten-free burger bun recipe to your repertoire.
This gluten-free hamburger bun recipe is super easy to whip up. Why buy stale, dry gluten-free buns when you can make these tasty fresh buns in minutes. Yes, the hands-on time is just 10 minutes.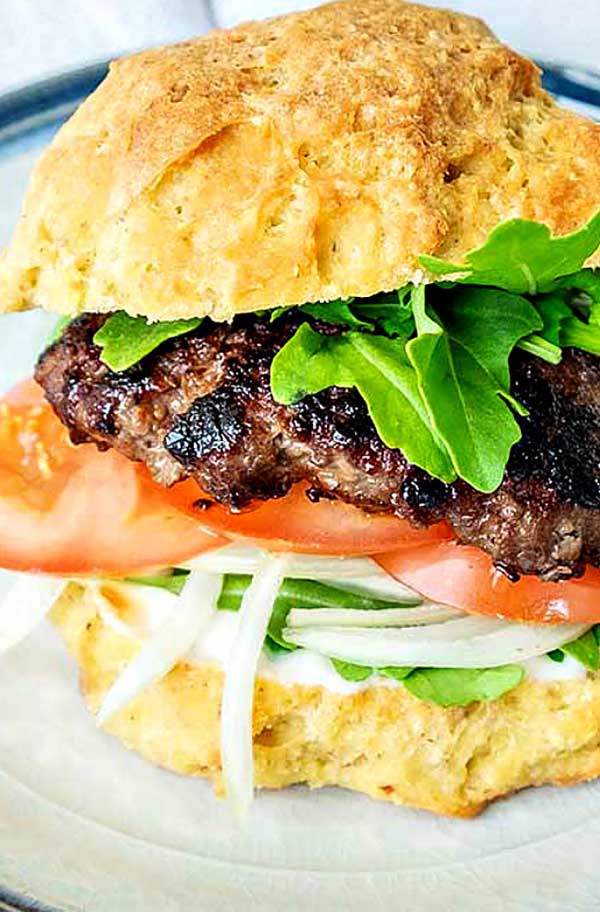 And the best part, the burger buns are soft with a perfect crumb!
Barbecues are all about casual dining, so the last thing you want to do is spend unnecessary time in the kitchen. This gluten-free recipe is easy, and the burger buns are outstanding.
Some of our favourite gluten-free burger patty recipes are turkey, vegan, or try our amazing salmon fish burger with water chestnuts patty. They will make a great combo with the buns…YUM!
About the gluten-free dough!
This is a yeast-leavened dough, so you need to allow about an hour for the buns to rise and 25 minutes of baking time. Otherwise, there is nothing to this gluten-free burger bun recipe.
Key ingredients you will need for the dough that you may already have in your gluten-free pantry.
all-purpose gluten-free flour blend

almond flour (keeps the buns moist)

rapid rise instant yeast

xanthan gum

eggs

olive oil

apple cider vinegar
Which gluten-free flour blend is best for burger buns recipe?
Gluten-free baked goods such as bread, buns, rolls, hot dog buns, and pie crust have a better texture when using high-protein flour. I MAKE MY OWN when I need specialty flour like a gluten-free, high protein blend.
Here is the recipe for my gluten-free, high protein bread flour blend (makes 4 1/4 cups)
1 1/4 cups of almond, oat, quinoa, teff, millet, sorghum or amaranth flour (I do not use bean flours, they are hard to digest. And buckwheat flour is very dense and should be used sparingly)
1 cup white or brown rice flour
1 cup arrowroot flour/starch or potato starch (not flour)
1 cup tapioca flour/starch
1 3/4 tsp. xanthan gum
This high protein blend is excellent for making bread or buns because it allows for elasticity in baked goods.
How to make gluten-free hamburger bun dough?
The dough is a straightforward recipe. First, whisk the dry ingredients, then add the wet and mix until a dough forms. I used a stand mixer with a dough hook, and it took me only 3 minutes to make the dough.
If you don't have a mixer with a dough hook, you can use a rubber spatula to mix the dough. It will take a little extra muscle and time, but it will work.
How to shape the dough into burger buns?
The dough is fairly sticky, so to avoid it sticking to your hands, use olive oil. Lightly oil your hands before shaping the balls.
Start using a dough scraper, and divide the dough into 6 equal pieces.

Stretch the top of each piece to create a smooth top

Pinch together at the bottom

Place on a baking tray lined with parchment paper with the pinched part side down, or use a burger bun pan.
Should I weigh the dough?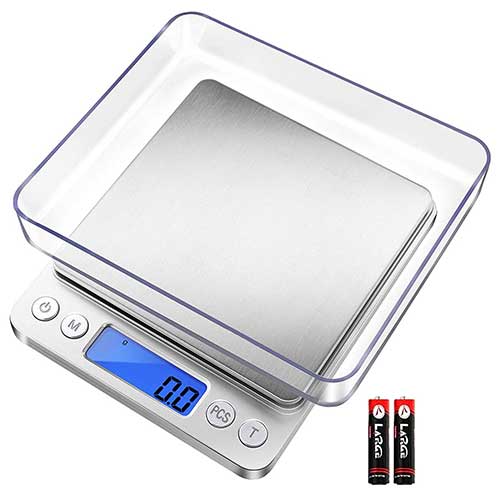 If you are looking for the same size of each burger bun, I recommend weighing the dough. To do this:
Weigh the dough before dividing it into balls.

Divide the total weight by 6 to calculate the dough weight of each roll.

Weigh each ball separately.
I never weigh the dough for burger buns, I eye it, and they are pretty close in size. But if you are looking for six identical burger buns, you may want to weigh the dough.
Should I use a burger bun pan?
I highly recommend getting one. The burger pan gives the buns a perfect shape. And the pan is excellent for making gluten-free cinnamon buns or gluten-free mini lemon cakes.
Of course, a hotdog pan is also handy. Check out our very best Gluten-Free Hot Dog Bun Recipe.
How to make seeded gluten-free buns?
Once you shape the dough, brush it with olive oil on all sides. Then, sprinkle with seeds of choice. I like to use white or black sesame seeds or poppy seeds. The seeds elevate the burger buns to another level.
Which brush to use, bristle pastry brush or silicone brush?
I used a bristle pastry brush for years. However, there was no turning back since I tried the silicone brush. The silicone brush washes easier, does not shed, or stiffen, and is gentle on the risen dough.
Toppings for best burgers!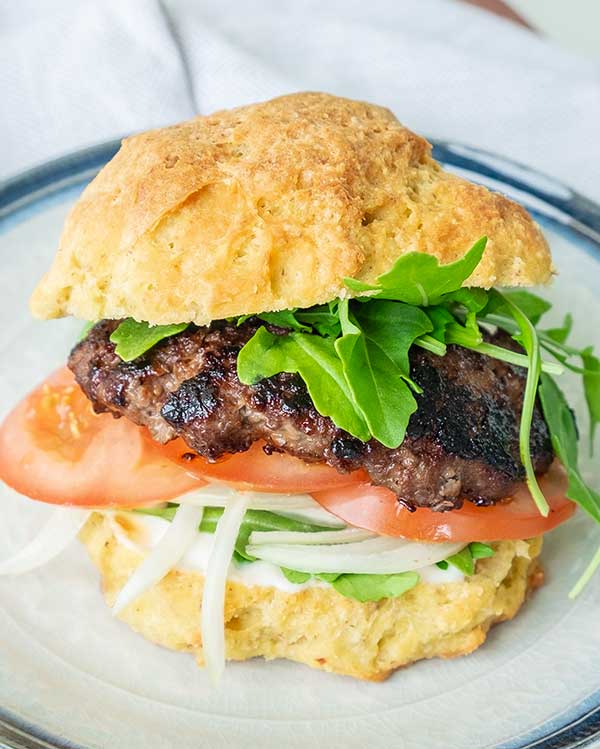 Ok, so we talked about a burger that is only as good as the burger bun, and it's true. However, I would like to share some exciting topping options that you may enjoy to make that out-of-this-world burger!
bacon

cheese (cheddar, mozzarella, smoked gouda, brie, cream cheese)

tomatoes

lettuce

arugula

avocado

pickles

kimchi

jalapeno chilli

caramelized onions

coleslaw (this is a must, omg!)

sauerkraut

condiments (ketchup, dijon mustard, mayonnaise)

poached egg

sauteed mushrooms

onion rings
Storing and freezing gluten-free burger buns.
As with all gluten-free baked goods, they are always best on the day they are baked. However, you can store them in an airtight container at room temperature for up to 3 days.
To freeze the gluten-free hamburger buns, first, place them on a baking sheet and freeze. Then, individually wrap them in plastic wrap and put them in a freezer bag. The buns will keep up to 2 months in the freezer.
To defrost the buns, remove them from wrapping and defrost them at room temperature. Then, you can pop them in the oven for a few minutes to freshen them up or place them on a barbecue grill.
Are you looking to complete your cookout with sides and dessert? Then, check out these one-stop recipe collections: Summer Salads and Gluten-Free Fruit Desserts.
Homemade Gluten-Free Hamburger Buns
Published on Apr 08, 2022
by
Kristina Stosek
Instructions
1.

In a large bowl whisk the flours, baking powder, yeast, Xanthan gum and salt

2.

In a medium bowl whisk eggs, olive oil, maple syrup, apple cider vinegar. Whisk in warm water

3.

Using an electric mixer at medium speed, slowly add the wet mixture into dry ingredients until a dough forms. Scraping sides as needed. About a minute, the dough will be sticky. I prefer to use a dough hook

4.

Lightly oil your hands with olive oil and shape 6 equal balls. Pace them 1 -inch apart on a 9 x 13-inch baking pan lined with parchment paper, lightly brush with olive oil and sprinkle with sesame or poppy seeds if using. Cover with a dry cloth and place in an oven to let the dough rise for 1 hour (I use the oven for rising to avoid drafts)

5.

Remove the pan from oven and preheat the oven to 375 F

6.

Bake for 25 - 30 minutes until the tops are golden brown. Transfer the buns onto a rack to cool completely before serving
Leave a Comment
the burger buns are so good, finally I can enjoy a good burger, thanks
absolutely the best gluten-free hamburger buns I have made. And so easy, thank you!
Kristina
Thank you Jeanette for sharing!
Thank you so much for this recipe! I have struggled many times with making gluten free hamburger buns and they just never turned out. These are so delicious, light but dense enough to put all your favorite toppings on. I was a little worried when they didn't rise like I thought they should but am very happy with their size and height after baking them. I didn't have to adjust a thing. This recipe is brilliant and I will now be happily having hamburgers again!!