Best Authentic Spicy Guacamole
Prep Time
15 Minutes
Difficulty
Easy
Serves
4 cups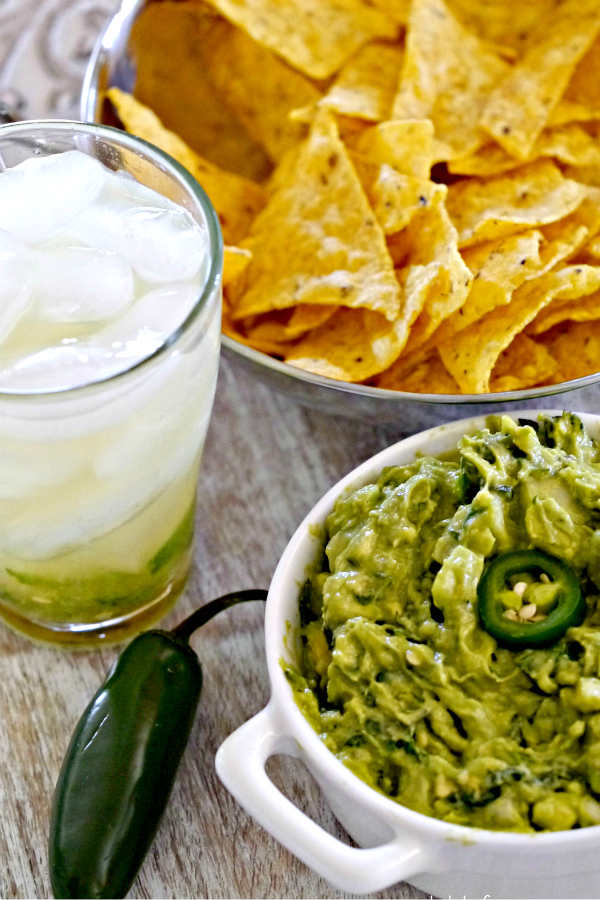 Average Rating: 5 | Rated By: 6 users
Best Authentic Spicy Guacamole – I was inspired to create this recipe after a trip to Puerto Vallarta, where foods such as guacamole are made with locally grown avocados, jalapeno peppers, limes and cilantro.
This Mexican dip and a great appetizer is a beautiful combination of avocados, with onions, garlic and jalapeno peppers balanced with zesty lime juice and fresh cilantro. The spice cumin and fresh basil leaves add an even richer flavour.
I must confess this recipe came from when I was visiting a small restaurant in the old town of Puerto Vallarta. Their menu said the best guacamole in Mexico, so I had to have it. Besides, I love avocados. After trying their guacamole, I knew I had to have their authentic spicy guacamole recipe. And here it is, the best guacamole dip I promise you. The Mexican dip is made with the freshest of ingredients and ripe avocados.
I like to serve this healthy dip with gluten-free corn chips, in sandwiches as a spread, over chicken and wait….it makes the Mexican chicken rice soup so incredibly delicious if you top it with the spicy guacamole. The tastes mingle beautifully when combined with the chicken soup.
♥

Here is a list of my top 5 gluten-free Mexican recipes!

Baja Chicken Kale Salad with Avocado Lime Dressing

Santa Fe Skillet Chicken Dinner

Who needs to go to Mexico to eat authentic Mexican food? Now you can serve your family authentic Mexican dishes with these delicious gluten-free Mexican recipes 🙂
Ingredients
6 ripe medium size avocados
1 tsp. GF ground cumin
4 Tbsp. fresh lime juice
1 medium size sweet onion, finely chopped
2 jalapeno peppers, remove the seeds and finely chopp
2 garlic cloves, minced
1 bunch fresh cilantro, chopped
1/4 cup chopped fresh basil leaves
Sea salt to taste
*As an Amazon Associate and member of other affiliate programs, I earn from qualifying purchases. Please check out my sponsorship and disclosure policy page for more details
Instructions
Slice avocados in small pieces and mash with a fork, leaving small chunks
Add remaining ingredients and using a fork mix well, do not mash.
Taste and season with salt if needed
Similar Recipes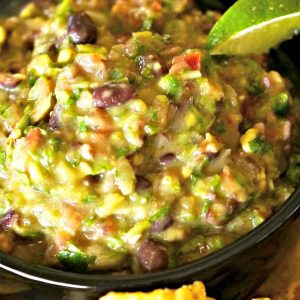 Hearty Black Bean Guacamole Dip
Black bean guacamole is a hearty dip made with black beans and avocado. This delicious dip is flavoured with cumin, garlic and fresh lime juice. Serve with gluten-free corn chips, fresh cilantro and lime wedges. Enjoy! Read More
Prep Time
15 Minutes
Difficulty
Easy
Serves
4 cups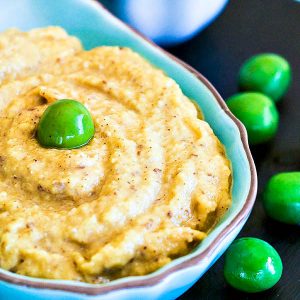 Quick and Easy Low-Carb Eggplant Dip
This dip is particularly smooth and creamy and always a tasty addition when entertaining. Eggplant is low in calories and carbs making this dip a favourite for diet savvy guests. Serve with fresh veggies and green olives, or with gluten-free crackers Read More
Prep Time
10 Minutes
Difficulty
Easy
Cook Time
20 Minutes
Serves
1 1/2 cups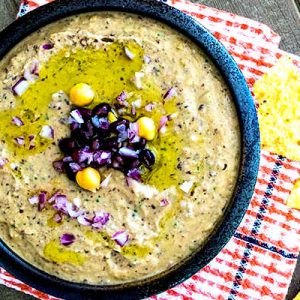 Gourmet Black Bean Hummus Recipe
Why stop at chickpeas? There are no rules when making hummus. Mouth tingling and easy to prepare you will never get bored snacking on this yummy dip. With earthy black beans combined with pungent cilantro and fresh lime juice this healthy snack is outstanding There are many dip recipes, but this one is healthier than […] Read More
Prep Time
10 Minutes
Difficulty
Beginner