Santa Fe Skillet Chicken Dinner
Published on Jul 12, 2018
by
Kristina Stosek
Prep Time:

15 minutes
Cook Time:

30 minutes
Serves:

4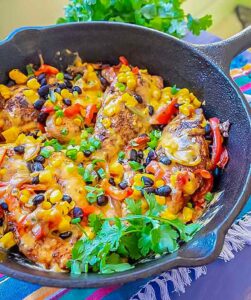 ​This post may contain affiliate links, please see our
privacy policy
for details
This is an easy-to-make Gluten-Free Santa Fe Skillet Chicken Dinner packed with Southwestern flair! The recipe combines tender chicken, vibrant vegetables, bold spices, and cheese in a single skillet, making it a perfect choice for busy weeknights when you want something delicious and hassle-free.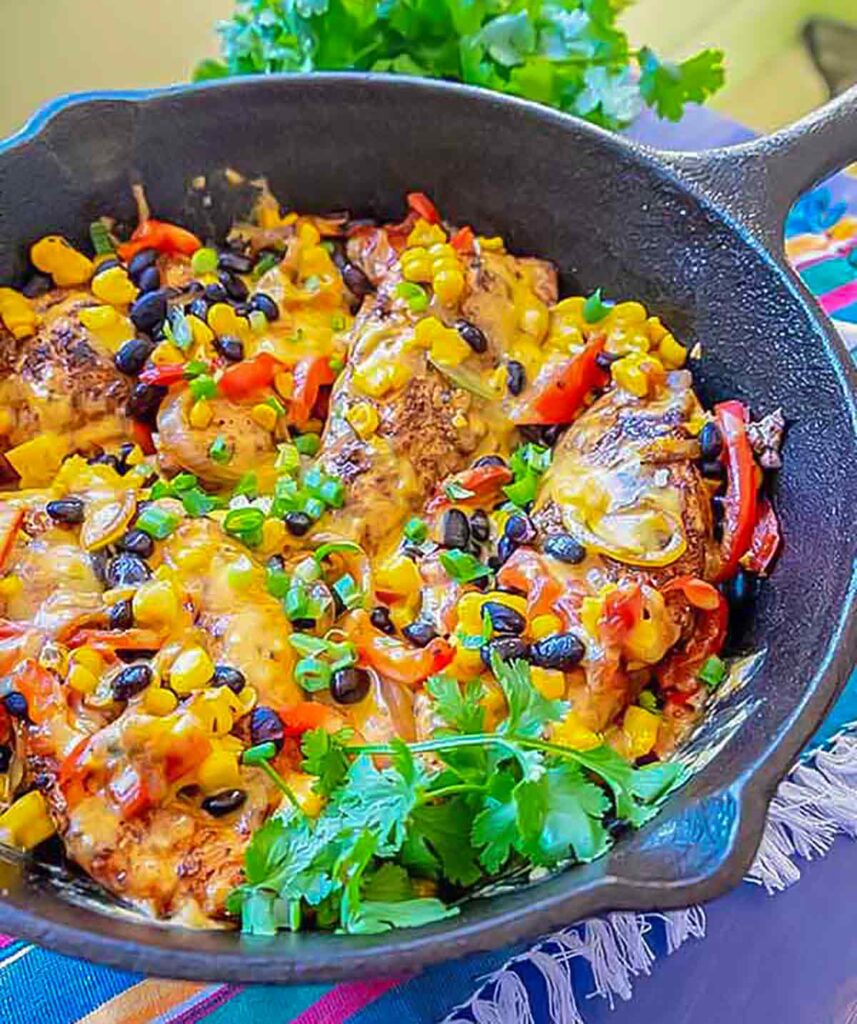 With the enticing flavors of Santa Fe, this dish has quickly become a favorite at our dinner table.
the ingredients
Plenty of rainbow-colored veggies such as bell peppers, black beans, tomatoes, and corn make this a wholesome gluten-free chicken dinner. In addition, this Santa Fe chicken dish has various textures, cheesiness, and plenty of Southwestern flavor.
One skillet Santa Fe Skillet Chicken Recipe Details
By using only one skillet, there is minimal cleanup. The recipe itself is so easy. Here are three simple steps to make this hearty gluten-free chicken dinner.
First, season the chicken with all the spices. Then, lightly sear the chicken to give it a tasty coating. Set the chicken aside on a plate.
Add the onions, garlic, and bell peppers to the same skillet. Cook them until softened. Then, add the tomatoes, black beans, and corn and cook until heated.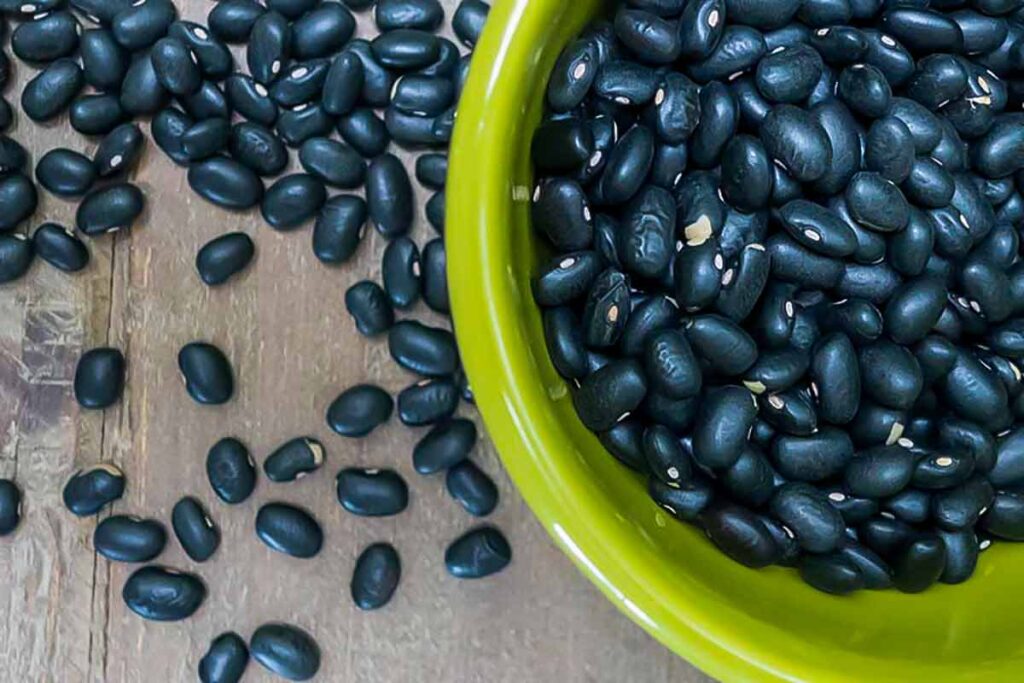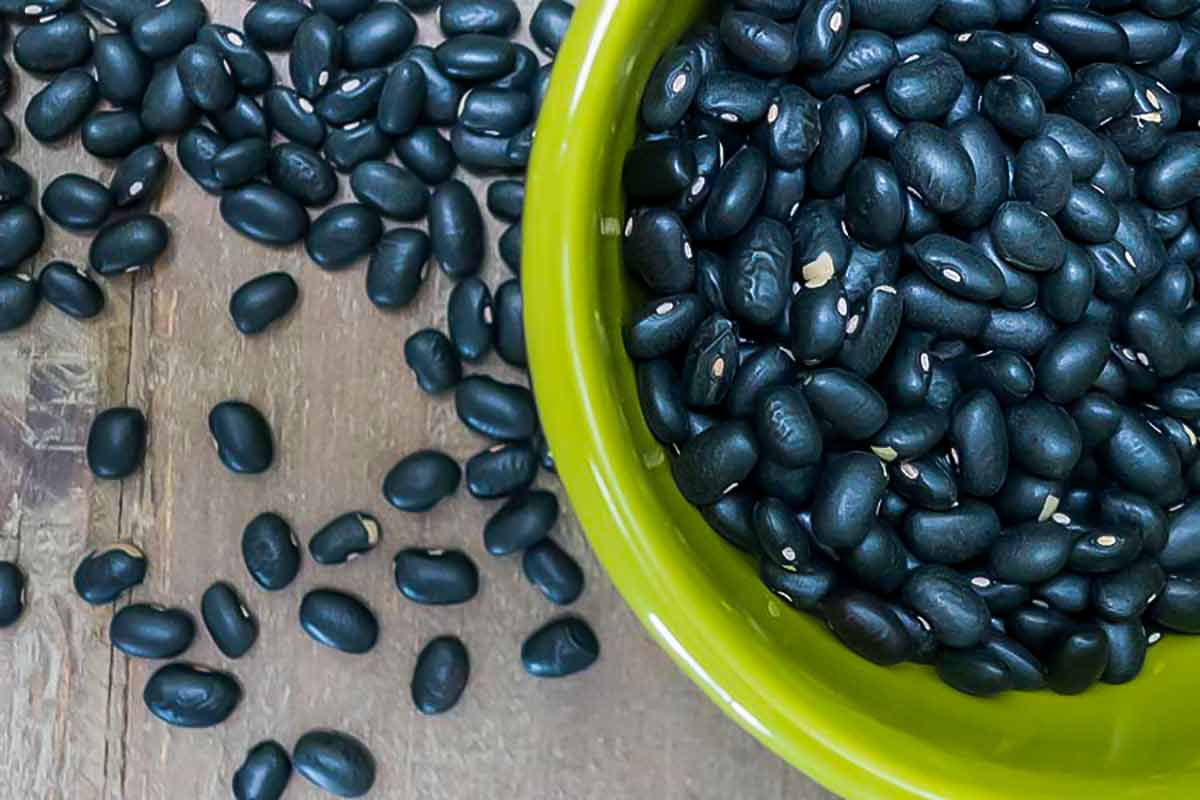 (side note) I always cook my black beans in an Instant Pot before I add them to recipes.
However, you can use canned beans in this chicken dinner recipe to keep things simple.
To complete the skillet dinner, return the chicken pieces to the skillet, pour the veggies over the top, and plenty of cheddar cheese. Bake for about 15 minutes, and dinner is ready. Easy right?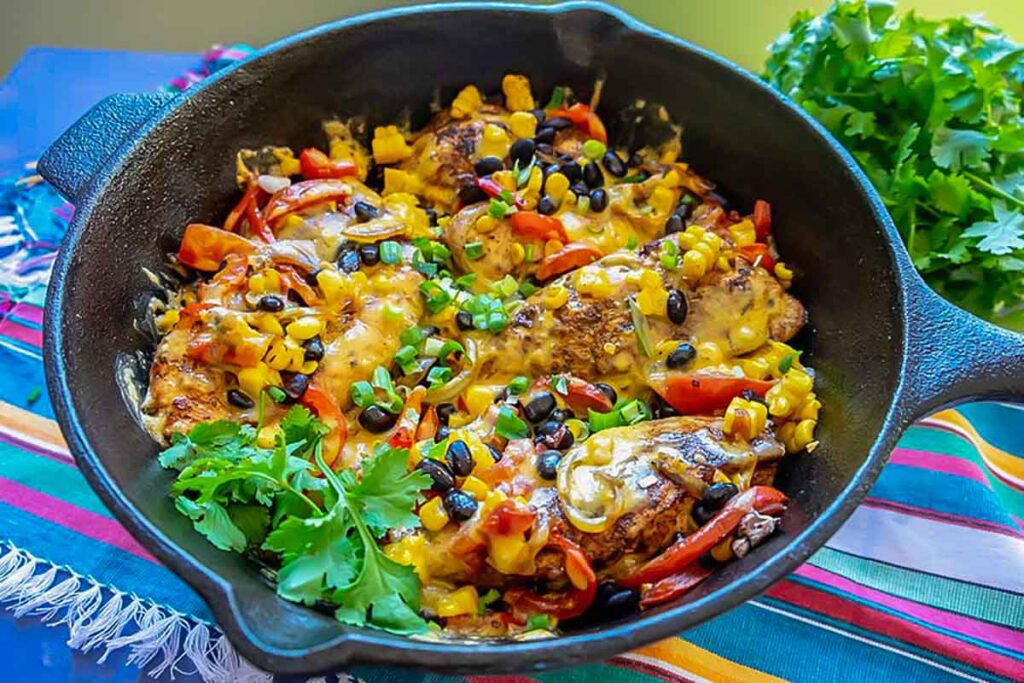 Key Features:
Gluten-Free: This recipe is tailored for those following a gluten-free diet, making it an inclusive and safe option for individuals with dietary restrictions.
Chicken Dinner: Succulent pieces of chicken take center stage in this recipe, providing a hearty source of protein that's perfect for a satisfying dinner.
Easy Recipe: With just one skillet and straightforward steps, this recipe is created simple, even for home cooks who are short on time or experience.
Santa Fe Flavors: The combination of spices like cumin, chili powder, oregano, and paprika, along with colorful bell peppers, corn, and black beans, infuses the dish with the vibrant and bold flavors of Santa Fe cuisine.
Skillet Preparation: All the magic happens in a single skillet, minimizing cleanup and allowing the flavors to meld together beautifully.
You may also enjoy our popular chicken recipes such as the Skillet Roasted Herb Chicken With Lemon Potatoes and Shallots or the Gluten-Free Louisiana Style Crispy Parmesan Chicken Pasta.
serving suggestions for Santa Fe Skillet Chicken Dinner
There are many ways you can serve the Santa Fe chicken dinner. If you want to keep the meal light, add a green salad. If you need to satisfy big appetites, add Simple Rice With Parsley or Gluten Free White Corn Tortilla Chips.
the toppings
Add your favorite toppings, such as cilantro, sour cream, green onions, and avocado, to elevate this chicken dinner to another level. This dish is ideal for lazy nights in the kitchen or last-minute guests. Enjoy!
Let's Connect!
Be sure to FOLLOW US on FACEBOOK and PINTEREST. And don't forget to sign up for our newsletter, the form is at the bottom of this page. We always have something new and exciting for you!
Many thanks!
Kristina xx
Santa Fe Skillet Chicken Dinner
Published on Jul 12, 2018
by
Kristina Stosek
Instructions
1.

In a large bowl mix chili powder, cumin, oregano, garlic powder, paprika and 1/2 teaspoon salt. Add the chicken and coat with the seasoning

2.

In a large skillet, heat olive oil over medium heat. Add the chicken and cook for about 5 minutes per side, until the chicken is no longer pink. Transfer chicken to a plate

3.

Using the same skillet, add onions, garlic and bell pepper and season with salt. Cook for about 5 minutes over medium-low heat until they start to soften. Add tomatoes, cayenne pepper, black beans and corn, and cook until heated. Transfer half the mixture to a bowl, leaving half in the skillet

4.

5.

Return the chicken back to the skillet and top with the saved bean mixture and sprinkle with cheese. Bake for 15 minutes until the cheese is melted

6.

Serve with your favourite toppings
Leave a Comment
Kristina
Thank you Kristina, omg this chicken dinner recipe is so easy and has become my family's favourite. My family are picky eaters, but they love this Santa Fe Chicken dish!
this recipe was awesome!!!
Kristina
sounds delicious! Thank you for sharing
Loved it. I used 3 different colors of peppers as well as tricolor beans. I also uses a mixture of cheeses and boneless chicken thighs, but sans corn for I had none in the pantry of freezer. For the two of us it easily made too meals.