Simple Rice With Parsley
Prep Time
5 Minutes
Difficulty
Beginner
Cook Time
15 Minutes
Serves
4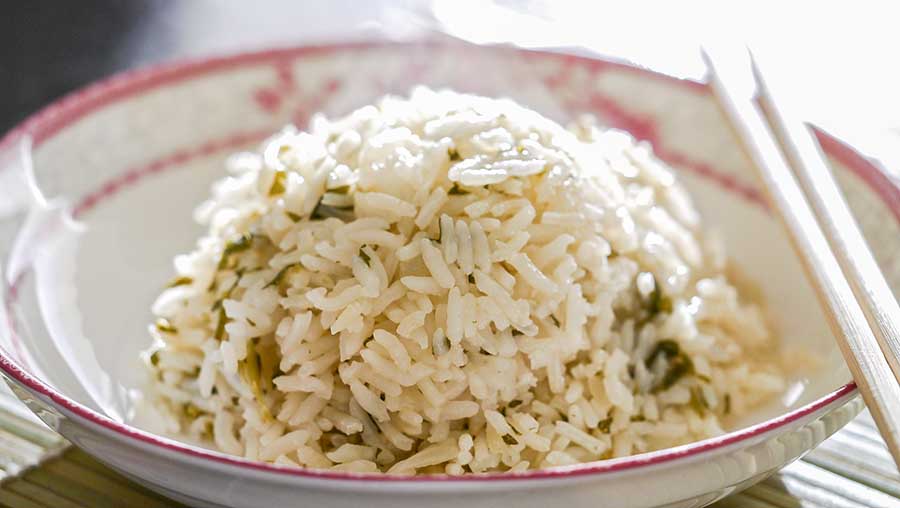 Average Rating: 5 | Rated By: 6 users
The rice in this gluten free recipe is lightly infused with parsley and bay leaf. The flavour is aromatic but mild enough to serve with any main dish. I call this 'the perfect rice'.
Ingredients
1 cup GF basmati rice
2 Tbsp. extra virgin olive oil
½ yellow onion, finely chopped
½ tsp. sea salt
2 Tbsp. chopped fresh parsley
1 GF bay leaf
1 1/2 cup GF chicken or vegetable stock
*As an Amazon Associate and member of other affiliate programs, I earn from qualifying purchases. Please check out my sponsorship and disclosure policy page for more details
Instructions
Place rice in a large bowl with three cups of water and soak for an hour, (this is a very important step)
Heat olive oil in a medium saucepan, add onions and sauté until soft
Drain rice and stir in with onions until well combined. Add salt, parsley, bay leaf and stock. Bring to boil, turn the heat to low, cover with a lid and cook for 15 minutes.
Fluff with a fork and cover until ready to serve
Similar Recipes
Indian Lemon Rice with Corn Recipe
This golden Indian Lemon Rice with Corn is an aromatic basmati rice side. An undeniably stunning rice dish flavoured with spices such as ginger, cumin, turmeric and basil and cooked in a chicken or vegetable stock with fresh lemon juice and corn. This is one of the best Indian rice dishes I know. ♥ Sucess […] Read More
Prep Time
5 Minutes
Difficulty
Beginner
Cook Time
20 Minutes
Serves
4
One Pot Thai Coconut Chicken Rice
This One Pot Thai Coconut Chicken Rice recipe is a keeper. A most flavourful Thai rice dish made with leftover cooked chicken, garlic, ginger, bell pepper, basil, tamari sauce and fish sauce. Everything is cooked with coconut milk, adding creaminess to this stunning rice dish. The best rice for this Thai recipe is jasmine rice. […] Read More
Prep Time
10 Minutes
Difficulty
Easy
Cook Time
25 Minutes
Serves
6