sheet pan cajun chicken with roasted veggies
Prep Time
15 Minutes
Difficulty
Easy
Cook Time
45 Minutes
Serves
4
Be the first to rate this recipe.
Saucy Cajun chicken alongside roasted veggies made on a sheet pan. Healthy, low carb, easy and super flavourful chicken dinner under 45 minutes.
This month we are keeping the recipes on the lighter side with healthiness in mind. This sheet pan cajun chicken is made with lean chicken coated in saucy cajun spiced yogurt, and olive oil. The cajun seasoning is made from scratch using paprika, oregano, thyme, cayenne pepper, red pepper flakes and black pepper. I have also added thin slices of garlic into the marinade for freshness.
for the veggies,
In this sheet pan chicken dinner, the veggies are zucchini, orange bell pepper, red onion and carrots. This gluten-free chicken dinner is healthy, with perfectly cooked veggies, caramelized onions, and irresistible flavours.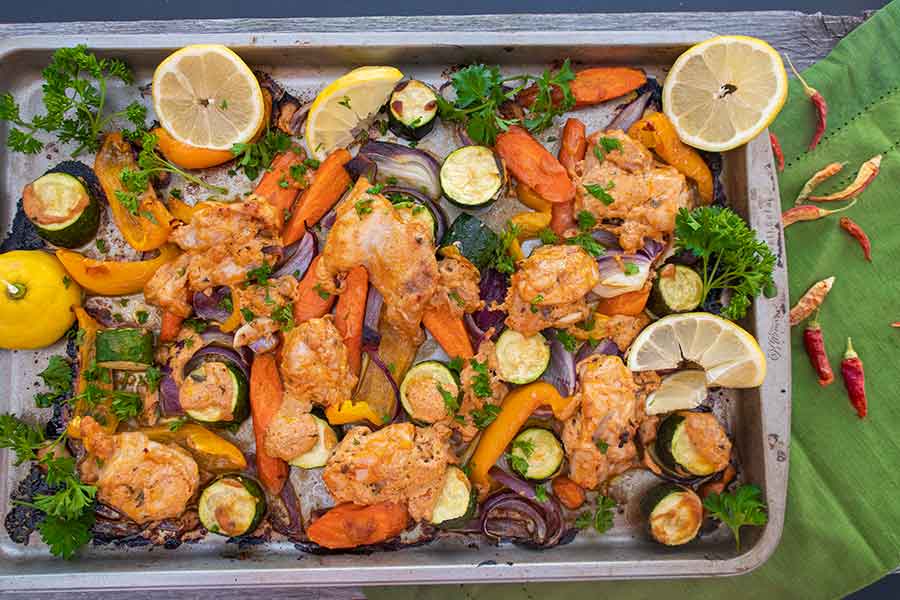 things you will need,
To make this sheet pan cajun chicken dinner, you will need only one bowl and a rimmed sheet baking pan. This is probably one of the easiest chicken dinners with super easy cleanup. The best part is, all the ingredients are naturally gluten-free, so you don't have to worry about getting special gluten-free ingredients.
the recipe details,
In this recipe the chicken is spiced with cajun yogurt marinade, keeping the chicken moist, saucy and plenty flavourful. To prepare the chicken, mix the chicken with freshly made from scratch cajun marinade. While the chicken is marinating, the veggies are partially roasted with olive oil, salt and pepper. Then, the veggies are topped with the chicken pieces and the marinade, and everything is roasted to perfection—nothing to it.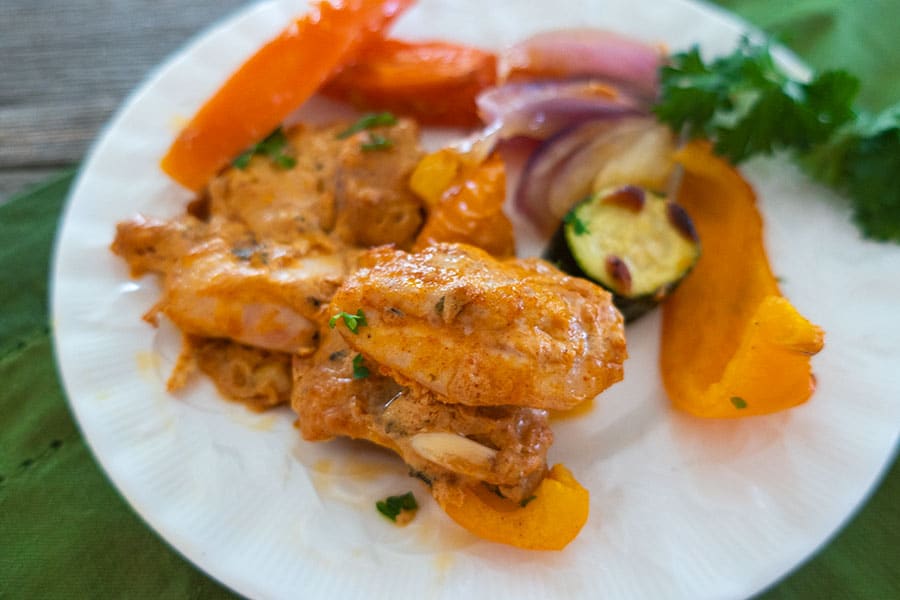 This gluten-free oven-baked chicken dinner is perfect for any night of the week. If you have 45 minutes, you can make this healthy cajun chicken with roasted veggies dinner. To keep this cajun chicken dish keto friendly, serve it as is. This meal is hearty on its own, but often, I will add this rice side or kale salad with ginger salad dressing, especially for the big appetites!
Ingredients
CAJUN MARINADE
1 cup full fat plain Greek yogurt
2 Tbsp. Extra virgin olive oil
2 garlic cloves, thinly sliced
1 tsp. GF paprika
 1 tsp. GF oregano
 1/2 tsp. GF thyme
 1/2 tsp. GF cayenne pepper
 1/2 tsp. GF ground black pepper 
1/4 tsp. GF red pepper flakes
1 tsp. Sea salt
1 1/2 lb. Skinless, boneless chicken thighs or breasts, sliced into about 1 1/2 inch thick strips
ROASTED VEGGIES
2 medium carrots, cut into 2 inch long pieces
2 medium zucchini, cut into about 1 1/2-inch wide circles
1 yellow bell pepper, sliced into about 3/4-inch wide pieces
1 medium red onion, cut into thin wedges
2 Tbsp. Extra virgin olive oil
Sea salt and GF ground black pepper to taste
Optional toppings, fresh lemon juice and chopped fresh parsley
Note: if you want to simplify this dish you can use 1 Tbsp. GF cajun seasoning to replace the spices
*As an Amazon Associate and member of other affiliate programs, I earn from qualifying purchases. Please check out my sponsorship and disclosure policy page for more details
Instructions
Preheat oven to 425 F
Place cajun marinade ingredients with chicken in a large bowl. Stir to combine and set aside
Meanwhile, on a rimmed baking sheet, toss the veggies with olive oil and season with salt and pepper. Roast for 10 minutes
Remove the veggies from the oven. Place the chicken pieces over the veggies and brush the veggies with leftover marinade. Don't worry if you can't brush all of the veggies. If the marinade is too thick, add a splash of olive oil to the marinade. It should have the consistency of thick gravy
Return the pan to the oven and roast for 20 - 22 minutes, shaking the pan halfway to coat the veggies with the seasoning evenly. Then, continue baking until the chicken is fully cooked and starts to brown
To serve, drizzle with fresh lemon juice and chopped fresh parsley. Eat and enjoy!
Similar Recipes
30-Minute Louisiana Chicken With Edamame Rice
The Louisiana Chicken With Edamame Rice is a weeknight dinner made under 30 minutes. This gluten-free chicken with rice meal in a bowl is a blend of savoury, zesty, and spicy flavours. The chicken is spiced with paprika, garlic, oregano, thyme, black pepper, and cayenne pepper, keeping Louisiana's classic flavours. The well seasoned chicken is […] Read More
Prep Time
10 Minutes
Difficulty
Easy
Cook Time
20 Minutes
Serves
4
Baked Hawaiian Chicken with Pineapple
This gluten-free Baked Hawaiian Chicken with Pineapple recipe takes minutes to prepare with delicious flavours throughout. The chicken is tender with crispy skin smothered in the most delicious Hawaiian pineapple sauce. Hawaiian chicken with pineapple — the details, I love this chicken recipe because it is so simple to prepare. First, you brown the chicken […] Read More
Prep Time
15 Minutes
Difficulty
Easy
Cook Time
45 Minutes
Serves
6-8
Gluten-Free King Ranch Chicken
Family style Gluten-Free King Ranch Chicken dinner made from scratch. Think rich, creamy sauce, flavoured with Mexican spices and filled with chicken, tomatillos, bell peppers, green chillies, tortilla, fresh cilantro and plenty of cheese. King Ranch Chicken recipe is for when you need real comfort food the most.       This King Ranch Chicken […] Read More
Prep Time
15 Minutes
Difficulty
Easy
Cook Time
50 Minutes
Serves
6