Louisiana Chicken Gumbo (Gluten-Free)
Prep Time
15 Minutes
Difficulty
Easy
Cook Time
20 Minutes
Serves
4 - 6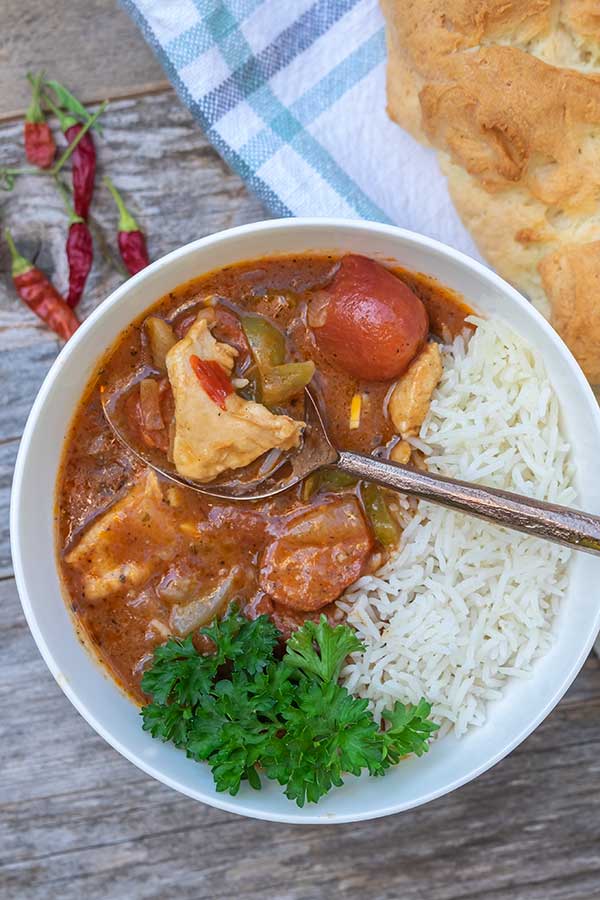 Average Rating: 4.5 | Rated By: 7 users
This Louisiana Chicken Gumbo is a thick stew made with chicken, chorizo sausage, veggies and a large selection of spices. True comfort food, you know the one that makes you feel good. This thick, richly spiced stew has the most flavourful sauce showcasing Creole and New Orleans cuisine.
Don't let the long list of ingredients scare you, they are mostly spices, and this is why this stew stands out from most. I can't tell you how delicious this gluten-free Louisiana Chicken Gumbo is.
When it comes to making gumbo, it is all about the "roux." I will get into that a little later.
The rest is simple, and the entire dish can be served under thirty minutes. Gumbo is traditionally served with steamed rice or potato salad.
You can also add fresh, thinly sliced green onions and some hot sauce. I have made a gluten-free crusty French bread to go along with this stunning Louisianna chicken gumbo.
For the gluten-free crusty French bread, I will be sharing the recipe shortly.  The bread is sooo good, more on this coming up this week.
What is roux?
Some of you may already know that roux is made with butter or oil mixed with flour and slowly cooked until it begins to deepen in colour. It is used as a thickener in soups, stews, meat pies and casseroles. But more importantly, the roux adds intense flavour.
When I started to create a gluten-free roux, I had to try various flours until the roux turned out perfect, and I was able to use it as a thickener in this gumbo to make this dish authentic.
The best flour for the rough was sweet sorghum flour. I was thrilled that this flour worked because it is a nutrient rich protein packed flour with antioxidants.
For serving, add rice or potato salad and enjoy! If you like Louisiana food take a look at these gluten-free Louisiana recipes 🙂
Ingredients
1/3 cup extra virgin olive oil or butter
1/3 cup sweet sorghum flour, divided
1 (about 8 oz.) chicken breast, sliced into bite-size pieces
1 large yellow onion, chopped
1 rib of celery, diced
1 large green bell pepper, seeded and chopped
4 cloves of garlic, smashed
28 oz. can of whole or diced tomatoes
2 tsp. GF paprika
1 tsp. GF dried oregano
1 tsp. GF ground cumin
1 tsp. GF dried thyme
1/2 tsp. GF ground black pepper
1 tsp. Himalayan salt or to taste
1 - 2 dried red chili peppers or to taste
*As an Amazon Associate and member of other affiliate programs, I earn from qualifying purchases. Please check out my sponsorship and disclosure policy page for more details
Instructions
Heat olive oil over medium-high heat. Toss chicken in one tablespoon of sorghum flour and brown in the oil. About two minutes. Remove the chicken
Add remaining flour and continue stirring, forming a roux. About two minutes over medium-low heat. Add onions, celery, bell pepper and garlic and cook them until they have slightly softened, stirring frequently. About five minutes
Add remaining ingredients and simmer for 10 minutes or until the sausage has softened. Enjoy!
Similar Recipes
African Beef Stew Recipe
This slow-cooked African Beef Stew is just the perfect hearty, cozy dinner to make when you are craving comfort food. Healthy ingredients such as garlic, ginger, tomatoes, cabbage, carrots and the two basics stew beef and potatoes make this African beef stew the most satisfying meal. the ethnic spices for African stew For the flavour, […] Read More
Prep Time
15 Minutes
Difficulty
Easy
Cook Time
140 Minutes
Serves
4 - 6
Authentic Hungarian Goulash (Gluten-Free)
This is truly an Authentic Hungarian Goulash dish…slowly simmered beef with vegetables, lightly flavoured delicious tomato broth and a little spiciness. This is comfort food at it's best! grandma's Hungarian goulash recipe Growing up in eastern Europe, in our home, Hungarian goulash was a weekly meal. Whether this hearty dish was served as a soup […] Read More
Prep Time
15 Minutes
Difficulty
Easy
Cook Time
120 Minutes
Serves
6
Beef Bourguignonne ~ Naturally Gluten Free
Beef bourguignonne is a hearty French beef stew cooked in rich red wine sauce. This French stew is slowly cooked for a few hours which is what makes the sauce incredibly tasty. Serve this delicious beef dish with boiled potatoes or over gluten free pasta. Read More
Prep Time
15 Minutes
Difficulty
Easy
Cook Time
240 Minutes
Serves
6