French Baguette Recipe – Gluten Free
Published on Nov 29, 2019
by
Kristina Stosek
Prep Time:

10 minutes
Cook Time:

40+ minutes
Serves:

1 baguette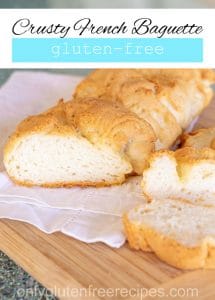 ​This post may contain affiliate links, please see our
privacy policy
for details
I am super excited about this Gluten-Free French Baguette recipe. The aroma of freshly baked crusty bread in your kitchen is something we dream of.
A gluten-free French baguette is a loaf of white bread shaped like a thin long loaf. The bread has a thin crispy crust on the outside and is soft and pillowy on the inside.
If you love French food, this gluten-free French baguette is a must have recipe.
Why is the French baguette popular?
French bread is popular for many reasons. First, it has a long tradition of being a delicious crusty bread.
Second, it is relatively easy to make at home. This gluten-free French baguette recipe takes only ten minutes of hands-on time.
Third, it is a versatile food you can use in various recipes. For example, you can make croutons for salads, breadcrumbs or as an appetizer with your favourite toppings.
In France, a baguette is often served with pate or cheese and a glass of good wine. But the most popular way to serve French baguette is as a sandwich or warmed up panini generously filled with all the delicious things we love.
FAQ about French baguette
1. What is a French baguette?
A French baguette is a long, thin loaf of bread typically made from wheat flour, water, yeast, and salt. The dough is usually not kneaded, and the loaves are baked at a high temperature to produce a crisp, crusty exterior.
2. How do I make a gluten-free French baguette?
You can use most rice flour blends to make a delicious baguette. For this recipe, I used only two gluten-free flours—Rice flour and arrowroot flour, also known as arrowroot starch.
What are some tips for making the perfect gluten-free French baguette?
-Use a light hand when shaping the dough or a spoon brushed with oil, so it doesn't become too dense.
-Make sure the oven is preheated to the correct temperature before baking.
-Bake the baguettes on a traditional French baguette pan. The baguette pan has a perforated bottom allowing the gluten-free bread to get even crispy crust all over.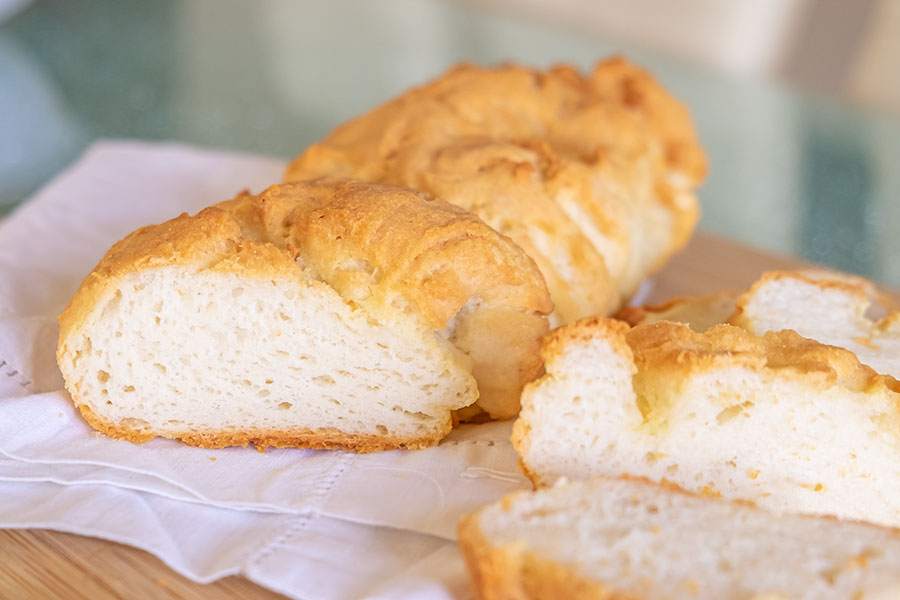 Gluten-Free baguette recipe details!
I know making gluten-free French bread may seem intimidating. However, this gluten-free baguette recipe is made simple enough, even for a novice baker.
First, for the dry ingredients, mix white rice flour, arrowroot flour, xanthan gum and salt. Prepare your yeast by mixing the yeast with maple syrup or desired sweetener and warm water. Wait about ten minutes for the yeast to foam, now the yeast is ready.
next
Add the yeast mixture with remaining wet ingredients such as olive oil, egg whites and apple cider vinegar to the flour. Using an electric mixer beat the mixture for one minute. The batter will remain wet.
Using a large spoon dipped in oil, spoon the dough onto greased French baguette pans, slash diagonally and brush with olive oil. Loosely cover with a dry cloth and allow the bread to rise. This takes about 40 minutes. Now the gluten-free baguette is ready for baking.
To summarize, there is no kneading just mixing the ingredients together…nothing to it. As you can see, anyone can make this gluten-free baguette recipe.
This gluten-free version of the famous French bread is exceptional. The recipe is super easy to whip up using only seven ingredients plus the basics such as water and salt. There is no lengthy kneading, and the results are amazing.
This gluten-free baguette is a classic French bread that we know and love. I never thought I could create a gluten-free version of this famous French bread that tastes this good.
I promise you will love this gluten-free baguette. The picture says it all, a perfect gluten-free French baguette.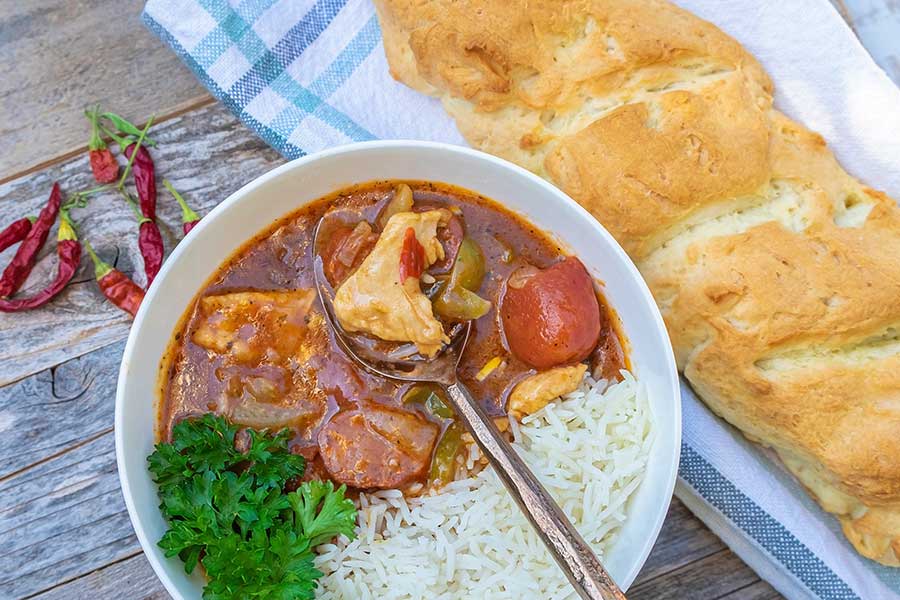 serve with your favourite soup or stew
There are many reasons why gluten-free French bread is so popular. Just think, soft white bread with a thin crispy crust. Besides the satisfying taste of freshly baked French bread, it is amazing as a side to your favourite soup or a hearty stew. My favourite is the chilled vichyssoise soup.
Some of my favourite ways to serve gluten-free French baguette is as bruschetta. Bruschetta is often served as an antipasto in Italy.
The bread is toasted or grilled, rubbed with fresh garlic, brushed with good quality olive oil and topped with variations of fresh tomatoes, veggies, meats or cheeses.
I hope you try this gluten-free baguette recipe, trust me on this, you will not be disappointed. Today, many people are suffering from gluten intolerance, so entertaining sometimes becomes challenging.
However, this gluten-free baguette can be used as an appetizer with your favourite toppings, and you don't have to worry about your gluten-free guests being glutened.
an appetizer made with gluten-free French bread
To make this simple gluten-free appetizer, slice the baguette, toast to a golden colour, lightly brush with extra virgin olive oil and top with chopped fresh tomatoes, sprinkle of salt, basil and finely chopped garlic.
You can also add some freshly grated parmesan cheese. The delicious gluten-free appetizer is ready. Enjoy!
If you are looking for a basic white sandwich bread try this gluten-free white bread recipe.
Let's Connect!
Be sure to FOLLOW US on FACEBOOK and PINTEREST.
Many thanks!
Kristina xx
French Baguette Recipe – Gluten Free
Published on Nov 29, 2019
by
Kristina Stosek
Instructions
1.

Using a large bowl, whisk together rice flour, arrowroot starch, xanthan gum, and salt

2.

In a small glass bowl, whisk water with maple syrup, and add yeast. Wait until the yeast foams, about 10 minutes

3.

Add yeast mixture, olive oil, egg whites and apple cider vinegar into first 4 dry ingredients (rice flour, arrowroot starch, xanthan gum, salt). Using an electric mixer beat for one minute, scraping sides as needed

4.

Using a large spoon dipped in olive oil, spoon dough onto greased French bread pans. Slash diagonally every two inches and brush with olive oil. Loosely cover with a dry cloth and place in a warm place for 40 minutes

5.

Preheat oven to 400 F and bake for 35 - 40 minutes until golden. Remove from the pan and place on a cooling rack to cool completely
Leave a Comment
Kristina
yes Jessica, you can use tapioca, potato starch (not flour), and cornstarch.
Do you have a substitute for the arrowroot please?
Kristina
I am so happy you enjoyed the French baguette Christie, thank you
This bread is amazing!!! Thank you so much for sharing!!
Kristina
have you tried out gluten-free hot dog buns? Either recipe should work, let us know how they turn out!
I am hoping to use this recipe to make some hoagie buns. I grew up loving the hoagies a shop in my town made! Now I am gluten intolerant! Sure hope this works!!
Kristina
I am sorry, sometimes oven temperatures vary or high altitude, this could be the factor. I made mine in foil the very first time, and it worked. Maybe next time bake the baguette a little longer. The baguette pan also helps
I made this baguette it turned out ok but was gooey inside in some places I put it back in the oven and that seemed to help....do u think I should have cooked it longer than 40 mins or maybe too much xanthan gum? Also I didn't have a baguette pan but made one out of foil as you suggested
Kristina
if you have heavy duty foil you can make one of the foil. If you don't use something to keep the baguette style shape the bread will be wider and flatter. I have made it with the foil paper and the baguette shape was good. Good luck
I do not have a baguette pan. Can i still make this receipe or what else can I use in it's place?
Kristina
Hi Nathaly, this recipe makes one baguette. Here is a link for weight chart. Hope this helps and thank you! https://www.kingarthurbaking.com/learn/ingredient-weight-chart
Thank you for this recepy! I'm willing to try it but do you have the measurements in gr or oz? This recepy makes 1 or 2 baguettes?
Kristina
Sorry about the confusion, yes the yeast is separate from the dry ingredients. I have changed the wording hope it helps.
Will make this today and I love how you spread the instructions, however ! Mix dry ingredients...what is active dry yeast if not a dry ingredient ? So, now I'm left to wonder what is mixed with what and when? I guess yeast is kept out of the last of dry ingredients.
Easiest bread recipe I have made in a very long time, and so delicious. thank you
Kristina
I am so happy that you enjoyed it. Thank you for letting me know.
Thank you, the French bread turned out perfect!!!