Vegan Vichyssoise Soup Recipe
Published on Jun 18, 2017
by
Kristina Stosek
Prep Time:

15 minutes
Cook Time:

20 minutes
Serves:

4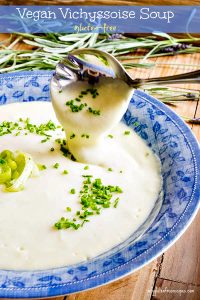 ​This post may contain affiliate links, please see our
privacy policy
for details
This creamy vegan vichyssoise soup is a delicious, healthy twist on classic French soup. It's made with potatoes, leeks, and fresh herbs, and to keep the soup dairy-free, coconut milk. The creamy soup is absolutely perfect for a gluten-free summertime meal.
Most of us hanker for authentic food experiences. This inspiration comes from France, the epicenter of culinary elegance.
What is vichyssoise soup?
Vichyssoise soup is a thick, creamy soup typically made with potatoes, leeks, and cream. It is a French soup that is usually served cold but can also be served hot.
Why this vegan vichyssoise recipe is the best?
There are a lot of vegan vichyssoise recipes out there. But this one is the best. Why? Because it's the perfect combination of creamy and flavourful. And it's so easy to make, using less than ten ingredients.
It's the perfect vegan soup for a summer day. And it's also great for the cooler months when you need something warm and comforting because Vichyssoise can also be served hot.
the garnish
You can garnish this creamy potato soup with whatever you like. I like to garnish mine with chives, but you could also use thinly sliced green onions, chopped fresh herbs, or gluten-free herb croutons.
How to make gluten-free herb croutons?
(serves 4 – 6)
Drizzle about 1/4 cup of olive oil over a rimmed baking sheet. Add two tablespoons of your choice of herbs and season with salt and pepper.
Using your hands, mix the oil with the seasoning.
Cut three slices of gluten-free stale bread into small cubes and add them to the seasoned oil. Then, using your hands, coat the cubes.
Bake in a preheated oven at 400 F until the croutons are golden.
They brown very quickly, so keep an eye on them. It should take only a few minutes, shaking the pan halfway to crisp the croutons all over.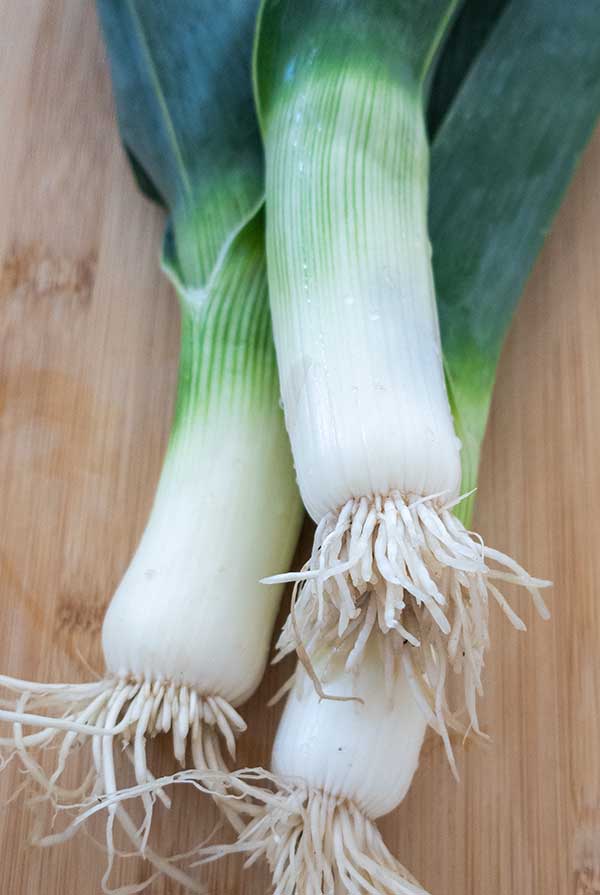 The ingredients you'll need for this vegan vichyssoise soup recipe.
This vegan vichyssoise soup recipe is the perfect way to enjoy a classic French soup without animal products. This plant-based soup is made with potatoes, leeks, and a touch of creaminess from coconut milk. It's the perfect chilled French summer soup.
This soup is sure to please everyone, whether they follow a plant-based diet or not. So give it a try and let me know what you think!
What to serve with vegan vichyssoise soup
When it comes to vegan vichyssoise soup, there are a few different ways that you can enjoy it. Traditional Vichyssoise is served cold, but you could also serve this soup hot.
If you want to keep it simple, garnish the soup with fresh chives or green onions. You could also add in some gluten-free croutons for a bit of texture.
Or, ultimately, serve the soup with a side of Gluten-Free Crusty French Bread for a heartier meal.
Leftovers
This vegan vichyssoise soup recipe is perfect for using up leftover vegetables. Add chopped leftover veggies to the soup along with some cooked cannellini beans, some vegetable broth and fresh herbs. You'll have a hot delicious, healthy soup in no time!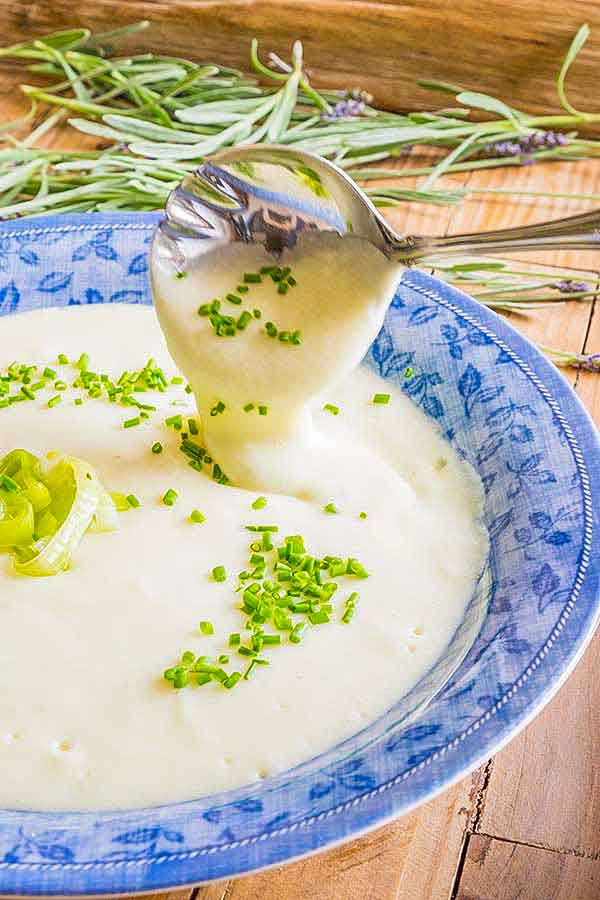 Cold soup recipes
Cold soups are always popular during hot summer months. They are refreshing, and you can enjoy them straight from the fridge. It's a perfect solution for a summertime meal.
gluten-free
This vegan vichyssoise soup recipe is also naturally gluten-free. This means you can buy ingredients without worrying if they are gluten-free.
vegan soup recipes
Vegan soup recipes have become the trend this summer. The soups are budget-friendly, environment friendly and healthier than most soups made with animal protein.
Whether you are searching for a creamy vegan soup recipe or a light meal, look no further than this vegan vichyssoise soup!
This soup is perfect as a summertime starter or a winter meal. Made with simple ingredients like potatoes, leeks, and coconut milk, it's sure to please vegans and non-vegans alike.
Serve Vichyssoise hot or cold, depending on your preference. Add crusty bread for dipping, and you've got a meal that will warm you from the inside out!
So give it a try next time you're looking for a delicious and healthy plant-based soup recipe.
Let's Connect!
Be sure to FOLLOW US on FACEBOOK and PINTEREST.
Many thanks!
Kristina xx
Vegan Vichyssoise Soup Recipe
Published on Jun 18, 2017
by
Kristina Stosek
Instructions
1.

In a soup pot over medium -ow heat, sauté leeks in olive oil until tender. About 5 minutes. Set aside 2 teaspoons of cooked leeks for topping (optional)

2.

Add potatoes, vegetable broth, salt and bay leaf to the same pot. Cover and bring to a boil. Simmer over low heat for 15 minutes, or until potatoes are thoroughly cooked. Remove bay leafs!!

3.

Puree potatoes in a blender or food processor, adding coconut milk as needed to reach desired consistency

4.

Add lemon juice and white pepper and blend

5.

Refrigerate for 4 hours or overnight. The soup thickens as it chills

6.

Top each serving with a sprinkle of chives and cooked leeks. If the soup gets too thick add a little more coconut milk or vegetable broth