Vegan Vichyssoise Soup Recipe
Prep Time
15 Minutes
Difficulty
Easy
Cook Time
20 Minutes
Serves
4
Be the first to rate this recipe.
This Vegan Vichyssoise Soup is a creamy and refreshing summer soup recipe.  Most of us hanker for authentic food experiences. This inspiration comes from France, the epicenter of culinary elegance.
Vichyssoise soup is a chilled creamy soup made with leeks and potatoes. I have converted classic vichyssoise soup to a delicious vegan version.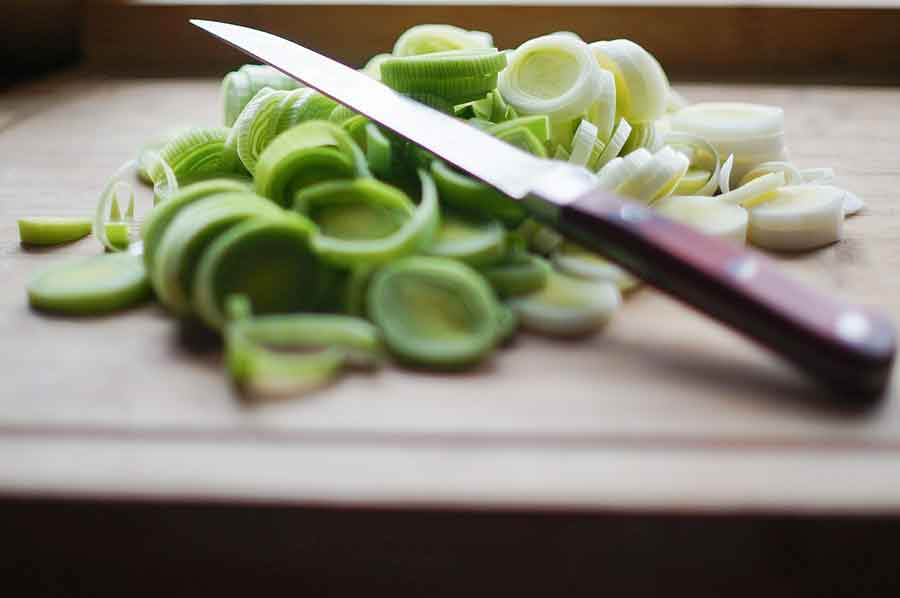 Potatoes are packed with energy-giving complex carbohydrates and are a good source of iron, folate and zinc. This is a great make-ahead soup for summer entertaining.
Ingredients
2 Tbsp. extra virgin olive oil
2 cups thinly sliced leeks, white part only (about 3 large leeks)
2 cups peeled diced potatoes, preferably russet potatoes (about 2 large potatoes)
2 cups gluten free vegetable broth
1 tsp. sea salt or to taste
1 bay leaf
1 ½ cups full fat coconut milk
1 Tbsp. fresh lemon juice
Freshly ground GF white pepper to taste (you can use black pepper)
2 Tbsp. chopped fresh chives for topping
*As an Amazon Associate and member of other affiliate programs, I earn from qualifying purchases. Please check out my sponsorship and disclosure policy page for more details
Instructions
In a soup pot over medium low heat, sauté leeks in olive oil until tender. About 5 minutes. Set aside 2 teaspoons of cooked leeks for topping (optional)
Add potatoes, vegetable broth, salt and bay leaf. Cover and bring to boil. Simmer over low heat for 15 minutes, or until potatoes are thoroughly cooked. Remove bay leaf
Puree potatoes in a blender or food processor, adding coconut milk as needed to reach desired consistency
Add lemon juice and white pepper and blend
Refrigerate for 4 hours or overnight. The soup thickens as it chills
Top each serving with a sprinkle of chives and cooked leeks. If the soup gets too thick add a little more coconut milk or vegetable broth
Similar Recipes
Curried Zucchini Coconut Soup (gluten-free)
This gluten-free plant-based Curried Zucchini Coconut Soup is made primarily with zucchini and fresh tomatoes. The creaminess comes from coconut milk, and the zucchini soup is mildly spiced with ginger, garlic, and curry powder. For added zesty flavour, a splash of fresh lime juice. This curried zucchini coconut soup takes only about ten minutes of […] Read More
Prep Time
10 Minutes
Difficulty
Beginner
Cook Time
10 Minutes
Serves
4
Cream of Asparagus & Leek Soup (Gluten-Free, Keto)
Creamiest most delicious bowl of Cream Of Asparagus And Leek Soup. This soup is not your typical creamy soup, I added cream cheese, plenty of asparagus and tasty leeks, so much flavour! Honestly, you should try this recipe, it will become your new favourite. I am so excited about this healthy cream of asparagus and […] Read More
Prep Time
10 Minutes
Difficulty
Easy
Cook Time
20 Minutes
Serves
6
Asparagus Soup With Mint
This asparagus soup with fresh mint is creamy, refreshing low carb and keto-friendly. I call this asparagus soup with mint magical. Did you know that asparagus is loaded with nutrients such as folate, vitamins A, C, E and K, protein and has abundance of fiber? Asparagus soup is one of the easiest soups to make, […] Read More
Prep Time
15 Minutes
Difficulty
Beginner
Cook Time
15 Minutes
Serves
4