Gluten Free Portuguese Rolls
Published on Jun 05, 2023
by
Kristina Stosek
Prep Time:

15 minutes
Cook Time:

30 minutes
Serves:

10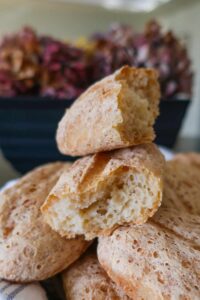 ​This post may contain affiliate links, please see our
privacy policy
for details
These VERY BEST gluten-free Portuguese rolls are easy, soft and light, with a perfect crust – you would never know they are gluten-free. They are made using a mix of millet flour, sorghum flour, potato starch, tapioca starch, psyllium husks, and yeast. This recipe is dairy and egg-free – you will LOVE them!
Gluten free Portuguese rolls are very popular because they can be used in many ways.
Here are some suggestions:
Sandwiches/Subs: Portuguese rolls are often used as the base for delicious sandwiches and subs. Slice the roll horizontally and fill it with your favorite deli meats, cheeses, vegetables, and condiments.
Burgers: Portuguese rolls make a great alternative to regular burger buns. They can hold up well to a juicy patty and toppings, adding a unique flavor to your burger.
Toasted Bread: Toasting Portuguese rolls can enhance their flavor and provide a crunchy texture. Spread butter, jam, or other spreads on the cut sides and toast them in a pan or toaster oven for a quick and tasty breakfast or snack.
Bruschetta: Slice Portuguese rolls into smaller pieces, toast them, and top them with diced tomatoes, fresh basil, garlic, and olive oil for a delightful bruschetta.
Garlic Bread: Split the Portuguese roll in half, spread a mixture of butter, minced garlic, and herbs on the cut sides, and toast until the butter melts and the bread turns golden brown. This makes a flavorful side dish for pasta, soups, or salads.
Croutons: Cut Portuguese rolls into small cubes, toss them with olive oil and seasonings (such as garlic powder, salt, and herbs), and bake them until crispy. These homemade croutons can be added to salads or used as a topping for soups and casseroles.
Bread Pudding: Stale Portuguese rolls can be used to make a delicious bread pudding. Tear the rolls into small pieces, soak them in a custard mixture (made with eggs, milk, sugar, and vanilla), and bake until set. This dessert can be enjoyed warm or cold.
French Toast: Transform Portuguese rolls into a delightful breakfast by making French toast. Slice the rolls, dip them in a mixture of beaten eggs, milk, and cinnamon, and cook them in a skillet until golden brown. Serve with syrup, fruits, or whipped cream.
Paninis: Portuguese rolls can be pressed into paninis. Fill them with ingredients like sliced ham, cheese, and vegetables, and cook them in a panini press or on a stovetop grill until the bread is crispy and the fillings are heated.
Bread crumbs: Slice stale rolls into chunks and process in a food processor until they form into breadcrumbs. Store in a freezer bag in the freezer until needed.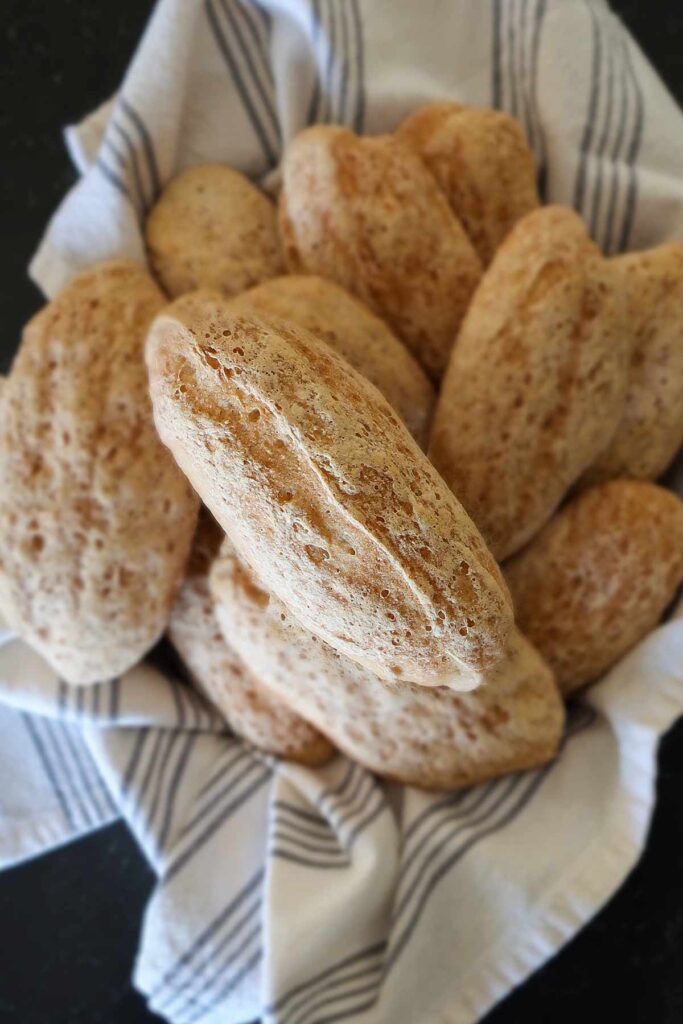 How to make a sub using a gluten free Portuguese roll?
You will need deli meats such as ham or turkey. Cheese slices like cheddar, Swiss or provolone, tomatoes and onions and condiments such as mayonnaise, mustard, or hot sauce.
Instructions:
Slice the Portuguese roll horizontally, keeping one side intact so that it opens like a book.
Lay the deli meats on one side of the roll, arranging them evenly.
Place cheese slices on the deli meats, overlapping them if necessary.
Layer fresh vegetables such as tomatoes and onions over the cheese.
Drizzle or spread condiments of your choice, such as mayonnaise, mustard, or hot sauce, and season with salt and pepper.
Close the sub by pressing the two sides of the roll together gently.
You can serve the sub as is or, for a warm option, heat it in a preheated oven at 350 F for a few minutes until the cheese melts and the roll is toasted. Enjoy!
How to make the best gluten free Portuguese rolls!
Mix psyllium husk powder with warm water to create an egg-like gel.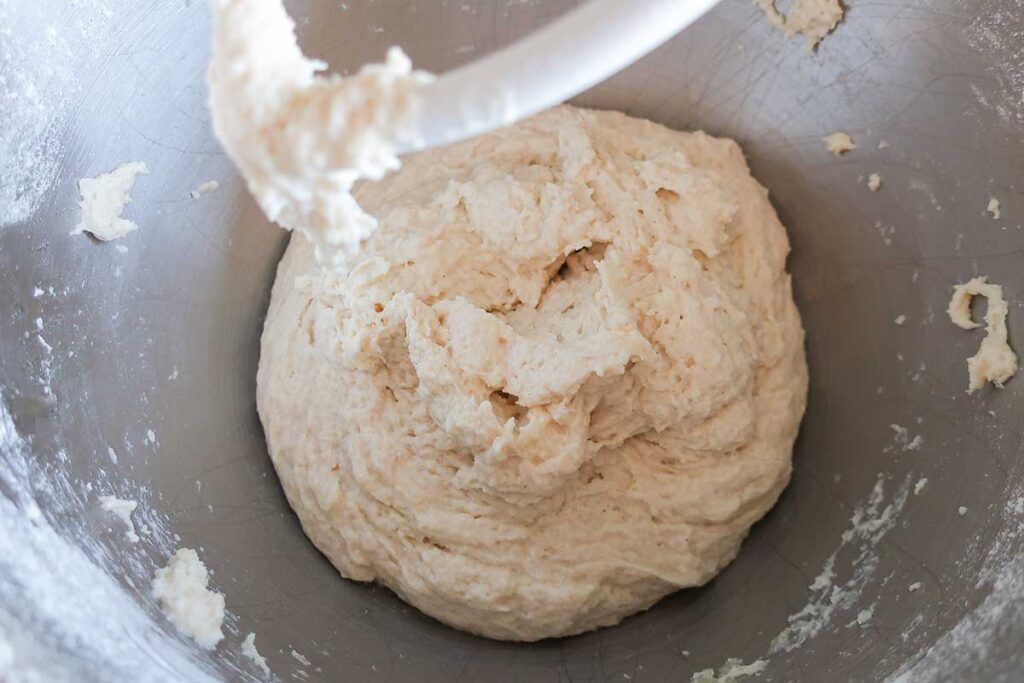 Make the dough
Using a stand-up mixer, add dry ingredients and whisk to combine. Next, add the psyllium mixture with the remaining ingredients and, using the dough hook, mix until you form a ball of dough—about 3 minutes.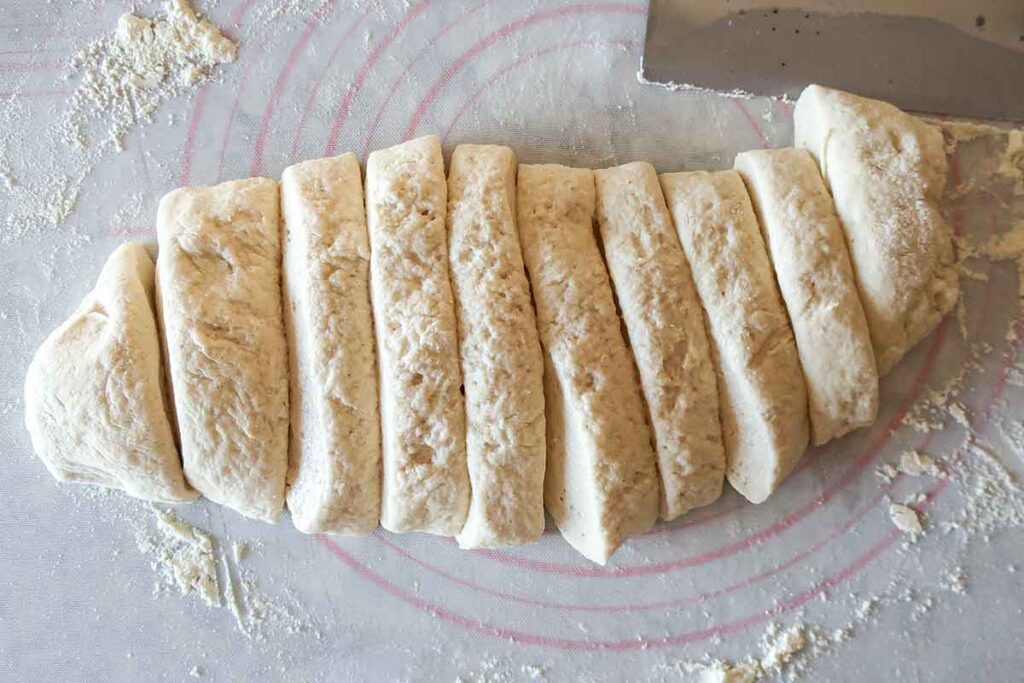 Shape the rolls
Transfer dough to a lightly floured working surface and gently roll it into about a 10-inch log. Divide the dough into 10 pieces.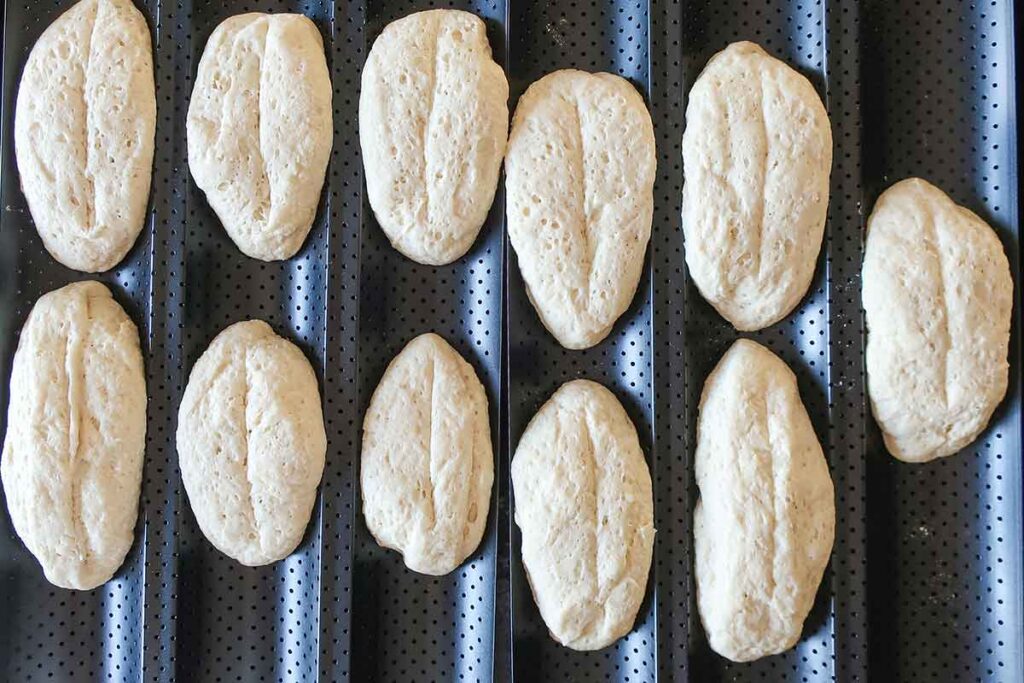 Shape each piece into a roll, and place about 3 inches apart onto a baguette pan. Loosely cover with plastic wrap or a damp thin cloth and place in a warm place to rise for about 75 minutes. The rolls will double in size.
Heat the oven
Place a pan filled half with water on the bottom oven rack and heat the oven to 450 F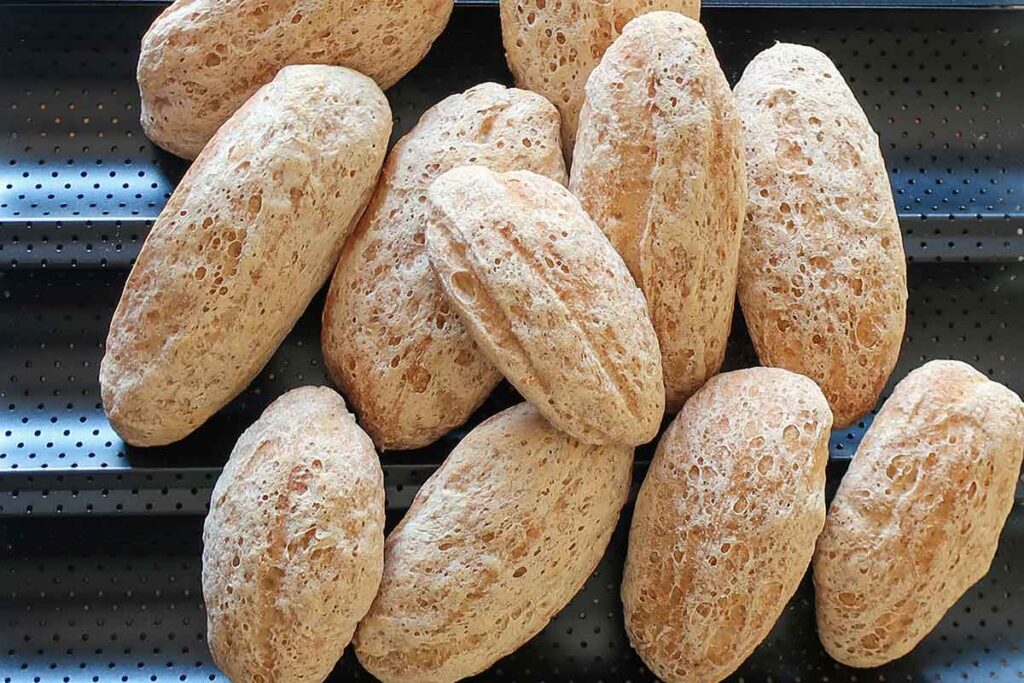 Bake the Portuguese rolls
Just before baking, run a sharp knife across the middle of each roll, gently pressing it to form a line about 1/8th of an inch deep.
Bake the rolls for 10 minutes, remove the pan with water, reduce the oven temperature to 400 F, and continue baking for 15 – 20 minutes until the rolls are golden.
Tips to make the best gluten free Portuguese rolls
Use an electric mixer with a dough hook to create a smooth dough. This will make the Portuguese rolls soft and light. You can use a wooden spoon if you don't have a mixer with a dough hook. But, the texture of the rolls will not be as soft and light.
Use a baguette pan: The baguette pan is perforated, allowing the rolls to bake evenly, giving them a good crust. The pan also stops the dough from spreading, giving the rolls height. If you don't have a baguette pan, use a muffin pan. But the rolls will be round, smaller, and not great for subs or paninis. You can always use the baguette pan to make gluten free French Baguette.
Proof the dough in a warm place: I recommend proofing the rolls in the oven for best results. To do this, bring the oven temperature to about 100 F, then turn the oven off and place the rolls in the oven. And remember to take the rolls out when you are heating the oven.
Use quick-rise/rapid-rise yeast: Gluten free dough needs only one rise, and quick-rise/rapid-rise yeast is the best yeast to use in this recipe.
How should I store gluten-free Portuguese rolls?
As with all gluten free baked goods, these rolls are best the first day.
The rolls should be stored in an airtight container or plastic bag to prevent them from drying out. You can keep them at room temperature for up to two days. For longer storage, I recommended freezing them.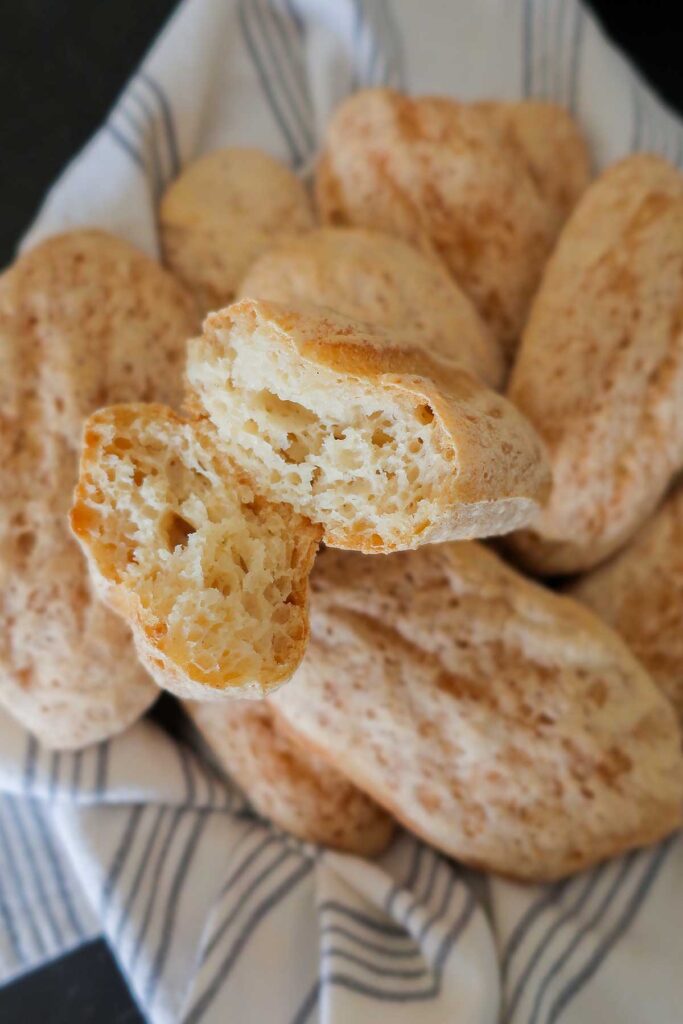 If you need more recipes to make gluten free rolls, try one of these:
Gluten-Free Parker House Rolls
Best Gluten-Free Pull-Apart Soft Rolls
Gluten-Free Pizza Brioche Rolls
gluten free Portuguese rolls – the highlights
These rolls are soft and airy on the inside with a light crust. They can be used as a substitute for regular bread and made into sandwiches, subs, paninis, served with meals or enjoyed on their own. These Portuguese rolls are gluten-free, dairy-free, egg-free, and vegan. And the recipe is easy and simple. Enjoy!
Let's Connect!
Be sure to FOLLOW US on FACEBOOK and PINTEREST.
Many thanks!
Kristina xx
Gluten Free Portuguese Rolls
Published on Jun 05, 2023
by
Kristina Stosek
Instructions
1.

In a bowl, mix the psyllium husk powder and warm water. This will form an egg-like gel in about 30 seconds

2.

In the bowl of a stand mixer, whisk together the millet flour, tapioca starch, potato starch, sorghum flour, sugar, yeast, and salt

3.

Make a well in the middle of the dry ingredients and add the psyllium gel, olive oil, and vinegar

4.

Using the dough hook of your mixer, knead the dough until it's smooth and all the ingredients are evenly incorporated. The dough should come away from the sides. *See photo on the blog post

5.

Turn out the dough onto a lightly floured working surface and shape it into about a 10-inch log. 

6.

Divide the log into 10 pieces and shape each into a roll, using very little flour to shape them. *See the photo on the blog post

7.

Place rolls onto a baguette pan about 3 inches apart, and loosely cover with plastic wrap or a thin damp cloth

8.

Proof the rolls in a warm place for about an hour or until they've doubled

9.

While the rolls are proofing, place a pan filled halfway with water on the lower rack in the oven and preheat the oven to 450 F. The water should be steaming

10.

Once the rolls have doubled, place them in the oven and bake for 10 minutes. Remove the pan with water and reduce the oven temperature to 400 F and continue baking for 15 - 20 minutes until the rolls are golden

11.

Remove from the oven and cool on a wire rack. I often serve them slightly warm
Leave a Comment
Kristina
Mary, I have not tried it with almond flour, so I don't know the results. However, if you do try using almond flour please let us know how the rolls turned out. Thank you.
Can I substitute almond flour for sorghum flour
Kristina
Pat, this recipe was measured in cups for solids and liquids. Sorry you couldn't make it. :-(
Without weights in gms I couldn't attempt to make these sadly. Cups are different for solids and liquids.
I can't wait to make these for my sweetheart who is Portuguese and misses the food terribly.