Best Gluten Free Pull-Apart Soft Rolls
Published on Sep 06, 2018
by
Kristina Stosek
Prep Time:

10 minutes
Cook Time:

25 minutes
Serves:

9 rolls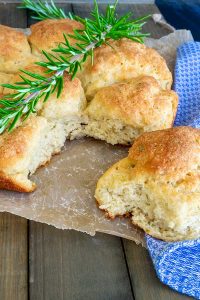 ​This post may contain affiliate links, please see our
privacy policy
for details
These are the Best Gluten-Free Pull-Apart Soft Rolls by far! Soft, pillowy, and most addictive rolls you will find. When it comes to holidays such as Thanksgiving or Easter, rolls are a must-have on our dinner table.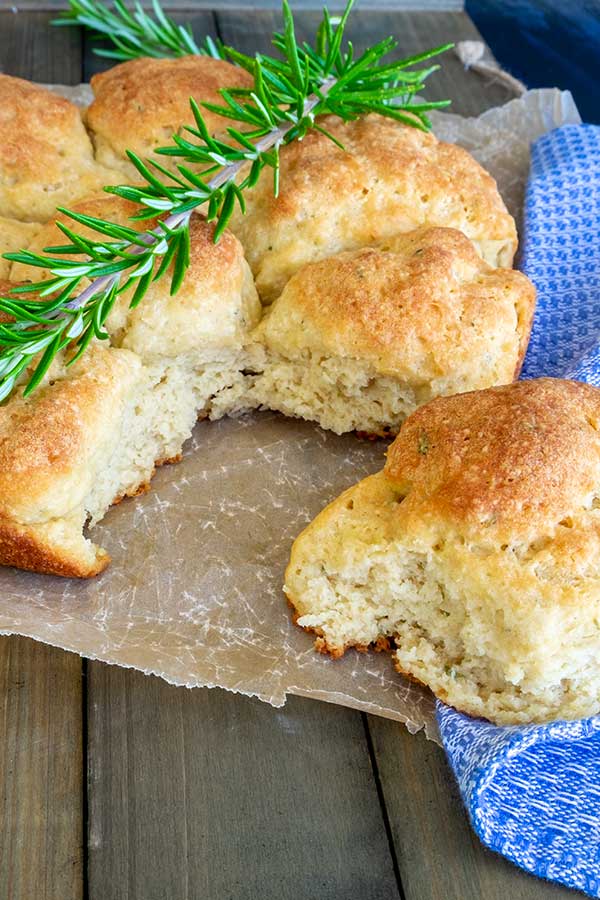 easiest gluten-free and dairy-free recipe for soft rolls
In this pull-apart soft rolls recipe, there are no complicated flours, long kneading or waiting for hours for them to rise. The best part, they taste just like traditional rolls made with gluten.
I wish you could see my kitchen this week, it looked like a bakery. I just had to get the recipe right. I made so many batches I was running out of space. But we have a winner! I promise you that these gluten-free pull-apart soft rolls are the best!
To spruce the rolls up a tad, I added fresh rosemary, but this is optional. Another herb I will try next time I make these soft rolls is thyme. I think it will add depth to these already exceptional rolls.
What to do with leftover gluten free rolls?
As with most gluten-free baked goods, these soft rolls are best when eaten the same day. But if you are lucky enough and have some leftover rolls for the next day, don't dismay.
Slice the rolls in half and toast them – they toast beautifully. Then, fill them with an egg salad or salmon salad and some greens.
Or, if they become stale, pop them into a food processor and make gluten free bread crumbs. They make the BEST BREAD CRUMBS without gluten.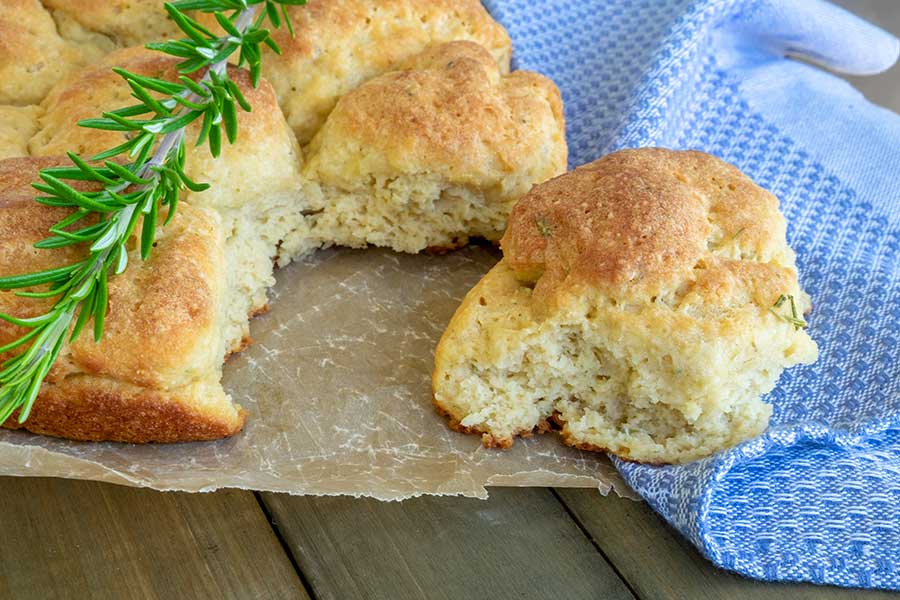 make a sandwich with these rolls or serve them for brunch
These gluten-free pull apart soft rolls make for a leisurely lunch or sandwich on the go. Sometimes I serve them toasted for Sunday brunch with an egg on top, with marmalade or cream cheese. They are so incredibly tasty!
FAQs and helpful tips
How can I prevent gluten-free soft rolls from becoming dry and crumbly?
Weigh the flour! This recipe must have the exact amount of flour. If you don't have a kitchen scale, fill the measuring cup with a spoon and level off with a knife. DO NOT dip the measuring cup into the flour. You will get too much flour, making the rolls too dry and crumbly.
What is the key to making soft gluten-free pull-apart rolls?
Achieving softness in gluten-free pull-apart rolls can be challenging due to the absence of gluten, which provides elasticity and structure to bread. Key factors in making them soft include using the right amount of flour, olive oil, eggs, almond flour, and the right moisture balance.
What seasoning can I add to soft rolls?
To enhance the flavor, gluten-free pull-apart rolls can be seasoned with rosemary, thyme, parsley, sage, or garlic powder, adding flavor and aroma.
Why are pull-apart soft rolls so popular?
The crust of gluten-free pull-apart rolls is typically thinner and softer than traditional rolls, which often have a thicker and crustier exterior. They make an excellent side to soups and stews and are especially famous for dipping into gravy. However, if you prefer a buttery roll, check out the Gluten-Free Parker House Rolls Recipe or enjoy crusty bread like the Gluten Free French Baguette Recipe.
Are you in the mood for baking something delicious? I am thinking, healthy muffins or fresh homemade bread, you must check out these gluten-free muffins and bread recipes. From a basic muffin recipe to a Dutch apple quickbread, you will find something delicious to bake.
Let's Connect!
Be sure to FOLLOW US on FACEBOOK or, check us out on PINTEREST. And don't forget to sign up for our newsletter. We always have something new and exciting for you!
Many thanks!
Kristina xx
Best Gluten Free Pull-Apart Soft Rolls
Published on Sep 06, 2018
by
Kristina Stosek
Instructions
1.

In a large bowl mix first 7 ingredients (dry ingredients)

2.

In a medium glass bowl whisk together remaining ingredients (wet ingredients)

3.

Using an electric mixer at medium speed, slowly add wet mixture into dry ingredients until a dough forms. Scraping sides as needed. About a minute

4.

Grease a 9-inch round cake pan with cooking oil. Using a large ice cream scoop, scoop a heaping scoop of dough and place in the middle of the pan. Continue with remaining dough making 9 mounds in total. Dip your fingers in warm water and smooth out the top of the rolls

5.

Cover with a light dry towel and let rise in a warm place for 1 hour. Make sure there are no drafts

6.

Lightly brush the rolls with oil and bake at 375 F for 23 - 25 minutes. The tops should be golden brown

7.

Remove from the oven and rest for 5 minutes. Carefully remove the rolls onto a cooling rack. They should slide out easily. Do not let the rolls sit in the pan to rest
Leave a Comment
Kristina
thank you for sharing Peter.
With or without the rosemary, these rolls have become a staple in my house. If you double the recipe you can also use it to make a very tasty loaf of bread.
Kristina
Mark, did you add a sweetener as well? So happy to hear that your family enjoyed them, K.
Hi again! I used fresh blueberries today, compensating for the moisture. My wife and son both took time out from their days to tell me how tasty they are! They don't often do that, particularly my wife who does not usually enjoy my gluten-free baking. Yours has become my go-to recipe for rolls. THANK YOU.
These are sumptuous! As promised, I came back to your recipe. Thank you for the edit you made in the ingredient list. Thank you, too, for not publishing one of my comments but leaving the first as it makes me look foolish. I hope someday to have the entire world see my foolishness for what it is (as this post confirms). I made a few alterations: I proofed and used instant dry yeast and compensated for the water I used in proofing. Of course this added sugar to the recipe, but it was quite complementary. I grow many herbs in my garden but rosemary is not one; I used parsley. And I don't have sea salt; I used kosher salt. Also, I am not sure what distinguishes gluten free baking powder. I know that it is sold online but going by the ingredient list on my can of baking powder, I feel that it is gluten free. Again Kristina, I am grateful to you. Thanks!
Kristina
Mark, it doesn't say 16 ounces, it says one packet which equals 2 1/4 tsp.
Hi, Is this a mistake? 16 ounces of yeast?
I am making these for Easter. I made them many times and the rolls are sooo good.
Kristina
Hi Sila, the links are now working, sorry about that. I have not made these soft rolls with the flours you have suggested, so I don't know the answer to your question. Buckwheat is a heavy flour so I would try and avoid it, sorghum would work but you will need to add a starch like tapioca flour. But unless I re-create the recipe using these flours I don't know how the rolls will turn out...sorry
the link for your flour blend does not appear to work nor is there anything under a search. i also have to avoid rice, quinoa and millet and am wondering if amaranth, white buckwheat and sorghum flours will work.