Best Gluten-Free Pull-Apart Soft Rolls
Prep Time
10 Minutes
Difficulty
Easy
Cook Time
25 Minutes
Serves
9 rolls
Average Rating: 5 | Rated By: 20 users
Best Gluten-Free Pull-Apart Soft Rolls – soft, pillowy, and most addictive rolls you will find. They are that good!
At my house, when it comes to holidays such as Thanksgiving or Easter, rolls are one thing that is a must-have on our dinner table.
easiest gluten-free and dairy-free recipe for soft rolls
In this pull-apart soft rolls recipe, there are no complicated flours, long kneading or waiting for hours for them to rise. The best part, they taste just like real rolls made with gluten.
I wish you could see my kitchen this week, it looked like a bakery. I just had to get the recipe right. I made so many batches I was running out of space. But we have a winner! I promise you that these gluten-free pull-apart soft rolls are the best!
To spruce the rolls up a tad, I added fresh rosemary, but this is optional. Another herb I will try next time I make these pull-apart rolls is thyme. I think it will add depth to these already exceptional rolls.
As with most gluten-free baked goods, these soft rolls are best when eaten the same day. But if you are lucky enough and have some leftover rolls for the next day, don't dismay.
Slice the rolls in half and toast them – they toast beautifully. Then, fill them with an egg salad or salmon salad and some greens.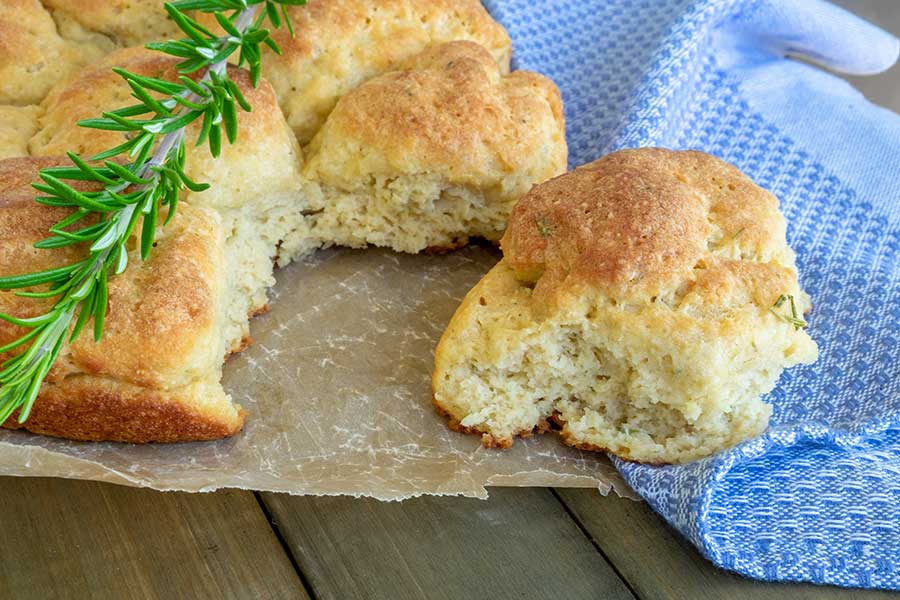 These gluten-free pull apart soft rolls make for a leisurely lunch or sandwich on the go. Sometimes I serve them toasted for Sunday brunch with an egg on top, with marmalade or some cream cheese. They are so incredibly tasty!
Are you in a baking mood? If you are thinking of baking muffins or bread, you must check out these gluten-free recipes. From a basic muffin recipe to a Dutch apple quickbread, you will find something fun to bake.
Ingredients
1 cup almond flour
1 Tbsp. GF baking powder
2 Tbsp. Chopped fresh rosemary or 1 teaspoon of dried rosemary (optional)
1 1/2 tsp. Xanthan gum (if your flour blend does not include xanthan gum use 2 1/2 tsp.)
1 tsp. Pure sea salt
1 1/4 cup warm water (105 F - 110 F)
1/4 cup extra virgin olive oil, plus some for brushing
2 Tbsp. pure liquid honey
2 tsp. raw apple cider vinegar
2 large eggs, at room temperature
*As an Amazon Associate and member of other affiliate programs, I earn from qualifying purchases. Please check out my sponsorship and disclosure policy page for more details
Instructions
In a large bowl mix first 7 ingredients (dry ingredients)
In a medium glass bowl whisk together remaining ingredients (wet ingredients)
Using an electric mixer at medium speed, slowly add wet mixture into dry ingredients until a dough forms. Scraping sides as needed. About a minute
Grease a 9-inch round cake pan with cooking oil. Using a large ice cream scoop, scoop a heaping scoop of dough and place in the middle of the pan. Continue with remaining dough making 9 mounds in total. Dip your fingers in warm water and smooth out the top of the rolls
Cover with a light dry towel and let rise at room temperature for 1 hour. Make sure there are no drafts
Lightly brush the rolls with oil and bake at 375 F for 23 - 25 minutes. The tops should be golden brown
Remove from the oven and rest for 5 minutes. Carefully remove the rolls onto a cooling rack. They should slide out easily. Do not let the rolls sit in the pan to rest
Similar Recipes
Gluten Free Cheesy Garlic Rolls
I would describe these gluten-free cheesy garlic rolls as crusty garlic bread with melted cheese in the center. Garlic bread never tasted this good. The tasty gluten-free rolls go especially well with Italian food or hearty stew Read More
Prep Time
15 Minutes
Difficulty
Moderate
Cook Time
40 Minutes
Serves
12
Best Gluten-Free Pull-Apart Soft Rolls
Best Gluten-Free Pull-Apart Soft Rolls – soft, pillowy, and most addictive rolls you will find. They are that good! At my house, when it comes to holidays such as Thanksgiving or Easter, rolls are one thing that is a must-have on our dinner table. easiest gluten-free and dairy-free recipe for soft rolls In this pull-apart […] Read More
Prep Time
10 Minutes
Difficulty
Easy
Cook Time
25 Minutes
Serves
9 rolls
4 – Ingredient Gluten-Free Cheese Buns
4 – Ingredient Gluten-Free Cheese Buns – who said gluten-free baking has to be complicated? These buns have a sourdough texture and are slightly crusty on the outside. The best part, this gluten-free bun recipe is easy enough for even novice bakers. ways to serve cheese buns These gluten-free cheese buns make a tasty addition […] Read More
Prep Time
10 Minutes
Difficulty
Easy
Cook Time
35 Minutes
Serves
6