Gluten-Free Parker House Rolls Recipe
Published on Apr 13, 2022
by
Kristina Stosek
Prep Time:

30 minutes
Cook Time:

20 minutes
Serves:

20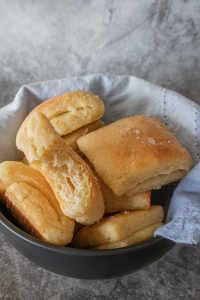 ​This post may contain affiliate links, please see our
privacy policy
for details
Our favourite rolls this Easter are the Gluten-Free Parker House Rolls. Buttery, folded, puffed up and addictive, there is nothing not to love!
I know many of you are on the hunt for good Easter rolls recipes right now. The ones that are good to soak up gravy or make sandwiches from leftover turkey or ham.
Let me introduce you to these gluten-free Parker house rolls. They will light up any festive dinner table, like Easter, Thanksgiving, Christmas or a special celebration.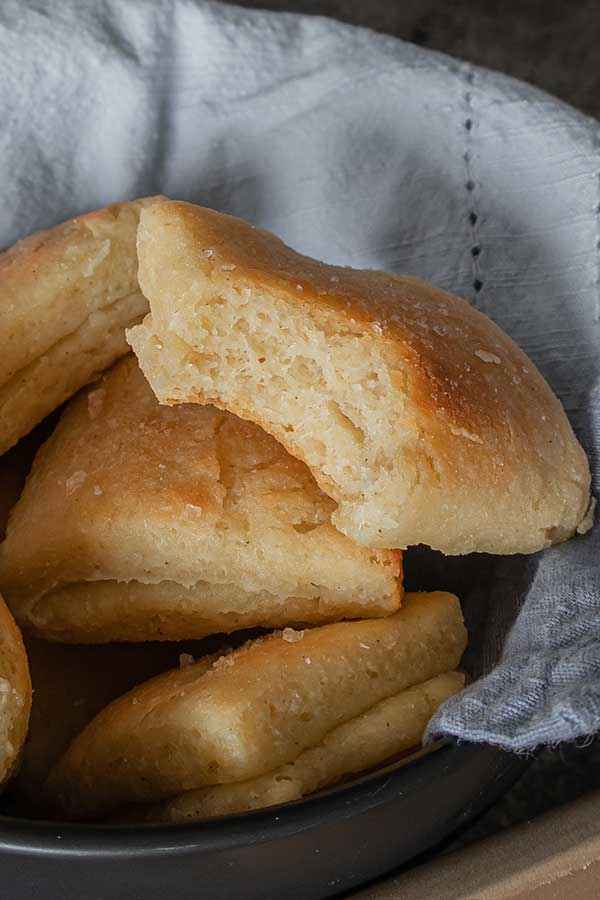 The soft rolls, warm right out of the oven, are a must as a side to a quiche like this Crustless Quiche with Leeks Mushrooms and Fontina Cheese, or this savoury Gluten-Free Dutch Baby With Smoked Gouda, Tomatoes and Arugula, for Sunday brunch. YUM!
What are Parker house rolls?
These rolls are light, soft, and buttery, with a hint of sweetness made with yeasted dough. The classic Parker rolls have a signature fold that allows you to pull sections apart to reveal a tender interior.
The rolls were first created by Parker House in Boston in the nineteenth century. The tender, buttery crumb and the fold set these rolls apart from crusty dinner rolls.
Parker house rolls – the ingredients,
To make gluten-free Parker house rolls, you will need only ten pantry ingredients plus salt. So, if you have a pantry stocked with essential gluten-free ingredients, you can make this Parker house roll recipe right now!
Tips for making the best gluten-free Parker house rolls.
the gluten-free flours,
The flour to starch ratio makes all the difference to the right texture for the rolls. Too much or too little of one will affect the rise of this gluten-free dough and texture.
measuring the flours,
The best way to measure gluten-free flour is the "spoon and level" method. Using a spoon, scoop the flour into the measuring cup, then use a knife to level off the top of the measuring cup.
DO NOT scoop the flour out of the bag with your measuring cup. You will have more flour than the recipe requires, making your Parker house rolls heavy and dry. The correct moisture level of the dough will dictate the final texture.
Is xanthan gum necessary for gluten-free baking?
Xanthan gum is a vital ingredient in gluten-free baking as it helps these baked goods hold together and develop elasticity, typically performed by gluten.
Why didn't my gluten-free dough rise?
Parker house rolls are leavened with yeast. If your gluten-free dough doesn't rise properly, it's probably because the yeast is old, the room temperature for rising is too cold or has a draft, and the liquid is too hot or too cold.
What is the ideal liquid temperature for yeast?
When using active yeast, the milk temperature should be between 110-110 F. For rapid-rise yeast, a yeast that is mixed directly with dry ingredients, the temperature should be between 120-130 F.
Does yeast rise in almond flour?
You may have made gluten-free baked goods that contain almond flour and found that the gluten-free dough did not rise properly. The reason for this is that almond flour has a low carbohydrate count. Therefore, you need to add flours that contain starches and additional starches like tapioca, arrowroot, potato or corn starch to get a good rise.
Should you knead gluten-free Parker house roll dough?
No, kneading isn't required, just a good mix until the dough comes together. The wheat dough requires kneading to develop the gluten protein into an elastic dough. The gluten-free dough gets its consistency from xanthan gum.
Does gluten-free dough need a longer baking time?
Have you baked gluten-free bread, rolls or a cake and found they were undercooked? This is because gluten-free dough contains more moisture than dough without gluten. This is why it takes longer to bake.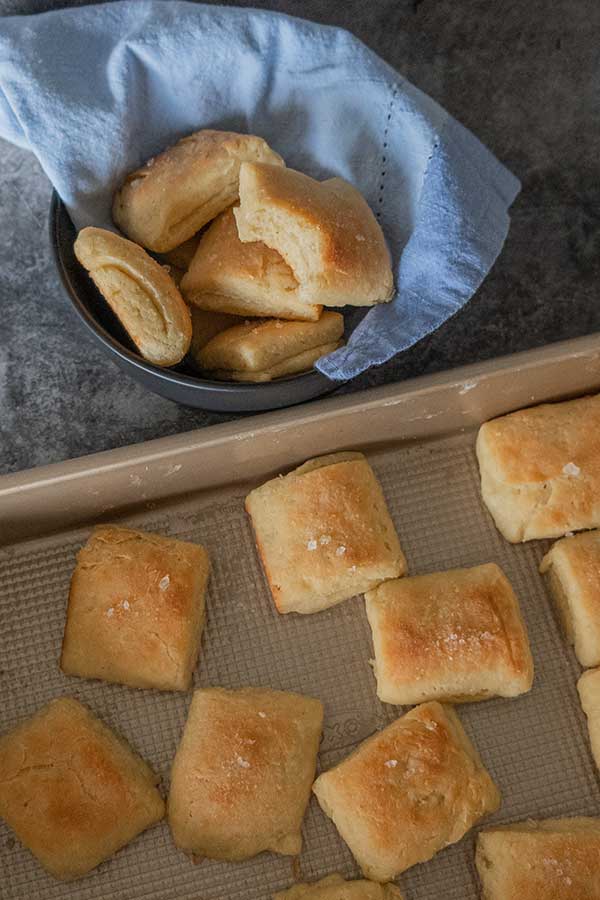 An easier way to shape Parker house rolls.
If you've made a cinnamon roll, you can make these rolls:
Roll the dough into a rectangle about 20×12" rectangle
Lightly brush with butter and roll into a tight coil.
Cut into 2-inch wide strips, place the rolls seam side down into the prepared baking pan and follow the recipe.
6 steps to make gluten-free Parker house rolls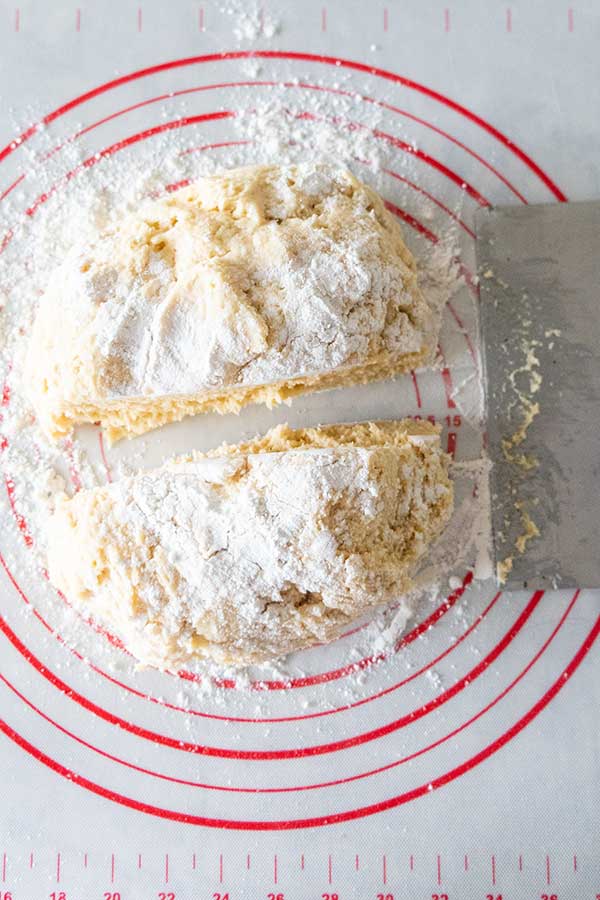 mix wet ingredients with dry, rest the dough for 20 minutes, cut into two equal portions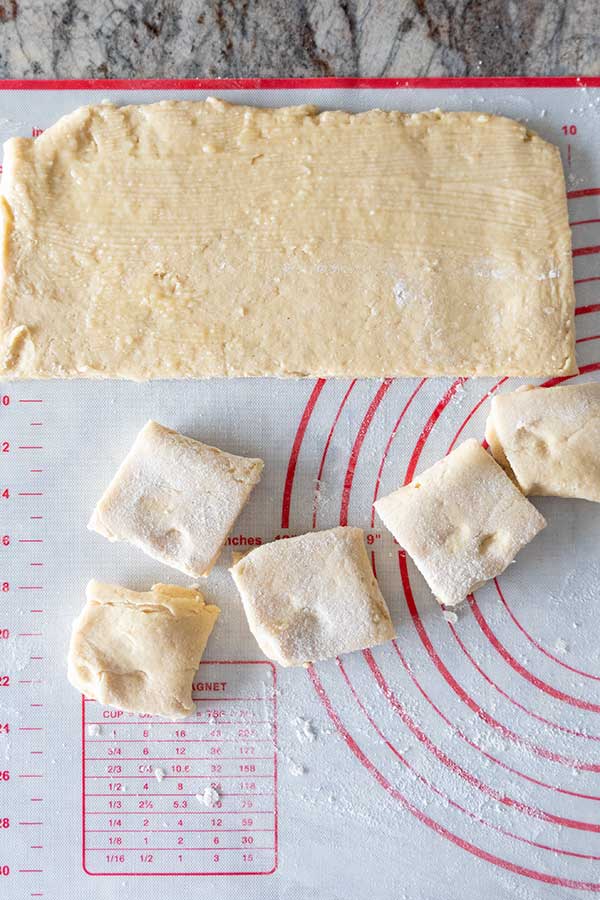 Roll out the dough into a 10×8″ rectangle, Then cut into a half crosswise. Each half should be a 10×4″ rectangle. Brush crosswise half of each rectangle with melted butter, fold the unbuttered side over, allowing 1/4″ overhang. Cut into 2″-wide pieces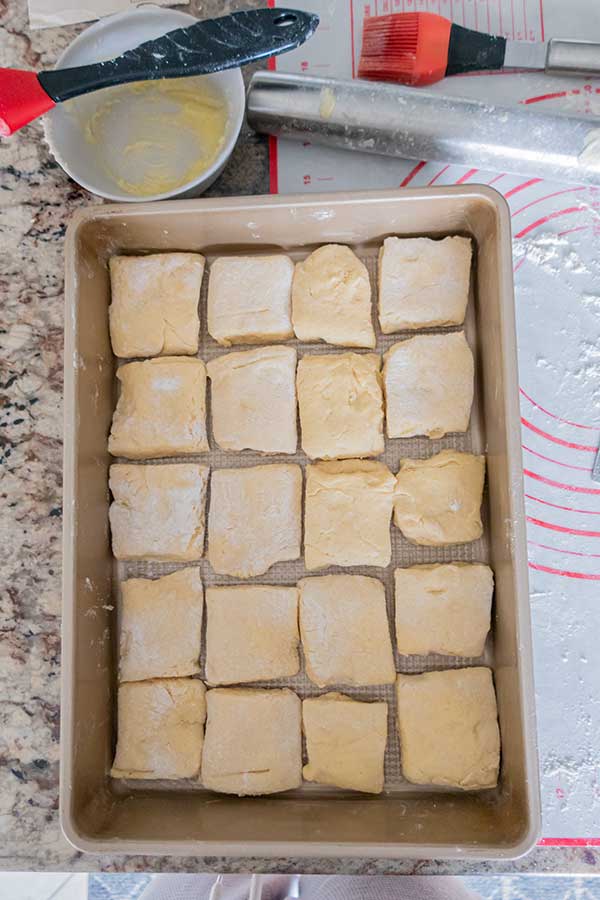 arrange rolls flat in rows of 5 into a 13-9″ buttered baking pan, and rise for 90 minutes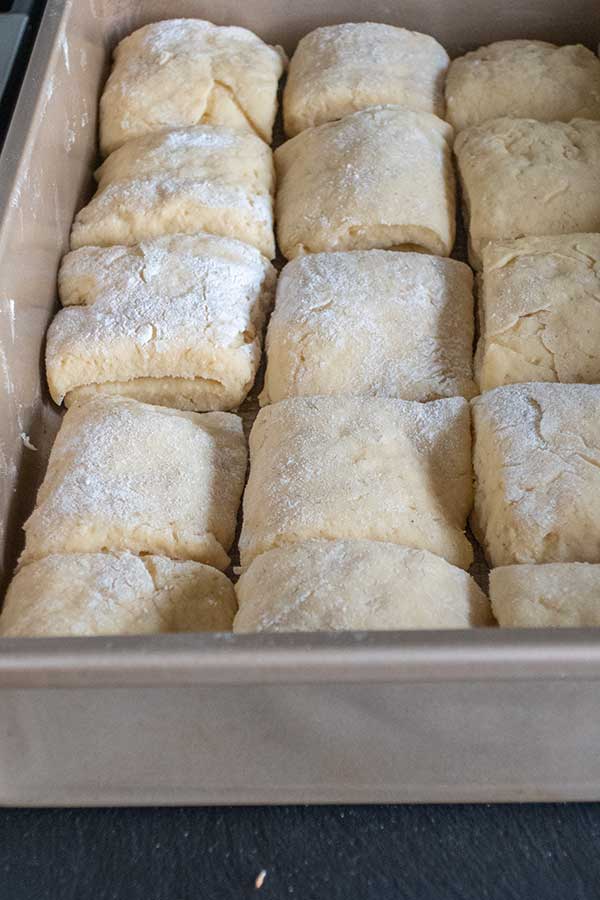 rolls after rising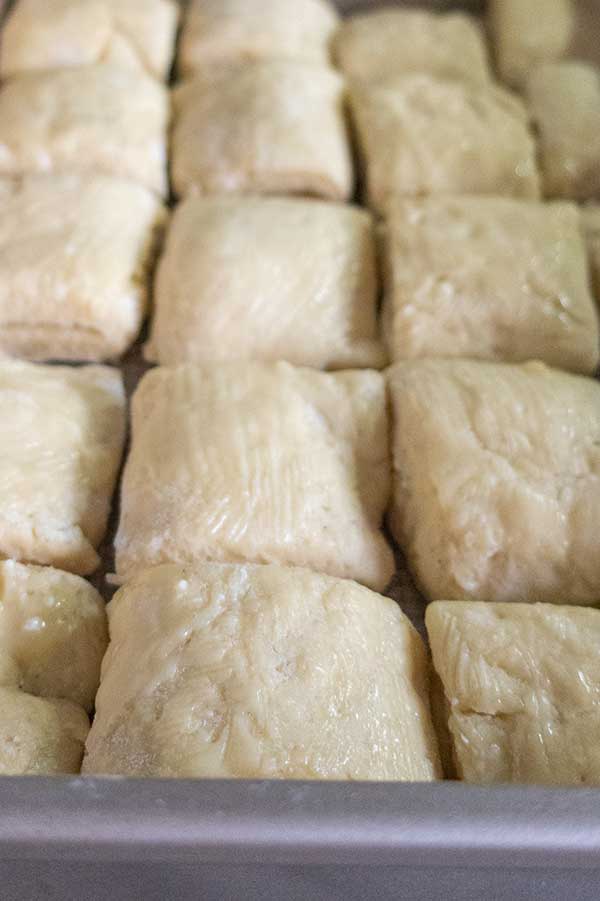 brush rolls with butter before baking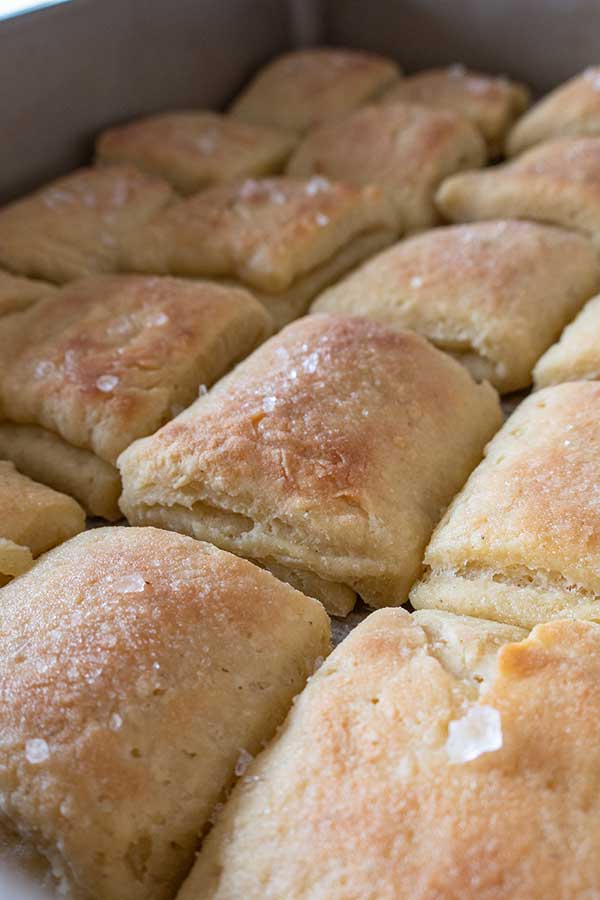 baked rolls brushed with butter and dusted with flaky Maldon salt
make-ahead gluten-free rolls,
Do not let the rolls rise at room temperature. Instead, cover the rolls with plastic wrap and refrigerate up to overnight. When ready to bake, bring the rolls to room temperature and allow them to rise to about half their size. Then bake as directed.
bake and freeze,
Bake the rolls and cool completely. Wrap rolls in plastic wrap, then place in a freezer bag and freeze for up to 2 months—Thaw and warm in the oven before serving.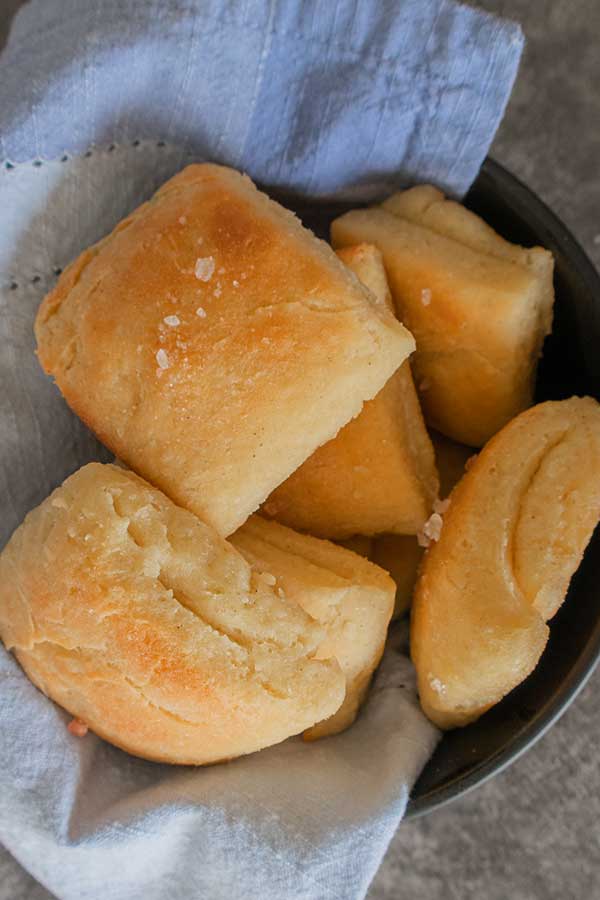 What to serve with gluten-free Parker house rolls?
Where to start? These rolls go with everything, soups and stews, dip into gravy and sauces or make into a breakfast sandwich.
But my favourite way to serve the gluten-free Parker house rolls is with leftover turkey, beef, chicken or ham and make delicious gluten-free mini sandwiches. Enjoy!
Gluten-Free Parker House Rolls Recipe
Published on Apr 13, 2022
by
Kristina Stosek
Instructions
1.

In the stand mixer bowl, whisk warm milk, melted butter, honey, and eggs. In a separate bowl, whisk the dry ingredients (flours to salt), and add to the wet mixture

2.

Using the dough hook, mix, making sure that you scrape down the sides of the bowl as needed until the dough comes together. You can also use a rubber spatula for mixing. The final dough will be sticky and soft and should pull away from the sides of the bowl. Cover the bowl with a towel and rest for 20 minutes

3.

Liberally dust your work surface with flour and let the dough slide out of the bowl onto the floured surface. Lightly dust the top of the dough with flour. Using a dough scraper, divide into 2 equal sizes

4.

Working with 1 piece at a time, roll out the dough into a 10x8" rectangle, Then cut into a half crosswise. Each half should be a 10x4" rectangle. Brush crosswise half of each rectangle with melted butter, fold the unbuttered side over, allowing 1/4" overhang. Cut into 2"-wide pieces, and using a pastry brush, brush off excess flour. You should have 5 pieces from each half. Repeat with remaining dough.

5.

Arrange rolls flat in rows of 5 into a 13x9" buttered baking pan. Loosely cover the pan with plastic wrap and allow the dough to rise in a warm place for 90 minutes. I used the oven method for my rising place; see the crescent rolls recipe what the oven method is

6.

Preheat the oven to 400 F

7.

Lightly brush the rolls with melted butter and bake for 20 - 22 minutes, until the rolls are golden brown.

8.

Before serving, brush the tops with melted butter and sprinkle with flaky salt if you wish.

9.

The rolls are served warm

10.

Note; to reheat the rolls, partially close them in foil paper and heat them in an oven at 350 F for 10 minutes.