Crustless Quiche with Leeks Mushrooms and Fontina Cheese
Published on Jun 16, 2020
by
Kristina Stosek
Prep Time:

15 minutes
Cook Time:

35 minutes
Serves:

6
​This post may contain affiliate links, please see our
privacy policy
for details
A Crustless Quiche with Leeks Mushrooms and Fontina Cheese for breakfast, lunch and dinner, but especially for brunch. With Father's Day approaching this weekend, I felt this crustless quiche would make the day extra special.
This incredibly delicious quiche has yet to disappoint. The gluten-free, keto-friendly quiche is silky with a delicious custard in every bite.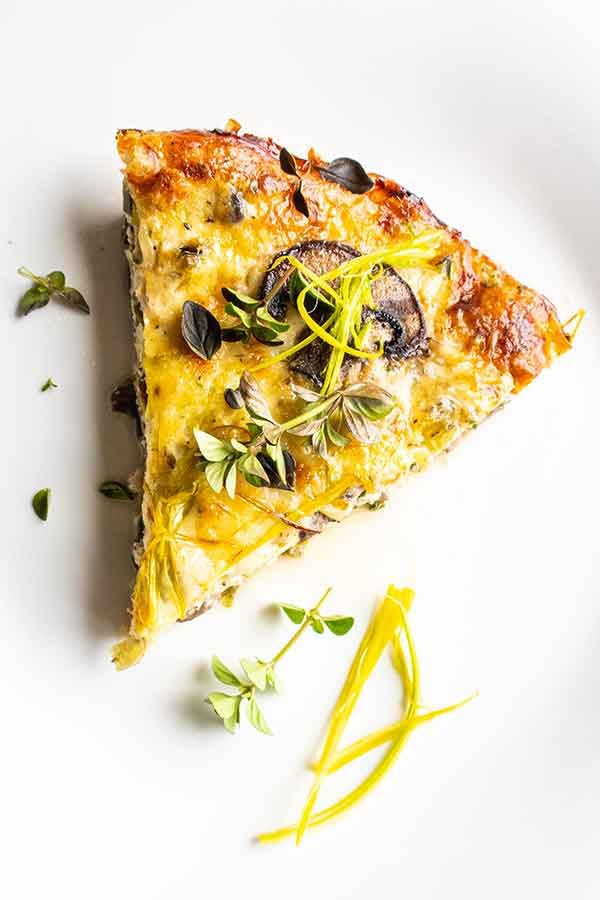 What is a crustless quiche?
A crustless quiche is a custard baked with simple ingredients in a pie dish without a crust. Making quiche is a great way to transform fresh veggies into a delicious meal. You can make a vegetarian quiche or a heartier one using ham or bacon, and it will always be a huge hit.
This crustless quiche is an excellent way to serve vegetables for breakfast or brunch. What I love about a crustless quiche it is naturally gluten-free. You can use any vegetables you have on hand.
Summer or winter vegetables, they will all work, making this a versatile gluten-free dish for any time of the year. By spreading the vegetables on the bottom of the pie dish, you don't need to make a crust.
In this gluten-free quiche recipe, I used two vegetables, leeks and mushrooms, a great combination with cheese in a light custard-like pie. The leeks are first lightly caramelized, giving the quiche a little sweetness.
The mushrooms are lightly cooked, keeping their texture and not making them soft and soggy. To enhance the flavour, I added thyme. This herb goes exceptionally well with leeks and mushrooms. I like to add plenty of black pepper accentuating the veggies.
In this quiche, I used Fontina cheese, a cheese that is probably one of the best melting cheeses, and it is creamy. The Fontina makes the custard velvety and cheesy.
To make this quiche with leeks mushrooms and Fontina cheese extra special, I added a decorative topping of sliced mushrooms and shaved leeks. The quiche is so beautiful, making this gluten-free quiche extra special.
3 mistakes to avoid when making quiche…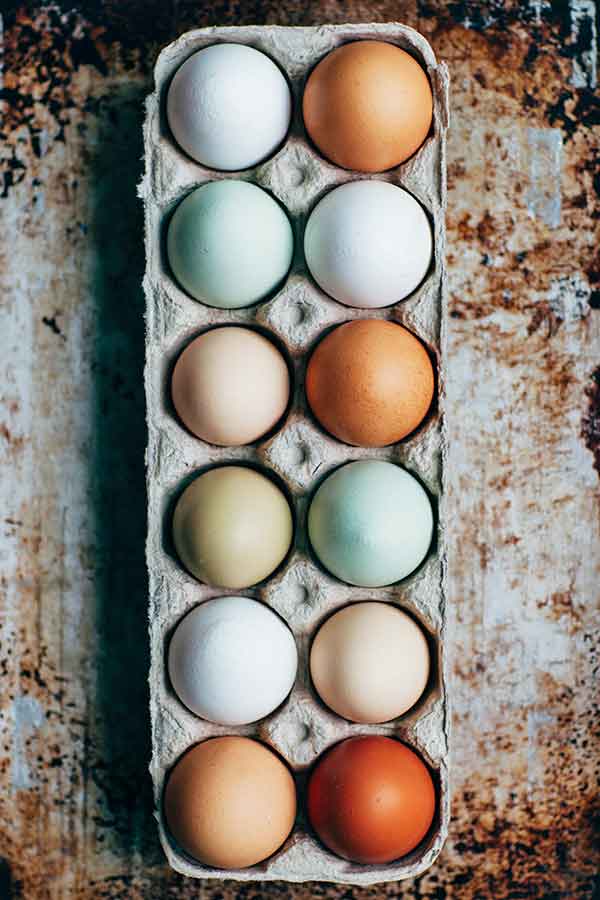 ∼ Eggs to milk ratio.
Have you ever made a crustless quiche, and it was rubbery? A quiche is a custard made with milk and eggs. So for the milk to set, you must have the right ratio of eggs to milk.
Rule of thumb is 1 large egg to 1/2 cup of dairy. For a standard 9-inch quiche, this means 3 large eggs and 1 1/2 cups of milk to fill the pie plate.
∼ Length of baking time.
The length of time you bake the quiche is critical. If you bake it too long, it will have tiny holes in it, and you will have water weeping out. If you underbake it, the quiche isn't set, and the filling will be slopping out.
The best indication is when there is a bit of wobble when it comes out of the oven. The rule of thumb is 30 – 40 minutes. Place quiche on the bottom rack of the oven avoiding for the top to cook too quickly.
∼ Should you precook the filling?
What about the filling? The cheese should be 1 – 2 cups, and 2 cups of filling. For winter heartier vegetables, they should be cooked or steamed first before you add them to the filling and make sure they are relatively dry.
For quick-cooking vegetables such as spinach, tomatoes, asparagus, or zucchini, use them fresh.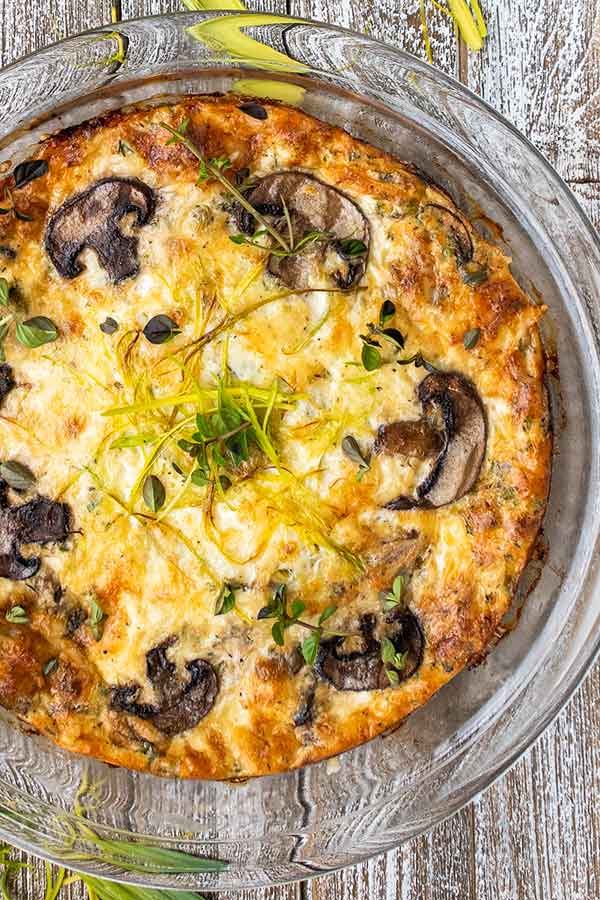 ∼ To summarize:
A crustless quiche can be made rich with extra cheese and extra filling or make it a lighter version using less cheese and less filling. Quiche can be served cold, at room temperature or warmed.
The best way to re-heat the quiche is at 300 F until just warm to the touch. For storage, place cooled quiche wrapped with plastic wrap in the refrigerator for up to 5 days.
Are you looking for gluten-free brunch recipes? We have a great selection of muffins, scones, cobblers and much more!
Crustless Quiche with Leeks Mushrooms and Fontina Cheese
Published on Jun 16, 2020
by
Kristina Stosek
Instructions
1.

2.

Heat two tablespoons of butter in a skillet, add leeks and season with salt and pepper. Saute for two minutes, then cover and reduce heat to low and cook for 5 minutes

3.

To the same skillet stir in mushrooms and thyme. Increase heat to medium-high and cook for 2 minutes, stirring often until the mushrooms start to soften. If there is liquid left in the skillet, turn the heat to high and cook until the liquid has evaporated. Cool

4.

Using a whisk, beat the eggs with cream until incorporated. Stir in parsley and half the cheese. Season lightly with salt and pepper. I find that the cheese is salty enough, so you don't have to add too much salt

5.

Spread half the leek/mushrooms mixture into the bottom of the pie dish. Pour the egg mixture in and add remaining leek/mushrooms. Finish with remaining cheese.

6.

This part is optional: I arranged decoratively few raw mushroom slices over the top and a few fresh leek shavings

7.

Melt the remaining one tablespoon of butter and pour over top of the quiche. Place the dish on the lower rack of your oven and bake for 30 - 40 minutes. There should be a bit of wobble when it comes out of the oven. Let cool for 20 minutes, or ideally overnight, then slice into wedges. Serve topped with fresh herbs if you wish
Leave a Comment
Really delicious, will definitely make it again, and again
Kristina
thank you Sarah, you made my day!
I've come back to this quiche recipe at least a dozen times, it's that good!
Kristina
wonderful!! So happy to hear that :-)
This came out perfectly! Great flavors, great texture. I subbed Jack and Gouda for the Fontina because I couldn't find it on short notice but it still tasted great and melted well. Thank you! Will def be making this again.