Gluten-Free Bacon Scones
Prep Time
10 + Minutes
Difficulty
Easy
Cook Time
18 Minutes
Serves
9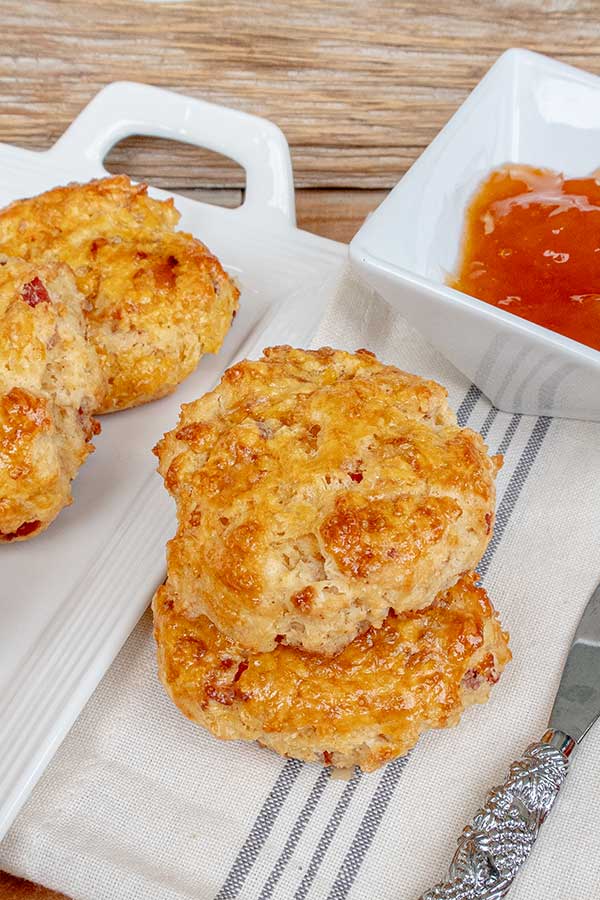 Average Rating: 5 | Rated By: 7 users
For an exceptional savoury scone, these Gluten-Free Bacon Scones are just the thing. Moist, light and tender scones are brimming with fresh bacon bits. How does that sound? Trust me, they will melt in your mouth. Who needs bacon when you can enjoy it in a scone 🙂
♥

The easiest gluten-free bacon scone recipe ever!

So here is the deal. I needed something delicious and freshly baked for Sunday brunch, and it had to be savoury. Since I didn't have much time, and my pantry was getting low on supplies, I had to keep it simple.

This is where the scone comes in. I am sure we all need last minute freshly baked scones at some point, especially when they are this easy to make and taste soo good!

So for the recipe, first you cook the bacon and chop it into small pieces. While the bacon is cooking, I get my ingredients and equipment ready. To make the scones mix the dry ingredients and grate cold butter into the flour and mix.

I find using a box grater does the trick. You can also do it the traditional way and cut the butter with a pastry blender. 

Add in the bacon. Then, whisk the eggs with milk and slowly mix it with the dry ingredients. Using a cookie scoop or a large spoon, scoop out the dough into nine mounds and brush with an egg yolk. Pop it in the freezer and chill for 15 minutes while the oven is heating up.

Once chilled brush again with the egg yolk, this will give you a beautiful shiny topping and bake. The gluten-free bacon scones come out beautifully golden, with delicious pieces of perfectly cooked bacon throughout.

 
♥ 

When to serve scones?

Scones are often served for breakfast or brunch. Sometimes you can add cheese or marmalade and butter. For an elaborate brunch, serve the scones with a quiche and fresh fruit. To be honest, a scone goes well with everything, and gluten-free scones are best when they are warm straight from the oven.
Ingredients
4 GF bacon strips, cooked and roughly chopped
1 Cup + 2 Tbsp. gluten-free all-purpose flour blend with xanthan gum. If the blend does not include xanthan gum, add 1/4 tsp. I used better batter
1 Tbsp. Coconut sugar
1 1/2 tsp. GF aluminum-free baking powder
1 tsp. Sea salt
1/3 cup butter, placed in the freezer 10 minutes before using
1/3 cup cold milk
2 large eggs, divided
*As an Amazon Associate and member of other affiliate programs, I earn from qualifying purchases. Please check out my sponsorship and disclosure policy page for more details
Instructions
Whisk the flour, coconut sugar, baking powder and salt until combined
Grate the cold butter on a box grater into the dry ingredients and using your fingers mix until you form a crumb-like mixture. Add the bacon and mix.
Separate one of the eggs keeping the yolk aside. Whisk the milk with one egg and one egg white and slowly mix with dry ingredients until just combined. Do not overmix, or the scones will become hard.
Using a cookie scoop, scoop out the dough into 9 even mounds. Using your hands lightly, press the mounds of dough to about 3/4-inch thickness. Brush with egg yolk and place in the freezer for 15 minutes
While the scones are in the freezer, preheat the oven to 400 F
Once chilled brush with remaining egg yolk again and bake for 15 - 18 minutes until they are a deep golden colour. Serve warm
Similar Recipes
Gluten-Free Mini Scones With Manchego, Peppers & Onions
Gluten-Free Mini Scones with Manchego Cheese, Red Peppers and Onions – a flaky scone is a thing of beauty, especially when they taste cheesy. These savoury scones are pretty special and sure to please. They are made with Manchego cheese, caramelized onions with red pepper and flavoured with chili pepper. I can say they have […] Read More
Prep Time
20 Minutes
Difficulty
Easy
Cook Time
18 Minutes
Serves
14
Gluten-Free Cranberry Oat Scones
If you love scones, you will cherish these Gluten-Free Cranberry Oat Scones. They are buttery, lightly sweetened, spiced with nutmeg and cinnamon and filled with slightly tart cranberries. The mix of ingredients in these scones creates a better scone than the one you would get from a bakery. Everyone must have at least one scone […] Read More
Difficulty
Easy