Smoked Salmon, Asparagus & Goat Cheese Quiche (Keto & Gluten-Free)
Prep Time
15 Minutes
Difficulty
Easy
Cook Time
75 Minutes
Serves
6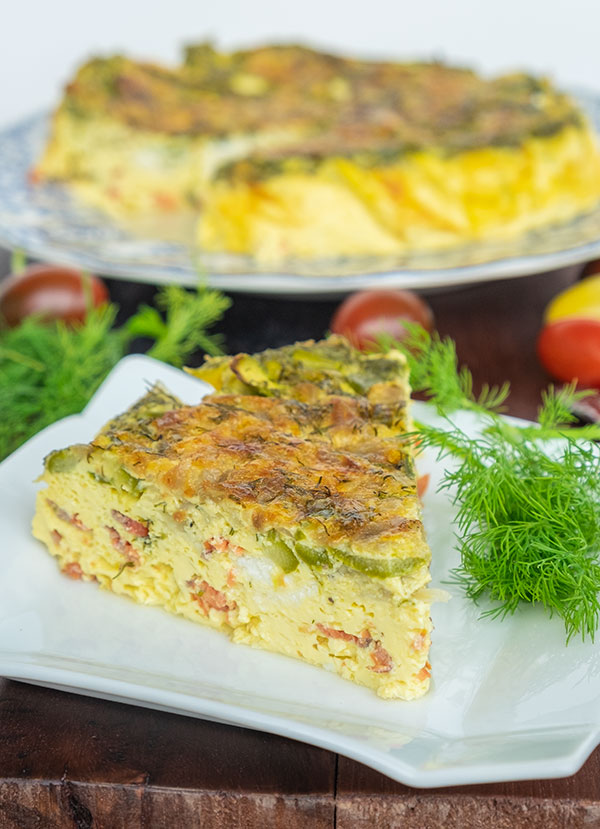 Be the first to rate this recipe.
Kicking off this weekend with extra special Smoked Salmon, Asparagus and Goat cheese Quiche. This is a summer quiche, so it's light, no crust, with a smokey flavour, tender asparagus and creamy goat cheese, adding tartness and earthy flavour. When it comes to Sunday brunch this is a must have quiche recipe. For any leftovers, add a salad and have a light dinner. What I love about this recipe it is entirely Keto. Since there is no crust, this is a super easy recipe to make. Enjoy!
Have you checked out our online store for kitchen gadgets and more?
Ingredients
1 1/2 Tbsp. Extra virgin olive oil
1/2 cup finely chopped red onion
4 asparagus spears, trimmed, cut diagonally to 1-inch pieces, divided
6 large eggs
2 cups milk
1 cup half and half cream
6 oz. goat cheese, crumbled, divided
2 Tbsp. Chopped fresh dill
1 tsp. Lemon zest
3/4 tsp. Himalayan salt
1/4 tsp. GF ground black pepper
Instructions
Preheat oven to 375 F and line a 9-inch springform pan with parchment paper. Lightly brush the pan with olive oil this helps the parchment paper stick to the pan
Heat olive oil in a pan over medium heat. Add onions and cook until translucent. About 5 minutes. Set aside to cool
Whisk eggs in a large bowl. Add milk, cream, dill, lemon zest, salt and pepper and whisk together
Layer the pan with half the salmon, half the asparagus and half the goat cheese. Pour half the egg mixture over the top. Then add remaining salmon, asparagus, and goat cheese and pour the remaining egg mixture over it. Top with cooked onions
Place pan on a baking tray lined with foil and bake at 375 for 15 minutes. Lower the heat to 350 F and bake 50 - 60 more minutes, or until set in the center
Remove from the oven and cool on a wire rack for 15 minutes before serving
Similar Recipes
Grain-Free Vegetarian Quiche
I love this gluten-free vegetarian dish because it is so versatile. The grain-free vegetarian quiche is made in a crispy potato crust with plenty of vegetables. Serve it hot or cold with a green salad, or cut the quiche into small wedges and enjoy as a snack Read More
Prep Time
15 Minutes
Difficulty
Easy
Cook Time
60 Minutes
Serves
4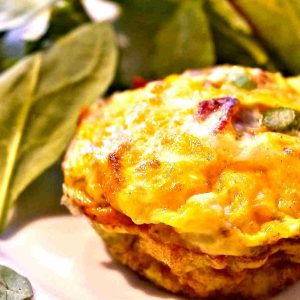 Gluten Free Mini Quiche Muffins
Thinking of a healthy breakfast, brunch or just a snack? Try these grain free mini muffins filled with tasty ham, asparagus and cheese. This is a high protein muffin and will keep you energized for hours Read More
Prep Time
10 Minutes
Difficulty
Beginner
Cook Time
15 Minutes
Serves
2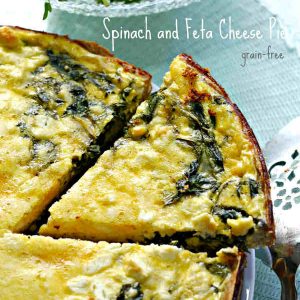 Grain-Free Spinach and Feta Cheese Pie
This grain-free spinach and feta cheese pie is one of our most popular Sunday brunch recipes. Enticingly cheesy, with custard like texture with a crust, made of sesame seeds and buckwheat. This scrumptious savoury pie is a winner! Read More
Prep Time
15 Minutes
Difficulty
Easy
Cook Time
50 Minutes
Serves
6