Smoked Salmon, Asparagus & Goat Cheese Quiche (Keto & Gluten-Free)
Published on Jun 22, 2019
by
Kristina Stosek
Prep Time:

15 minutes
Cook Time:

75 minutes
Serves:

6
​This post may contain affiliate links, please see our
privacy policy
for details
Sometimes we just want something light for dinner – we all do. And what's better than a Smoked Salmon with Asparagus and Goat Cheese Quiche? This is something you don't have to feel guilty about eating.
Smoked Salmon, Asparagus and Goat Cheese Quiche willl satisfy even big appetites!
Smoked salmon, asparagus and goat cheese nestled in a light egg custard. It is a filling meal with a light salad or just as is.
crust-free quiche
This is a light quiche made without the typical crust that most quiches have. The salmon adds a gentle smokey flavour and goes exceptionally well with the tender asparagus.
This quiche is keto-friendly.
The goat cheese, fresh dill and lemon zest give some tartness and earthy flavour. And for those who follow the keto diet, this smoked salmon and asparagus with goat cheese dish is also keto-friendly.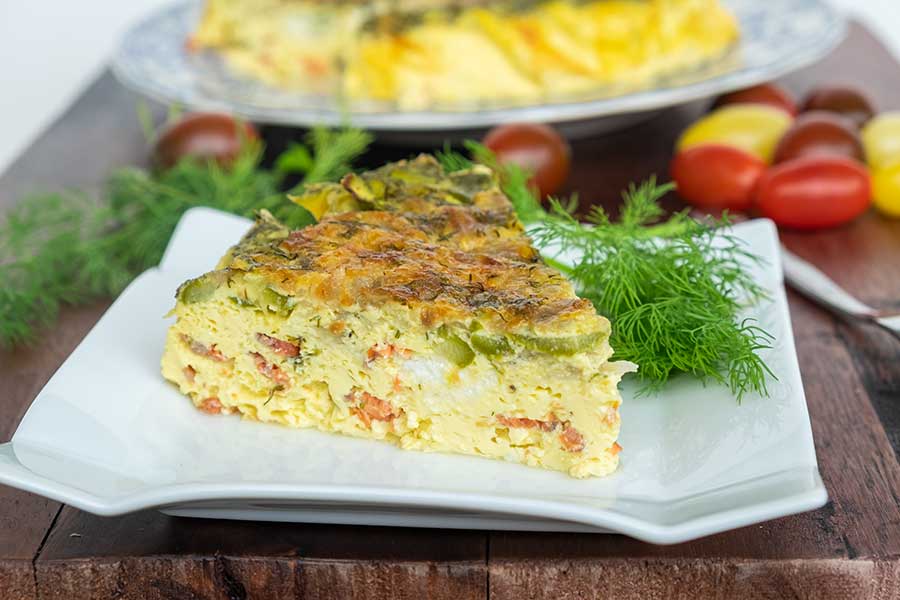 gluten-free quiche — recipe overview
I love making a quiche. It is probably one of the easiest meals to make. The quiche is made mostly of eggs. Then you can add your favourite veggies, proteins and cheeses.
This recipe has two layers of smoked salmon, asparagus and goat cheese. The deliciously flavoured eggs are poured over each layer and what makes this an exceptional dish is the topping of caramelized onions.
don't rush the baking
The only drawback is the time it takes to bake. To have exceptional results this stunning dish takes time. But the good thing is, it takes only minutes to prepare. So you can leave it in the oven baking while you relax or make a light salad for a healthy meal.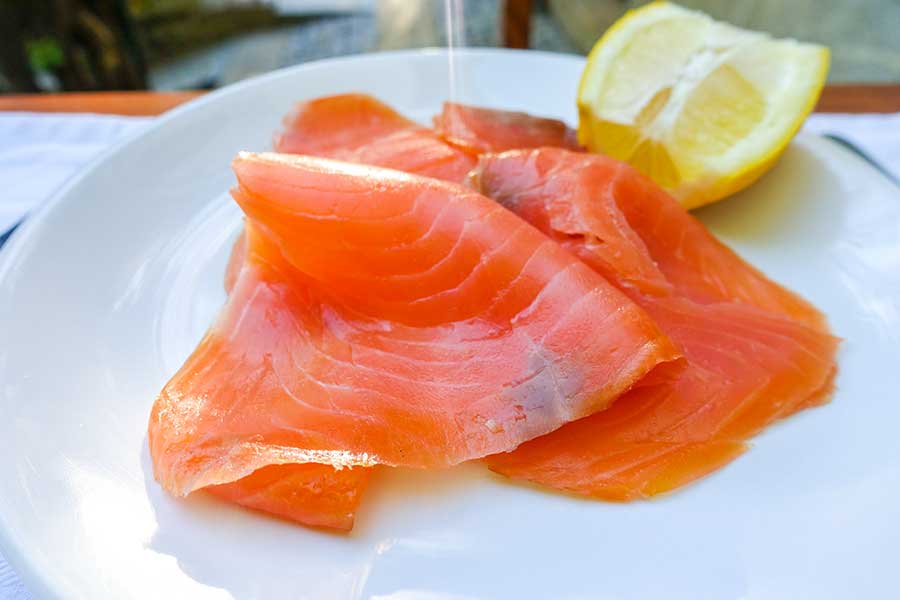 Don't like salmon? Replace it with ham.
Don't have smoked salmon? You can use ham, the quiche is just as delicious.
If quiche isn't your thing we have many more gluten-free light meals for everyday cooking.
Have you checked out our online store for kitchen gadgets, gluten-free ingredients, popular gluten-free cookbooks and more?
Smoked Salmon, Asparagus & Goat Cheese Quiche (Keto & Gluten-Free)
Published on Jun 22, 2019
by
Kristina Stosek
Instructions
1.

Preheat oven to 375 F and line a 9-inch springform pan with parchment paper. Lightly brush the pan with olive oil this helps the parchment paper stick to the pan

2.

Heat olive oil in a pan over medium heat. Add onions and cook until they start to golden. About 5 minutes. Set aside to cool

3.

Whisk eggs in a large bowl. Add milk, cream, dill, lemon zest, salt and pepper and whisk together

4.

Layer the pan with half the salmon, half the asparagus and half the goat cheese. Pour half the egg mixture over the top. Then add remaining salmon, asparagus, and goat cheese and pour the remaining egg mixture over it. Top with cooked onions

5.

Place pan on a baking tray lined with foil and bake at 375 for 15 minutes. Lower the heat to 350 F and bake 50 - 60 more minutes, or until set in the center

6.

Remove from the oven and cool on a wire rack for 15 minutes before serving
Leave a Comment
Kristina
sounds delicious, will try it next time. Thank you for sharing
I would leave out the milk, use full cream and add 2 more eggs