Gluten-Free Dutch Baby With Smoked Gouda, Tomatoes and Arugula
Prep Time
5 Minutes
Difficulty
Easy
Cook Time
45 Minutes
Serves
4 sides
Be the first to rate this recipe.
Gluten-Free Dutch Baby With Smoked Gouda, Tomatoes and Arugula. I cannot even begin to tell you how delicious this gluten-free Dutch baby is. Think of Yorkshire pudding, topped with melted smoked gouda cheese, arugula, garlic basil tomatoes and a drizzle of balsamic vinegar. Have I got your attention?
What is a Dutch baby?
For those that may be wondering what is a Dutch Baby, the best way I would describe it, a large puffy pancake baked in a cast-iron skillet. The texture is just like Yorkshire pudding, very light with plenty of air bubbles. These large fluffy pancakes can be sweet with berries and cream or savoury with cheese and veggies
The method for making this fluffy pancake is similar to Yorkshire pudding. First, the skillet is heated, then add some oil and immediately fill with the batter. The pancake is then baked and later topped with various toppings. 
I wanted to make a savoury recipe, so I used a flavourful smoked gouda cheese, which I topped with fresh arugula and garlic basil tomatoes. To give it a finishing touch, I drizzled the tomatoes with balsamic vinegar. So so good!
any good melting cheese will work…
But feel free to experiment with other cheeses such as cheddar, mozzarella or Asiago. The garlic basil tomatoes and balsamic vinegar are what ties everything together beautifully, separating this Dutch Baby recipe from most.
 I love making Dutch babies because they are super easy to make, tasty and they look so impressive. Once you briefly roast the tomatoes with basil and garlic, everything else goes very quickly.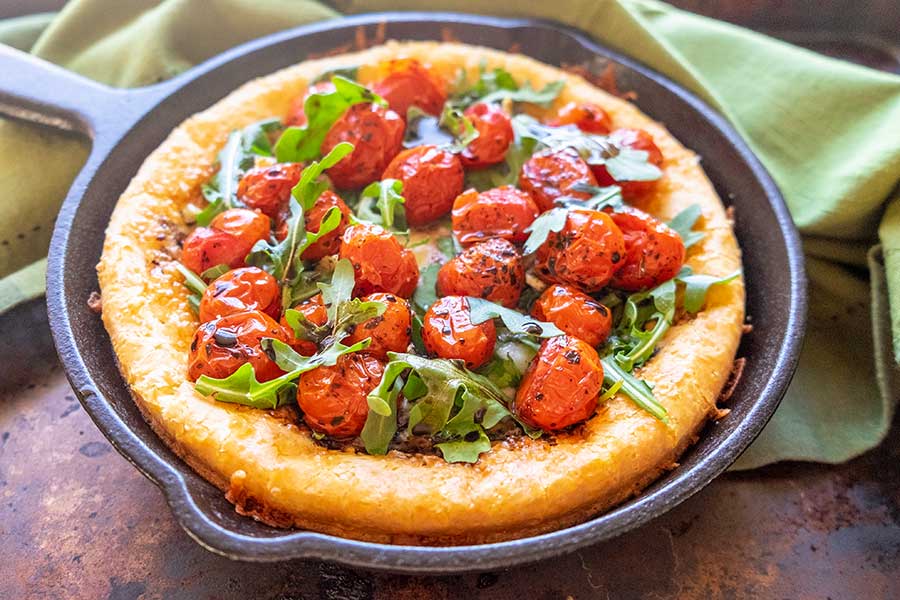 For the batter, add all the ingredients to a blender, blend and pour into a hot skillet and bake. Then top with cheese bake a little more and finish off with arugula, tomatoes and balsamic vinegar.
Nothing compares to this savoury gluten-free Dutch baby dish – YUM! Serve for breakfast, brunch or anytime snack.
For more breakfast ideas, check out these delicious gluten-free breakfast recipes.
Ingredients
1 cup cherry tomatoes
1 garlic, roughly chopped
1/4 tsp. GF dried basil
2 large eggs
3/4 cup milk
1/3 cup gluten-free all purpose flour blend (I used cup4cup)
Himalayan salt and GF coarsely ground black pepper to taste
1/4 cup grated smoked gouda cheese (you can also use cheddar, mozzarella or Asiago)
1 cup baby arugula
2 tsp. GF balsamic vinegar
*As an Amazon Associate and member of other affiliate programs, I earn from qualifying purchases. Please check out my sponsorship and disclosure policy page for more details
Instructions
Preheat oven to 350 F
Place tomatoes, garlic, 1 tablespoon of avocado oil and basil on a baking tray lined with foil. Season with salt and pepper and mix to combine. Bake for 20 minutes. Set aside.
Increase oven heat to 425 F Preheat an 8-inch cast iron skillet in the oven for 10 minutes. To save time, I placed the skillet in the oven while the tomatoes were baking
While the skillet is heating, place eggs, milk, 2 tablespoons of avocado oil, flour, and 1/4 teaspoon salt in a blender. Mix until smooth
Carefully remove hot skillet from the oven and drizzle with remaining avocado oil. Immediately add the batter to the pan and bake for 20 minutes. Reduce heat to 300 F sprinkle the dutch baby with cheese and bake 5 more minutes
Fill the center with arugula and tomatoes and drizzle with balsamic vinegar
Slice in quarters as a side or in half as a main. Enjoy!
Note: if you have two ovens you can make the tomatoes at the same time as the Dutch baby, total cooking time 25 min
Similar Recipes
Easy One-Pan Breakfast For A Crowd – Gluten Free
Easy, delicious One-Pan Breakfast For A Crowd. This hearty gluten-free breakfast takes minutes to prep, making this an easy dish to prepare for a crowd.  In this gluten-free breakfast recipe, I included everything a hearty breakfast has. Gluten-free sausage, eggs, potatoes, extra veggies and cheese, YUM!  snapshot of the breakfast recipe,     Start with […] Read More
Prep Time
10 Minutes
Difficulty
Easy
Cook Time
35 Minutes
Serves
6