Gluten-Free Popover Easy Recipe
Prep Time
5 Minutes
Difficulty
Easy
Cook Time
24 Minutes
Serves
10
Average Rating: 5 | Rated By: 6 users
These gluten-free popovers are crisp on the outside, light and hollow in the middle and they taste just like Yorkshire pudding. This is one of the easiest recipes for gluten-free popovers, I assure you. When I make them at my house they don't last very long so I always double up the recipe. You can never have too many popovers 🙂
A popover is made from the same batter as Yorkshire pudding except it is made in individual moulds, like in a popover pan or a muffin pan. So in reality, if you are looking for a gluten-free Yorkshire pudding recipe you can use this popover recipe. What I particularly love about this gluten-free popover recipe it takes only five minutes of prep time and a blender. No messy bowls or spoons to clean up. Once you make the batter than just pour it in the muffin or popover pan. One very important thing to know, you need to add some oil to the pan which is heated in the oven before you pour the batter inside. And NEVER open the oven while they are baking, or they will come out dense and flat. See how easy is this recipe?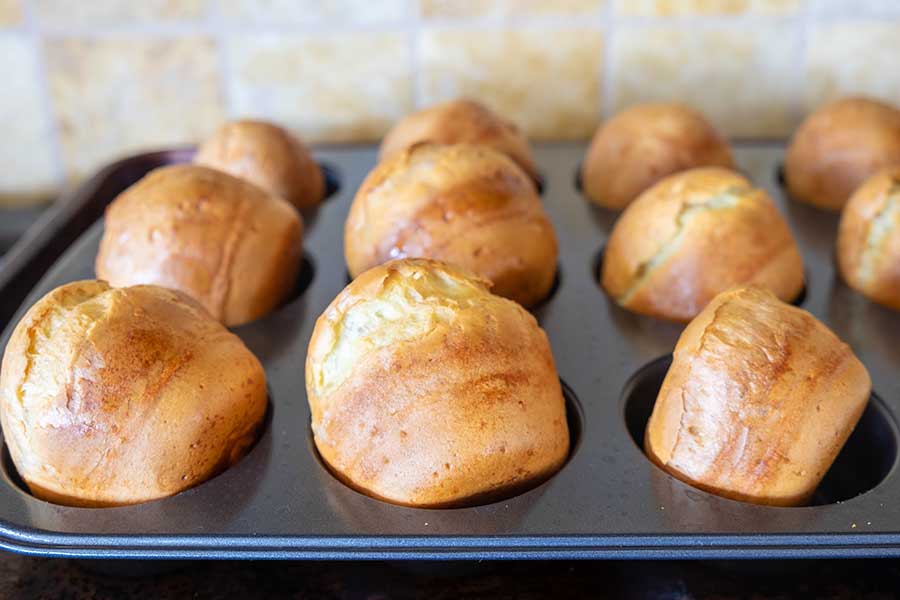 ♥
What to serve with popovers?
Popovers are hollow on the inside making them ideal for leftovers and gravy. Typically they are served with roast beef and gravy. However, they are perfect for turkey or chicken leftovers. All you do is fill the popovers with leftover meat and then smother them with gravy. If you have some leftover cranberry or apple sauce add that as well. To make an effortless casual meal out of filled popovers, serve them up with steamed veggies or a light salad. Your family will be impressed! They are that good, trust me on this! 
I hope you will enjoy these delicious gluten-free popovers. Now all you need is a freshly made gluten-free crustless apple pie 🙂 
Ingredients
3 large eggs
1/2 cup full-fat milk
1/2 tsp. Himalayan salt
1/2 cup tapioca flour/starch
1/4 cup gluten-free flour blend (better batter or cup4cup work best in this recipe, do not use bean flour bends)
1/2 tsp. GF baking powder
3 - 5 tsp. Coconut oil or cooking oil
Tip; to measure flour, lightly fill the measuring cup with a spoon and level off with a knife
*As an Amazon Associate and member of other affiliate programs, I earn from qualifying purchases. Please check out my sponsorship and disclosure policy page for more details
Instructions
Preheat oven to 425 F
Add 1/2 teaspoon of oil in 10 muffin cups or 6 popover cups. Place pan in the oven for 5 minutes to heat the oil
While the oil is heating, add eggs, milk and salt into a blender. Blend until bubbles form on the top, about 30 seconds. Add flour and baking powder and blend until creamy, about a minute, scraping sides as needed
Once the oil has heated quickly pour the batter evenly into each cup. Keeping the oven door closed while you are doing this. Each cup should be about a 1/3 full or 1/2 full for popover pan. Immediately place pan back in the oven and bake for 22 - 24 minutes until golden brown. DO NOT open the oven door while baking. Remove from the pan right after baking
Note; if you are using popover pan this recipe will make 6 popovers
Similar Recipes
Best Gluten-Free Pull-Apart Soft Rolls
Best Gluten-Free Pull-Apart Soft Rolls – soft, pillowy, and most addictive rolls you will find. They are that good! At my house, when it comes to holidays such as Thanksgiving or Easter, rolls are one thing that is a must-have on our dinner table. In this pull-apart soft rolls recipe, there are no complicated flours, […] Read More
Prep Time
10 Minutes
Difficulty
Easy
Cook Time
25 Minutes
Serves
9 rolls
Gluten Free Cheesy Garlic Rolls
I would describe these gluten-free cheesy garlic rolls as crusty garlic bread with melted cheese in the center. Garlic bread never tasted this good. The tasty gluten-free rolls go especially well with Italian food or hearty stew Read More
Prep Time
15 Minutes
Difficulty
Moderate
Cook Time
40 Minutes
Serves
12