How To Make Homemade Cranberry Sauce
Published on Nov 22, 2022
by
Kristina Stosek
Prep Time:

5 minutes
Cook Time:

20 minutes
Serves:

2 1/4 cups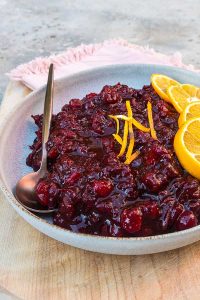 ​This post may contain affiliate links, please see our
privacy policy
for details
Nothing beats homemade cranberry sauce. This traditional dish is made with fresh cranberries slowly simmered in tasty juice until they burst, creating a sweet thick cranberry sauce. Cranberry sauce is a must addition to your holiday feast!
cranberry sauce VS cranberry jelly
Cranberry sauce and cranberry jelly are two popular ways to enjoy cranberries. But what's the difference between these two holiday staples?
Cranberry sauce is made by cooking whole cranberries with sugar and water or juice until they burst and release their juice. The result is a thick, tart sauce perfect for spooning over turkey or ham.
Cranberry jelly, on the other hand, is made by boiling cranberries with sugar and water until they form a thick gel and are then pureed. The result is a sweet, smooth jelly perfect for spreading on toast or muffins.
So, which one should you choose for your holiday meal? If you like a thick sauce with chunks of cranberries, then go for the cranberry sauce. If you prefer something sweeter and smooth, then go for the jelly. Or, if you can't decide, why not make both?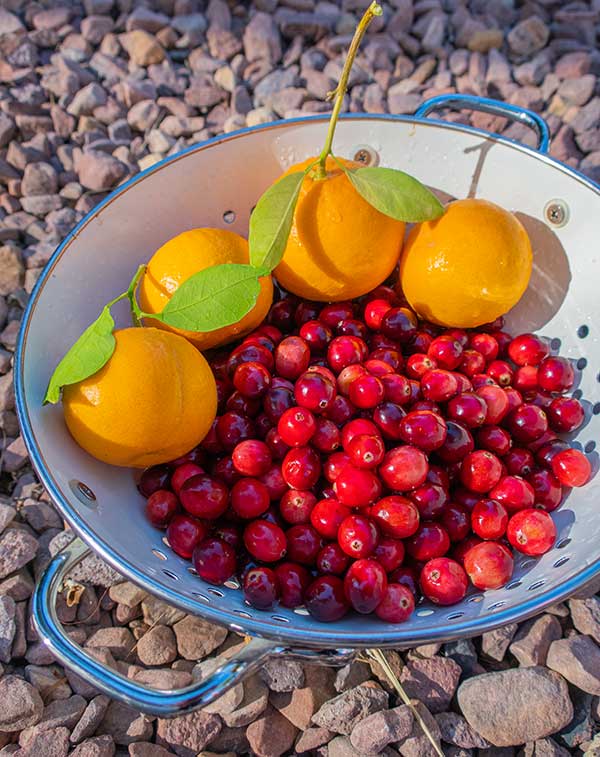 health benefits of cranberries
Cranberries are not only delicious but also packed with nutrients and offer various health benefits. Just a few of the many health benefits of cranberries include:
1. Cranberries are rich in antioxidants, which can help protect your cells from damage and may reduce your risk of some chronic diseases.
2. Cranberries contain compounds that may help prevent urinary tract infections by keeping bacteria from sticking to the walls of the bladder and urethra.
3. Cranberries may also promote gut health by helping to prevent the growth of harmful bacteria in the intestine.
4. Some research suggests that cranberry consumption may help improve cholesterol levels and blood sugar control in people with diabetes.
5. Lastly, cranberries are a good source of fiber, essential for promoting regularity and preventing constipation.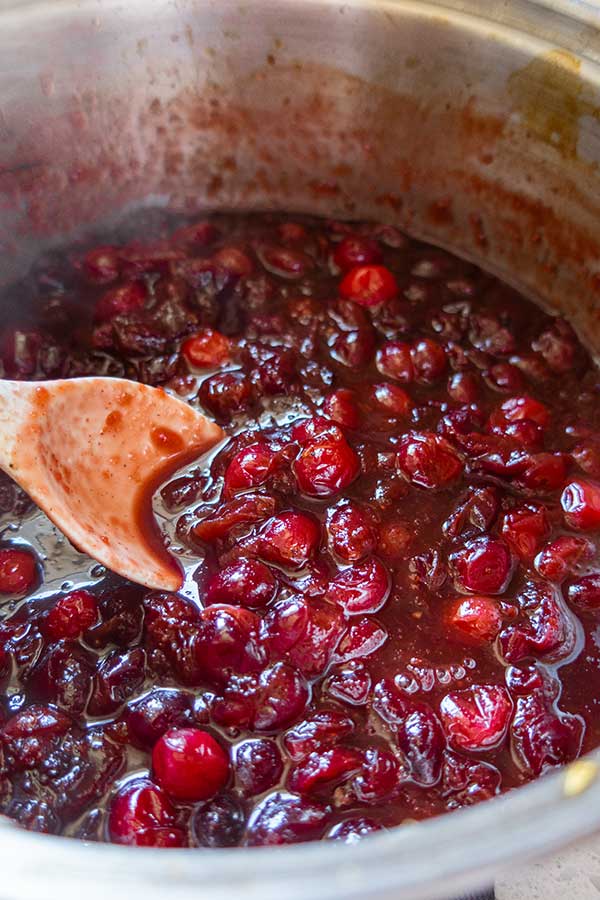 fresh or frozen cranberries for cranberry sauce
The best cranberry sauce is made with fresh cranberries, but you can also use frozen ones. If you use frozen cranberries, make sure to thaw them before using them in the recipe.
best way to sweeten cranberry sauce
There are a few different ways that you can sweeten your cranberry sauce. For example, you can add sugar, honey or maple syrup.
Another way to sweeten cranberry sauce is by replacing water with fruit juice. Popular juices to use are orange juice, pineapple juice or apple juice.
You can also add fruits like raisins, apricots, or apples.
How long will cranberry sauce keep?
If you store your cranberry sauce in an airtight container, it will keep in the fridge for up to two weeks. Or you can freeze it for up to three months.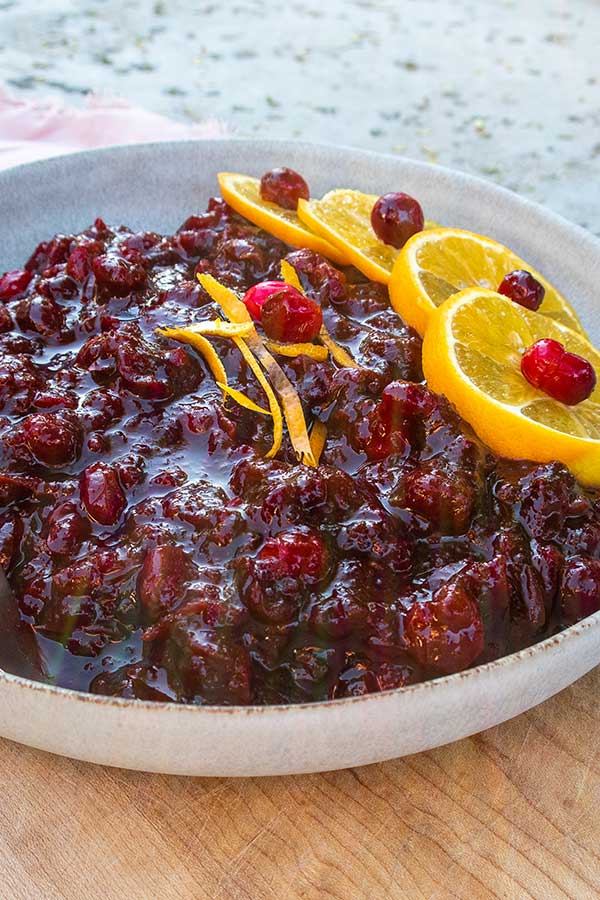 Uses for leftover cranberry sauce
Like most people, you probably have a lot of leftover cranberry sauce after Thanksgiving. But what can you do with it?
Here are just a few ideas:
– Use it as a topping for ice cream or yogurt
– Mix it into oatmeal or pancakes
– Use it as a filling for muffins, cookies or cakes
– Spread it on toast or crackers
– Add it to smoothies or juices
– Add a dollop of cranberry sauce to your morning oatmeal
– Use leftover cranberry sauce as a sandwich spread.
– Make a cranberry vinaigrette by mixing equal parts cranberry sauce and vinegar with your favorite herbs.
– Toss some cranberry sauce into a salad for a sweet and tangy twist.
– Transform your leftover cranberry sauce into a tasty barbeque sauce by mixing in some ketchup, mustard, and seasoning.
cranberry jelly recipe
Ingredients:
4 cups fresh cranberries
2 cups sugar
1/2 cup orange juice
1 Tbsp. orange zest
1/2 tsp. GF ground cinnamon
1/4 tsp. sea salt
Instructions:
1. Combine all the ingredients in a medium saucepan.
2. Bring to a simmer, stirring occasionally.
3. Cook until the cranberries burst and the mixture thickens, for about 15 minutes.
4. Remove from heat and let cool slightly.
5. Transfer to a blender and puree until smooth. Strain through a fine-mesh sieve into a jar, pushing the sauce through with a rubber spatula. Refrigerate until set, at least 3 hours or overnight
mix-ins
When it comes to mix-ins, the sky is the limit! Here are some of our favorites:
-Chopped fresh or dried cranberries
-Orange zest
-Chopped pecans or walnuts
-Maple syrup
-Ground cinnamon
-Fresh ginger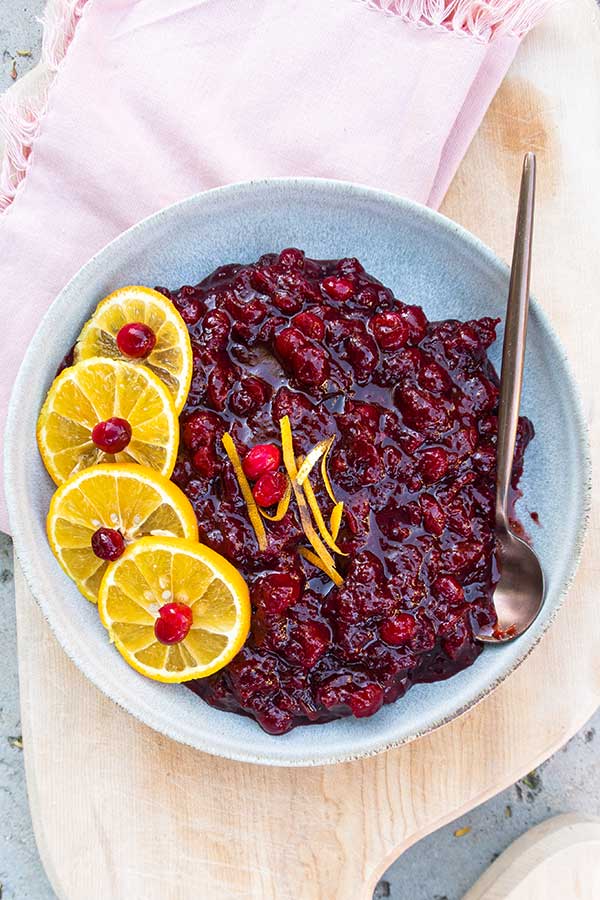 cranberry sauce for diabetics
To make cranberry sauce for people with diabetes, replace sugar with Monk Fruit Sweetener or Sugar4Diabetics, and use water to replace juice. Use the sweetener as per package directions.
easy way to cook cranberry sauce
The easy way to make homemade cranberry sauce is the slow cooker method. It's super easy, and you can set it and forget it. Plus, it gives the cranberries a chance to break down and get nice and mushy, which is what we like in our cranberry sauce.
what to serve with cranberry sauce
In addition to the obvious choice of turkey, several other dishes go well with cranberry sauce. Here are a few ideas to get you started:
-Roast beef
-Ham
-Pork chops
-Chicken
– Duck
Homemade cranberry sauce is easy to make and packed with fresh flavor. So skip the canned version and enjoy this holiday dish with your favorite main.
Let's Connect!
Be sure to FOLLOW US on FACEBOOK and PINTEREST.
Many thanks!
Kristina xx
How To Make Homemade Cranberry Sauce
Published on Nov 22, 2022
by
Kristina Stosek
Instructions
1.

In a medium-sized saucepan, combine orange juice, coconut sugar, orange zest, cinnamon, cloves, star anise and salt. Bring to a boil and cook until the sugar has dissolved about 2 minutes. Stirring as needed

2.

Add cranberries, return to a boil, then reduce to a simmer. Cook until the cranberries have burst and the sauce has thickened. About 15 - 18 minutes. Stirring occasionally

3.

Transfer to a serving bowl and cool to room temperature

4.

Cover with cling wrap and refrigerate overnight before serving