Gluten-Free Vegan Schnitzel
Prep Time
10 Minutes
Difficulty
Easy
Cook Time
6 each Minutes
Serves
4
Be the first to rate this recipe.
Gluten-Free Vegan Schnitzel so good, you will add it to your weekly repertoire of recipes – There is nothing more satisfying than a crispy schnitzel, yes a little indulgent, but oh sooo good! Schnitzels originate from Austria, and they are ordinarily made with veal, pork or chicken coated with flour, eggs, and breadcrumbs then fried to crispy perfection.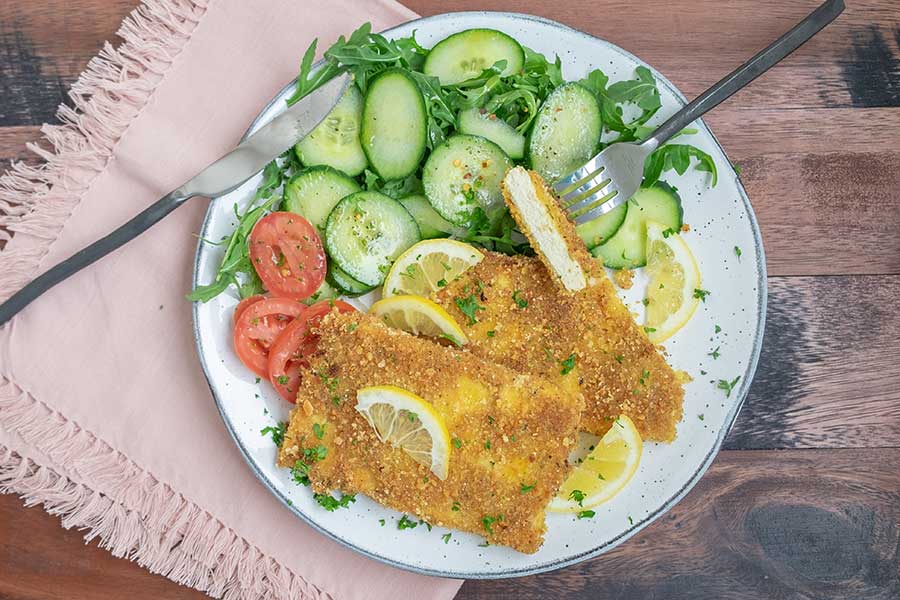 ♥

Gluten-Free vegan schnitzel that is sooo good!
I wanted to create a gluten-free vegan schnitzel, for my friends who follow a plant-based diet. Let me tell you, I had my work cut out for me! Growing up in eastern Europe schnitzels were one of my favourite meals. Let's be honest, a crispy coating on anything makes everything taste better.
The details,
To make the schnitzels first I had to replace the meat. I decided to use extra-firm tofu. As we all know tofu doesn't have too much flavour, so I had to add extra seasoning to the crumbs. I used oregano and garlic, this will add so much flavour making the tofu well seasoned. Then, I replaced vegan eggs for the eggs, this was simple. The secret to a delicious schnitzel is the crispy coating. Sure I could have used regular gluten-free bread crumbs and I have tried to do so, but the coating wasn't quite crispy enough. So, I used toasted chickpea breadcrumbs. They made the coating super crispy, gluten-free and added fiber and protein to this vegan Austrian dish. Once the schnitzels are coated they are briefly fried, long enough for the coating to be crispy and the tofu to be heated through. The gluten-free vegan schnitzel turned out amazing! 
To make this truly an authentic schnitzel dinner you must serve it with stewed red cabbage, or cucumber salad or vegan potato salad. Doesn't this all sound delicious? Enjoy!
Ingredients
1 block (350 g) GF extra firm tofu, cut into 4 equal slices
1 tsp. GF oregano
1/2 tsp. GF garlic powder
1/4 tsp. GF ground black pepper
1/2 cup rice flour
Himalayan salt to taste
1 lemon sliced into wedges
*As an Amazon Associate and member of other affiliate programs, I earn from qualifying purchases. Please check out my sponsorship and disclosure policy page for more details
Instructions
Pat dry tofu slices with paper towels and season with salt
In a large bowl combine breadcrumbs, oregano, garlic powder, black pepper and 1/4 teaspoon of salt
Coat tofu slices with rice flour, then dip into eggs to coat and then coat firmly with breadcrumbs
Pour about 1/2 inch of oil into a deep skillet. Heat oil over medium heat to about 350 F
Place schnitzels into the hot oil and fry for about 3 minutes per side until golden, adding more oil if needed. Drain on paper towels
Serve hot with lemon wedges
Similar Recipes
Crispy Tofu With Spicy Ginger Sauce
Enticingly delicious, Crispy Tofu With Spicy Ginger Sauce → So few ingredients and only a few minutes of cooking, turns simple tofu into the most flavourful light vegan meal or a snack. Tofu is the milk of soya beans. Rich in protein and virtually tasteless, the silky textured tofu works exceptionally well with tasty sauces. Tofu […] Read More
Prep Time
5 Minutes
Difficulty
Easy
Cook Time
10 Minutes
Serves
4 small appetizers
Baked Buffalo Cauliflower Tidbits – Gluten Free
Buffalo Cauliflower Tidbits coated in a light batter, baked and then tossed in spicy buffalo sauce. This gluten-free healthy cauliflower snack makes a tasty appetizer and is always a big hit at sports events. buffalo cauliflower tidbits made with only 7 ingredients… I love this vegan, gluten-free snack. There is no need for frying, no […] Read More
Prep Time
20 Minutes
Difficulty
Easy
Cook Time
35 Minutes
Serves
6
Gluten-Free Baked Broccoli Tots
Gluten-Free Baked Broccoli Tots are probably one of the easiest healthy snacks you can make. The broccoli tots are made with only a few ingredients such as fresh broccoli, cheese, gluten-free bread crumbs, some seasoning and eggs.     You can also use an egg-substitute like a flax egg. To make these delicious tots is […] Read More
Prep Time
15 Minutes
Difficulty
Easy
Cook Time
25 Minutes
Serves
12