German Cucumber Salad Recipe
Published on Aug 08, 2022
by
Kristina Stosek
Prep Time:

10 minutes
Cook Time:

minutes
Serves:

4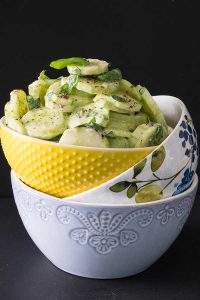 ​This post may contain affiliate links, please see our
privacy policy
for details
You can never have enough simple, healthy and refreshing salad recipes. One salad that you will love is the German cucumber salad. This fresh salad has just a few ingredients – cucumbers, onions, garlic, spices and a vinegar-based creamy dressing.
It's light and refreshing, making it an excellent choice for summertime gatherings. Plus, it's super easy to make!
What Is German Cucumber Salad?
German cucumber salad is a refreshing chilled dish that is perfect for summer, and it is made with fresh cucumbers.
This salad is best served as a side dish at cookouts or large gatherings because it will keep fresh longer than most salads.
What does cucumber salad taste like?
The cucumbers are thinly sliced and marinated in a light creamy vinaigrette made with red onions, garlic and seasoning. This salad is incredibly refreshing during the hot summer months.
However, in Germany, the cucumber salad is often served with schnitzels or pork entrees and fried chicken dishes all year round. Another German salad you may enjoy is the Vegan German Potato Salad.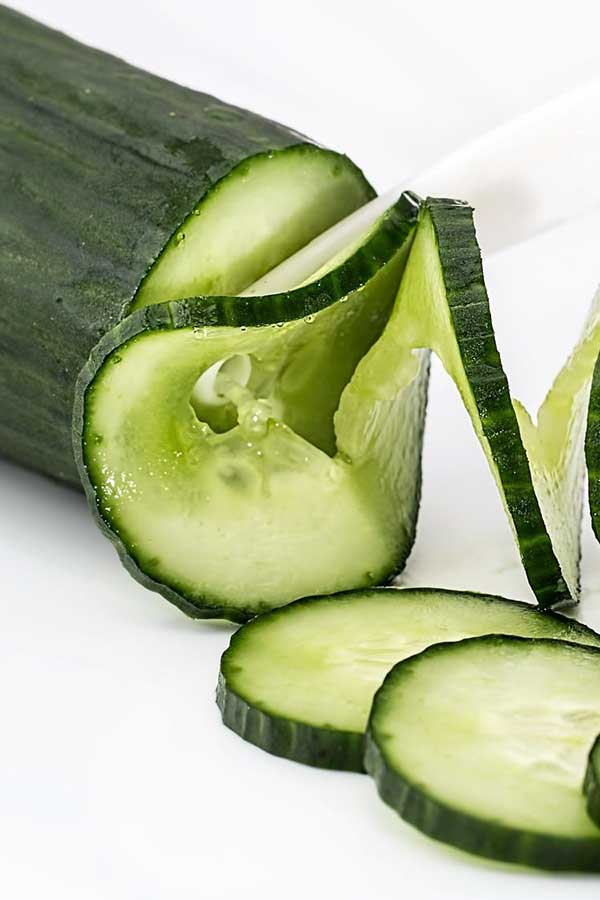 FAQs about cucumbers
Have you ever wondered about the origins of the cucumber? This popular fruit – yes, cucumber is a fruit, is thought to have originated in India, where it was cultivated for over 3,000 years.
Cucumbers were brought to Europe by the Romans and have been a staple in German cuisine for centuries.
Here are some Frequently Asked Questions about German cucumber salad:
Q: What kind of cucumber should I use for this salad?
A: You can use any type of cucumber you like, but I recommend using English or Persian cucumbers. These cucumbers are less watery than other varieties, so they will not make your salad soggy.
Q: How to remove moisture from cucumbers?
A: Lightly salt the sliced cucumber and let it rest for about 15 minutes. Then, squeeze out excess moisture before mixing the cucumber with the vinaigrette.
Q: Do I need to peel the cucumbers?
A: No, you do not need to peel the cucumbers before adding them to the salad. The skin is edible and full of nutrients. If you prefer, you can slice the cucumbers thinly with a mandoline or vegetable peeler.
Q: What kind of dressing should I use?
A: We recommend using a simple vinaigrette or one mixed with sour cream
Q: Are cucumbers diet friendly
A: Absolutely, one medium unpeeled cucumber has only 30 calories, only 4 g of net carbs, and is rich in vital vitamin K.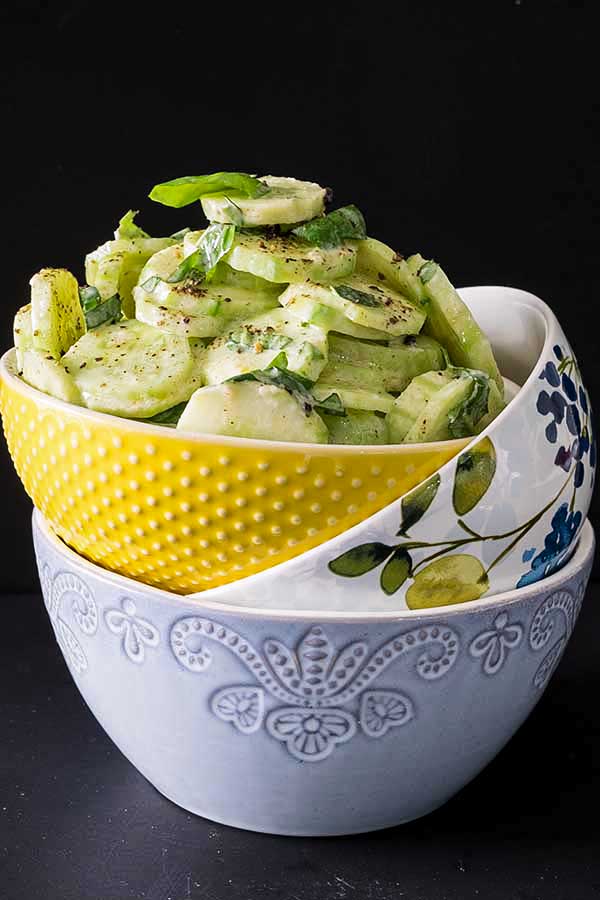 How to make German cucumber salad?
To make this delicious healthy, low-calorie cucumber salad is straightforward. Wash the cucumbers, keep the skin on or off. If the seeds are large, use a small spoon to scrape them out.
Then slice the cucumber. You can choose to make thin slices or thick ones. That's up to you.
Next,
Combine the remaining ingredients and pour the mixture over the cucumbers. Chill and serve—super easy!
how long will the salad keep
German cucumber salad is a great option if you're looking for a salad recipe that will last in your fridge. This vegetarian dish is typically made with vinegar, oil, sour cream and spices, all of which help to preserve the salad.
Additionally, the cucumbers themselves are a very low-maintenance vegetable – they don't need to be peeled or seeded before being added to the salad.
Of course, no matter how well preserved your cucumber salad is, it won't last forever. However, depending on the ingredients and how well it's sealed, you can expect German cucumber salad to last anywhere from 3-5 days in the fridge.
After that, the flavors will start to degrade and the cucumbers will start to become mushy. So if you're looking to make a cucumber salad that will last, German cucumber salad is a good option – just be sure to eat it within a few days!
Do you serve cucumber salad cold?
German cucumber salad is preferably served cold, but you can serve it at room temperature.
If I have a summer cookout, I place the salad bowl in a bigger bowl filled with ice. This will keep the cucumber salad at a good temperature.
This German Cucumber Salad is the perfect summer dish! Whether you're serving it as a starter or a side dish or eating it on its own, this fresh salad is always a huge hit!
German Cucumber Salad Recipe
Published on Aug 08, 2022
by
Kristina Stosek
Instructions
1.

Wash the cucumbers and cut lengthwise in half. If the cucumber has large seeds, using a small spoon, remove the seeds. Slice to desired thickness

2.

Using a small bowl whisk together remaining ingredients and pour over the sliced cucumbers. Give it a gentle stir, cover the bowl and refrigerate for 1 hour

3.

Gently stir the salad just before serving