Vegan German Potato Salad
Published on Jan 09, 2018
by
Kristina Stosek
Prep Time:

15 minutes
Cook Time:

25 minutes
Serves:

6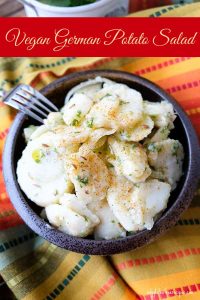 ​This post may contain affiliate links, please see our
privacy policy
for details
There are many variations of German potato salad, from hot to cold, with added bacon, mustard, mayo or pickles or a light vegan version such as this recipe.
In this tasty salad, the potatoes are marinated in a light vinaigrette flavoured with a popular spice used in Germany called the caraway seed.
This vegan German potato salad is a beautiful addition to potlucks because it will keep for hours without being refrigerated.
Or, add gluten-free vegan schnitzels to complete your vegan meal. Enjoy!
Vegan German Potato Salad
Published on Jan 09, 2018
by
Kristina Stosek
Instructions
1.

Wash the potatoes and place in a large pot with plenty of water. Bring to boil and reduce the heat to medium, do not cover. Cook potatoes 20 -25 minutes until tender but firm. Drain and cool.

2.

Once the potatoes have cooled, peel and slice to about 1/4-inch thick slices. Set aside

3.

In a large salad bowl, mix together the balance of ingredients except for paprika. Add the potato slices and gently mix until the potatoes are well coated with the vinaigrette. Cover and refrigerate for a minimum of 4 hours or overnight

4.

To serve, bring the salad to room temperature and gently stir. Sprinkle with paprika