Vegan German Potato Salad
Prep Time
15 Minutes
Difficulty
Easy
Cook Time
25 Minutes
Serves
6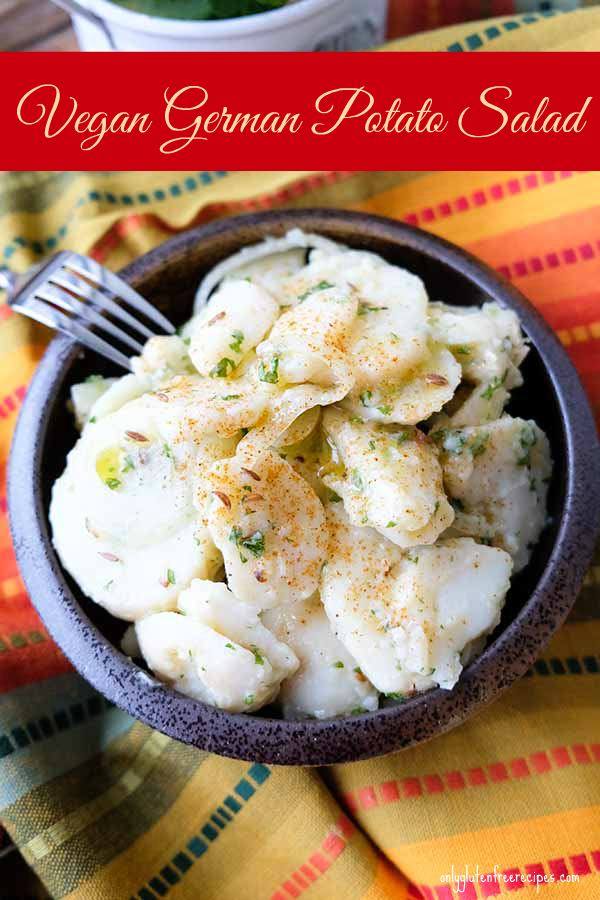 Average Rating: 5 | Rated By: 4 users
There are many variations of German potato salad, from hot to cold, with added bacon, mustard, mayo or pickles or a light vegan version such as this recipe. 
In this tasty salad, the potatoes are marinated in a light vinaigrette flavoured with a popular spice used in Germany called the caraway seed. 
This vegan German potato salad is a beautiful addition to potlucks because it will keep for hours without being refrigerated.
Or, add gluten-free vegan schnitzels to complete your vegan meal. Enjoy!
Ingredients
2 lbs. red-skin potatoes, skin on (preferably all about the same size)
1 medium yellow onion, thinly sliced
1/4 cup extra-virgin olive oil
3 Tbsp. raw apple cider vinegar
3 Tbsp. water
2 Tbsp. chopped fresh parsley
1 tsp. agave nectar
1 tsp. GF caraway seeds
1 tsp. pure sea salt
1/2 tsp. GF coarsely ground black pepper
1/2 tsp. GF sweet or smoked paprika (optional)
*As an Amazon Associate and member of other affiliate programs, I earn from qualifying purchases. Please check out my sponsorship and disclosure policy page for more details
Instructions
Wash the potatoes and place in a large pot with plenty of water. Bring to boil and reduce the heat to medium, do not cover. Cook potatoes 20 -25 minutes until tender but firm. Drain and cool.
Once the potatoes have cooled, peel and slice to about 1/4-inch thick slices. Set aside
In a large salad bowl, mix together the balance of ingredients except for paprika. Add the potato slices and gently mix until the potatoes are well coated with the vinaigrette. Cover and refrigerate for a minimum of 4 hours or overnight
To serve, bring the salad to room temperature and gently stir. Sprinkle with paprika
Similar Recipes
German Cucumber Salad Recipe
You can never have enough simple, healthy and refreshing salad recipes. One salad that you will love is the German cucumber salad. This fresh salad has just a few ingredients – cucumbers, onions, garlic, spices and a vinegar-based creamy dressing.  It's light and refreshing, making it an excellent choice for summertime gatherings. Plus, it's super […] Read More
Prep Time
10 Minutes
Difficulty
Beginner
Serves
4
Healthy Beet Salad – Easy Recipe
Healthy and flavourful beet salad for every occasion. It is made with fresh sweet beets, a light vinaigrette, onions, caraway seeds and fresh parsley. The beet salad is exceptionally refreshing. questions and answers about beets 1. What are beets? Beets are root vegetables in various colours, including red, yellow, and white. They're packed with nutrients […] Read More
Prep Time
20 Minutes
Difficulty
Easy
Cook Time
30 Minutes
Serves
4 - 6