Shredded Brussel Sprouts and Cranberries Salad
Published on Dec 10, 2021
by
Kristina Stosek
Prep Time:

15 minutes
Cook Time:

minutes
Serves:

6 - 8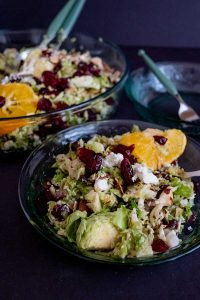 ​This post may contain affiliate links, please see our
privacy policy
for details
Healthy fresh Shredded Brussel Sprouts and Cranberries Salad for your next holiday gathering. Shredded brussel sprouts, napa cabbage, red onion, sweet cranberries, orange slices, fetta cheese and toasted almonds dressed in lightly sweetened tangy orange dressing with a hint of nutmeg.
This fresh Shredded Brussel Sprouts and Cranberries Salad is festive, pretty and soo good!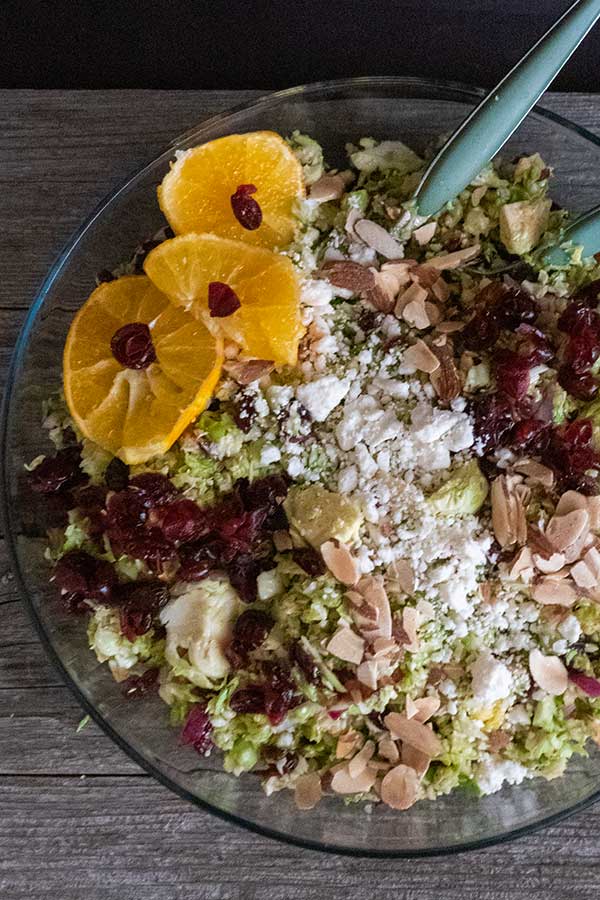 You may not be a brussels sprout lover. However, this fresh salad may change your mind. So much goodness and healthiness, only to be flavoured with the tastiest orange dressing, saltiness of feta cheese and crunchy toasted almonds.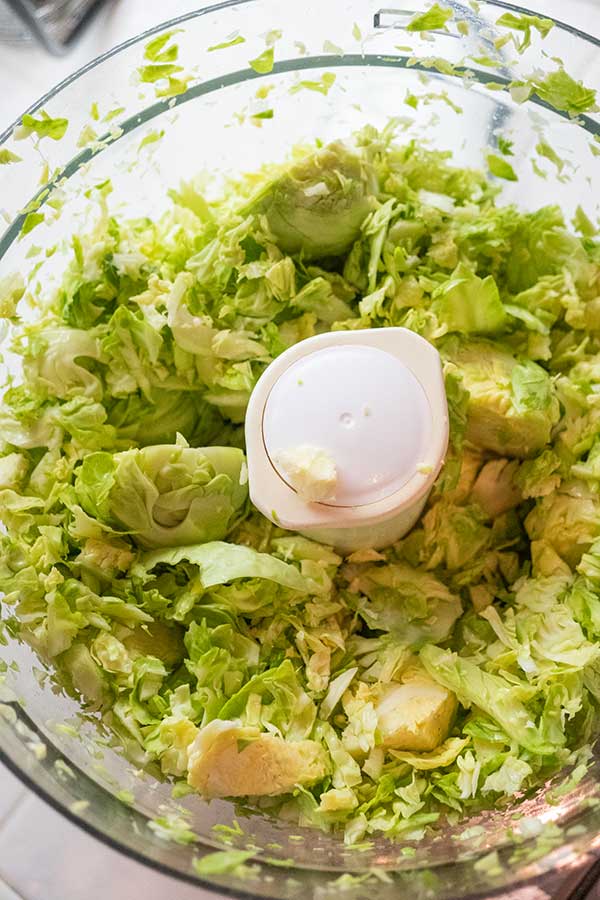 How to shred brussel sprouts?
This would be my first question! Remove any loose outer layers. Cut the brussels sprout in half lengthwise, then place the cut side down and thinly slice crosswise. Separate shreds with your fingers and discard the root end.
Can you shred brussel sprouts in a food processor?
I will admit, this is the only way I will shred the sprouts. Using a food processor fitted with the slicing attachment, coarsely shred the Brussels sprouts. This method is the quickest way and easiest way.
If you don't have a slicing attachment, you can pulse the small cabbages until you reach the desired size.
Can you shred Brussel sprouts with a grater?
A good cheese grater or a mandoline also shreds halved sprouts easily.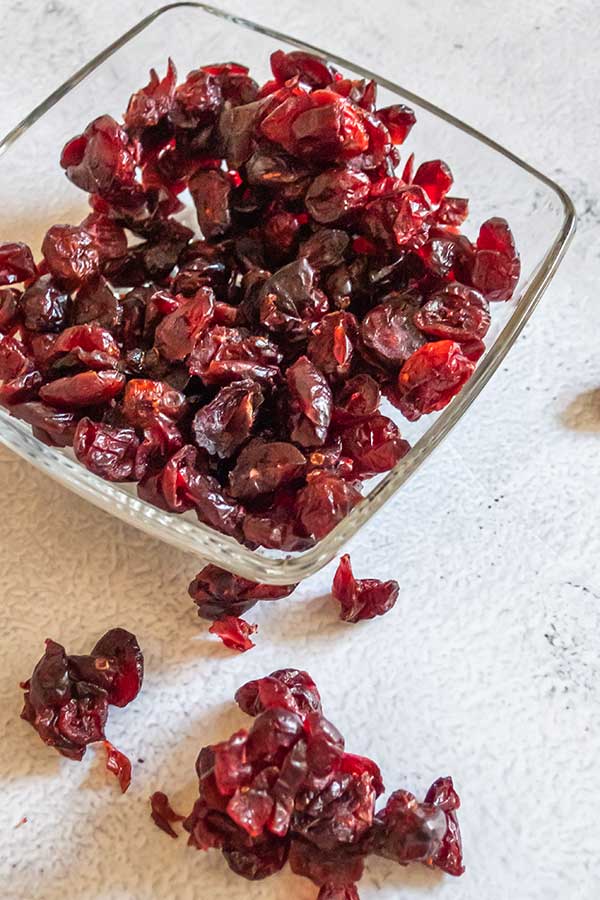 Are dried cranberries healthy?
Dried cranberries are packed with antioxidants and vitamins beneficial for your body. In addition, cranberries are one of the best preventive natural sources of urinary tract infection and may reduce the risk of heart disease due to polyphenols.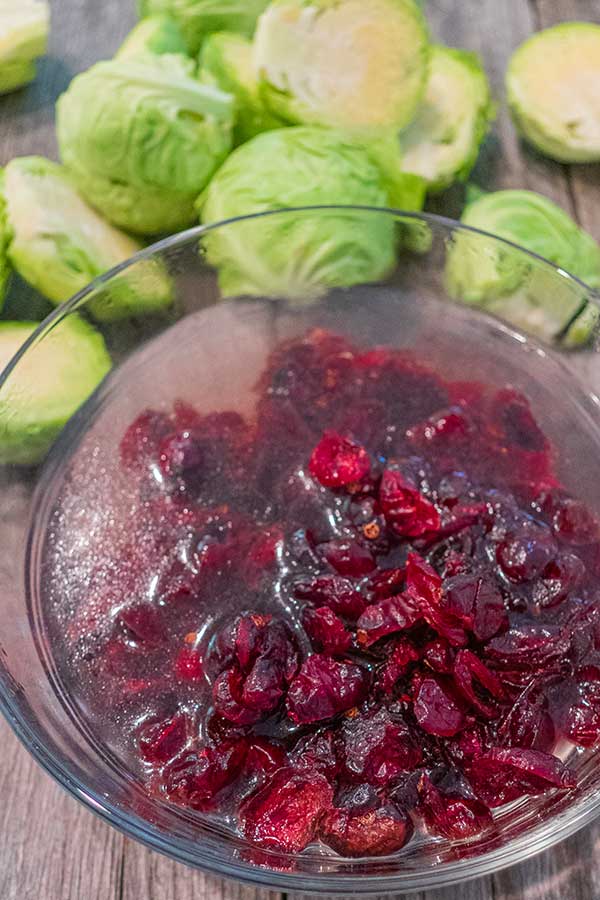 Shredded Brussel Sprouts and Cranberries Salad — Recipe Details
Let's start with the cranberries. Dried cranberries are tough when dried, so I soak them in hot water for a couple of minutes. This softens the cranberries and gives them a perfect texture for salads.
the greens
I combine the greens with onions and toss them will salt and pepper.
the orange dressing
I believe a salad is only as good as the dressing. This orange dressing is tangy and sweet with a fresh orange flavour, and a hint of nutmeg—a perfect addition to this salad.
To make the dressing is super simple. Whisk the ingredients and pour over the greens. Nothing complicated about this salad.
Once the dressing is tossed with the greens, the salad is deliciously flavoured. But it is the extras that give this brussels sprout salad that tasty punch.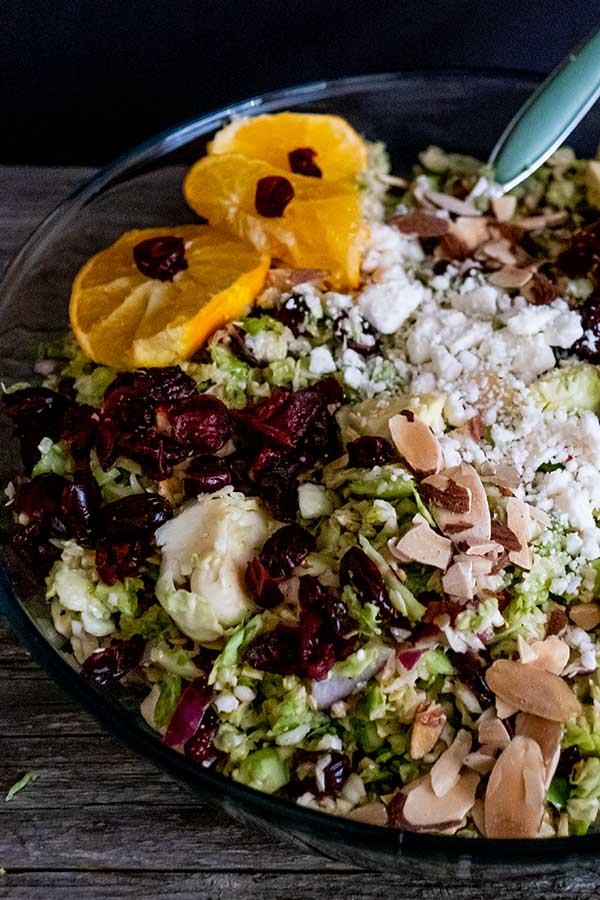 add-ins for brussel sprout salad
This salad has cranberries, orange slices, feta cheese and sliced toasted almonds.
The cranberries added sweetness, the orange added just the right amount of tanginess and the feta a punch of saltiness.
The salad is finished with crunchy, toasted sliced almonds. So many flavours and textures make this brussel sprout salad insanely tasty.
If you prefer cooked brussel sprouts check out the Roasted Brussel Sprouts with Shallots, the Roasted Brussel Sprouts with Fresh Figs or our favourite the Thanksgiving Brussel Sprouts Recipe.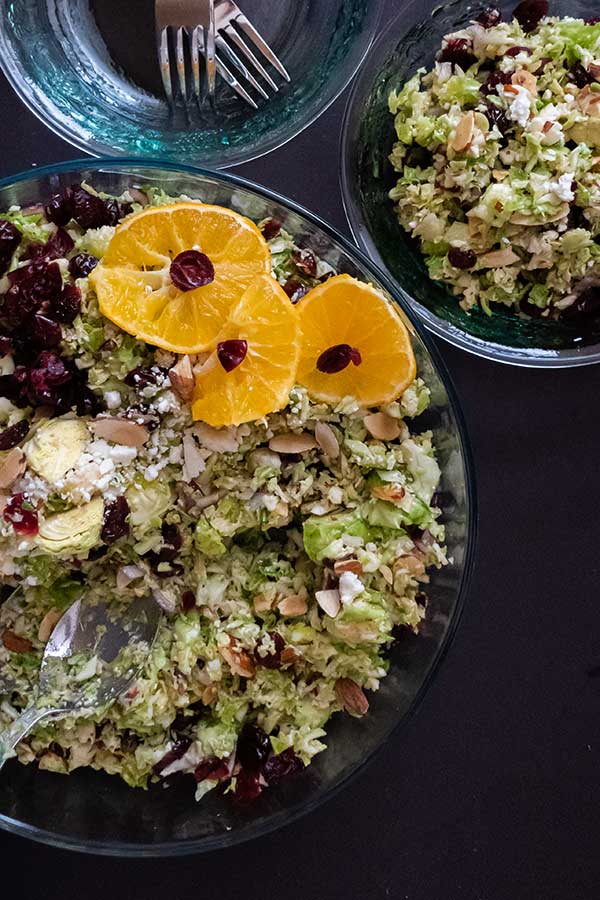 a festive healthy salad for the holidays
This brussels sprout and cranberries salad will make the festive activities less stressful because you can make it a day in advance. The only thing to add just before serving is the toasted almonds.
This raw salad is a delicious side to serve at your next festive gathering. And maybe if you are not a brussels sprout fan, give this fresh and healthy salad a try. You may find that every bite is filled with deliciousness. Enjoy!
Shredded Brussel Sprouts and Cranberries Salad
Published on Dec 10, 2021
by
Kristina Stosek
Instructions
1.

Soak cranberries in very hot water for 2 minutes. Then drain and cool

2.

Combine brussel sprouts, napa cabbage, and red onion in a large salad bowl. Season with salt and pepper

3.

To make the dressing, in a small bowl, whisk the ingredients. Pour the dressing over the salad and toss to coat the greens.

4.

Add the cranberries, orange slices and feta cheese and toss to combine. Top with toasted almonds. Sometimes I add the orange slices as a topping
Leave a Comment
Kristina
This looks so good iam now grain free and this is something I can eat...I will try it