Roasted Brussel Sprouts with Shallots
Published on Oct 09, 2020
by
Kristina Stosek
Prep Time:

10 minutes
Cook Time:

20 minutes
Serves:

6 - 8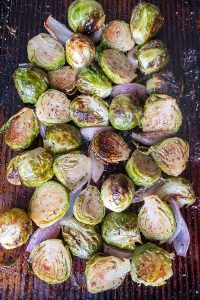 ​This post may contain affiliate links, please see our
privacy policy
for details
Deliciously Roasted Brussel Sprouts with Shallots that even picky eaters will love! The Brussel Sprouts are crispy on the outside, with flavourful caramelized shallots, thyme and a hint of cracked pepper.
This festive side dish has so much flavour, with only a handful of ingredients.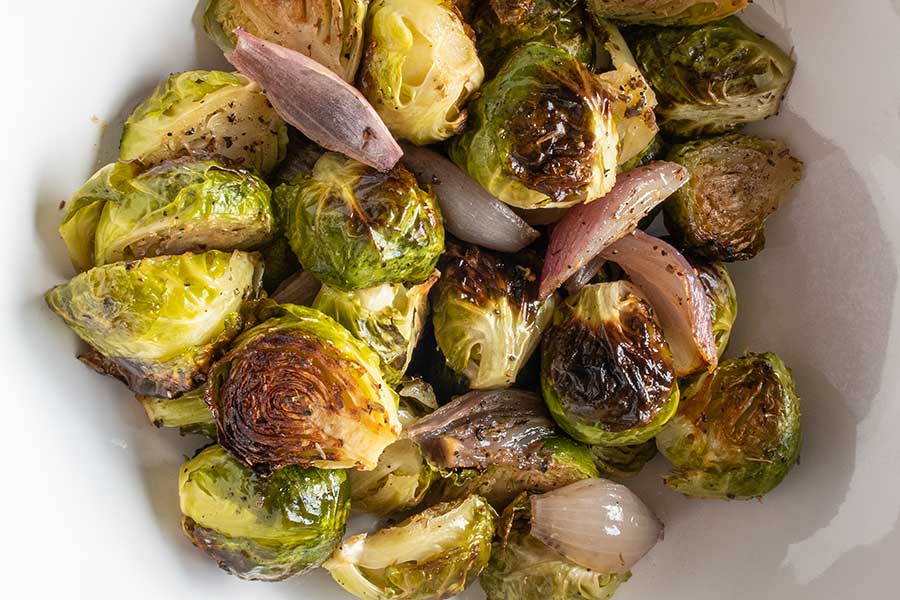 It is a tradition in many homes to serve brussel sprouts on Thanksgiving, Easter and Christmas. You may remember our Roasted Brussel Sprouts with Fresh Figs that is a very popular and an exotic recipe.
Today I am sharing a new recipe highlighting only two ingredients, the brussel sprouts and shallots. The delicious little green cabbages are roasted, giving them a crispy golden and most flavourful coating.
The shallots are deliciously caramelized, adding extra flavour to this festive dish. This recipe is simple but exceptionally delicious version of roasted brussel sprouts side dish.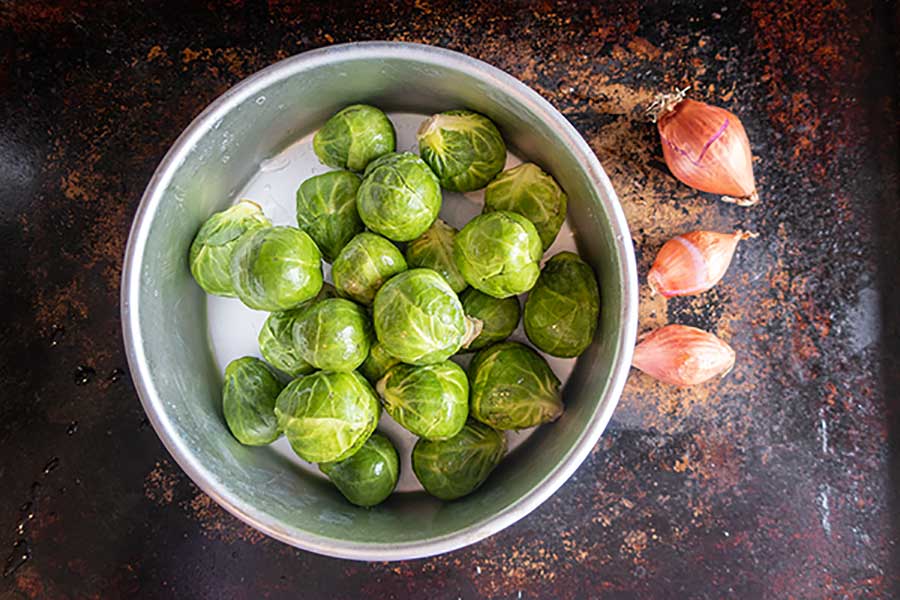 Are brussel sprouts healthy?
You may be surprised to find out that these tiny green cabbages are rich in antioxidants, vitamin C, fiber, calcium, potassium, vitamin K, omega-3 fatty acids and many more essential nutrients promoting good health, and are considered a superfood.
How to clean Brussel Sprouts?
When buying brussel sprouts, always look for firm and preferably smaller cabbages. To clean brussel sprouts, rinse them in cold water to remove any dirt.
You do not have to soak organic brussel sprouts in water to clean them. These little cabbages are relatively clean to start with.
However, if you are using conventionally grown ones, I recommend soaking them in salt water solution to remove unwanted pesticides.
Once they are washed, using a sharp knife, cut off the stem's tip and remove any outer leaves that have blemishes, and cook them whole or halved.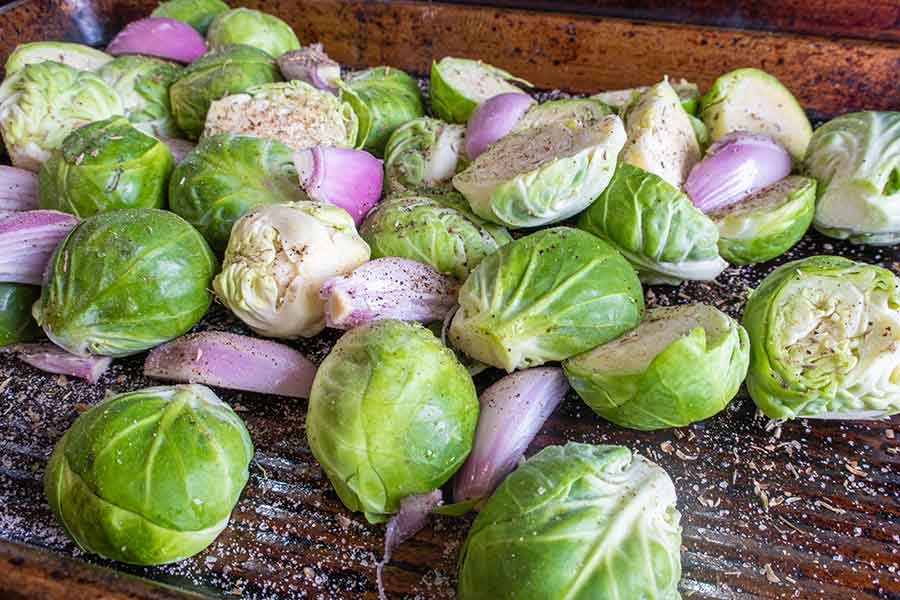 How to roast Brussel sprouts?
These little green cabbages are only as good as their texture. No one likes overcooked brussel sprouts, don't you agree? To get that crispy coating, you have to start with perfectly dry brussel sprouts.
To keep the outside deliciously crispy, the tiny green cabbages should be roasted at a high temperature of 400 F.
Scatter them on a large rimmed baking tray without touching, allowing the cabbages to crisp up evenly and caramelize. Don't worry about any black spots on the cabbages…these taste the best 🙂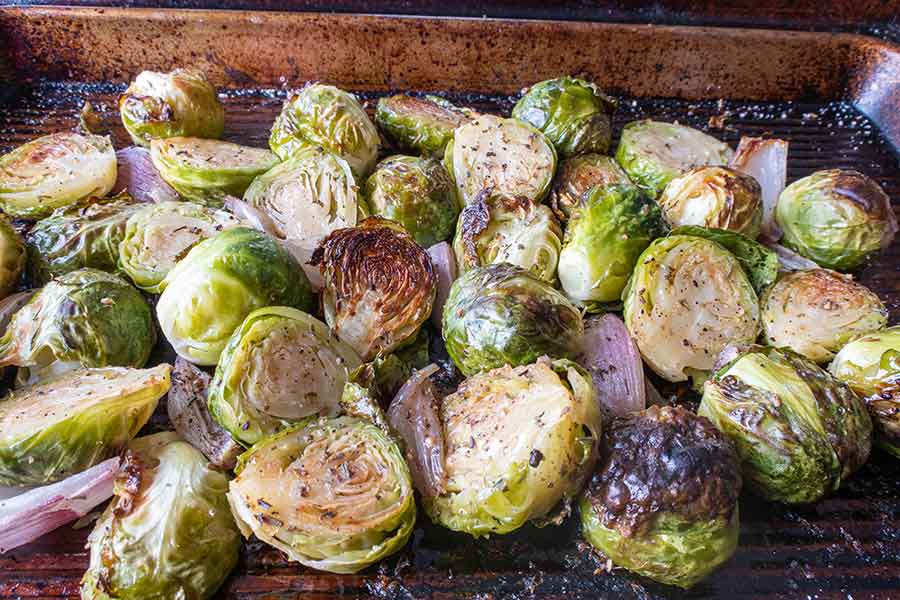 To get the cabbages to cook evenly, they should all be approximately the same size. For larger pieces, cut them in half to allow for even cooking. The brussel sprouts should be cooked al dente, and this means tender but firm to bite.
Keep in mind that the brussel sprouts continue cooking for a couple of minutes longer even after removing them from the heat.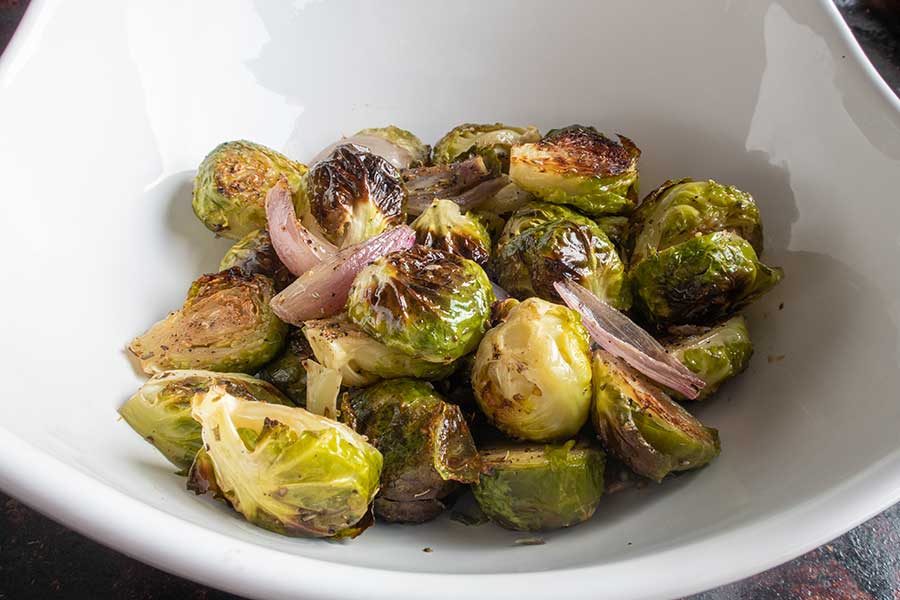 Roasted brussel sprouts make an excellent addition to many meals. Keeping them simple, especially during holidays, helps accentuate other delicious sides like Roasted Butternut Squash or Yam and Sweet Potato Mash. The green brussel sprouts should compliment all the other vibrant coloured side dishes.
I hope you will enjoy these roasted brussel sprouts. They make a great addition to your festive table, and the best part…you can prepare them ahead of time.
When ready, pop them in the oven for twenty minutes while the turkey or ham is resting. Enjoy!
For the latest recipes and tips, like us on Facebook or follow us on Instagram.
Roasted Brussel Sprouts with Shallots
Published on Oct 09, 2020
by
Kristina Stosek
Instructions
1.

2.

Dry the brussel sprouts well using paper towels. If the brussel sprouts are an uneven size, cut the larger ones in half

3.

4.

Drizzle with olive oil and season with thyme, salt and pepper. I add extra pepper giving the cabbages a delicious peppery flavour. Using your hands, mix everything making sure that the brussel sprouts and shallots are well coated with the oil and seasoning. Spread the brussel sprouts in the pan so that they are not touching

5.

Bake for 18 - 20 minutes until crisp on the outside and the shallots are caramelized