Gluten-Free Pizza Brioche Rolls
Published on Sep 18, 2020
by
Kristina Stosek
Prep Time:

15 + minutes
Cook Time:

25 minutes
Serves:

6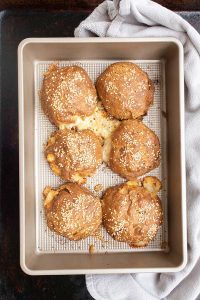 ​This post may contain affiliate links, please see our
privacy policy
for details
Rich, buttery Gluten-Free Pizza Brioche Rolls. The golden brown and buttery rolls are swirled throughout with garlic basil butter, ham or pepperoni chunks and mozzarella cheese. These savoury brioche rolls are so good!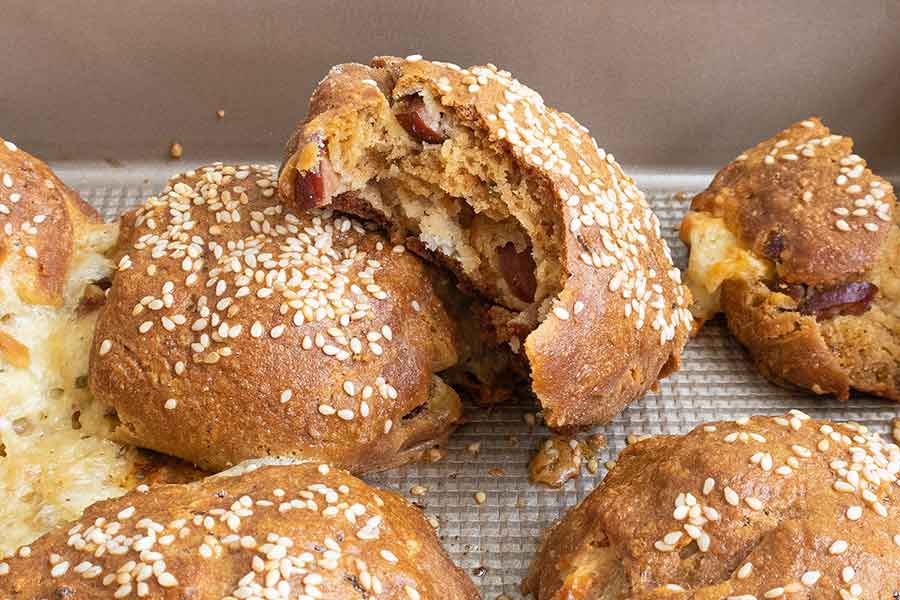 Before I started out creating this recipe, I wanted to make simple gluten-free brioche rolls. However, by now, you may know that I love flavour. The more, the better! For me, everything is about flavour and texture. Well, let me tell you, these gluten-free pizza brioche rolls turned out perfect—soft, buttery, filled with Italian flavours and oozing with melted cheese.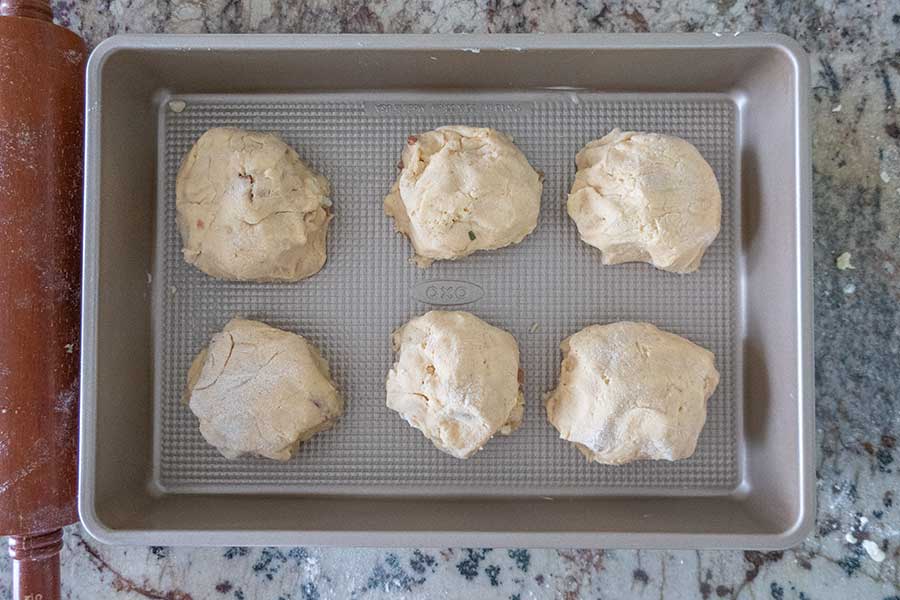 the ups and downs in making the gluten-free pizza brioche rolls,
I will admit, creating this recipe wasn't easy. It took me several tries to make these brioche rolls. First, they were too heavy, then they were too dry, the dough was hard to work with, and they kept missing flavour. And, I will not post a recipe unless I love it! So after a few frustrating tries, the gluten-free pizza brioche rolls turned out perfect.
I kept the texture soft and light but rich and buttery. Brioche rolls are similar to bread, except they are typically made with milk, butter and eggs. Often they are sweeter and softer. These gluten-free brioche rolls can be used as hamburger buns. Just omit the filling.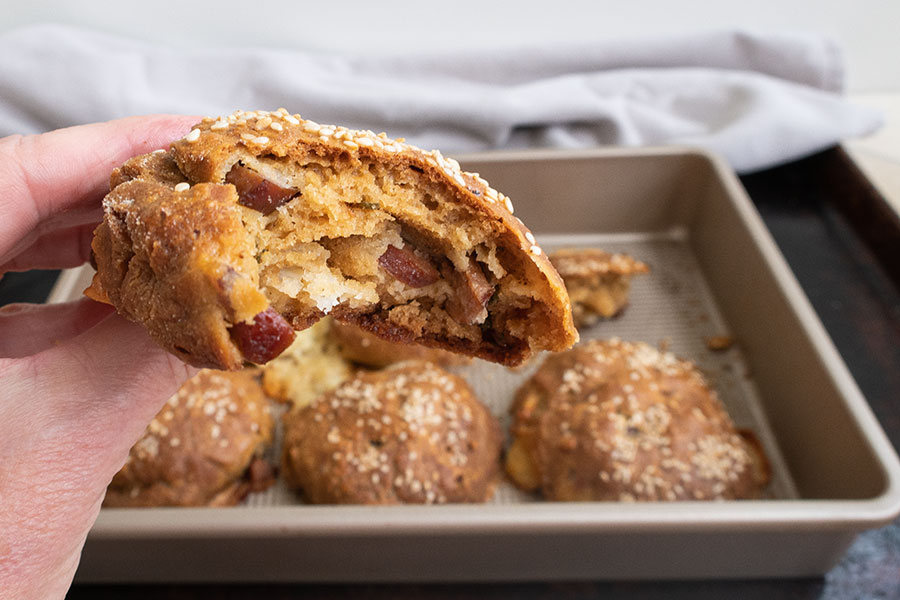 what makes this brioche dough so special?
The garlic basil butter! If you are a lover of garlic bread…I am 🙂 then these brioche rolls are for you. I love the flavour of garlic and bread together. The garlic basil butter is lightly browned and makes these brioche rolls extra flavourful.
The ham or pepperoni adds a hearty, comforting flavour and the cheese….well, it melts throughout, making these gluten-free pizza brioche rolls unforgettable.
for the details,
The gluten-free brioche dough is made with milk, eggs and butter. I used a basic gluten-free flour blend, quick rise yeast and baking soda. The baking soda helps to keep the brioche dough light. Once the dough is ready, it is rolled out to a rectangle about 1/2 inch thick.
Since the dough is very soft and slightly sticky, use plenty of flour on your work surface, stopping it from sticking. The dough is spread with a lightly browned butter mixed with fresh garlic and basil, then topped with ham or pizza slices and mozzarella cheese.
Now the dough is ready to be rolled. Using one side closest to you, roll the dough into a log. Cut into eight pieces and place in a baking pan. Cover the pan with plastic wrap and allow the rolls to rise.
Then brush with an egg and sprinkle with sesame seeds—nothing to it. I like to use rapid rise yeast because the dough rises quickly and needs only one rise. So, why not save the time and get the rolls on the table in time for dinner.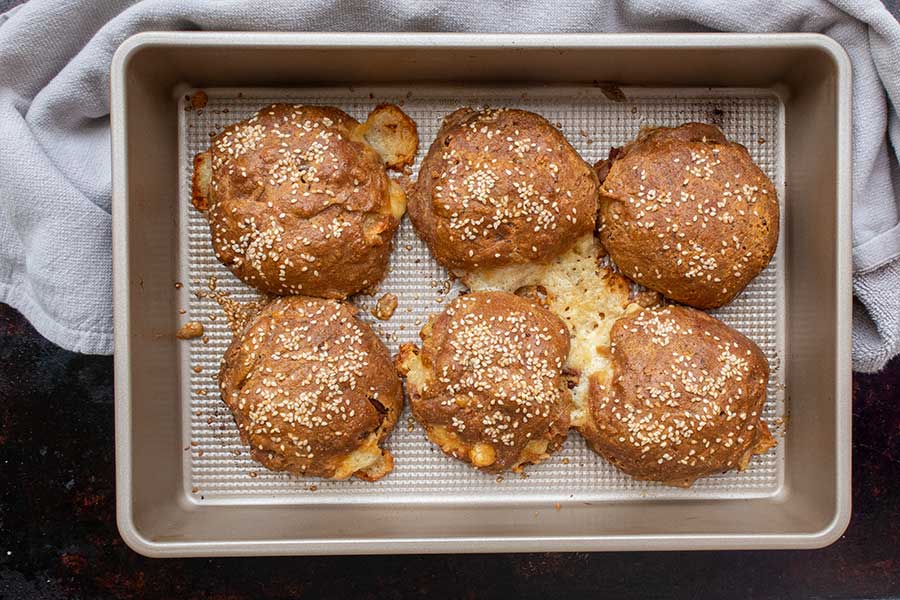 tips for perfect gluten-free brioche rolls…
A quick tip on getting the dough to rise faster. Preheat the oven for about three minutes, then place the dough in the oven to rise. This way, the temperature is perfect, and there are no drafts. Something my grandmother taught me a long time. OH, and don't forget to turn the oven off 🙂
Another thing that makes all the difference is how you measure the flour. To measure flour correctly, ALWAYS use a scooper to scoop the flour and fill the measuring cup, then use a knife to level the flour off. NEVER dip the measuring cup into the flour, or you will have too much flour.
There are many uses for these pizza brioche rolls. Firstly, they are excellent right out of the oven just as they are—the goey cheese in every bite and the garlic basil butter throughout, what can I say?
Or, make them into sandwiches. Slice them in half, add some fresh tomatoes and lettuce, even onions and your favourite spread. The kids will love them. My favourite way is with fall hearty soups.
As with all gluten-free baking, these rolls are best when eaten within 24 hours. But if you have any leftovers, you can slice the rolls in half and toast them or pop them in the microwave for about 12 seconds. They come out just as delicious as when they were freshly baked. Enjoy!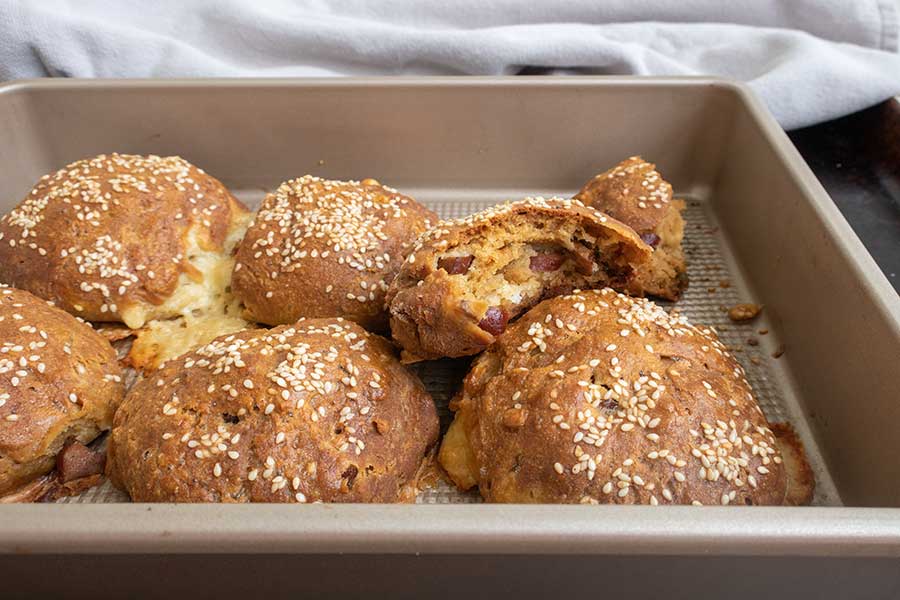 A few hearty soup recommendations to serve alongside these brioche rolls.
I love Autumn baking, don't you? Cozy warm kitchen with freshly baked bread aroma spreading throughout the house…perfection! Here are some more gluten-free bread recipes you may enjoy!
Gluten-Free Pizza Brioche Rolls
Published on Sep 18, 2020
by
Kristina Stosek
Instructions
1.

In the bowl of a stand mixer, combine flour, yeast, baking soda and salt. Add the warm milk, butter, 2 eggs, honey/maple syrup and apple cider vinegar. Using the dough hook, mix until everything is well blended. The dough will be slightly sticky. If the dough is too sticky to handle, keep adding extra flour tablespoon at a time until you can handle the dough, but still keeping it very soft. Cover with a plastic wrap and rest at room temperature for 30 minutes.

2.

Meanwhile, heat 2 tablespoons of butter, garlic and basil in a small skillet over medium heat and cook until the butter starts to brown. About 1 minute. Cool slightly, then stir in the remaining 2 tablespoons of butter. Set aside

3.

Generously dust your work surface with gluten-free flour. Turn out the dough, sprinkle it with some extra flour and knead it gently until it's smoother. Using a rolling pin and sprinkling lightly with flour as necessary to prevent sticking, roll the dough into a rectangular shape about 1/2-inch thick. Spread with garlic butter and scatter with ham/pepperoni and mozzarella

4.

Starting with the edge of dough closest to you, roll the dough into a log. Cut the log into 8 rolls, pinch the ends to seal, then place in a buttered baking pan 1/2 inch apart. Cover the pan with plastic wrap and let rise for about an hour. The rolls should rise by about 50%. If you are using the oven for rising the dough, remove the pan before preheating the oven.

5.

Preheat the oven to 450 F

6.

Brush the tops with beaten egg and sprinkle with sesame seeds if using. Bake for 10 minutes. Reduce the heat to 350 F and continue baking for another 15 - 17 minutes until the rolls are golden brown. Serve warm
Leave a Comment
I'm not even going to lie. These look amazing....delicious.....I know if I had these in front of me right now....I'd devour at least two!! lol