Healthy Gluten-Free Flax Bread
Published on Jan 07, 2020
by
Kristina Stosek
Prep Time:

15 minutes
Cook Time:

45 minutes
Serves:

1 loaf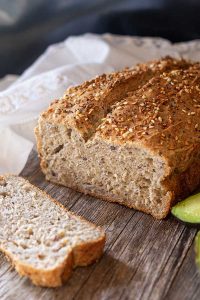 ​This post may contain affiliate links, please see our
privacy policy
for details
Wait until you try this most delicious Gluten-Free Healthy Flax Bread. The crust is slightly crispy, and the inside is soft and moist. In addition, the bread is topped with gluten-free everything bagel spice. This spice adds more flavour making the bread exceptionally tasty.
Healthy Gluten-Free Flax Bread Recipe
Are you looking for flax bread that goes well with your favourite jam or craving something sweet? No problem, omit the bagel spice.
The best part about this gluten-free bread is, the healthiness. Packed with fiber, omega 3 fatty acids, protein, vitamins and minerals, you know this bread is nutritionally balanced.
Flax bread with health benefits!
In this bread recipe, I used flaxseed, buckwheat and arrowroot flour. All three flours are nutritionally packed. Did you know that ground flaxseed is healthier than whole flaxseed? As per the Mayo clinic, ground flaxseed is easier to digest. Whole flaxseed may pass through your intestine undigested, which means you won't get all the benefits.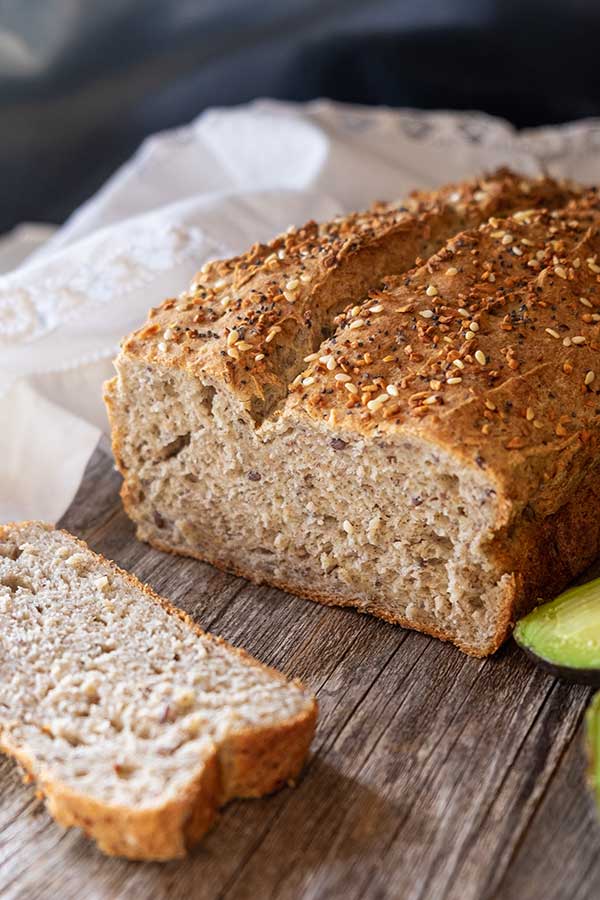 Gluten-Free Flax Bread Recipe Details
The recipe is pretty straight forward. First, you proof the yeast. This is a process of first dissolving the yeast in warm water, a necessary hydration step when using active dry yeast in recipes.
While the yeast is proofing, combine the dry ingredients.
Next, whisk wet ingredients, including the yeast and mix with dry ingredients until smooth.
Transfer the batter into a loaf pan, sprinkle with the magical everything bagel spice and allow the bread to rise in a warm place.
allow extra time for the flax bread to rise
By using flax and buckwheat flour in this recipe, the dough takes a little longer to rise. But it is well worth the wait.
Once the flax bread finishes baking, you must allow for the bread to fully cool before slicing.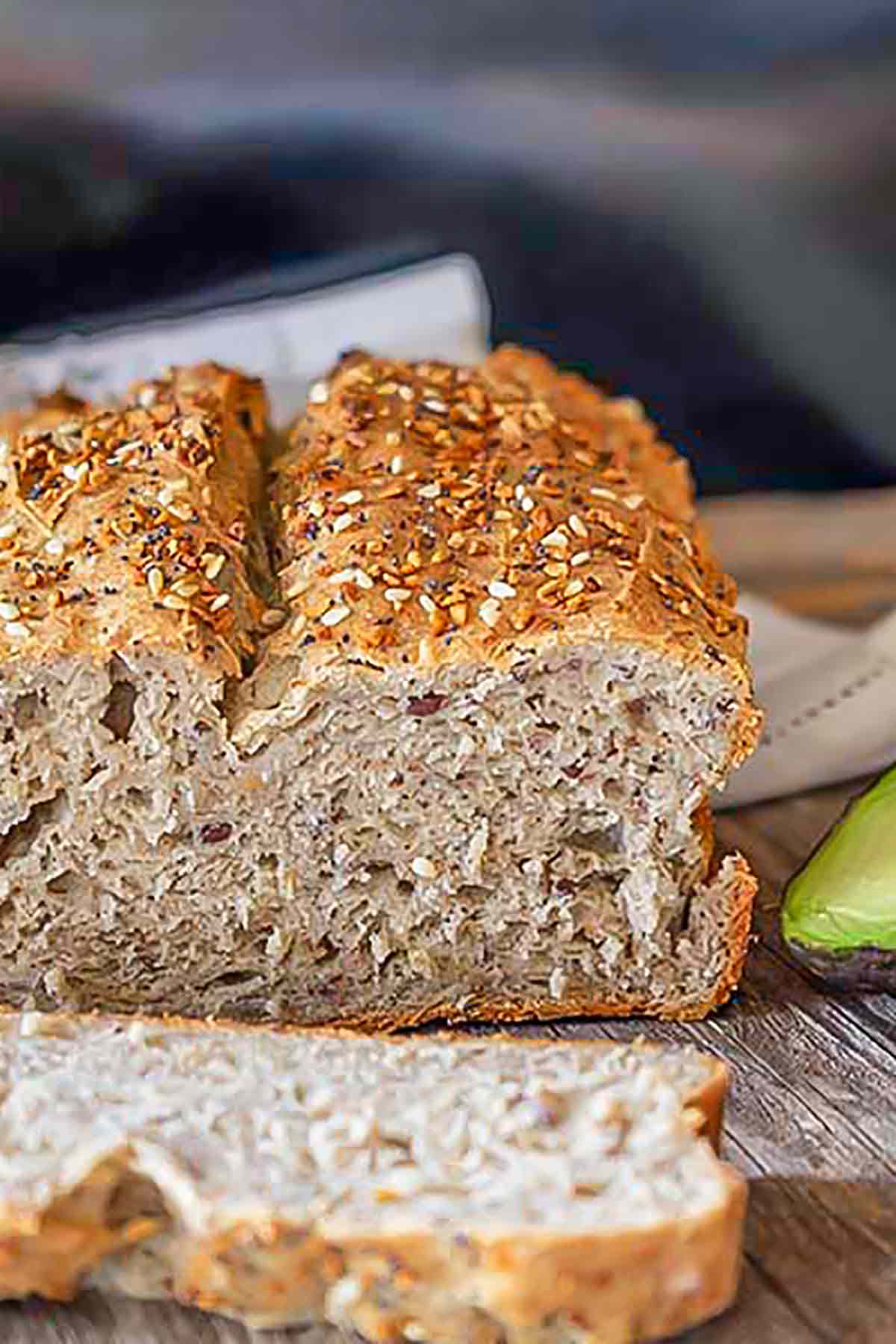 serving suggestions
Serve with avocado slices, tomatoes, salmon spread or with your favourite soup or stew.
If you are searching for a healthier bread recipe, this gluten-free flax bread will become a staple in your home. This bread is delicious, nutritious, has a wonderful texture and the perfect crust.
Do you love baking? Check out our complete list of gluten-free bread recipes.
Healthy Gluten-Free Flax Bread
Published on Jan 07, 2020
by
Kristina Stosek
Instructions
1.

Using a medium bowl, combine water, maple syrup and yeast. Set aside until the yeast starts to bubble. About 10 min

2.

Using a large bowl, whisk together dry ingredients (flour to baking powder)

3.

Add eggs, egg whites, olive oil and apple cider vinegar to the yeast. Using an electric mixer on medium speed mix together for one minute

4.

Add wet mixture into dry ingredients and using the mixer on medium speed mix until well combined. Scraping sides as needed. About 1 minute. The batter will be very sticky

5.

Transfer batter into lightly oiled 9x5-inch loaf pan. Using a sharp knife slice the bread lengthwise about 1/4 inch deep and sprinkle with everything bagel seasoning

6.

Loosely cover the pan with a dry towel and place in a warm place for two hours allowing the dough to rise

7.

Bake in a preheated oven at 350 F for 45 - 50 minutes until the crust is firm and golden brown. Cool in the pan for 5 minutes, then transfer onto a rack to cool fully before slicing.
Leave a Comment
Kristina
Hi. Is it possible to have exact grams instead of cups measurements? Thank you
Kristina
thank you for sharing Diane xx
I made this bread for the first time today. I have tried multiple recipes for gluten free breads and this is the first one that has turned out so great. I will definitely be making it often now. Thank you for this.
Kristina
Nancy, you can use sorghum flour, millet flour or certified gluten-free oat flour.
I'm not a fan of buckwheat flour, even 2Tbs. Do you think I could I use a different one or eliminate it?
So happy to have found your wonderful recipes,thank you
Kristina
Julie, I am so happy to hear that. This flax bread is a staple in my kitchen.
I baked this flax bread yesterday, and I want everyone to know that I am not a baker, but this bread turned out perfect. OMG so delicious, I can't believe this bread is gluten-free. THANK YOU for this bread recipe
Kristina
thank you, I am glad you enjoyed it
this is bread is so good!