Santa Fe Chicken Soup – Gluten Free
Published on Aug 16, 2017
by
Kristina Stosek
Prep Time:

15 minutes
Cook Time:

35 minutes
Serves:

4-6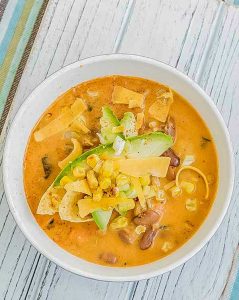 ​This post may contain affiliate links, please see our
privacy policy
for details
Were you looking for a delicious, gluten-free soup recipe? Then you must try this Santa Fe chicken soup! Packed with flavorful ingredients like chicken, corn, black beans, bell peppers, tomatoes and green chillies. This extra creamy soup is hearty and will satisfy even big appetites.
What is Santa Fe?
Santa Fe is the capital of New Mexico and one of the oldest cities in the United States. It's also a popular tourist destination for its art, culture, and food. Santa Fe Chicken Soup is a hearty, flavorful, and naturally gluten-free traditional dish from the area.
Where does Santa Fe chicken soup originate from?
The creamy Santa Fe chicken soup is a comforting dish from the American Southwest. This region is known for its hot and dry climate, as well as its rich culinary traditions.
Santa Fe chicken soup is a perfect example of this area's unique flavour profile. The soup contains various ingredients, including chicken, tomatoes, corn, green chillies, beans, and bell peppers.
This chicken soup is seasoned with cumin, chili powder, thyme, sage and garlic. This soup is perfect for cooler months or whenever you're craving something hearty and delicious.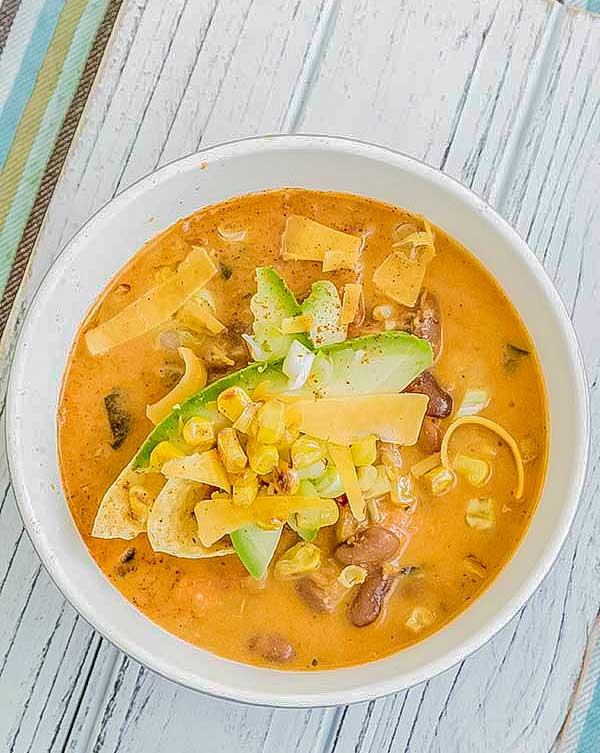 sides
When it comes to choosing the best sides for your chicken soup, it depends on your personal preferences. But some great options include Gluten Free Cheesy Mexican Cornbread, Gluten-Free Italian Parmesan Bread, or Simple Rice With Parsley.
Whatever you choose, make sure it complements the soup nicely and doesn't overwhelm the Santa Fe flavors.
Why is this gluten-free chicken soup healthy?
This chicken soup is not only healthy but also gluten-free and flavorful. Made with all-natural ingredients, it is an excellent soup choice for those following a gluten-free diet.
The chicken soup is packed with nutrients and fiber, making it a good choice for a healthy diet.
best toppings for Santa fee chicken soup
When it comes to serving creamy soup, there are many different ways to enjoy this dish by adding various toppings that will make the soup shine!
Popular toppings for Santa Fe chicken soup:
1. Avocado: One of the best things about Santa Fe chicken soup is that it's pretty much a complete meal in one bowl. But if you want to add a little something extra, avocado is always a good choice. It adds creaminess and a boost of healthy fats.
2. Cilantro: This bright green herb is a staple in Mexican cuisine, and for a good reason. It has a unique flavor that enhances the soup without overwhelming it. Plus, it's pretty darn good for you.
3. Cheese: We'll be the first to admit that cheese will make the Santa Fe chicken soup. Adding a little cheesy goodness to round out the flavors and make the soup even more comforting doesn't hurt.
4. Rice: Rice as a topping will add to your heartiness and satisfy hunger even more.
Chicken soup is considered comfort food, and for a good reason. This Santa Fe chicken soup version is warming and satisfying, the perfect meal for upcoming cooler weather. Enjoy!
Let's Connect!
Be sure to FOLLOW US on FACEBOOK and PINTEREST.
Many thanks!
Kristina xx
Santa Fe Chicken Soup – Gluten Free
Published on Aug 16, 2017
by
Kristina Stosek
Instructions
1.

In a soup pot, sauté onions, bell peppers and celery in 2 tablespoons of olive oil until they start to soften

2.

Stir in garlic, thyme, sage, chili powder and cumin powder until fragrant

3.

Add chicken, tomatoes, beans, chicken broth and cream cheese. Bring to a simmer, and stir to incorporate the cream cheese. Season with salt and pepper. Reduce heat to low, cover and simmer for 30 minutes

4.

While the soup is cooking, place frozen corn on a baking sheet lined with foil paper and toss with 1 tablespoon of olive oil and season with salt and pepper. Broil for 3 - 5 minutes or until the corn starts to char. Add corn to soup last 5 minutes of cooking time. If the soup is too thick add water to desired consistency

5.

To serve ladle hot soup into bowls and top with desired toppings