Gluten Free Cheesy Mexican Cornbread
Published on Jun 09, 2017
by
Kristina Stosek
Prep Time:

10 minutes
Cook Time:

25 minutes
Serves:

8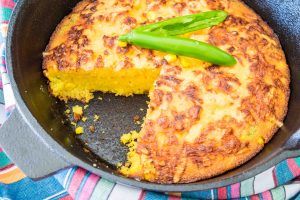 ​This post may contain affiliate links, please see our
privacy policy
for details
This gluten free cheesy cornbread is another way for bread lovers to indulge. The predominant sweet corn flavor is throughout the bread and the cheese makes it addictively delicious.
This gluten free cornbread recipe is perfect for anyone looking for a deliciously cheesy alternative to traditional cornbread. It is perfect for a quick snack or as a side dish to your favorite meal. .
gluten free cheesy cornbread recipe overview
This recipe is simple and requires only 10 pantry ingredients.
To make this cornbread, mix the dry ingredients in one bowl, add corn and jalapenos then the wet ingredients.
Pour half the batter into a skilett or cake pan, top with half the cheese, repeat the two layers, and then bake. The recipe couldn't be simpler.
serving cheese cornbread
This gluten free savory cheesy cornbread is the perfect addition to any meal! Serve with chili, hearty soup and stews or at barbecues.
loaf pan VS muffin pan VS cast iron skillet for cornbread
There are three popular methods for baking cornbread: in a loaf pan, a muffin pan, or an iron skillet. Each method has its advantages and disadvantages.
Loaf pan: The main advantage of using a loaf pan is that it results in a more uniform shape like bread. The disadvantage is that the cornbread takes longer time to bake.
Muffin pan: Baking cornbread in a muffin pan results in individual servings that are easy to remove from the pan. The disadvantage is that they are not as uniform in shape as cornbread baked in a loaf pan.
Iron skillet: Baking cornbread in an iron skillet results in a crispy, crunchy crust. The disadvantage is that removing the cornbread from the skillet in one piece can be more difficult. This means the bread is sliced in the skillet.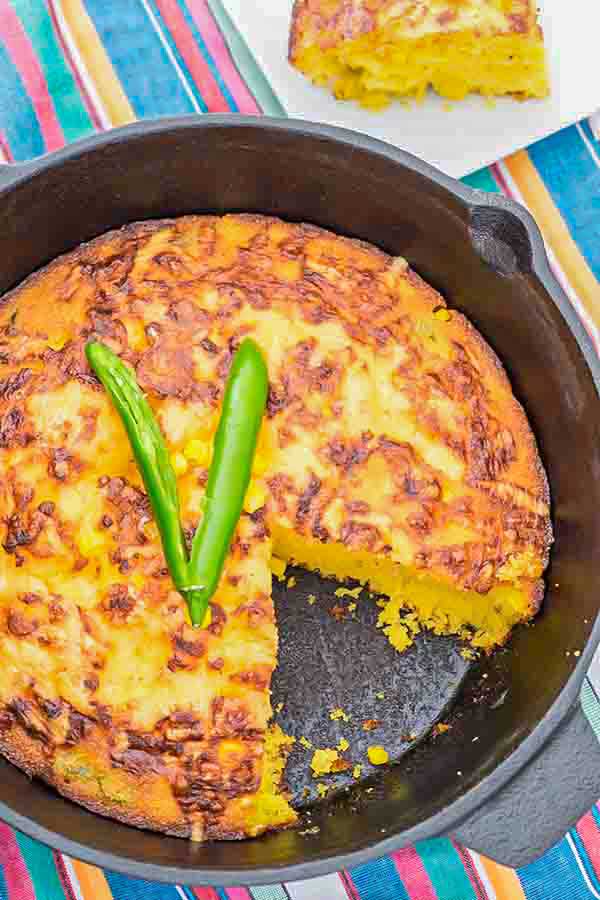 best way to serve cheesy cornbread
There are many ways to enjoy cornbread, but some methods are better than others. When it comes to gluten free cornbread, the best way to enjoy it is by serving it warm with butter.
This will allow the butter to melt into the cheese cornbread and create a delicious, moist texture. You can also add honey or syrup to sweeten the cornbread if you like.
add-ins to savory cornbread
There are many ways you can spruce up basic gluten free cornbread. Some popular choices include cheese, jalapenos, cilantro, parsley, crispy bacon, caramelized onions, bell peppers and sundried tomatoes. Experiment with different combinations to find what you like best!
difference between southern and old fashioned cornbread
There are two types of cornbread: Southern-style and Old-fashioned. Both are delicious, but there are some key differences between the two.
Southern-style cornbread is made with white and yellow cornmeal, while Old-fashioned cornbread is made with just yellow cornmeal. This gives Southern-style cornbread a slightly sweeter flavor and a lighter color.
Southern-style cornbread also typically has sugar added, while Old-fashioned cornbread does not. This again makes Southern-style cornbread a bit sweeter than its counterpart.
Finally, the texture is the biggest difference between these two types of cornbread. Southern-style cornbread is typically more dense and moist, while Old-fashioned cornbread is drier and crumblier.
make it vegan
If you want to make this cornbread recipe vegan, there are a few simple substitutions you can make:
Use a non-dairy milk in place of the buttermilk called for in the recipe and add 1 tablespoon of apple cider vinegar

Replace eggs for flax eggs.

Use vegan cheese

Replace honey with pure maple syrup or agave
How to store cheesy cornbread?
When it comes to storing cornbread, you have a few different options. If you plan on eating it within a day or two, you can simply store it in an airtight container at room temperature.
If you want it to last a bit longer, you can refrigerate it for up to a week or freeze it for up to three months.
When freezing cornbread, wrap it tightly in plastic or aluminum foil before placing it in the freezer bag. This will help prevent the cornbread from drying out and keep the cornbread fresh.
When you're ready to eat it, thaw the cornbread overnight in the refrigerator and reheat it in foil paper in the oven before serving.
why is this an easy cornbread recipe
This is an easy cornbread recipe because it requires no special ingredients or equipment. You can make it with just a few simple pantry staples, and it comes together quickly.
vegetable oil VS coconut oil VS butter for cornbread recipe
When it comes to cornbread, three main types of fat can be used in the recipe: vegetable oil, coconut oil, and butter. Each of these fats has its unique flavor and texture, so choosing the right one is important for your desired result.
If you're looking for a light and fluffy cornbread, vegetable oil like extra virgin olive oil is the way to go. This oil provides little flavor of its own, so the natural sweetness of the cornmeal will shine through.
Coconut oil will also yield a light and fluffy cornbread, but it will have a subtle coconut flavor.
Butter is the best choice if you want a richer, more savory cornbread. The butter will add depth of flavor and make the cornbread slightly denser.
So, which fat should you use in your gluten free cheese cornbread recipe? It depends on your personal preference.
Why is cornbread so popular?
There are a few reasons why savory cornbread is so popular. First, it's relatively easy to make. You don't need special ingredients or equipment, and it doesn't take very long to bake.
Second, it's a great side dish for many different meals. It goes well with both soups and stews even salads.
Finally, it's just plain delicious and a nice change to regular bread or rolls with your meal.
Let's Connect!
Be sure to FOLLOW US on FACEBOOK and PINTEREST.
Many thanks!
Kristina xx
Gluten Free Cheesy Mexican Cornbread
Published on Jun 09, 2017
by
Kristina Stosek
Instructions
1.

Preheat oven to 400 F and brush an 8-inch cast-iron skillet or 8 x 8-inch square cake pan with 2 tablespoons of olive oil

2.

In a large bowl, combine cornmeal, baking powder and salt

3.

Add frozen corn, jalapenos, buttermilk, eggs, honey and 1/3 cup of olive oil. Mix to combine

4.

Heat prepared skillet or pan in the oven for 5 minutes. Pour half the batter into the hot skillet, sprinkle with half the cheese. Then add remaining batter and top with remaining cheese

5.

Bake for 30 - 35 minutes until a toothpick inserted in the middle comes out clean

6.

Cool in the skillet or pan for 15 minutes before slicing