Gluten-Free Italian Parmesan Bread
Published on Oct 28, 2020
by
Kristina Stosek
Prep Time:

10 minutes
Cook Time:

40 minutes
Serves:

1 loaf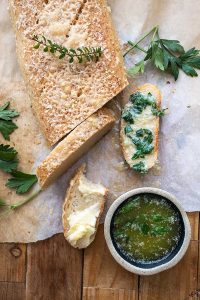 ​This post may contain affiliate links, please see our
privacy policy
for details
Making fresh bread from scratch, such as this Gluten-Free Italian Parmesan Bread, brings back memories of comfort. This Italian bread tastes just like the classic bread we know and love, except with added Parmesan and without gluten.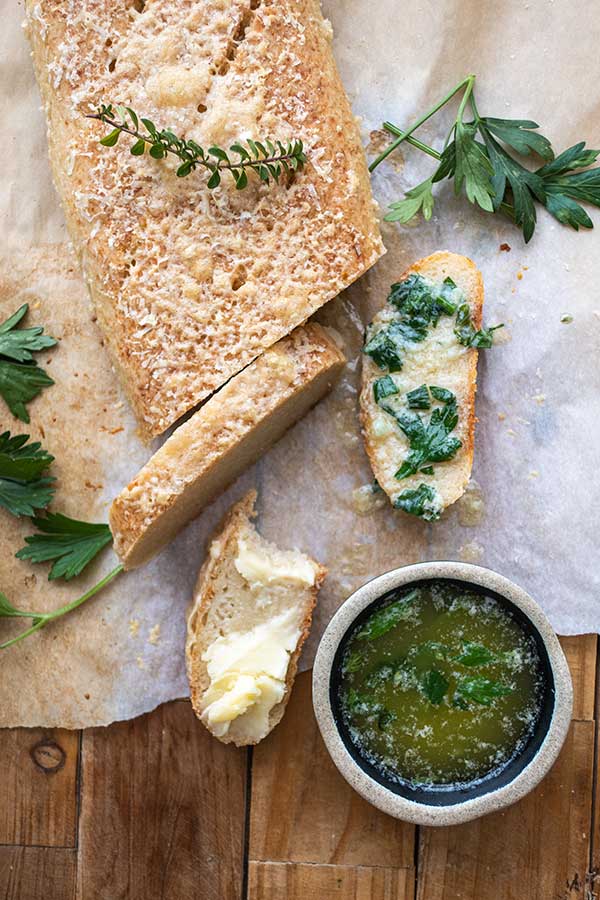 Gluten Free Italian Bread For Dinner
This Italian bread is crusty on the outside and soft and pillowy on the inside – just as it should be. Many cultures will always add bread as a starter, so why not include one of everyone's favorites, freshly baked Italian bread?
4 Key Points For Best Gluten-Free Italian Parmesan Bread
Gluten-Free Flour and Starches: The right gluten-free flour and starch are crucial for achieving a texture and taste similar to traditional Italian bread. We used brown rice flour, potato starch, and arrowroot starch in this recipe. You can substitute brown for white rice flour and arrowroot for tapioca or corn starch.
Parmesan Cheese: Grating the cheese fresh from a block will provide the best flavor. In addition, ensure that the Parmesan cheese is gluten-free. Some brands may contain additives or fillers that contain gluten. Check the label or choose a reputable brand that guarantees gluten-free status.
Yeast and Rising: Gluten-free bread requires extra attention regarding the rising process. Gluten provides structure and elasticity, so achieving a light and airy texture can be challenging. Use high-quality gluten-free yeast and give the dough sufficient time to rise in a warm place. You should experiment with rising times to find the ideal balance. And be sure to check the yeast expiry date.
Add Flavor: Consider incorporating additional ingredients to achieve an authentic Italian flavor to your bread. Fresh or dried herbs like basil, oregano, or rosemary can complement the Parmesan cheese. You can add minced garlic or sun-dried tomatoes for a more robust taste.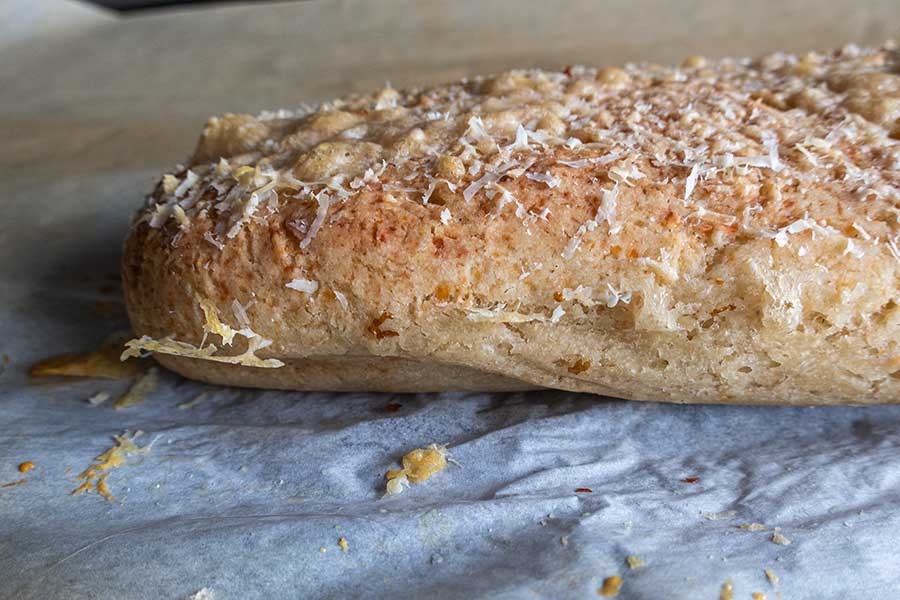 Easiest Italian Parmesan Bread Recipe and Gluten Free
You may be surprised to see how easy this gluten-free bread recipe is…much easier to make than you might think. You can't mess up this gluten-free bread recipe…it is that simple! This Parmesan bread is best when still slightly warm right out of the oven.
The aroma of freshly baked bread in your home will make anyone hungry. Serve with one of your favourite gluten-free pasta dishes or hearty soups and stews. My favourite way is as a stand-alone bread with garlic herb butter dip, YUM!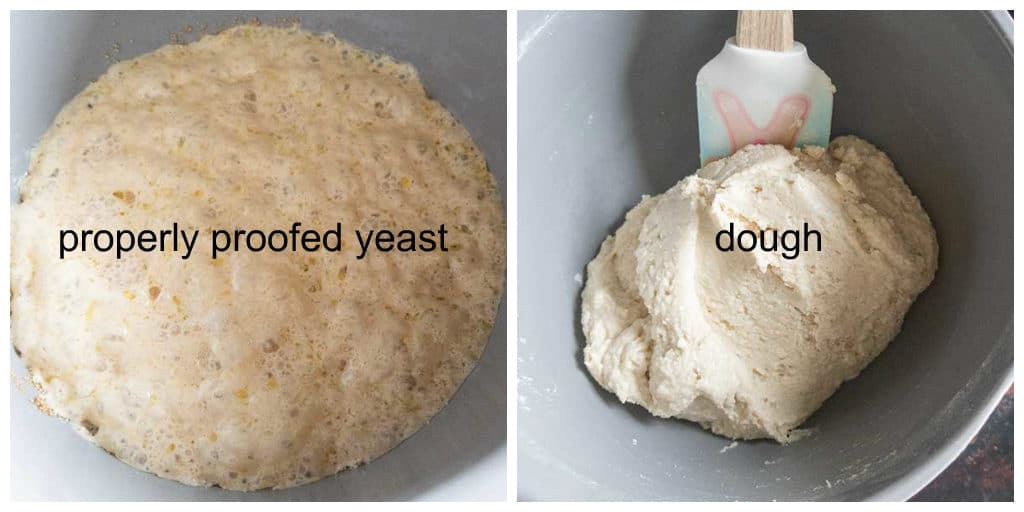 Italian Parmesan Bread Recipe Overview
First, you proof the yeast in warm water with a sweetener and olive oil. Once the yeast is ready and bubbly, combine the dry ingredients and add to the yeast mixture.
Using a spatula, mix until a dough forms and rest for five minutes. Then, form into a log. There's nothing to it.
This is one of the easiest gluten-free bread dough recipes ever!…For the finish, sprinkle the bread with extra cheese and continue baking for about five more minutes.
I like to cool the bread for a few minutes, then slice and dip or top with olive tapenade.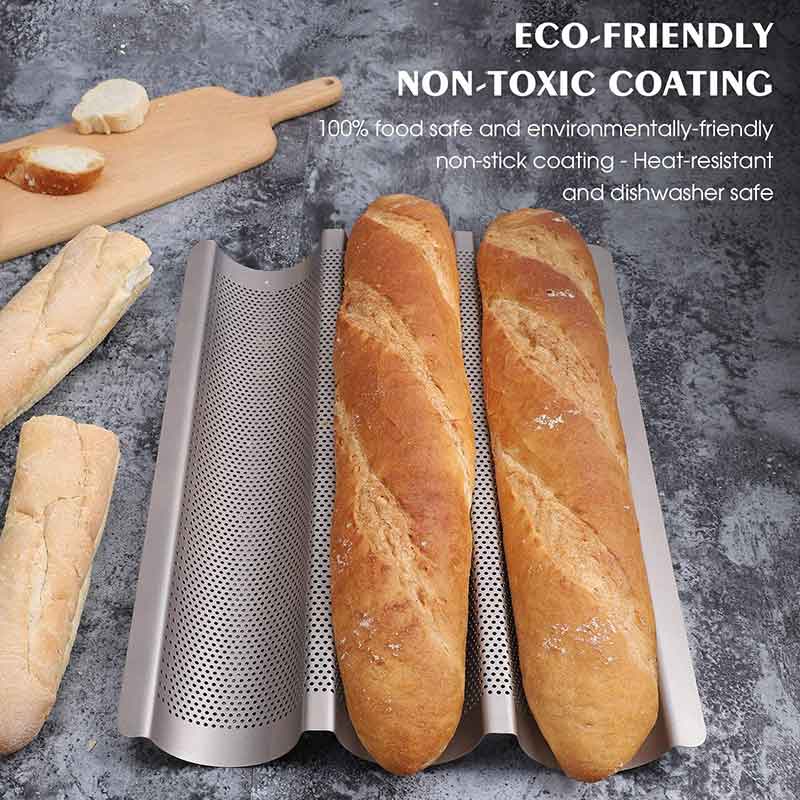 buy here→
Should I use a baguette pan?
If you are looking for more height, I highly recommend using a perforated baguette pan. However, if you don't have one, use a baking sheet. The bread will be slightly wider and thinner but still insanely delicious.
What I love about this recipe is there is no kneading or rolling, making the bread recipe super easy and with very little mess.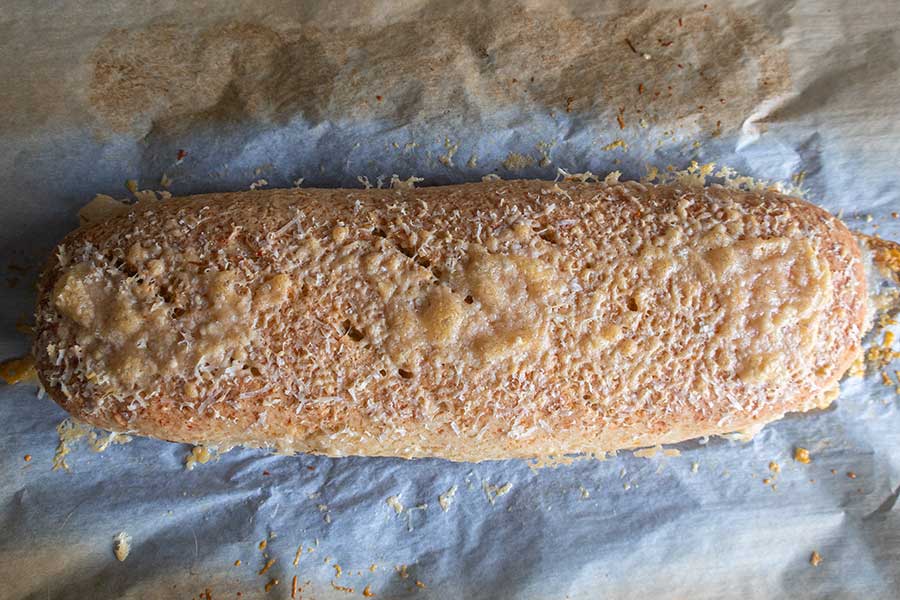 a must have garlic butter dip for Italian bread
While the bread is baking, I like to prepare a herby, garlicky butter dip. To do this, melt butter add minced or grated garlic and your favourite herbs—Cook over low heat for one minute.
Serve warm for dipping. Or chill and use as a spread for the freshly baked Italian Parmesan Bread.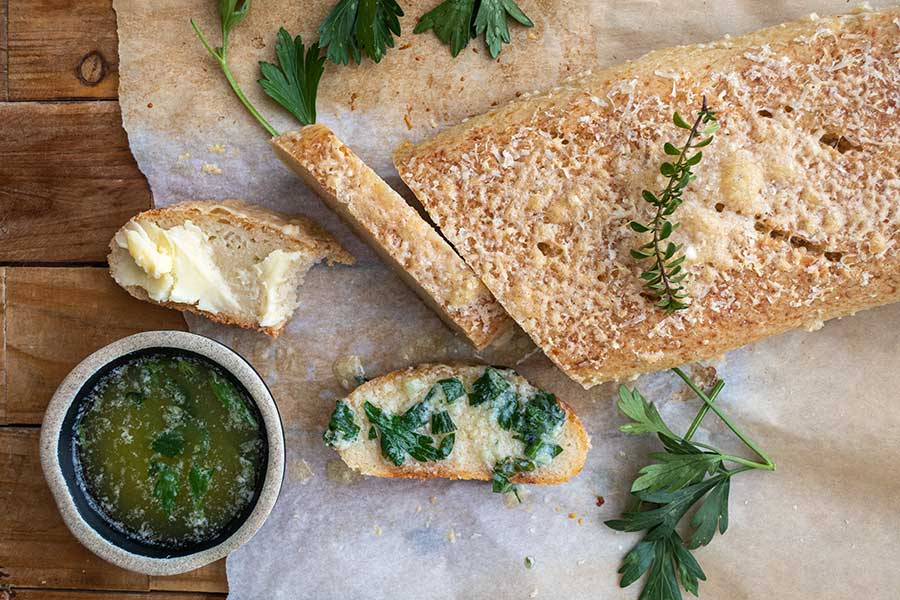 For the latest recipes and tips, please like us on Facebook or follow us on Pinterest
Gluten-Free Italian Parmesan Bread
Published on Oct 28, 2020
by
Kristina Stosek
Instructions
1.

Using a medium-size bowl, mix water with sweetener until dissolved. Add oil and yeast and set aside until the yeast starts to bubble. See picture below

2.

In a separate bowl, whisk together rice flour, potato starch, arrowroot flour, parmesan cheese, psyllium husks/flaxseed, baking soda and salt.

3.

Add dry ingredients to the yeast mixture, and using a spatula, mix until a dough forms. Rest the dough for 5 minutes.

4.

Shape the dough into a log and place it in a baguette pan. If you don't have one, put it on a baking sheet lined with parchment paper.

5.

Loosely cover with plastic wrap and let the dough rise for about an hour. It should rise by about 50%

6.

Brush the top with water and using a sharp knife, cut a few slits in the bread

7.

Preheat the oven to 400 F and bake for 35 minutes. Sprinkle the top with remaining parmesan and bake for 5 - 7 minutes longer, until the cheese has melted

8.

Place on a cooling rack and slightly cool before serving

9.

Chefs notes; if you are using the baking sheet method, the bread will be wider and have less height
Leave a Comment
Kristina
For arrowroot you can use tapioca or corn starch, the other flours will make the bread heavier. But if I had to choose one it would be rice flour.
I am sure this is delicious but can you please show substitutes maybe a few ? Arrowroot what can I use in place? Rice flour ? Sorghum flour? Teff flour?
Kristina
it may I am not sure, you can also use foil paper to form a baguette pan
I'm wondering how making an open parchment envelope might work to hod the shape...? Like a pappillotte fold... Any thoughts?
Kristina
I am so happy you enjoyed them. I always make two loaves because they disappear very quickly. This bread also toasts well :-)
Kristina
I didn't have brown rice flour so I used white rice flour, the bread turned out amazing THANK YOU!!!
I just made two loaves, delicious bread!!