Gluten-Free Olive Oil Cheese Bread
Prep Time
15 + Minutes
Difficulty
Easy
Cook Time
60 Minutes
Serves
2 small loaves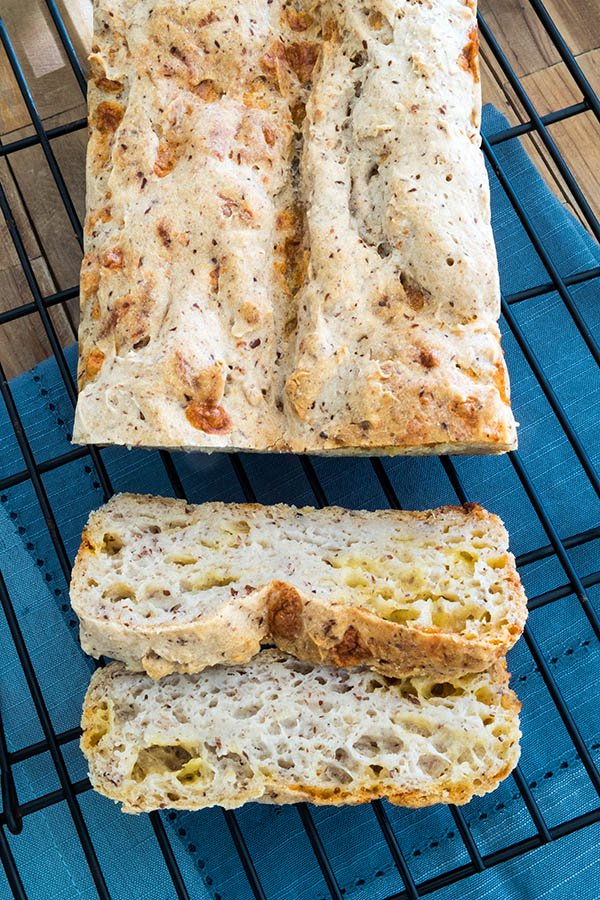 Average Rating: 5 | Rated By: 7 users
You would never know that this Olive Oil Cheese Bread is gluten-free. The bread texture is soft on the inside, not crumbling and has a perfectly crispy crust. Nothing beats a homemade freshly baked bread, especially when it is healthy and tastes this good!
What make this a good Olive Oil Cheese Bread?
This gluten-free bread is made with heart-healthy olive oil and high-fiber flaxseed. For added deliciousness, the bread has melted cheddar cheese throughout.
The flours and starches used in this gluten-free bread recipe are rice flour, sweet sorghum flour, potato flour and two starches – tapioca and corn starch.
The mix of the two starches keeps the bread light and the crust perfectly crispy.
best way to serve gluten-free olive oil cheese bread?
The olive oil cheese bread slices beautifully and makes excellent sandwiches. Another way to serve this healthy bread is a starter dipped in balsamic vinegar and good quality extra virgin olive oil.
This gluten-free bread is perfect for any occasion, especially when the company is coming because it is that good!
If you are looking for a delicious gluten-free bread with health benefits, this is the bread for you. The moist and light bread lightly flavoured with melted cheese is sooo good!
I hope you give this gluten-free Olive Oil Cheese Bread a try. I promise you will not be disappointed. This bread is always a huge hit at our house. After all, who doesn't love melted cheese with bread?
What I love about this gluten-free bread is that it freezes well. Once the bread cools, you can freeze the second loaf for up to three months.
However, from my experience, there are no leftovers. This hearty, healthy gluten-free bread is super addicting, and the two loaves go very quickly. Enjoy!
As with all gluten free baking, the bread is best when it is freshly baked. Need more gluten free bread recipes?
Check out my favourites.
For the latest recipes and tips, please like us on Facebook or follow us on Pinterest and  Instagram.
Ingredients
¾ cup water
2 ¼ tsp. active dry yeast (not instant dry yeast)
2 cups warm water (about 110 F)
2 Tbsp. pure maple syrup
1 cup cornstarch
1 Tbsp. xanthan gum
2 tsp. Sea salt
¼ cup extra virgin olive oil
2 tsp. apple cider vinegar
1 ½ cups shredded cheddar cheese
*As an Amazon Associate and member of other affiliate programs, I earn from qualifying purchases. Please check out my sponsorship and disclosure policy page for more details
Instructions
Mix ¾ cups of water with flaxseed and set aside for 15 minutes
Using a small bowl, mix yeast, 2 cups of warm water and maple syrup and set aside until the yeast starts to bubble, about 10 minutes
In a separate bowl, combine rice flour, tapioca starch, corn starch, sweet sorghum flour, potato flour, xanthan gum and salt
Whisk together olive oil, vinegar, flaxseed mixture and yeast mixture. Add dry ingredients 1/3 at a time and mix until smooth. Stir in cheese
Transfer dough into 2 8x4-inch greased bread pans, loosely cover with a towel and set aside in a warm place for 1 1/2 to 2 hours. The dough should rise by about 35%
Preheat oven to 375 F and bake for 1 hour. Cool loaves in bread pans for 15 minutes then transfer the bread to cooling racks to cool completely before slicing Enjoy!
Similar Recipes
Gluten-Free Mediterranean Olive Bread
This Gluten-Free Mediterranean Olive Bread features salty olives and a crispy crust. The finishing touches are, dipping this wholesome bread in a good quality olive oil with balsamic vinegar. It is sooo good and very addictive.       When gluten in your diet is no longer an option, finding a bread recipe that you love […] Read More
Prep Time
15 + 3 hours resting Minutes
Difficulty
Easy
Cook Time
50 Minutes
Serves
1 loaf
Best Gluten-Free Artisan Bread
Finding a gluten-free artisan bread recipe that is simple to make and tastes this good is not easy. Before I decided to make the bread, I tried various combinations of flours and seeds until finally, I got that perfect gluten-free artisan bread. This is a rustic bread packed with seeds and gluten-free grains. The bread […] Read More
Prep Time
10 Minutes
Difficulty
Easy
Cook Time
40 Minutes
Serves
1 loaf