Vegan Low Carb Bread – Grain Free
Prep Time
5 Minutes
Difficulty
Beginner
Cook Time
90 Minutes
Serves
16 - 18 slices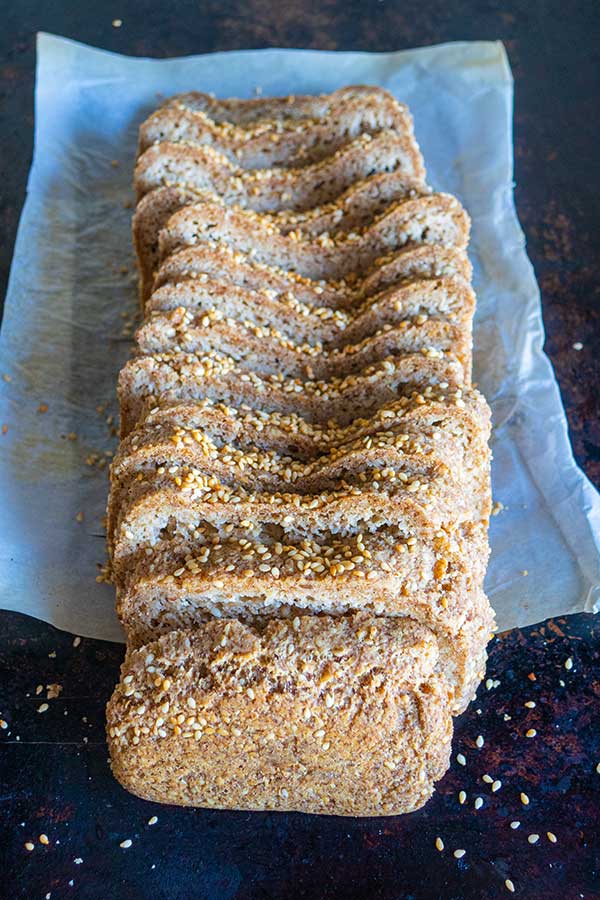 Average Rating: 5 | Rated By: 13 users
This Vegan Low Carb Bread is the bread of bread. This gluten-free recipe is a protein and fibre-packed bread recipe rich in healthy nutrients. The soft texture with a lightly crispy crust makes this low carb bread excellent for sandwiches.
This grain-free bread is easy to slice, and it is moist with a hint of sesame flavour. I promise you this vegan bread is impressive!
If you are counting carbs, each slice of this gluten-free bread has about 4 grams of net carbs and is acceptable on a keto diet.
the core ingredients in this Vegan Low Carb Bread recipe,
The main ingredients in this grain-free bread are almond flour, cassava flour, flaxseed, psyllium husk, and sesame seeds keeping this bread super healthy.
For moistness, a splash of extra virgin olive oil and apple cider vinegar. To keep this bread light and yeast free, I used baking powder mixed with baking soda.
the easiest Vegan Low Carb Bread recipe → the details
I always wanted to create a bread recipe that takes very little work and is perfect in every way. This Vegan Low Carb Bread is the bread recipe that ticks all the boxes.
To make the bread dough takes only about five minutes, you really can't beat that.
Just mix the dry ingredients, add the liquids and briefly mix to combine. Place the dough in a bread loaf pan and shape it into a bread loaf. Nothing to it.
The one thing about this low carb bread recipe you have to be patient because it takes time to bake. You can't rush the baking process.
let's talk about psyllium, an essential ingredient in this low carb bread recipe,
This vegan bread is made without eggs and xanthan gum. Using psyllium husk is excellent in this vegan bread recipe because it replaces eggs. Eggs are often used in low carb grain-free bread recipes.
When psyllium is mixed with liquids, it becomes a gel-like mixture, similar to an egg and is a suitable replacement in most egg-free recipes.
Psyllium is a form of water-soluble plant fiber that comes from the seeds of a plant known as Plantago ovato, which is native to southern and western Asia.
The health benefits of psyllium husk are astonishing. Psyllium can help relieve constipation and treat diarrhea.
Some psyllium studies show that psyllium is also used to treat irritable bowel syndrome and regulate blood sugar levels in people with diabetes.
Some studies show that psyllium can help lower heart disease by lowering blood pressure, improving lipid levels, and strengthening the heart muscle.
why are sesame seeds so good for us? 
I added sesame seeds to this Vegan Low Carb Bread recipe because these tiny seeds are flavourful, adding a slightly nutty flavour to this healthy bread, but more importantly, they have many health benefits.
The oil in sesame seeds helps to remove dental plaque.
The seeds are rich in anti-inflammatory properties helping our skin stay soft and supple.
They are rich in polyunsaturated fats, and sesamin is known to keep blood pressure level in check.
The sesame seeds contain Omega-6, fiber, iron, calcium and magnesium, and because of their high healthy fat content, these tiny seeds help boost our energy.
If you are looking for a healthy vegan low carb bread recipe that takes minutes to whip up, you found it. The best part, this low carb bread is naturally gluten-free and is suitable for many restricted diets.
Le Creuset Stoneware Heritage Loaf Pan buy here →
Need more gluten-free bread recipes? Check out these three most downloaded gluten-free bread recipes 🙂
Gluten-Free Basic White Sandwich Bread
Gluten-Free Mediterranean Olive Bread
For the latest recipes and tips, please like us on Facebook or follow us on Pinterest
Ingredients
1/2 cup cassava flour
1/3 cup + 2 Tbsp. whole GF Psyllium husk, I recommend using this brand, some others turn the colour of the bread purple
1 Tbsp. GF baking powder
1 tsp. Sea salt
1/2 tsp. Baking soda
2 cups warm water (warm to the touch, not hot about 105 F)
1/4 cup extra virgin olive oil
2 tsp. Apple cider vinegar
*As an Amazon Associate and member of other affiliate programs, I earn from qualifying purchases. Please check out my sponsorship and disclosure policy page for more details
Instructions
Preheat oven to 400 F and line a 9 by 5-inch loaf pan with parchment paper
Using a large bowl, whisk together dry ingredients
In a small bowl, whisk together water, olive oil and apple cider vinegar and pour into dry ingredients
Using a spatula, mix to combine until you form a ball of dough. Do not over mix
Transfer batter into the prepared loaf pan shaping the dough into a bread loaf with a round top. Do not flatten the top of the loaf, or it will become dense. Sprinkle with remaining 1 tablespoon of sesame seeds over the top
Set the loaf aside for 10 minutes to let the fiber fully absorb the liquids
Bake for 55 minutes, then loosely cover with foil reduce oven temperature to 375 F and bake for additional 35 minutes
Lift the loaf from the pan by using the parchment paper and place on a cooling rack to cool fully before slicing. This takes 2 - 3 hours. Enjoy
Similar Recipes
Best Gluten-Free Artisan Bread
Finding a gluten-free artisan bread recipe that is simple to make and tastes this good is not easy. Before I decided to make the bread, I tried various combinations of flours and seeds until finally, I got that perfect gluten-free artisan bread. This is a rustic bread packed with seeds and gluten-free grains. The bread […] Read More
Prep Time
10 Minutes
Difficulty
Easy
Cook Time
40 Minutes
Serves
1 loaf
Cassava Bread (Grain-Free, Nut-Free)
Today I am sharing with you this Cassava Bread because many of you have asked me to create bread without grains and nut flour. So here it is a grain-free and nut-free bread. The cassava bread is a little denser than typical sandwich bread. It has a texture more of German rye bread. For extra […] Read More
Prep Time
15 + Minutes
Difficulty
Easy
Cook Time
35 Minutes
Serves
1 loaf
Low Allergen Bread Recipe – Gluten Free
This Low Allergen Gluten-Free Bread is healthier than most and takes only five minutes to prepare for baking. The nutrient-dense ingredients are chia, buckwheat flour, chickpea flour, flaxseed, and psyllium husk. Why is this a low allergen bread? This bread is grain-free, nut-free, xanthan gum free, egg-free, dairy-free and yeast-free. All these ingredients are considered […] Read More
Prep Time
5 Minutes
Difficulty
Beginner
Cook Time
80 Minutes
Serves
1 loaf