Vegan Low Carb Bread – Grain Free
Published on Nov 08, 2020
by
Kristina Stosek
Prep Time:

5 minutes
Cook Time:

90 minutes
Serves:

16 - 18 slices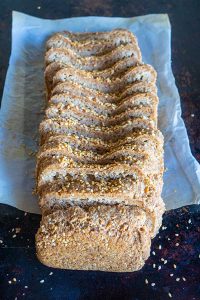 ​This post may contain affiliate links, please see our
privacy policy
for details
This Vegan Low Carb Bread is the bread of bread. This gluten-free recipe is a protein and fibre-packed bread recipe rich in healthy nutrients. The soft texture with a lightly crispy crust makes this low carb bread excellent for sandwiches.
This grain-free bread is easy to slice, and it is moist with a hint of sesame flavour. I promise you this vegan bread is impressive!
If you are counting carbs, each slice of this gluten-free bread has about 4 grams of net carbs and is acceptable on a keto diet.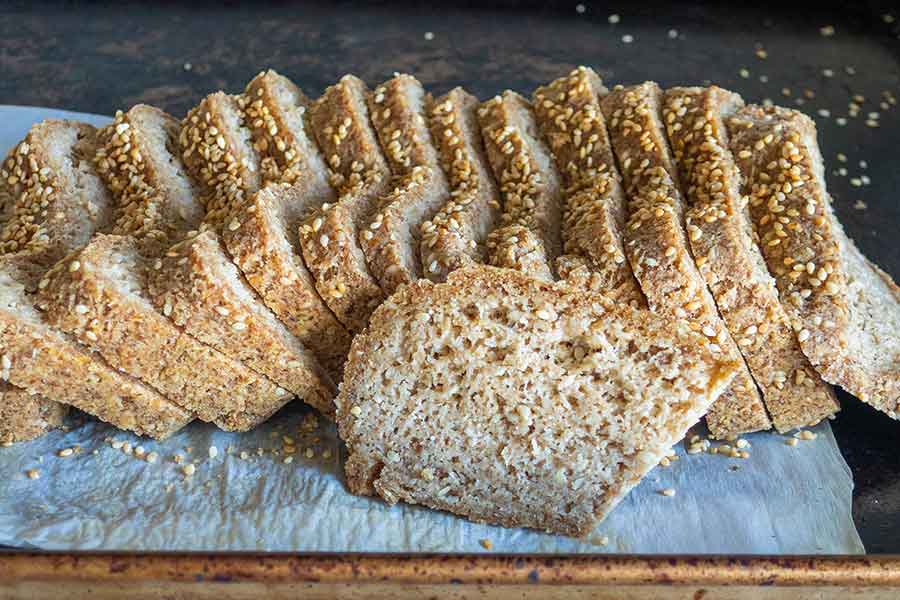 the core ingredients in this Vegan Low Carb Bread recipe,
The main ingredients in this grain-free bread are almond flour, cassava flour, flaxseed, psyllium husk, and sesame seeds keeping this bread super healthy.
For moistness, a splash of extra virgin olive oil and apple cider vinegar. To keep this bread light and yeast free, I used baking powder mixed with baking soda.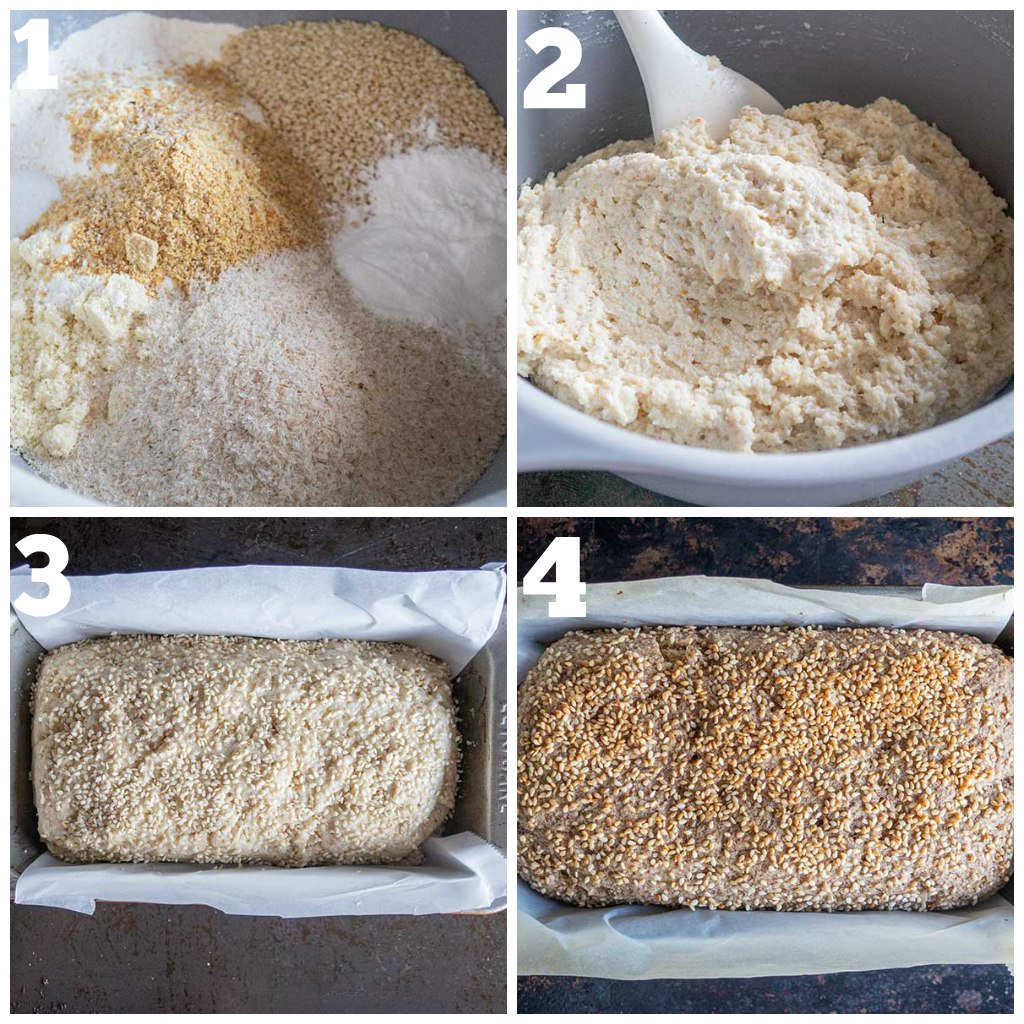 the easiest Vegan Low Carb Bread recipe → the details
I always wanted to create a bread recipe that takes very little work and is perfect in every way. This Vegan Low Carb Bread is the bread recipe that ticks all the boxes.
To make the bread dough takes only about five minutes, you really can't beat that.
Just mix the dry ingredients, add the liquids and briefly mix to combine. Place the dough in a bread loaf pan and shape it into a bread loaf. Nothing to it.
The one thing about this low carb bread recipe you have to be patient because it takes time to bake. You can't rush the baking process.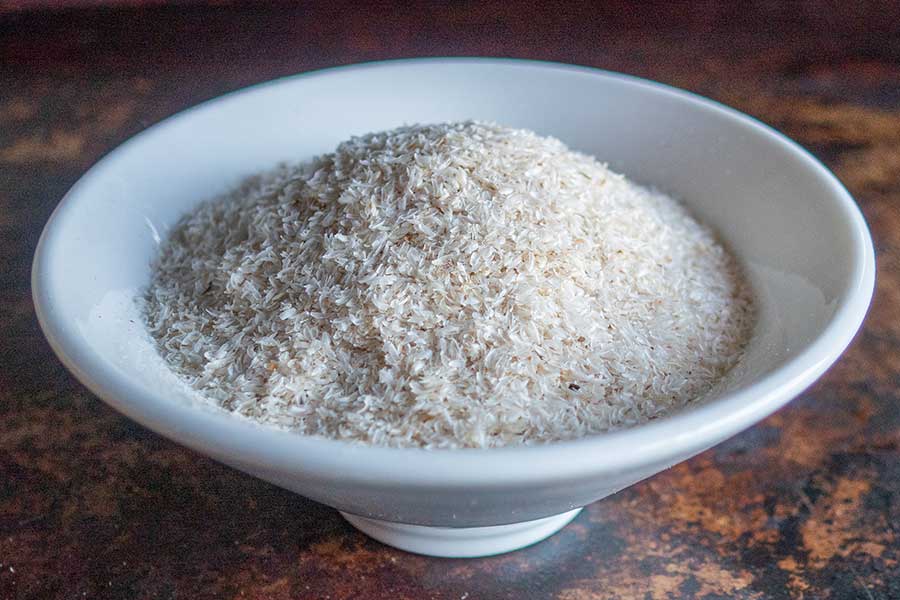 let's talk about psyllium, an essential ingredient in this low carb bread recipe,
This vegan bread is made without eggs and xanthan gum. Using psyllium husk is excellent in this vegan bread recipe because it replaces eggs. Eggs are often used in low carb grain-free bread recipes.
When psyllium is mixed with liquids, it becomes a gel-like mixture, similar to an egg and is a suitable replacement in most egg-free recipes.
Psyllium is a form of water-soluble plant fiber that comes from the seeds of a plant known as Plantago ovato, which is native to southern and western Asia.
The health benefits of psyllium husk are astonishing. Psyllium can help relieve constipation and treat diarrhea.
Some psyllium studies show that psyllium is also used to treat irritable bowel syndrome and regulate blood sugar levels in people with diabetes.
Some studies show that psyllium can help lower heart disease by lowering blood pressure, improving lipid levels, and strengthening the heart muscle.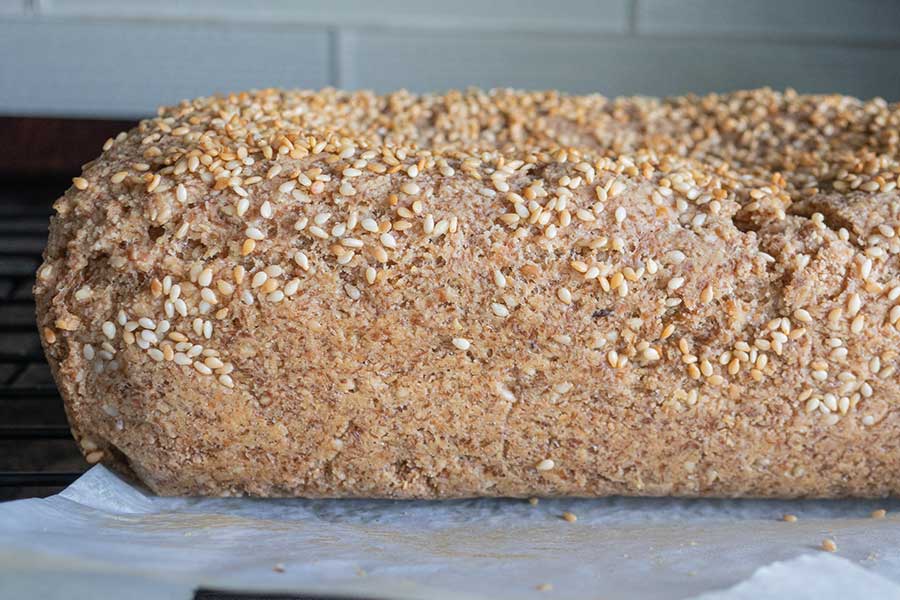 why are sesame seeds so good for us?
I added sesame seeds to this Vegan Low Carb Bread recipe because these tiny seeds are flavourful, adding a slightly nutty flavour to this healthy bread, but more importantly, they have many health benefits.
The oil in sesame seeds helps to remove dental plaque.
The seeds are rich in anti-inflammatory properties helping our skin stay soft and supple.
They are rich in polyunsaturated fats, and sesamin is known to keep blood pressure level in check.
The sesame seeds contain Omega-6, fiber, iron, calcium and magnesium, and because of their high healthy fat content, these tiny seeds help boost our energy.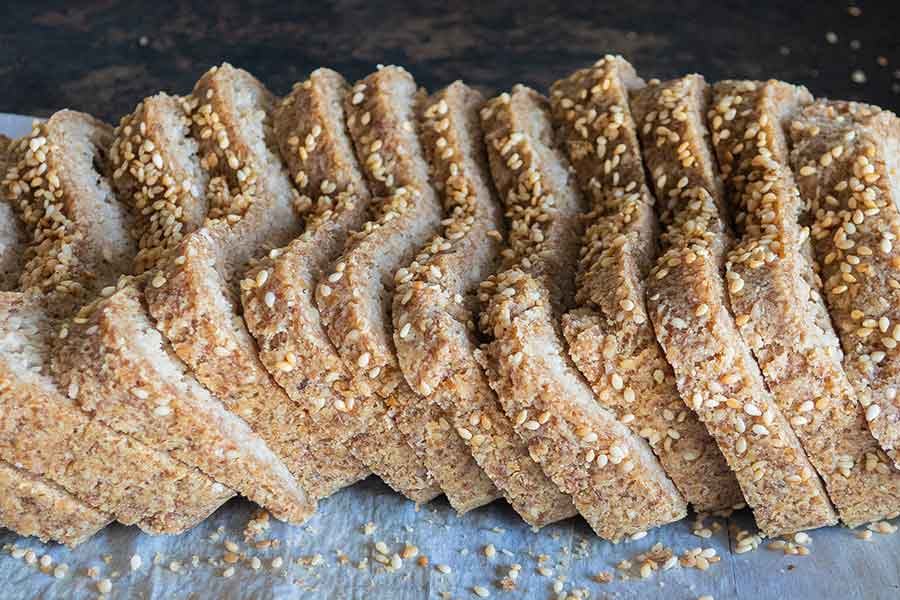 If you are looking for a healthy vegan low carb bread recipe that takes minutes to whip up, you found it. The best part, this low carb bread is naturally gluten-free and is suitable for many restricted diets.

Le Creuset Stoneware Heritage Loaf Pan buy here →
Need more gluten-free bread recipes? Check out these three most downloaded gluten-free bread recipes 🙂
Gluten-Free Basic White Sandwich Bread
Gluten-Free Mediterranean Olive Bread
For the latest recipes and tips, please like us on Facebook or follow us on Pinterest
Vegan Low Carb Bread – Grain Free
Published on Nov 08, 2020
by
Kristina Stosek
Instructions
1.

Preheat oven to 400 F and line a 9 by 5-inch loaf pan with parchment paper

2.

Using a large bowl, whisk together dry ingredients

3.

In a small bowl, whisk together water, olive oil and apple cider vinegar and pour into dry ingredients

4.

Using a spatula, mix to combine until you form a ball of dough. Do not over mix

5.

Transfer batter into the prepared loaf pan shaping the dough into a bread loaf with a round top. Do not flatten the top of the loaf, or it will become dense. Sprinkle with remaining 1 tablespoon of sesame seeds over the top

6.

Set the loaf aside for 10 minutes to let the fiber fully absorb the liquids

7.

Bake for 55 minutes, then loosely cover with foil reduce oven temperature to 375 F and bake for additional 35 minutes

8.

Lift the loaf from the pan by using the parchment paper and place on a cooling rack to cool fully before slicing. This takes 2 - 3 hours. Enjoy
Leave a Comment
Kristina
Karl, the calories are higher because of the almond flour used in this recipe. However, this bread is hearty, different from a typical sandwich bread. Add a few healthy toppings such. as tomatoes, onions, and lettuce to enjoy a wholesome, satisfying meal with high protein and fiber. I often use just one slice and serve it as an open sandwich. Thank you for calculating the calories.
I calculated the calories per slice and it comes to 190 calories. This is the highest calorie bread I have ever seen.
Kristina
Stacy I don't know because I have not used a bread machine for this recipe. Sorry
Can this bread be made in a bread machine, on the gluten-free setting?
Kristina
Valerie, using a narrower loaf pan will give you a better rise. As far as smooth on top, I have no issue, but it can be imperfect. The dough ball is exactly as pic # 2. I hope you used psyllium husk and not powder. The other thing I can think of is not to overmix the dough. This is a good pan to use
I tried this, and it's good, but it did not have the rise I was expecting. How do you get it smooth on top without patting it down? Also, how big is the dough ball when it's done mixing? Same as picture #2 or smaller? Thank you!
Kristina
Dominika, coconut flour will not work. This recipe's primary ingredient is almond flour and can't be replaced by just one flour. I suggest checking out another one of our bread recipes without almond flour. Sorry
Hello! I'm just starting an AIP diet which tells me to avoid a lot of things, but among them is almond flour. Could this be replaced by coconut flour and would it be 1:1? Thanks in advance!
Kristina
Lydia, I am sorry I don't know since I have not made it in a bread machine. If you do make it in a bread machine, please let us know how the bread turned out. Thank you.
Hi, do you thinking this recipe would this bread recipe work in a bread machine? Thanks!
Kristina
Alysha, I am so happy to hear that. The bread should keep up to 4 days when refrigerated. Enjoy!
Hello :)! My mom and I lovvveeee this bread. Thank you so much. I am wondering how long this bread will last in the fridge? Thank you!
Kristina
yes you can replace sorghum flour for cassava Danielle.
Hi i would live to try this recipe although how can i replace the cassava flour by something else ? Could i use sourghum flour instead ?? Thank you
Kristina
Hi Lynn, here is a link to detailed information for high altitude baking. Hope this helps https://www.wheatmontana.com/content/high-altitude-baking-how-make-your-recipes-work-mountains
Yes, Kristina. Thanks for your response. I'm at just under 6,000 feet. That is why I was asking whether you could give me some idea of how to adjust the recipe for altitude?
Kristina
High altitude (over 3,000 feet) affects bread baking because the lower air pressure allows the yeast to rise 25 to 50 percent faster, and the drier air makes the flour drier. If the dough over-rises, the results might be a heavy, dry loaf or misshapen or collapsed loaf
This bread is great! It was a bit dense in the center, and I'm wondering whether some adjustment for altitude is called for. Do you have any ideas about whether this is necessary and, if so, how to do this?
Kristina
Thank you so much for letting me know. I am so happy you enjoyed it!
I never write reviews, but oh my god this bread is soooo great! I'll admit I was skeptical when I mixed the dough together and it was a congealed lump (and in the spirit of honesty I did pat down the top a little). But wow it baked up beautifully and has a really neat flavor profile. I subbed coconut flour for cassava because it's cheaper. Sweet recipe!
Kristina
Best bread ever!!! Thank you so much I love your recipes
Kristina
I am so happy you enjoyed it :-)
thank you for this incredible bread recipe, finally a bread that is not only healthy but super easy to make and more importantly so delicious!!!! I will be making this bread recipe again