Gluten-Free Mediterranean Olive Bread
Prep Time
15 + 3 hours resting Minutes
Difficulty
Easy
Cook Time
50 Minutes
Serves
1 loaf
Average Rating: 4.5 | Rated By: 11 users
This Gluten-Free Mediterranean Olive Bread features salty olives and a crispy crust. The finishing touches are, dipping this wholesome bread in a good quality olive oil with balsamic vinegar. It is sooo good and very addictive.  
When gluten in your diet is no longer an option, finding a bread recipe that you love is a huge success. This gluten-free Mediterranean olive bread is one of those recipes! The gluten-free bread is simple to make, and there is no need for long kneading.
Cast Iron Pot Gluten-Free Mediterranean Olive Bread.
The only way to make this olive bread is in a cast iron pot big enough to fit the bread. And the pot must have a tight fitting lid. The cast-iron hot pot gives this bread the crispy crust and bakes this gluten-free Mediterranean olive bread to perfection!
Tips for baking for best results!
Following these tips will help you achieve the best results when baking gluten-free muffins, scones, bread, cakes and cookies. 
All ingredients should be at room temperature, this is especially important with yeasted bread recipes. The only time this would not apply is if the recipe specifies cold ingredients like we would use butter in a pie crust recipe.
The oven temperature is crucial! Some ovens vary in temperatures, so it is a good idea to use a thermometer to determine the temperature of your oven. 
Measuring dry ingredients is especially important when using various gluten-free flours. Some flours are heavier than others. When using a measuring cup for dry ingredients do not dip the cup into the flour. Always spoon flour into your measuring cup until it domes over top, then level it off with a knife. Ultimately whenever possible use a scale.
For a yeasted bread, when using active dry yeast, the water temperature should be between 105 F and 110 F for proofing. While 95 F is the best temperature for yeast to multiply, that's not quite warm enough for proofing active dry yeast. It needs extra warmth to dissolve and become active.
For the dough and batters to rise, the ideal temperature of the location should be between 90 F to 115 F, and away from drafts. In the summer this is easy to achieve, but during cold winter months, I use a method called oven proofing. To do this, preheat the oven to 150 F. Cover the dough with a damp towel loosely and place it in the oven. Close the door and immediately turn off the heat.
And lastly, check the expiry date on the yeast packaging. If the yeast is old the bread will not rise properly. To keep the yeast fresh, store it in the fridge.
What goes well with delicious crusty bread? Delicious, wholesome soups and stews. 
Ingredients
1 1/3 cup warm water
1 tsp. raw honey
1 tbsp. gluten-free active dry yeast
1 cup gluten-free brown rice flour
2 cups all-purpose gluten-free flour blend
1 Tbsp. tapioca starch
1 Tbsp. ground flax seed
½ tsp. sea salt
¼ cup extra virgin olive oil
1 tbsp. raw apple cider vinegar
1 cup mixed dried pitted olives (I used black and green)
¼ cup gluten-free cornmeal
*As an Amazon Associate and member of other affiliate programs, I earn from qualifying purchases. Please check out my sponsorship and disclosure policy page for more details
Instructions
In a small bowl mix warm water with honey, add yeast and let it proof for 15 minutes
In a large bowl mix flours, starch, flaxseed and sea salt.
Add olive oil and apple cider vinegar to yeast mixture and mix to combine
Pour yeast mixture in to dry ingredients, add olives, and then with a spatula stir until you form a dough. Shape the dough into a round shape and place in a bowl. Cover with a damp towel and rest for one hour. After an hour, fold the dough over a couple of times and lay on a cornmeal dusted towel. Dust with cornmeal over top and cover with the towel for two more hours allowing the bread to rise
Once the oven is preheated carefully transfer the dough to the heated pot and cover with the lid. Bake for 30 minutes, then remove the lid and bake 20 more minutes
Place bread on a cooling rack to fully cool
Similar Recipes
Best Gluten-Free Artisan Bread
Finding a gluten-free artisan bread recipe that is simple to make and tastes this good is not easy. Before I decided to make the bread, I tried various combinations of flours and seeds until finally, I got that perfect gluten-free artisan bread. This is a rustic bread packed with seeds and gluten-free grains. The bread […] Read More
Prep Time
10 Minutes
Difficulty
Easy
Cook Time
40 Minutes
Serves
1 loaf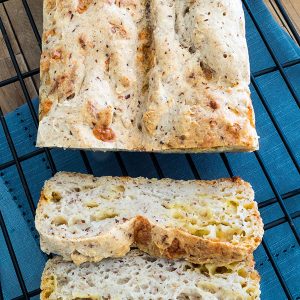 Gluten-Free Olive Oil Cheese Bread
You would never know that this Olive Oil Cheese Bread is gluten-free. The bread texture is soft on the inside, not crumbling and has a perfectly crispy crust. Nothing beats a homemade freshly baked bread, especially when it is healthy and tastes this good!     What make this a good Olive Oil Cheese Bread? […] Read More
Prep Time
15 + Minutes
Difficulty
Easy
Cook Time
60 Minutes
Serves
2 small loaves
Gluten-Free Bread With Garlic Herb Cheese Swirl
Gluten-Free Bread With Garlic Herb Cheese Swirl – Soft gluten-free bread with garlic herb cheese swirl for bread lovers. This recipe is special because it has a delicious buttery swirl made with herbs, garlic and cheese. Think of it as garlic bread except more flavourful because it has added herbs and cheese.  the texture What I […] Read More
Prep Time
15 Minutes
Difficulty
Easy
Cook Time
40 Minutes