Gluten Free Mediterranean Olive Bread
Prep Time
15 + 3 hours resting Minutes
Difficulty
Easy
Cook Time
50 Minutes
Serves
12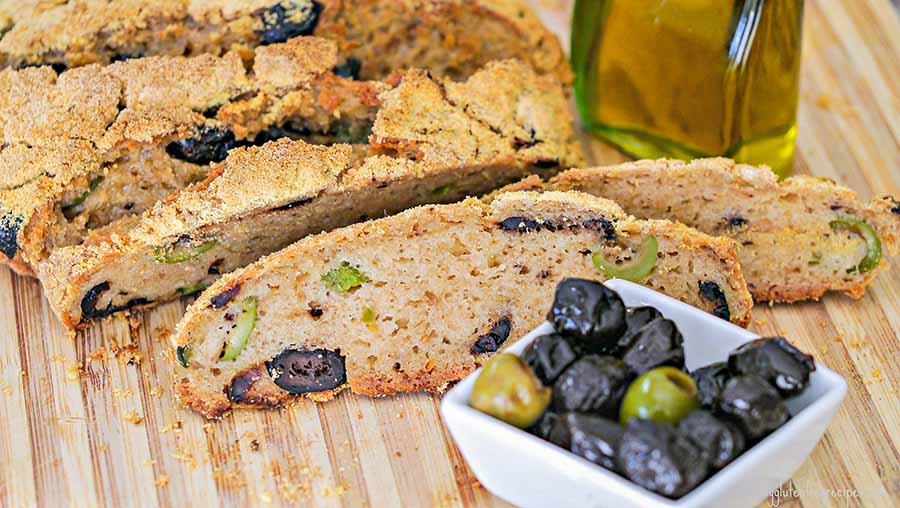 Average Rating: 5 | Rated By: 1 users
If you like olives, you will love this gluten-free olive bread, it is mouthwatering with a crispy crust and is very addictive. This recipe is super easy to make no need for long kneading, but you will need a cast iron pot with a lid that is big enough to fit the bread in.
Ingredients
1 1/3 cup warm water
1 tsp. raw honey
1 tbsp. gluten-free active dry yeast
1 cup gluten-free brown rice flour
2 cups all-purpose gluten-free flour
1 tbsp. gluten-free tapioca starch
1 tbsp. gluten-free ground flax seed
½ tsp. sea salt
¼ cup extra virgin olive oil
1 tbsp. organic, gluten-free apple cider vinegar
1 cup mixed dried pitted olives (I used black and green)
¼ cup gluten-free cornmeal
Instructions
In a small bowl stir warm water and honey, then add in yeast and let it rest for 15 minutes
In a large bowl mix flours, starch, flaxseed and sea salt.
Add olive oil and apple cider vinegar to yeast and stir
Pour yeast mix in the flour and add in olives, and then with a spatula stir until it forms dough in a ball shape. Cover with a clean tea towel and rest for one hour. After an hour fold the dough over a couple of times and lay on a cornmeal dusted clean tea towel and dust with a little cornmeal on top and cover with the tea towel for two more hours.
Place a cast iron pot without the lid in the oven and preheat to 450 F (I used Le Creuset Dutch oven)
Once the oven is preheated gently transfer the dough to the heated pot and cover with the lid. Bake for 30 minutes, then remove the lid and bake 20 more minutes
Place bread on a cooling rack to cool.