Gluten-Free Mediterranean Olive Bread
Published on Jun 30, 2015
by
Kristina Stosek
Prep Time:

15 + 3 hours resting minutes
Cook Time:

50 minutes
Serves:

1 loaf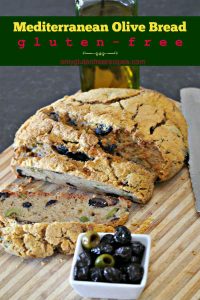 ​This post may contain affiliate links, please see our
privacy policy
for details
This Gluten-Free Mediterranean Olive Bread features salty olives and a crispy crust. The finishing touches are, dipping this wholesome bread in a good quality olive oil with balsamic vinegar. It is sooo good and very addictive.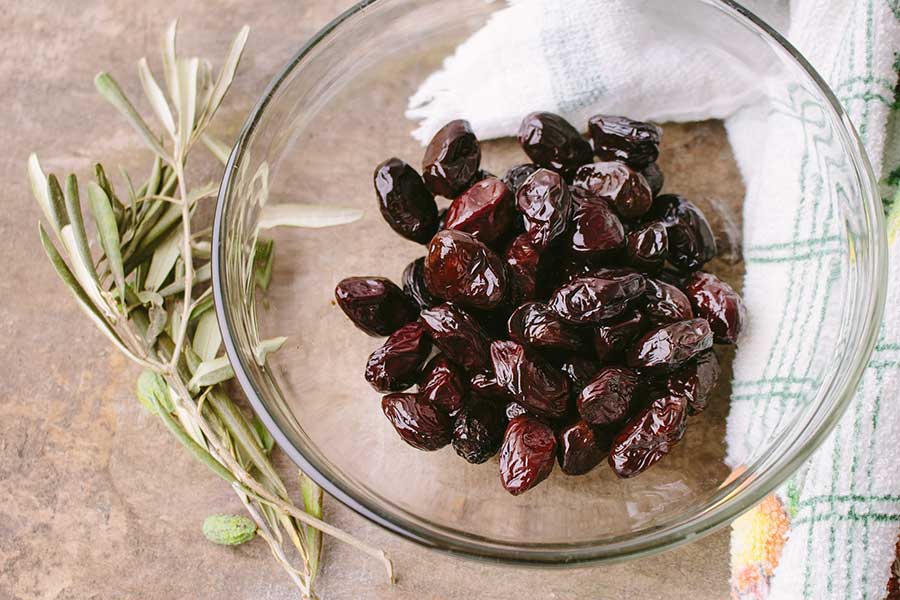 When gluten in your diet is no longer an option, finding a bread recipe that you love is a huge success. This gluten-free Mediterranean olive bread is one of those recipes! The gluten-free bread is simple to make, and there is no need for long kneading.
Cast Iron Pot Gluten-Free Mediterranean Olive Bread.
The only way to make this olive bread is in a cast iron pot big enough to fit the bread. And the pot must have a tight fitting lid. The cast-iron hot pot gives this bread the crispy crust and bakes this gluten-free Mediterranean olive bread to perfection!
Tips for baking for best results!
Following these tips will help you achieve the best results when baking gluten-free muffins, scones, bread, cakes and cookies.
All ingredients should be at room temperature, this is especially important with yeasted bread recipes. The only time this would not apply is if the recipe specifies cold ingredients like we would use butter in a pie crust recipe.
The oven temperature is crucial! Some ovens vary in temperatures, so it is a good idea to use a thermometer to determine the temperature of your oven.
Measuring dry ingredients is especially important when using various gluten-free flours. Some flours are heavier than others. When using a measuring cup for dry ingredients do not dip the cup into the flour. Always spoon flour into your measuring cup until it domes over top, then level it off with a knife. Ultimately whenever possible use a scale.
For a yeasted bread, when using active dry yeast, the water temperature should be between 105 F and 110 F for proofing. While 95 F is the best temperature for yeast to multiply, that's not quite warm enough for proofing active dry yeast. It needs extra warmth to dissolve and become active.
For the dough and batters to rise, the ideal temperature of the location should be between 90 F to 115 F, and away from drafts. In the summer this is easy to achieve, but during cold winter months, I use a method called oven proofing. To do this, preheat the oven to 150 F. Cover the dough with a damp towel loosely and place it in the oven. Close the door and immediately turn off the heat.
And lastly, check the expiry date on the yeast packaging. If the yeast is old the bread will not rise properly. To keep the yeast fresh, store it in the fridge.
What goes well with delicious crusty bread? Delicious, wholesome soups and stews.
Gluten-Free Mediterranean Olive Bread
Published on Jun 30, 2015
by
Kristina Stosek
Instructions
1.

In a small bowl mix warm water with honey, add yeast and let it proof for 15 minutes

2.

In a large bowl mix flours, starch, flaxseed and sea salt.

3.

Add olive oil and apple cider vinegar to yeast mixture and mix to combine

4.

Pour yeast mixture in to dry ingredients, add olives, and then with a spatula stir until you form a dough. Shape the dough into a round shape and place in a bowl. Cover with a damp towel and rest for one hour. After an hour, fold the dough over a couple of times and lay on a cornmeal dusted towel. Dust with cornmeal over top and cover with the towel for two more hours allowing the bread to rise

5.

6.

Once the oven is preheated carefully transfer the dough to the heated pot and cover with the lid. Bake for 30 minutes, then remove the lid and bake 20 more minutes

7.

Place bread on a cooling rack to fully cool
Leave a Comment
Kristina
I have a question about Gluten-Free Mediterranean Olive Bread. The recipe calls for 2 cups all-purpose gluten-free flour blend; what is the blend composition? I am seeking a non-grain bread recipe that is also vegan. Almond flour plus chickpea flour is OK, but higher carb flours are not.
Kristina
yes Judy, you can use millet flour
Hello, This bread recipe sounds delicious. I am allergic to corn. Could you suggest a different dusting flour? Thank you!!! Judy
Kristina
Is a 5 quart pot big enough?
Kristina
so happy you enjoyed the bread!
I just made this bread. I can't believe how delicious the bread turned out. This will be my go to bread for a very long time. thank you, thank you...
Dear Maureen, we have just re-tested the recipe, and the bread turned out perfect as per recipe and no issues with a hot oven. I am sorry that you had issues with the oven heat. I truly don't understand, I am assuming you used 450 F my sincere apologies. Kristina
Unfortunately, these are the worst instructions I have ever encountered. I nearly burnt the house down. 450 degrees in the oven is too hot. I'm guessing the writer meant to say that after preheating the cast iron pot, turn the oven OFF, put the bread into the iron pot ON TOP OF THE OVEN, NOT IN THE OVEN, letting the warmth of the cast iron pot bake the bread. But this is not what the instructions say. The instructions are dangerously misleading and cause a fire in the house.