Cassava Bread (Grain-Free, Nut-Free)
Published on Sep 26, 2020
by
Kristina Stosek
Prep Time:

15 + minutes
Cook Time:

35 minutes
Serves:

1 loaf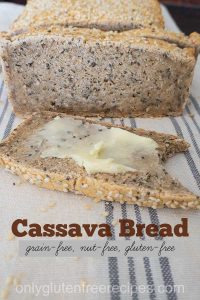 ​This post may contain affiliate links, please see our
privacy policy
for details
Today I am sharing with you this Cassava Bread because many of you have asked me to create bread without grains and nut flour. So here it is a grain-free and nut-free bread.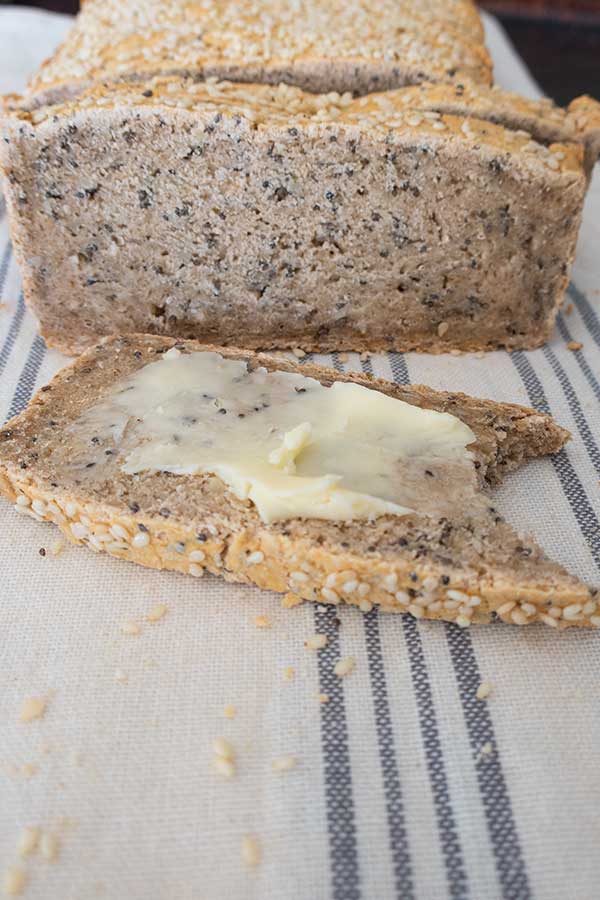 The cassava bread is a little denser than typical sandwich bread. It has a texture more of German rye bread. For extra healthiness, I added chia seeds, sesame seeds and psyllium husk.
This Gluten-free cassava bread is made using two flours, cassava and arrowroot. Neither of these two flours are made from grains, but I will talk about cassava later.
The bread slices very easily without crumbling. You can slice it relatively thin, which is great because you can make sandwiches without overwhelming the filling with thick slices of bread.
You will especially love this grain-free, nut-free cassava bread if you like denser bread.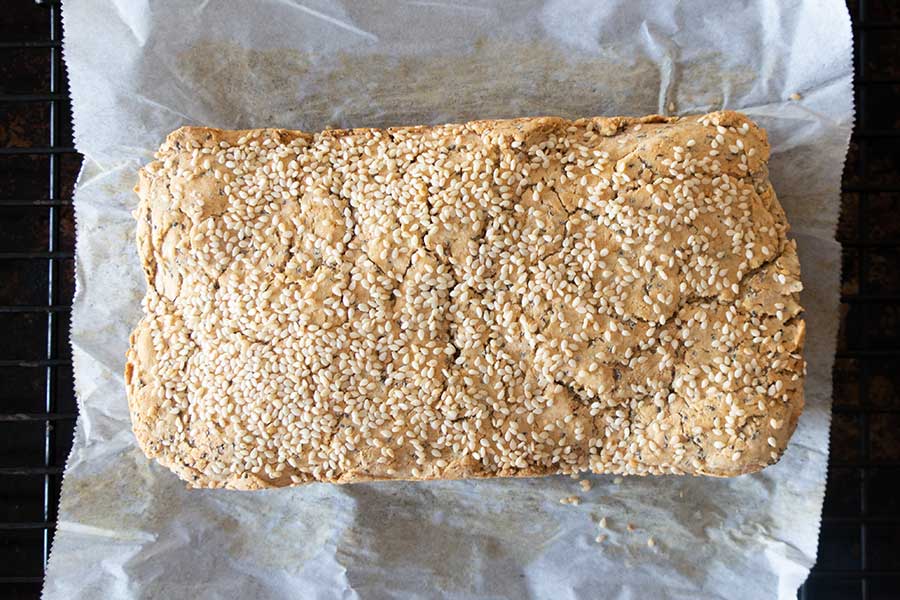 What is cassava flour?
I must admit this is the first time I used cassava flour. I was a bit surprised how absorbent this flour is, very similar to coconut flour. Because of the high absorbency, the measurements have to be exact for this recipe.
This means do not scoop the flour with your measuring cup, but rather use a scoop to fill the measuring cup and level the flour off with a knife.
When measuring any flour, you should use this technique unless you are weighing the flour. Weighing is ultimately the best way to measure flour.
However, I know some of you don't have a kitchen scale, and this is why all my recipes are measured with measuring cups. As long as you follow the scoop – fill – level technique, this recipe will turn out perfect!
How is cassava flour made?
Sorry, I digressed a bit, so what is cassava flour? Cassava flour comes from grating and drying cassava root. Cassava root is also known as yucca. You may have heard of the yucca plant. Cassava is a plant that has a starchy root, which is used to make the flour.
If I were going to compare the texture to another vegetable, it would be a potato. It's an underground tuber. Cassava has a very mild nutty flavour and is why this naturally gluten-free flour makes an excellent flour substitute in gluten-free baking.
It is also easy to digest, making it a good choice for people with sensitive digestive systems and is acceptable for paleo diets.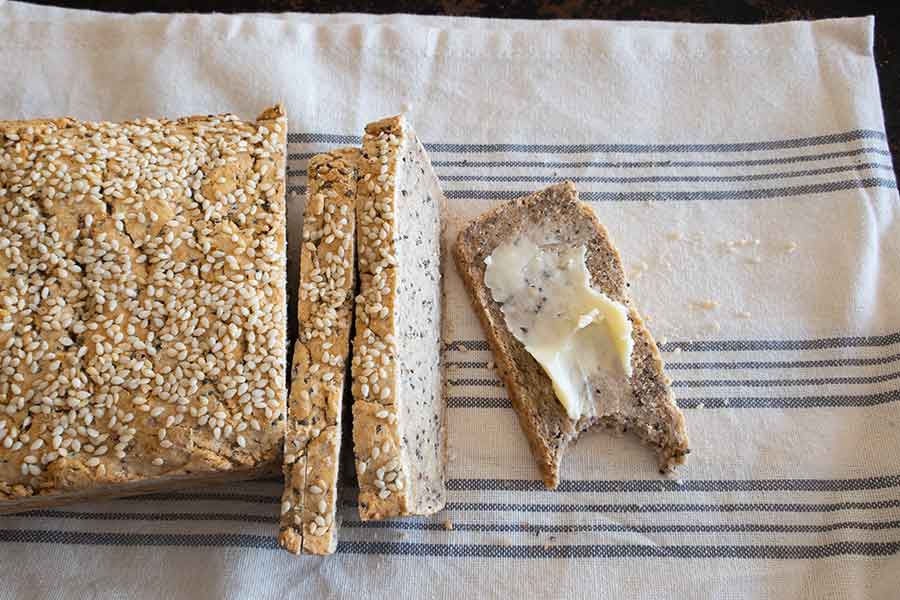 gluten free cassava bread recipe details
This grain-free, nut-free bread is pretty straight forward. It is a yeast leavened bread, so you need to proof the yeast first. If the yeast doesn't bubble up, discard it and start again. Often when the yeast is dated, it will not work as it should. Next, combine the dry ingredients.
For moisture, I used eggs, olive oil and apple cider vinegar, you need to beat these three ingredients together until light and creamy, then mix in the yeast mixture.
Next, combine the wet mixture with dry ingredients until you form a smooth dough. This takes about a minute, then place the dough in a loaf pan, sprinkle with extra sesame seeds and allow the bread to rise in a warm place.
I have noted that I recommend to proof the bread in a warm oven. To do this, preheat the oven to 90 F and turn the oven off. It makes a difference in the bread texture because there are no cold drafts, allowing the bread to rise quickly.
It is important to know that gluten-free dough doesn't rise the same as the wheat dough. The dough will rise anywhere from a third to fifty percent – this is normal.
Now you are ready to bake the bread. No kneading or double rising is necessary to make this grain-free, nut-free cassava bread.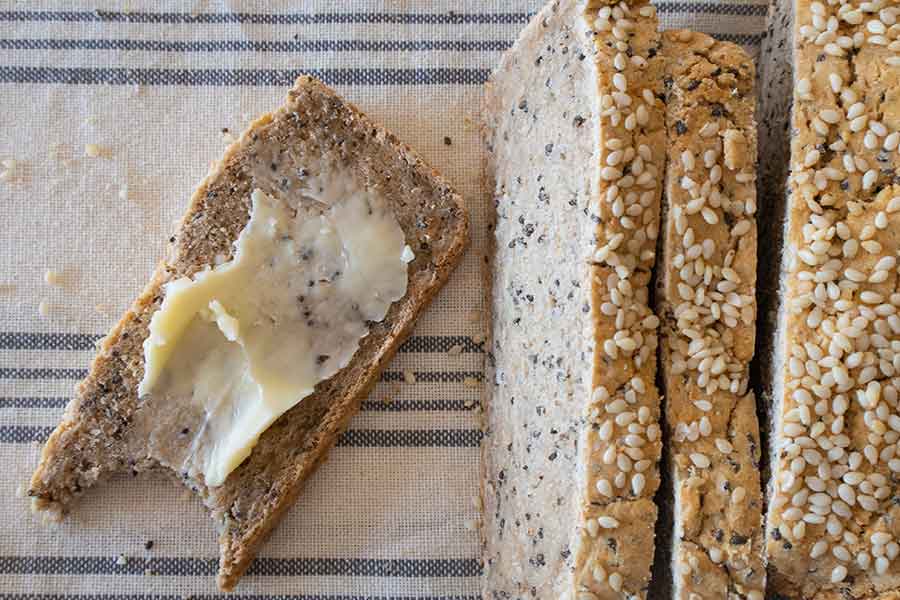 2 ingredients that make the best cassava bread
Gluten-free bread is often reluctant to rise. Add apple cider vinegar and dry milk to the mix, and the gluten-free bread will get that extra needed lift and tender texture.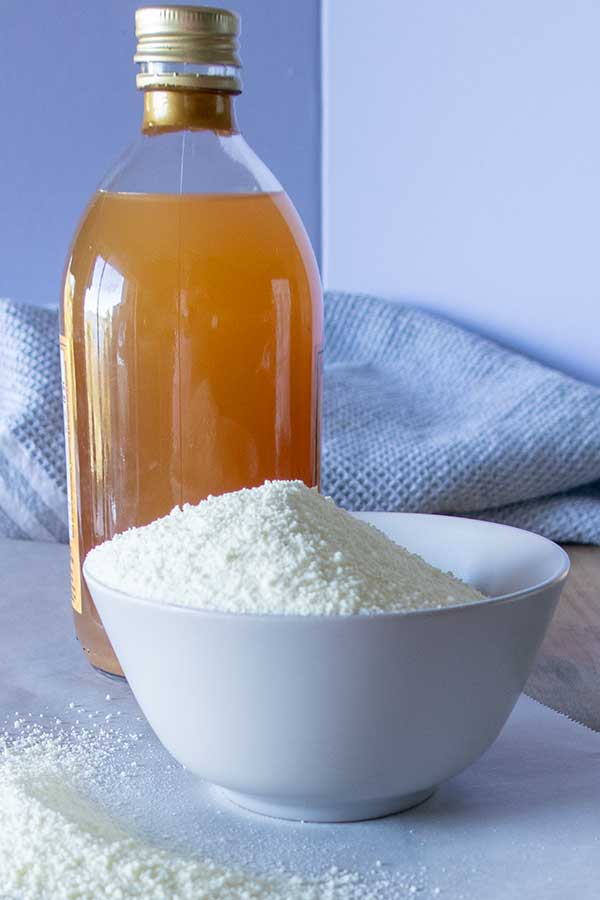 Why does apple cider vinegar help the bread dough rise?
Yeast likes an acidic environment, so the vinegar will stimulate the yeast making it more active. However, an alkaline environment is not suitable for yeast. Vinegar also helps to strengthen dough, giving the bread a springy texture the way regular bread is.
Here are our 3 favorite gluten free bread recipes.
Why is dry milk essential to add to gluten free bread recipes?
Dry milk will result in the bread in a more tender texture, adds a smoother and more mellow flavour, and it will help the bread rise significantly higher.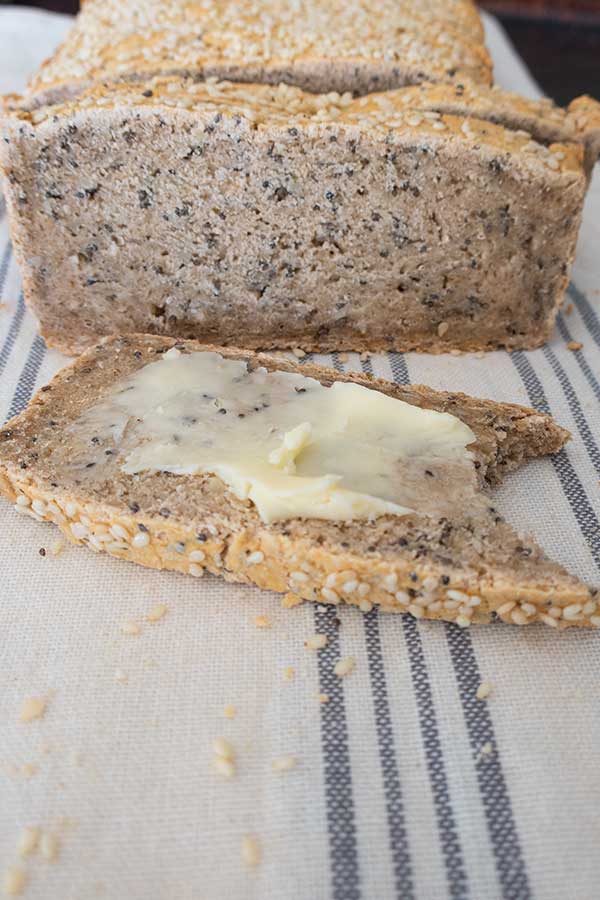 Why did my gluten free bread collapse?
The bread dough has expanded too much. This means that the yeast in the bread has exhausted itself. So when you bake the bread, the dough cannot rise anymore because the yeast cannot produce any more gasses. This makes the bread slightly collapse.
Another reason is if the bread isn't fully baked. Once you take it out of the oven and the bread starts to cool, it will collapse. This applies to most gluten-free baked goods.
I would like to note that this bread is not soft and light. It is a denser bread and makes excellent healthy sandwiches. You can add avocado, tomatoes, lettuce, onions…whatever your heart desires. My favourite filling is a healthy salmon spread.
To create a good grain-free and nut-free bread wasn't easy. However, if you have to follow a grain and nut-free diet, you will enjoy this delicious hearty bread.
Let's Connect!
Be sure to FOLLOW US on FACEBOOK and PINTEREST. And don't forget to sign up for our newsletter. We always have something new and exciting for you!
Many thanks!
Kristina xx
Cassava Bread (Grain-Free, Nut-Free)
Published on Sep 26, 2020
by
Kristina Stosek
Instructions
1.

In a medium bowl, combine water with maple syrup and then add the yeast. Proof for about 10 minutes until the yeast bubbles.

2.

Meanwhile, whisk together cassava flour, arrowroot flour, chia seeds, sesame seeds, psyllium husk, baking soda, salt and cream of tartar.

3.

Beat the eggs with olive oil and apple cider vinegar and stir into the ready yeast mixture. Add to dry ingredients and mix until you form a smooth dough.

4.

Line a loaf pan with parchment paper or oil and dust with flour, and transfer the dough into the pan. Smooth the top and sprinkle with sesame seeds, pressing them lightly into the dough. Loosely cover with plastic wrap and place the pan in a warm place for the dough to rise. This should take about 60 minutes, and the dough will rise by about 30%. To create a warm place for the dough to rise, preheat the oven on low heat for 4 minutes, then turn the oven off. Place the pan in the oven.

5.

When the dough is ready, remove the pan from the oven and preheat the oven to 350 F

6.

Bake the bread for 35 - 40 minutes. The bread should be firm to touch and a golden colour. When done baking immediately, take the bread out of the pan and place on a rack to cool.
Leave a Comment
Kristina
Wonderful, thank you for sharing Judy xx
Made today, looked just the pic. Nice and chewy, rustic te ture. Gam said they wouldnt know it's gluten free. Skipped the psyllium husk as did not have. Thanks for the recipe, will make again!
Kristina
Danielle, the dough should absorb the liquids once it rises
Hi, I just did the dough and its very liquid I followed the recipe totally very liquid no way to shape it! Is this dough meant to be so liquid?
Kristina
Claire, eggs are what keep this bread light. You may try flax eggs and add 2 teaspoons of baking powder. However, the bread will be heavier and denser.
I am vegan. Is there a sub for eggs. I have seen aquafaba used.
Kristina
thank you Donna for sharing! K xx
I'm making this recipe without salt added and the taste is excellent. the first time I made it I knew I was hooked. this was my third loaf and I used garlic olive oil. better than any I have tried. salt free and gluten free. I just subscribed to GLUTEN FREE ONLY
This bread is awesome. I will be making this always for my sandwich bread. Thank you for this amazing recipe.
Kristina
Beth, you can skip the milk powder and use oat or cashew milk powder. Or, you can skip it and add 1 extra teaspoon of olive oil. The milk powder improves the texture.
Is there any way to make this bread dairy free? Is there a sub for the dry milk powder? It seems like such a good recipe, but we need it to be dairy free. Thank you.
Kristina
yes Louise, absolutely. The hemp seeds are super healthy, so a good addition to this cassava bread. The only thing that will change slightly is the flavour. The texture should remain the same
Hi, can I substitute hemp seeds for the sesame seeds (allergic). I would really like to make this recipe, but need to either leave them out altogether, or substitute. Please advise. Thank you.