Gluten-Free Homemade Italian Bread
Published on Jun 05, 2021
by
Kristina Stosek
Prep Time:

10 + rising minutes
Cook Time:

30 minutes
Serves:

2 loaves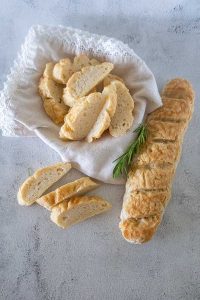 ​This post may contain affiliate links, please see our
privacy policy
for details
Nothing beats freshly baked bread at home. This Gluten-Free Italian Bread is a thin crusted loaf with a moist and absorbent texture. It is excellent for soaking up delicious olive oil with balsamic vinegar or making bruschetta.
In Italy, bread is essential to almost every meal. The bread is made with wet dough and is baked in a flatter shaped baguette-style looking bread. Sometimes the bread has a round shape.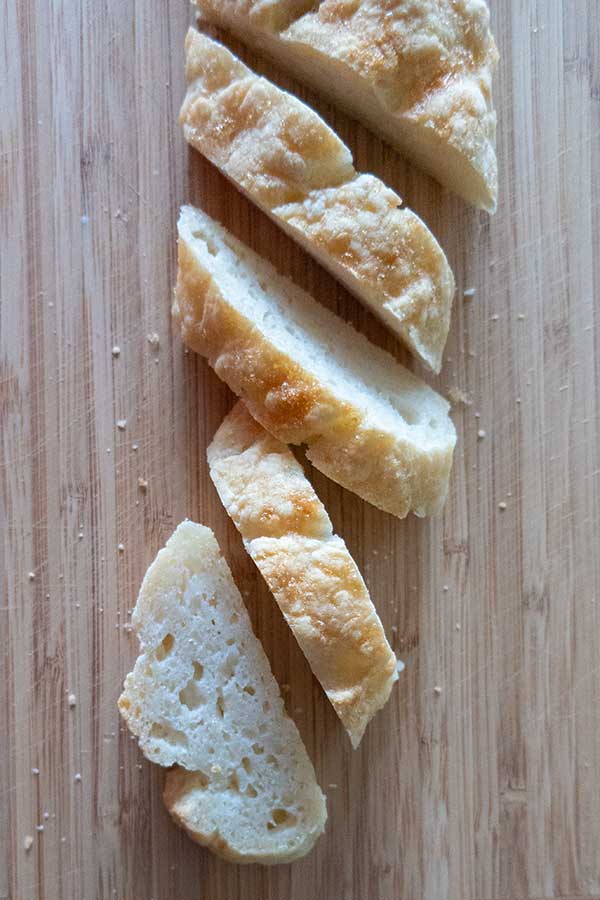 Italian bread is leavened with yeast, which needs to rise over a few hours. This will give the Italian bread a thin crust with a highly absorbent texture.
This gluten-free homemade Italian bread recipe is super easy to make but takes time. You can't rush the process of rising.
I used a combination of carefully measured flours and starches in this gluten-free Italian bread recipe to get just the right texture and a perfect crust.
Check out our other popular bread recipes, the gluten-free French baguette or the gluten-free Mediterranean olive bread.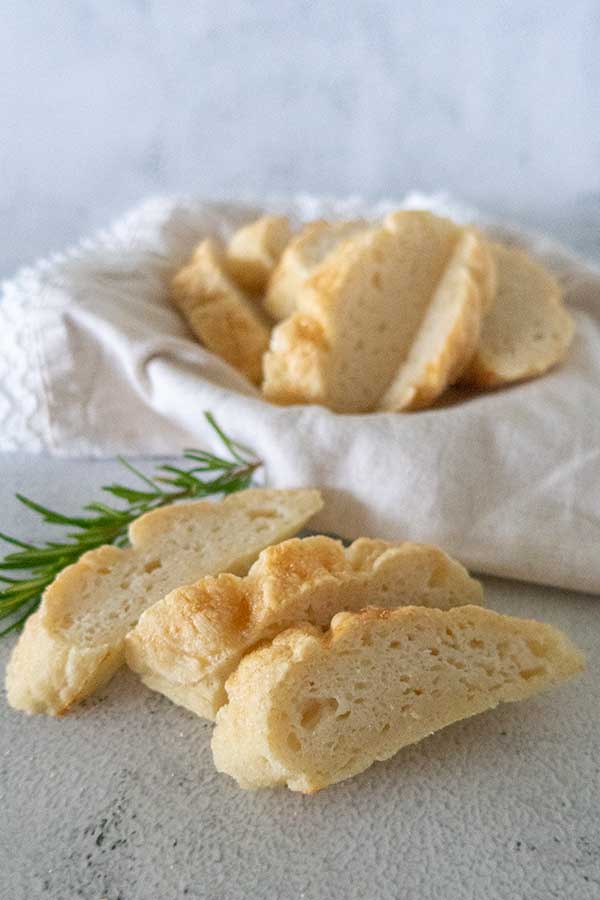 Measuring flour correctly is essential. The best way to measure flour is by using a scale. However, you can also use cups and tablespoons if you use them correctly.
To measure flour using a cup, use a scooper to fill the cup and then level the flour off with a knife. Never dip the cup into the flour. By doing this, you will have more flour than the recipe requires, and the bread will be dry and crumbly.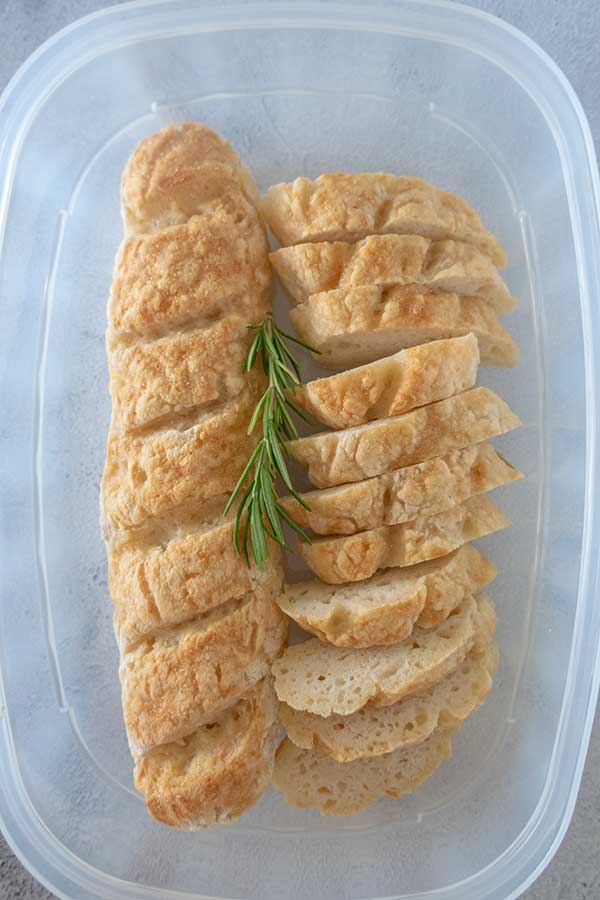 using various flours vs a gluten-free flour blend
I used a variation of flour and starches in this gluten-free Italian bread recipe. Yes, you can buy a gluten-free flour blend. However, different grains/flours blends absorb different amounts of liquid.
In this gluten-free bread recipe, getting the right combination of flour and starches is crucial for the best texture and crust that Italian bread has.
Some gluten-free flour blends are not recommended for yeast recipes.
If you decide to use gluten-free bread flour, make sure the flour is adequate for the Italian bread recipe.
arrowroot starch vs tapioca starch
You may have noticed that some recipes allow you to interchange arrowroot starch with tapioca starch. It would be best if you did not do it in this gluten-free bread recipe.
Arrowroot starch is very different from tapioca starch. This is because arrowroot comes from Maranta arundinacea plant, a herb and tapioca is from cassava root.
Although you can use tapioca starch, the bread will be denser and chewier. Therefore, I would not recommend using it in this gluten-free Italian bread recipe.
rapid-rise instant yeast vs active-dry yeast
For this gluten-free bread recipe, I used rapid-rise instant yeast. The yeast makes the recipe simpler with the same results. Rapid-rise instant yeast does not need to be proofed in warm water first because you can add it directly to dry ingredients.
The only difference between the two is the water temperature you use to activate the yeast. For the active-dry yeast, the water temperature should be 110°F – 115°F.
If yeast is added directly to the dry ingredients, water temperatures should be 120°F – 130°F
easy steps to make gluten-free Italian bread
You will love this recipe for its simplicity. To start, mix all the dry ingredients. Then add the warm water with olive oil, and using a spatula, mix to combine, creating a wet sticky dough.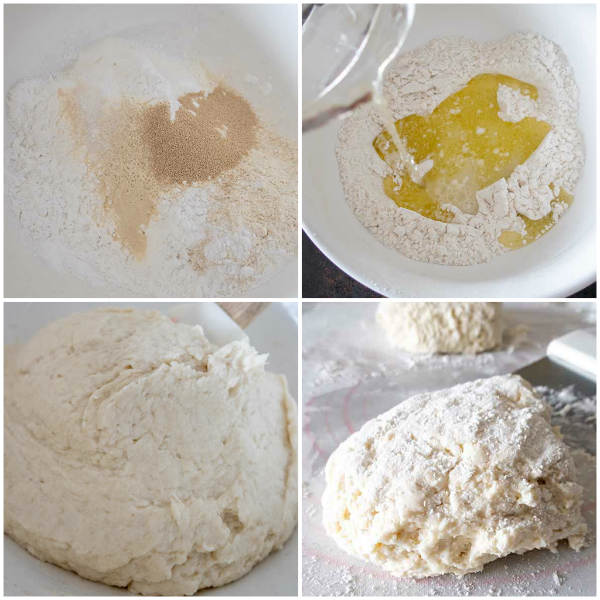 Allow the dough to rise for thirty minutes. This allows the flour to absorb the liquids making the dough easier to work with.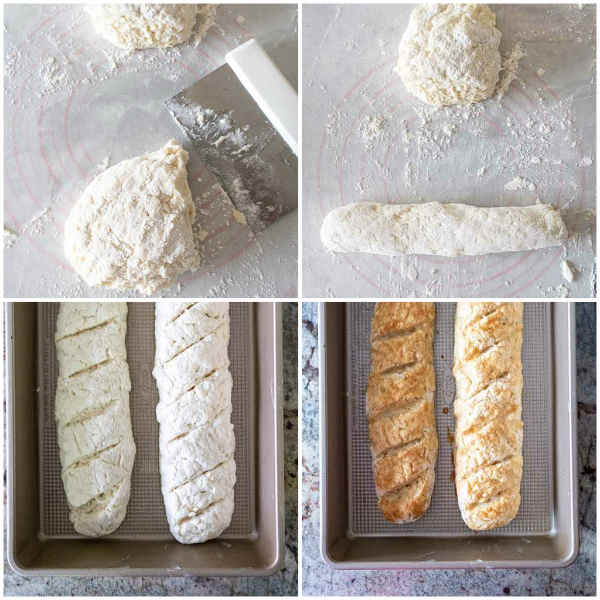 The dough is now shaped into two loaves. However, you can also make round Italian bread or rolls. You will have to adjust the baking time — a little more for the round bread and less for the rolls. You will know by the crust. It should be a light golden colour.
ways to serve Italian bread
The texture of this gluten-free Italian bread is perfect for dipping. I love a simple mix of balsamic vinegar and premium extra virgin olive oil. OMG, so good.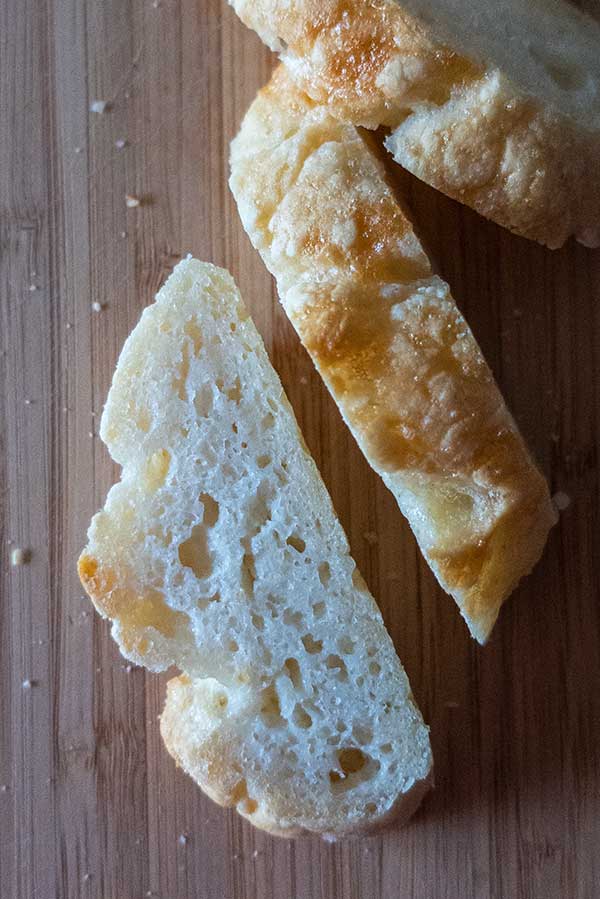 Or, you can make bruschetta, grilled cheese sandwiches, tapas, or serve with your favourite gluten-free Italian meal.
You can't beat a warm toasty homemade Italian bread straight out of the oven. And, the aroma, while it's baking, is the best. Enjoy!
Let's Connect!
Be sure to FOLLOW US on FACEBOOK and PINTEREST.
Many thanks!
Kristina xx
Gluten-Free Homemade Italian Bread
Published on Jun 05, 2021
by
Kristina Stosek
Instructions
1.

In a large bowl, whisk together the dry ingredients (rice flour to baking powder)

2.

Add warm water and oil to dry ingredients, and using a spatula, combine to form a wet, sticky dough. Adjust water if needed to get that texture. Use the spatula for kneading the dough until smooth. Leave in the bowl, cover with a towel and let rise in a warm place for 30 minutes

3.

After rising, the dough will have absorbed more liquid and will be easier to handle. Dust the dough with a little gluten-free flour and oil your hands to prevent the dough from sticking to you. Divide the dough into two portions and shape it into loaves on a lightly floured surface.

4.

Transfer the shaped dough to a greased baking pan. Slash diagonally across the top every couple of inches with a sharp knife. Loosely cover the pan with plastic wrap and let loaves rise in a warm place for 2 hours

5.

Preheat oven to 400 F and brush egg white over the top of loaves

6.

Bake 30 - 35 minutes until lightly golden. Turn the broiler on and broil until the crust turns a deep golden colour. About one minute

7.

Once the bread has cooled, store in an airtight container
Leave a Comment
Kristina
I am thrilled to heart that Anne, thank you for sharing
This bread came out fabulously. Made this morn..just ate 3 slices with homemade vegan cheese. Thank you from bottom of my heart! Delicious Italian gluten free vegan Win win
Kristina
we are working on it, thank you Mary
Could you please add grams to your recipes as GF recipes rely heavily on accurate weight measurements.