Gluten Free Portuguese Bread
Published on Aug 21, 2023
by
Kristina Stosek
Prep Time:

15 minutes
Cook Time:

70 minutes
Serves:

1 loaf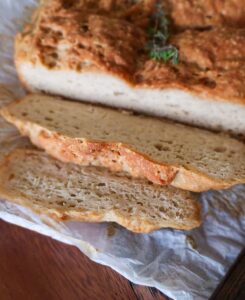 ​This post may contain affiliate links, please see our
privacy policy
for details
Gluten free Portuguese bread known as Pão de Mafra has a light crumb, chewy texture, and a thick crust. This delicious bread is egg-free, dairy-free, nut-free, and acceptable for a plant-based diet. Portuguese cuisine has a wide variety of bread with unique characteristics and flavors. However, this gluten free version of Pão de Mafra is one of their favorites.
How to make gluten free Portuguese bread?
To get the texture of gluten free Portuguese bread, you will need a carefully measured combination of flour and starch. This bread can't be made from all-purpose gluten free flour blend.
For best results, you should weigh the flour and starch. If you use the measuring cup method, fill the cups with a spoon, then level off with a knife. DO NOT dip the cup into the flour/starch.
Special equipment you will need
Electric stand mixer or electric hand mixer (I don't recommend doing it by hand, you will not get the same results)
9-inch round pan such as a springform pan or a 9-inch cast iron pot (you don't need a lid)
Prepare the pan or pot.
Take a large piece of parchment paper and wet it with warm water. Then squeeze any excess water and line your 9-inch pan or pot, including the sides.
Make the psyllium gel
Using a small bowl, whisk water with psyllium husk powder (not whole psyllium husk). Set aside. The mixture will become a thick gel.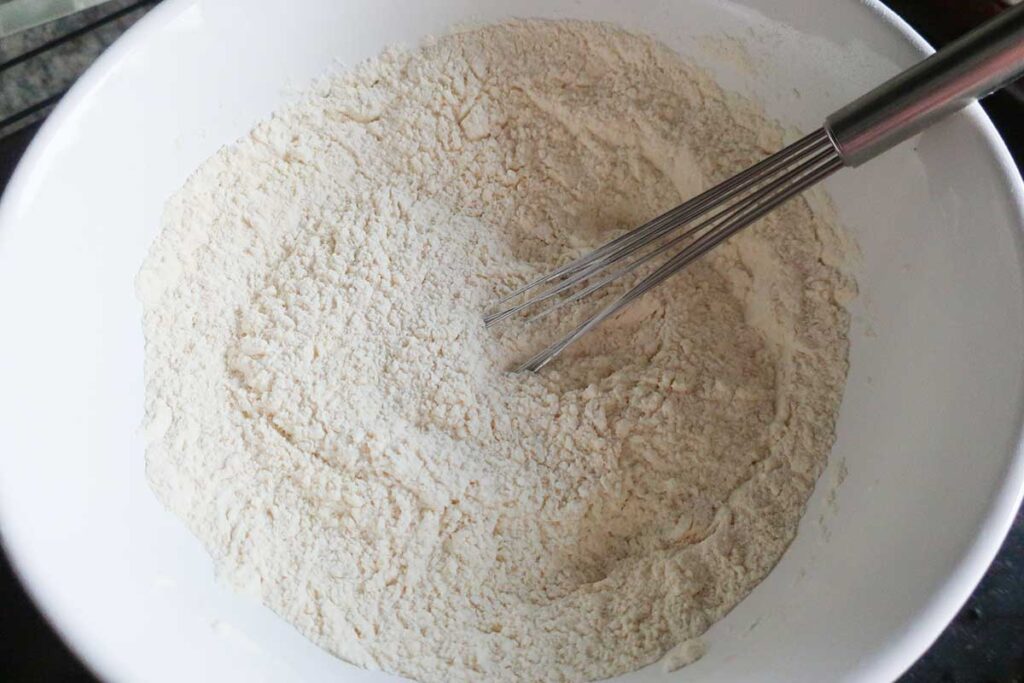 Whisk the dry ingredients
In a large mixing bowl, whisk dry ingredients. White rice flour, millet flour, potato flour, tapioca starch, potato starch, yeast, xanthan gum, sugar, baking soda, and salt.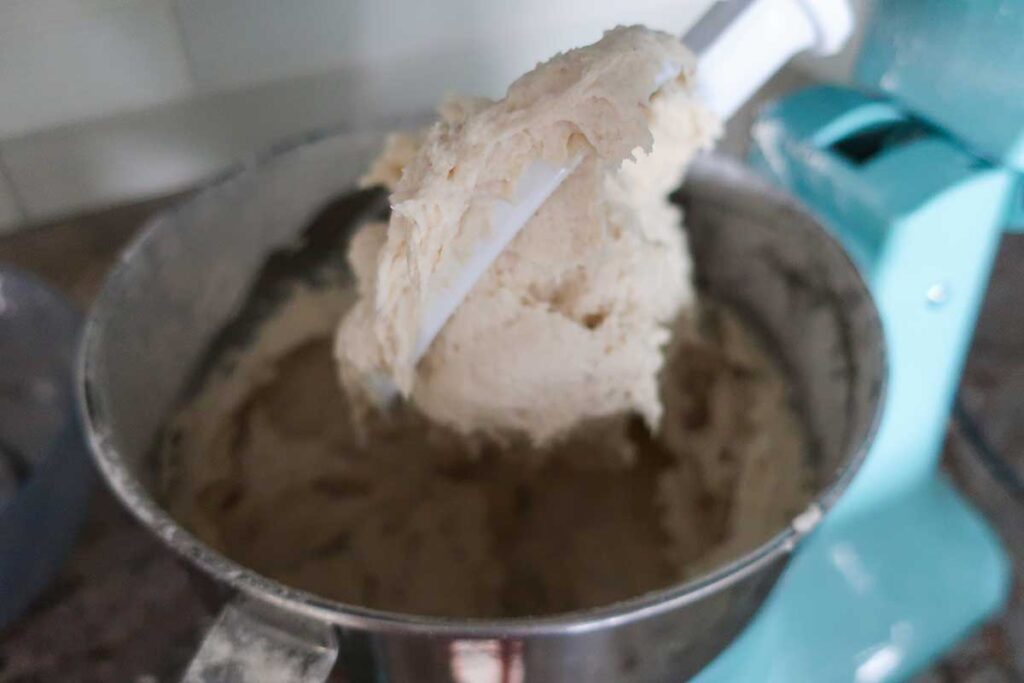 Prepare the wet mixture
Using a medium glass bowl, heat 2 1/2 cups of water in the microwave to 125 F. Whisk in olive oil, apple cider vinegar, and the psyllium gel mixture.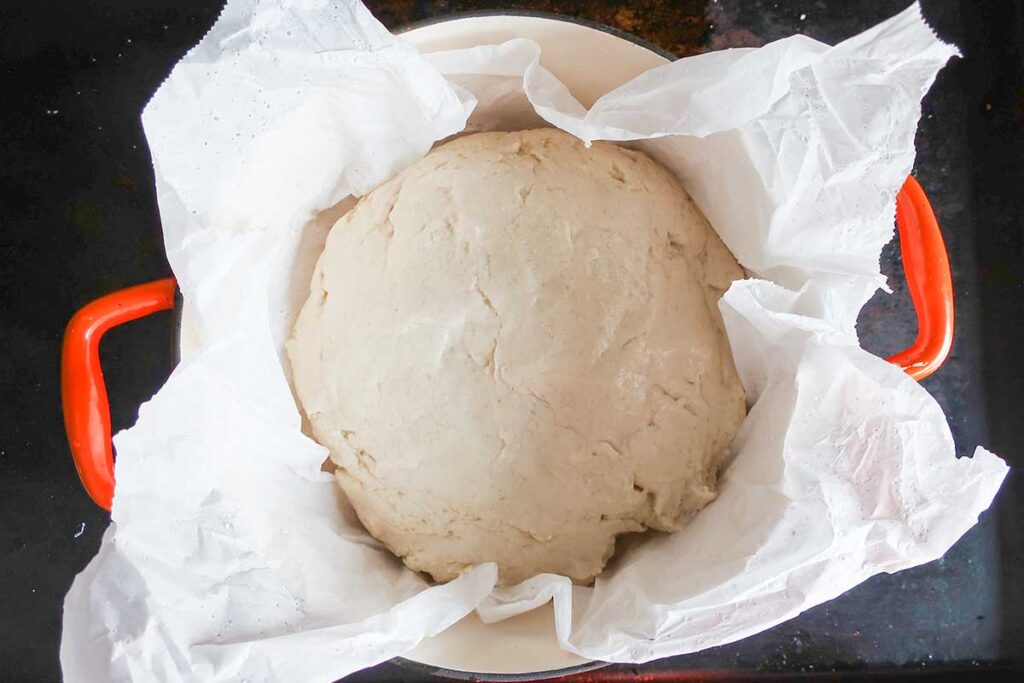 Mix dry ingredients with wet
Gradually add the wet mixture into the flour, and using a flat paddle, beat until smooth. About 3 – 4 minutes. Scraping sides as needed. The dough will be very sticky. Once the dough is formed, add about a tablespoon of oil to the bowl and coat the dough using a spatula with the oil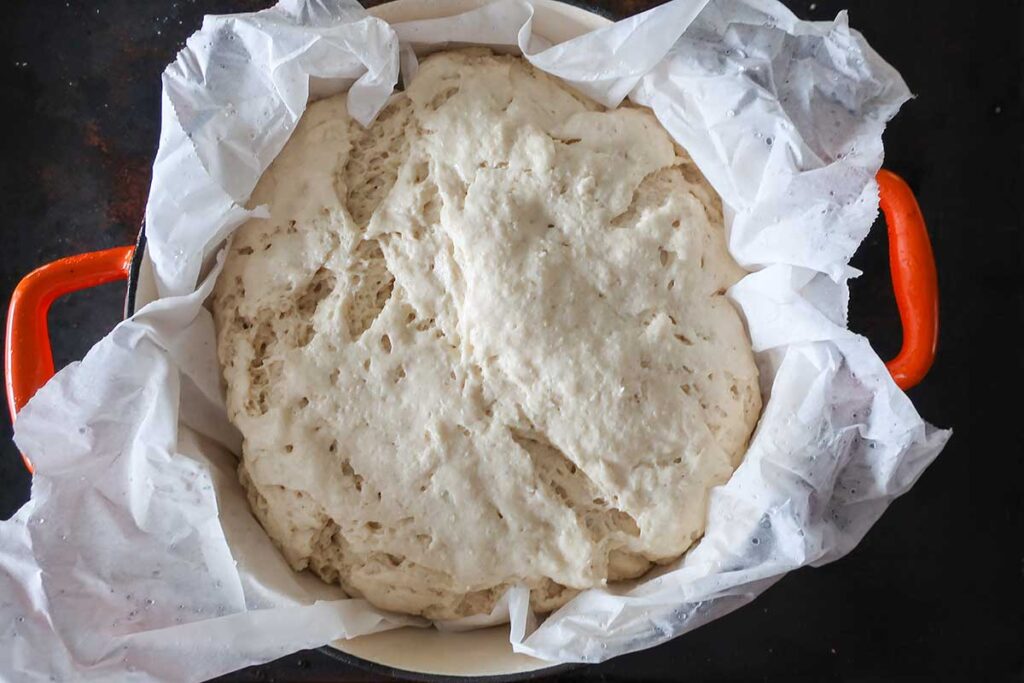 Proof the dough
Place the dough in the prepared pan/pot and lightly cover it with a damp towel. Place the pot in a slightly warm oven for 1 hour or until the dough rises to the top of the pan/pot. This method speeds up the time it takes for gluten-free bread to rise.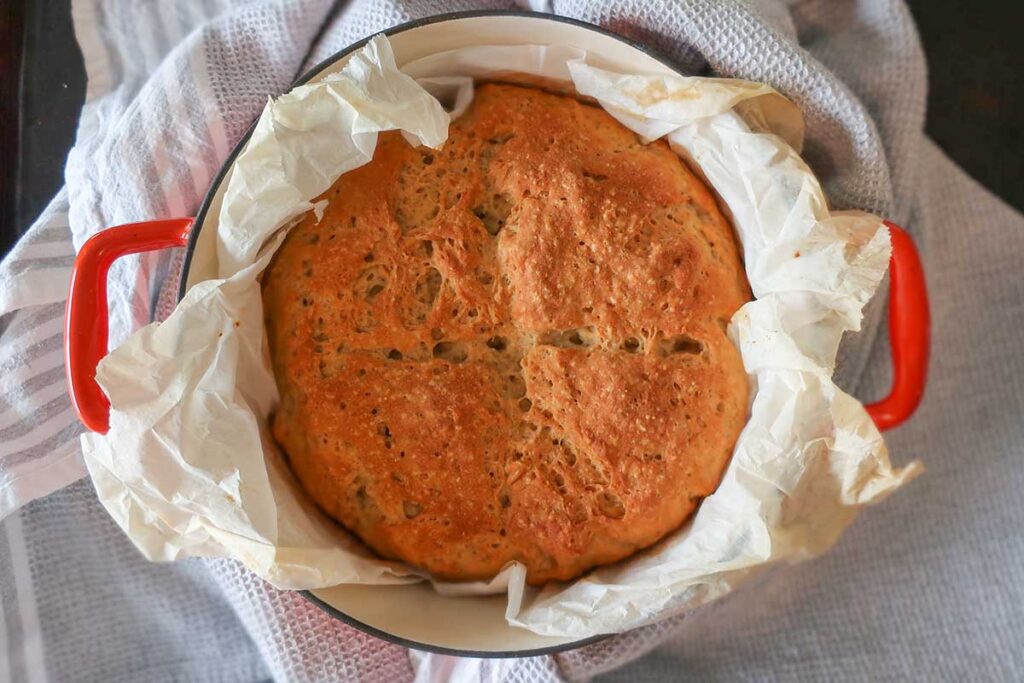 Bake the bread
Preheat the oven to 425 F and bake for 10 minutes. Then reduce the oven temperature to 375 F and continue baking for 50 – 60 minutes until the crust is dark brown. Your bread will keep its shape when it is completely baked.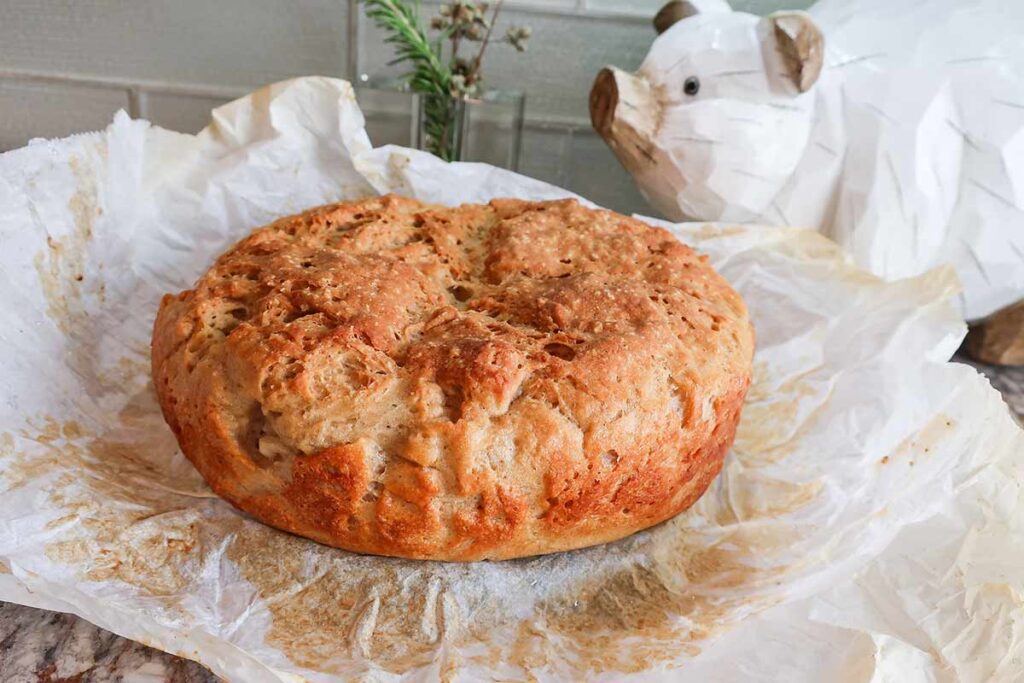 What should be the internal temperature of gluten free baked bread?
If you are unsure if the bread is done, use an instant-read thermometer by inserting it to the bottom without touching the pan. The temperature should be approximately 205-210º F when it is baked.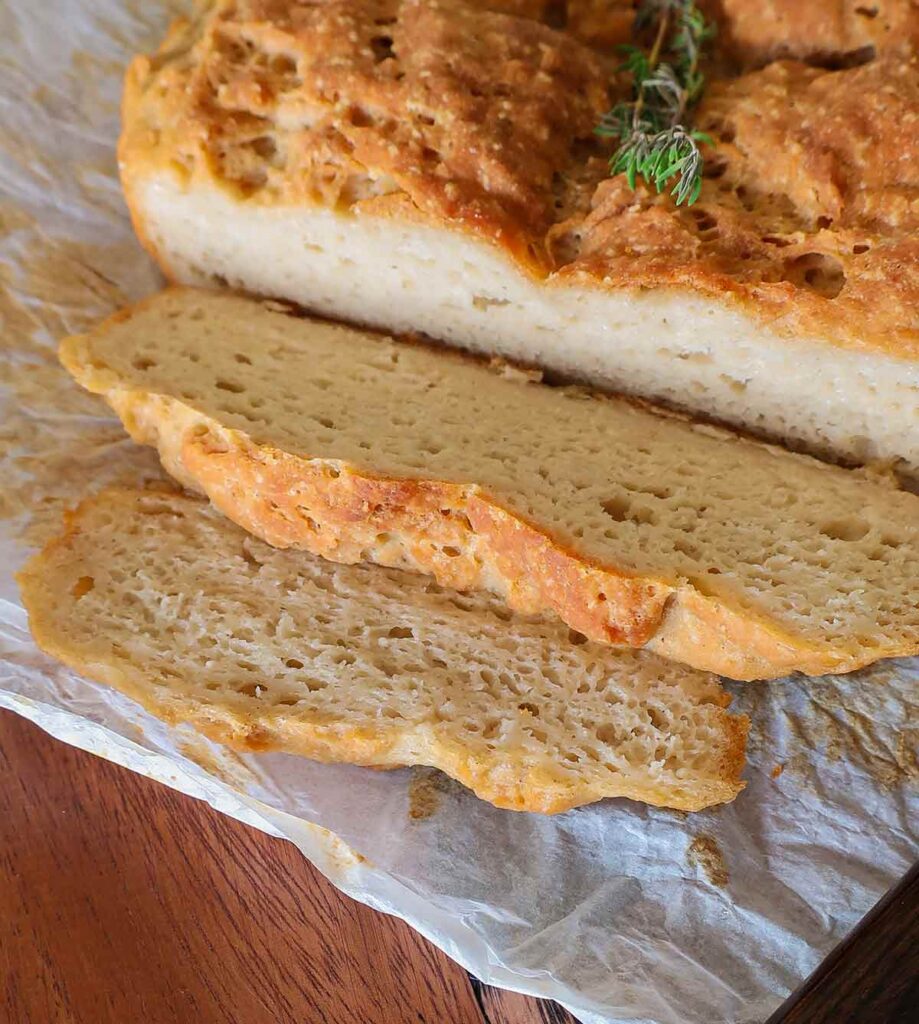 Serving suggestions for gluten free Portuguese bread
As a Side to Meals: Pão de Mafra can be served as a side accompaniment to a wide range of dishes, such as stews, soups, salads, grilled meats, and seafood. Its crusty exterior, and soft interior make it perfect for sopping up sauces or enjoying a hearty bowl of soup.
Sandwiches: Use slices of Pão de Mafra to make delicious sandwiches. You can create traditional Portuguese-style sandwiches with ham, cheese, sausage, and vegetables.
Toast and Toppings: Toast slices of gluten free Pão de Mafra and top them with spreads like butter, jam, honey, or Nutella for a simple and satisfying breakfast or snack.
Bruschetta: Slice the bread and toast or grill it lightly, then top it with diced tomatoes, fresh basil, garlic, olive oil, and a sprinkle of salt for a tasty bruschetta appetizer.
Cheese and Charcuterie Board: This Portuguese bread is an excellent addition to a cheese and charcuterie board. Pair it with various cheeses, cured meats, olives, and fruits for an impressive spread.
Dipping Oil: Cut the bread into slices or chunks and serve it with a dish of high-quality extra-virgin olive oil mixed with balsamic vinegar, garlic, herbs, and spices for dipping.
Traditional Portuguese Snacks: Try it with typical Portuguese accompaniments like olives, cured chorizo, or Portuguese-style sardines for a taste of Portuguese cuisine.
Open-Faced Sandwiches: Top toasted or grilled slices of Pão de Mafra with ingredients like avocado, smoked salmon, cream cheese, or poached eggs for an elegant open-faced sandwich.
Sweet Treats: While not traditional, you can also use it as the base for a bread pudding or French toast for a unique twist.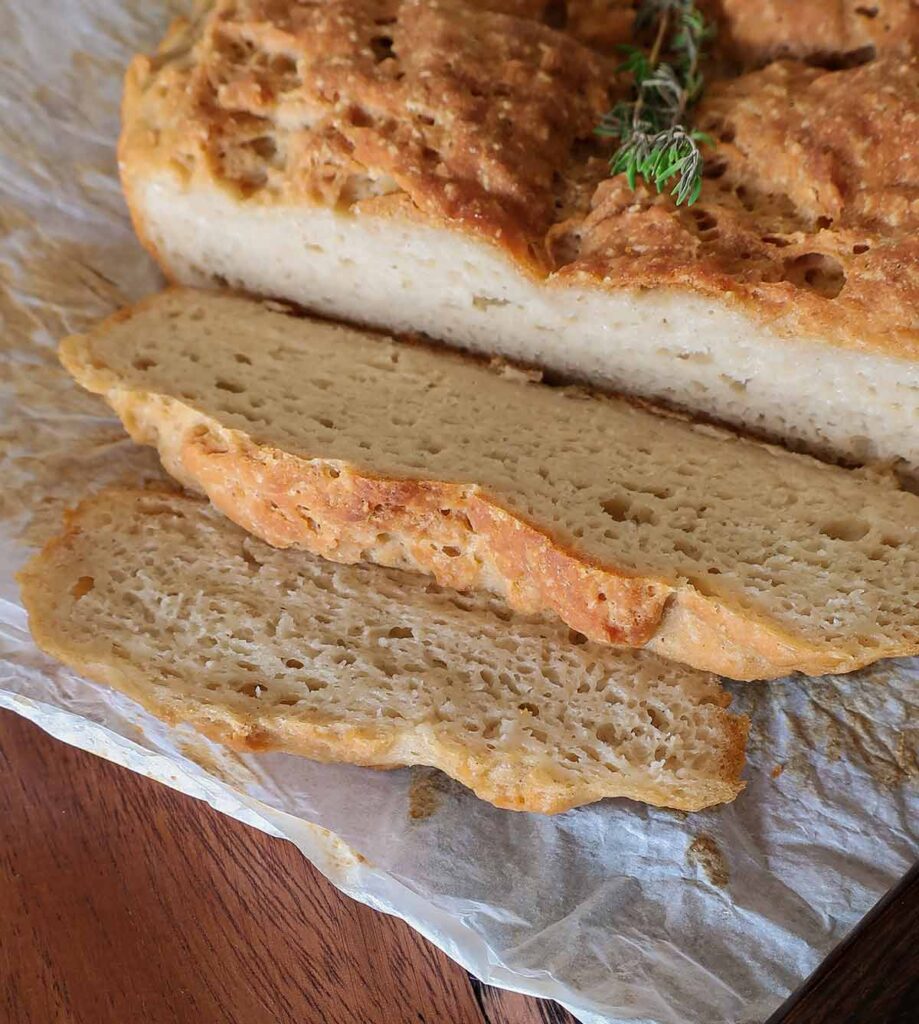 Exploring different types of gluten free bread can be an adventure, allowing you to discover new tastes and textures you may not have encountered before. Whether you're a bread enthusiast or simply looking for a new gluten free bread recipe, I recommend trying this gluten free Pão de Mafra.
Do you need another bread recipe? Check out our complete list of gluten free savory and sweet bread recipes.
Let's Connect!
Be sure to FOLLOW US on FACEBOOK and PINTEREST. And don't forget to sign up for our newsletter, the form is at the bottom of this page. We always have something new and exciting for you!
Many thanks!
Kristina xx
Gluten Free Portuguese Bread
Published on Aug 21, 2023
by
Kristina Stosek
Instructions
1.

Line a 9-inch springform pan or a cast iron pot with parchment paper. (see post on how to line the pan/pot)

2.

Using a small bowl, whisk 3/4 cups water with psyllium husk powder. Set aside. The mixture will become a thick gel

3.

Add dry ingredients to your mixing bowl; Rice flour, millet flour, tapioca starch, potato flour, potato starch, sugar, xanthan gum, yeast, salt and baking soda

4.

In a medium bowl, whisk together 2 1/2 cups warm water, olive oil, vinegar, and psyllium husk gel mixture

5.

Gradually add the wet mixture to the dry ingredients, and using a flat paddle, beat until smooth. About 3 - 4 minutes. Scraping sides and bottom as needed. The dough will be very sticky. Once the dough is formed, add about a tablespoon of oil to the bowl and, using a spatula, coat the dough with the oil

6.

Place the dough in the prepared pan/pot and lightly cover it with a damp towel. Place the pot in a slightly warm oven for 1 hour or until the dough rises to the top of the pan/pot. (See photo in the post)

7.

Meanwhile, preheat the oven to 425 F

8.

Bake the bread for 10 minutes, then reduce the oven temperature to 375 F and continue baking for 50 - 60 minutes, until the crust is dark brown or the internal temperature of the bread is 205 - 210 F. (See post on how to measure bread temperature)

9.

Lift the bread out of the pan/pot using the parchment paper and cool completely before slicing