Gluten Free German Potato Bread
Published on Feb 05, 2023
by
Kristina Stosek
Prep Time:

15 minutes
Cook Time:

60 minutes
Serves:

1 loaf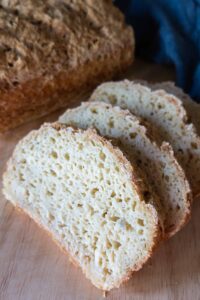 ​This post may contain affiliate links, please see our
privacy policy
for details
This gluten free German potato bread is hearty and firm with a good crust and tender, moist crumb. So whether you are looking to make sandwiches or toast in the morning, German potato bread is one recipe to try.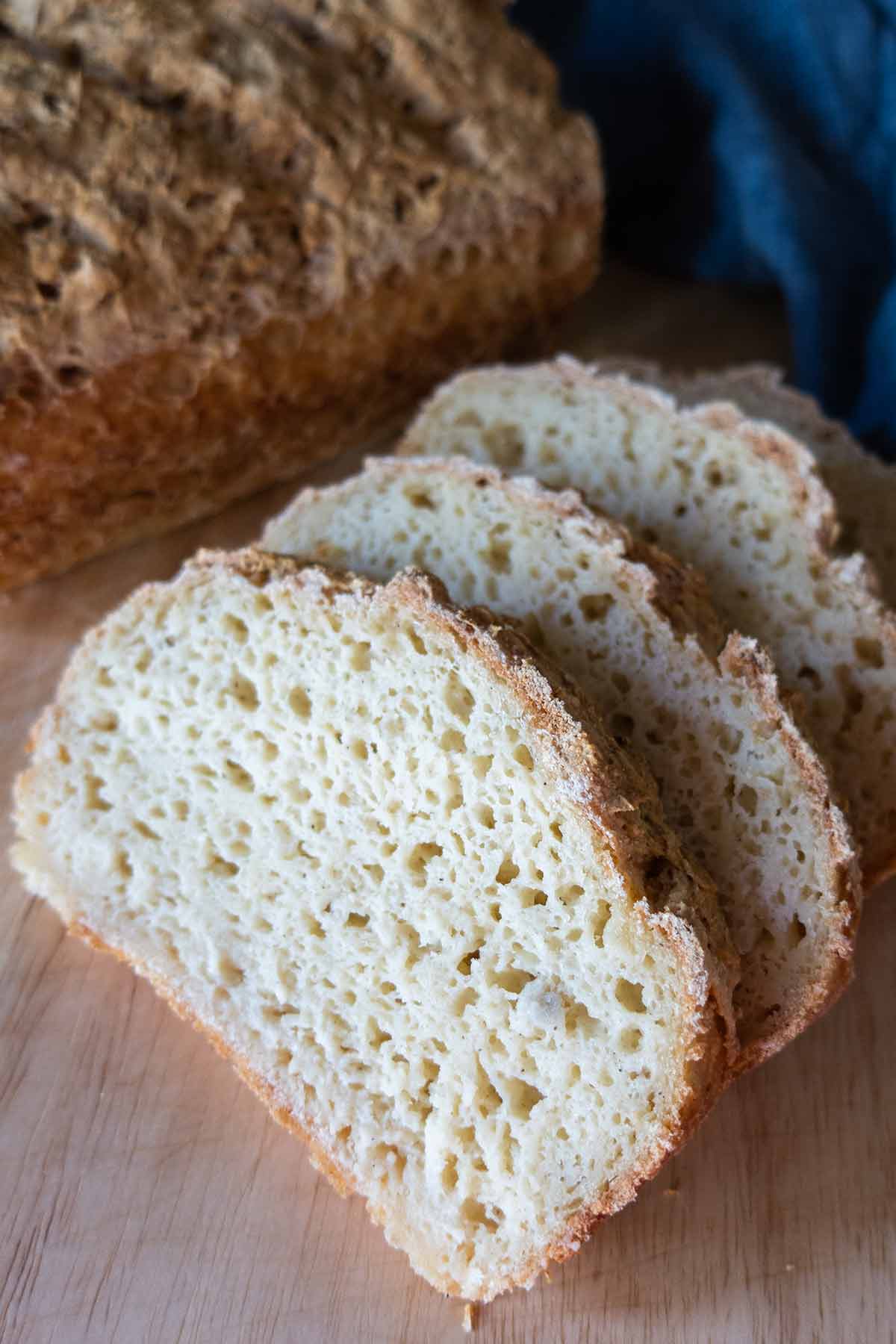 What is German potato bread?
German potato bread is a type of bread that is made with potatoes. It is a popular bread in Germany and many other countries. The bread is typically made with freshly cooked white potatoes mashed and added to the bread dough.
However, the recipe can also be made with sweet potatoes or other types of potatoes. The bread is usually baked in a loaf shape but can also be made into rolls or buns.
In Germany, potato bread is often served with soup or a hearty stew. Or for making delicious sandwiches.
Why add potatoes to gluten free bread recipe?
There are many reasons to add potatoes to bread recipes. Potatoes add moisture and heartiness to bread, which is especially helpful in gluten-free recipes. They also add fiber and nutritional value, including vitamins and minerals. Additionally, potatoes can help extend the shelf life of bread.
Best potatoes for bread dough?
Many different types of potatoes can be used for making bread, but some are better than others. For the best results, choose a potato high in starch and has a dry, mealy texture.
The best potatoes for making bread include Russet, Burbank, and Yukon Gold. These potatoes have a high starch content and will produce moist and firm bread.
Avoid using waxy potatoes such as red potatoes or new potatoes, as they will not give the bread texture the same results.
What is the texture of german potato bread?
Since traditional German potato bread is made with potatoes, the texture is dense and moist, with a perfect crust.
What to serve with German potato bread?
There are many delicious things that you can serve with German potato bread. One excellent option is to slice the bread and top it with fresh ham and Swiss cheese.
Another tasty option is to spread some honey mustard on the bread and then top it with slices of grilled chicken breast. In our home, we love potato bread with hot hearty soups such as Hungarian goulash.
Tools you will need to make German potato bread
1 small pot
potato masher or a fork
2 large bowls
measuring cups and spoons
electric mixer
parchment paper
3 steps to make potato bread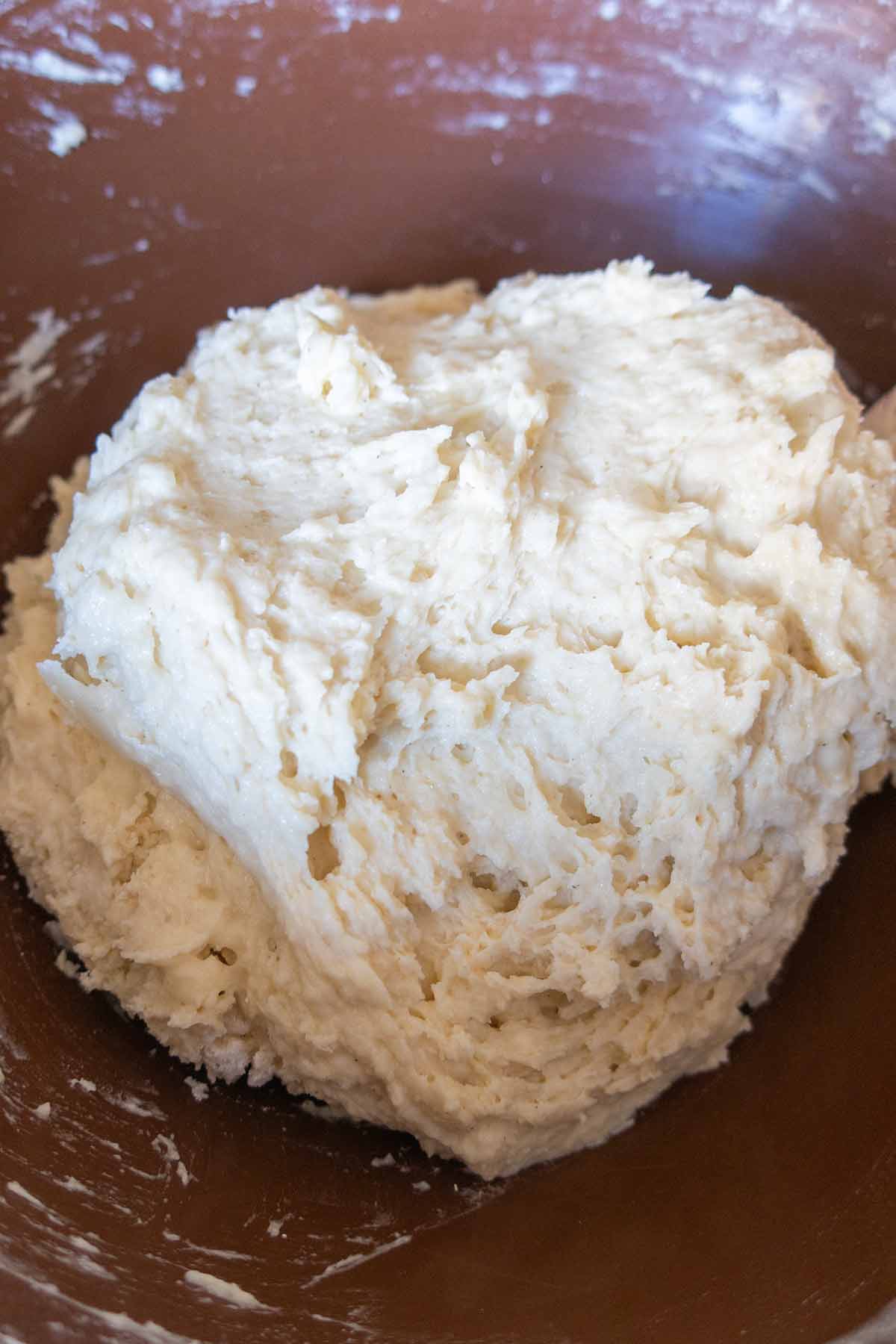 Mix mashed potatoes with wet liquids, then add dry ingredients and mix to combine. The gluten free bread dough will be sticky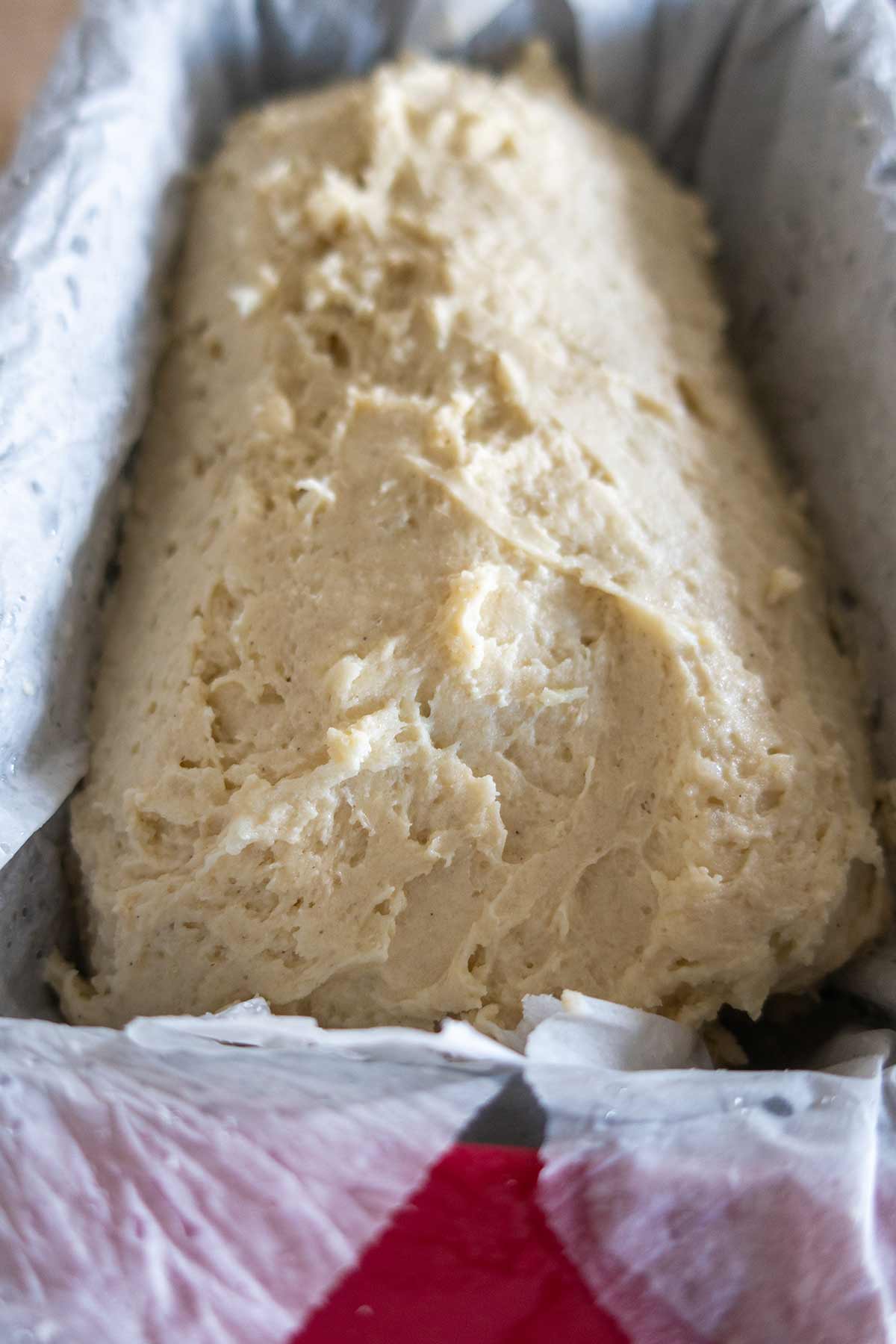 Transfer potato bread dough into a lined loaf pan and shape to give it a round top. Allow the dough to rise for ninety minutes in a warm oven.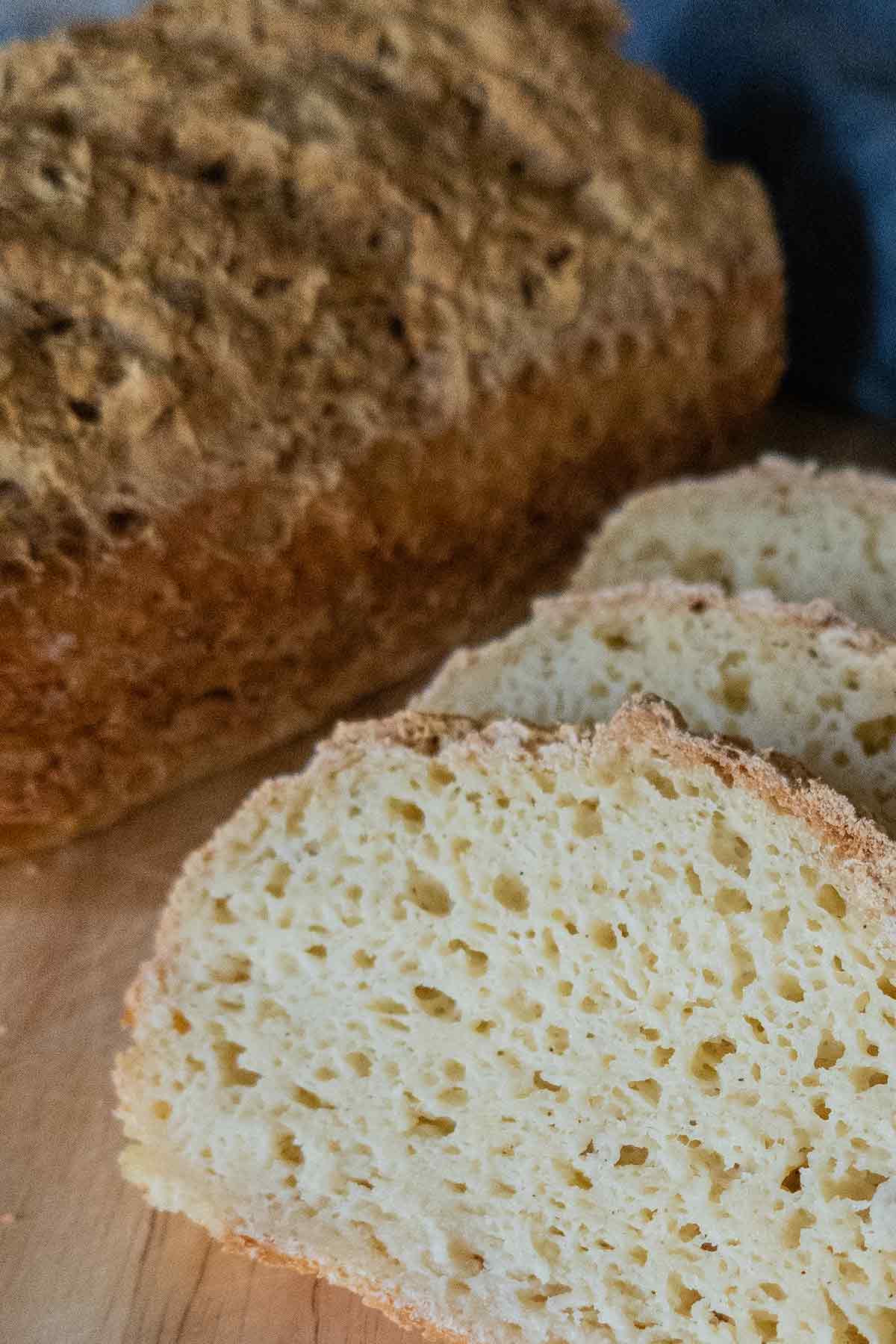 Bake until the bread forms a dark brown crust.
storing
When storing gluten free German potato bread, there are a few things to keep in mind. First, this bread is best stored in a cool, dry place.
If you're going to be storing it for more than a day or two, wrap it in foil or plastic wrap to help keep it fresh and store it in the refrigerator.
Lastly, this bread can be frozen for up to 3 months – just make sure to wrap it well before freezing!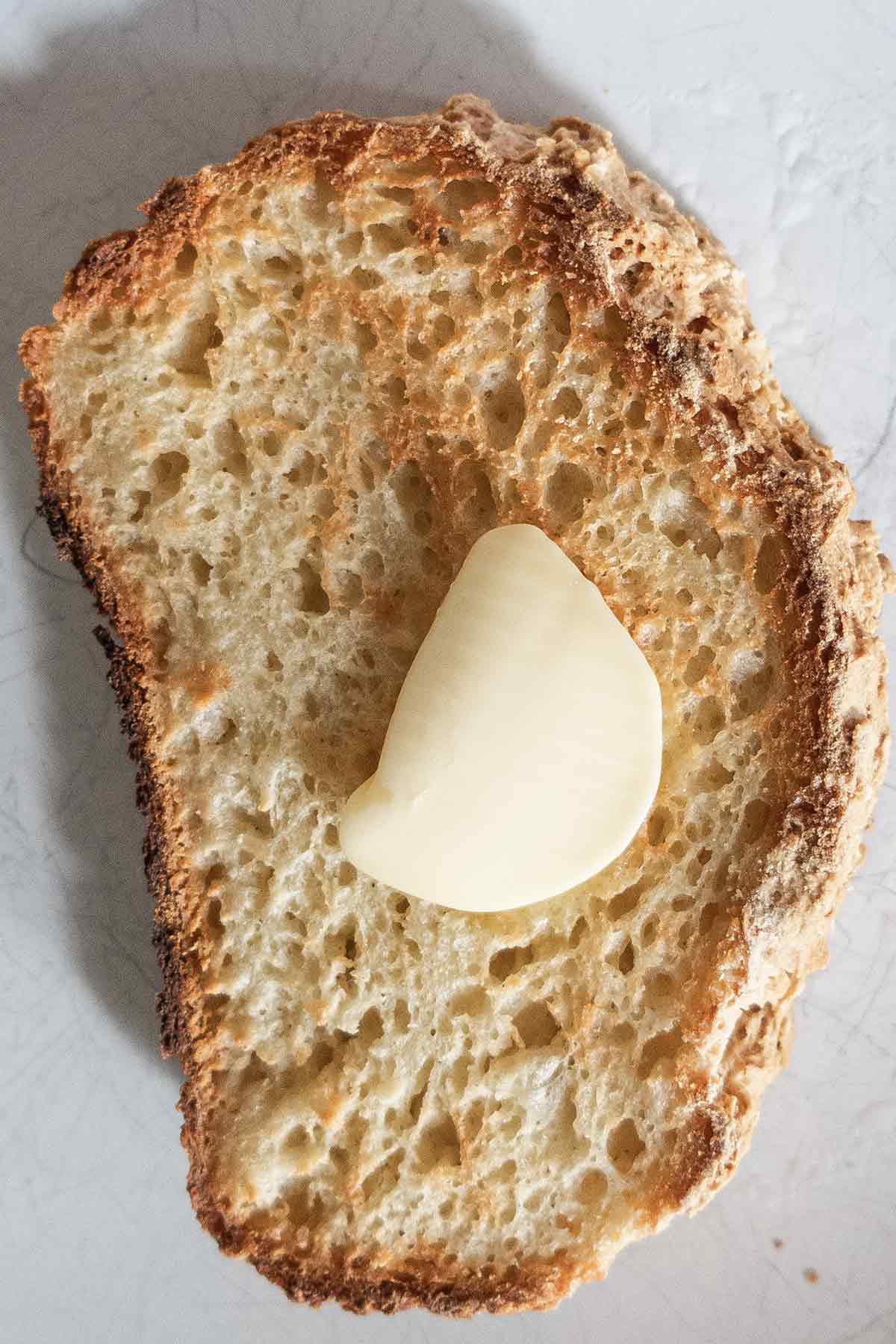 the takeaways
1. German Potato Bread is a delicious, gluten-free option for people with celiac disease or gluten intolerance.
2. This bread is made with mashed potatoes, tapioca flour, and a gluten free flour blend.
3. German Potato Bread is also dairy-free, making it a great choice for people sensitive to dairy.
4. This bread makes excellent hearty sandwiches.
5. The sliced bread toasts well, you will need to toast it twice for perfect texture.
If you enjoy a firm bread with a good crust, this gluten free German Potato Bread is one worth trying. If you need more bread recipes, check out our complete list of gluten free bread recipes.
Gluten Free German Potato Bread
Published on Feb 05, 2023
by
Kristina Stosek
Instructions
1.

Line a bread loaf pan with parchment paper

2.

Cook the potatoes in 2 cups of unsalted water. Once tender, drain the potatoes and save the potato water. Mash the potatoes until smooth and then cool

3.

In a large bowl, using an electric mixer, mix 3/4 cup of cooled mashed potatoes with eggs until smooth. Add olive oil and apple cider vinegar, sweetener and while the mixer is running slowly pour in 1 cup of warm potato water and mix until smooth. The potato water should be about 85 F. Warm to the touch but not hot

4.

In a separate bowl, whisk together flour, starch, baking powder, yeast and salt

5.

Add dry ingredients to liquids and, using a spatula, mix to combine. The dough should be very sticky. If it is to firm add more potato water as needed.

6.

Transfer the dough to the loaf pan and shape the top of the dough to have a round top. If you like the crust to be smooth, wet your hands with water and smooth the top. I kept the top rustic looking.

7.

Cover the pan with a damp cloth and place it in a warm oven (80 F) to rise for 90 minutes. To get the oven to about 80 F, preheat the oven at 350 F for 5 minutes and then turn the oven off. The warm oven will give the bread a better rise

8.

Once the dough is about 1 1/2 times its size, remove the pan from the oven

9.

Place a small pan with water on the lower rack of the oven and preheat the oven to 400 F

10.

Score the top of the loaf and bake for 60 - 70 minutes, until it forms a dark brown crust.

11.

Remove from the oven and cool on a wired rack.

12.

*we have adjusted the potato water measurement
Leave a Comment
Kristina
thank you Holly for sharing, xx
If I could leave 10 stars I would! This is not just the tastiest gluten free bread but the tastiest bread (gluten or non gluten) I have ever made! Moist of soft and so flavorful and best part it was made in one day and very simple bread recipe. I proofed the yeast first was my only deviation from the recipe and used honey as my sweetener. Thank you so much for sharing this recipe, it will be a new staple in our home:)
Kristina
thank you Alice for sharing!
I really like this bread, I used corn starch, and it works well. I need to proof it better, the oven was not warm enough. It's the best gluten free bread I have tasted so far. I will make it often. ty
Kristina
it may work, but I have not used that flour so I can't confirm if it will work, sorry Marilyn
I can't get that flour, wondering if Doves bread flour would be ok ? I'm in Scotland. Thanks x
This bread will become I staple in my house I'm sure. I read the comments before starting the recipe. When it came time to add the water, I started with 1/2 cup and added more slowly as needed. I ended up using about 3/4 cup total. While baking the top started getting dark so I tented the top with a piece of foil.
finally a bread my husband loves!!!!
Kristina
Janelle, couple of things. Maybe the bread needed longer baking time? Some ovens vary in temperatures. The dough should be wet, if you feel it is too wet you can add 2 tablespoons of starch.
My dough was very wet. I don't know if I measured wrong or what. Debated about adding more flour or starch. I have been making GF bread for a while and know some are more of a batter. The bread is a bit inverted and a bit gummy. But nice texture. I will try again but would appreciate any pointers.
Dear Kristina, Again thanks for the recipe I made the recipe again with less water. The rise was not the same only double not 1-1/2. I'm sure it's good. For myself I'm going to add a little more water. It's a touchy thing but makes a difference I can see. Again love the recipe! Happy cooking! Regards Lucie
Kristina
Lucie first, thank you, I am so happy to hear that you love the bread. As far as the sweetener it is included in #3 under instructions.
In the recipe it does not say to add the sweetener just for FYI. Love this bread! Thanks Lucie
Kristina
Diane, we have used the flour and it worked, however, we have changed the link to another flour to keep it less confusing. Thank you
Hi! I was excited to try this recipe it sounds wonderful. However, I used the attached link for the gluten free flour recommendation. Once I started measuring out the ingredients I realized this flour is not recommended for yeast recipes. I'm curious if anyone used this flour and had success with it? Thanks!
Kristina
Kyle, how much potato water did you add?
I was hesitant with the potato water, but adding just 1 CUP was not enough for my dough. The rise was good for gluten free bread, and the texture was perfect. I think maybe some people add all the potato water and that is why the dough is too thin. Love the bread!
I followed this and the dough was like a thick soup or quick bread dough. If I try it again, I will reduce the potato water.
Well the mixing following the recipe seems to have turned out just fine for me. Will see how it rises.
Kristina
Amy, I suggest starting with 1 cup of potato water, (I will add a note in the recipe), and if the dough is too firm slowly add more water as needed. We used 1 1/4 cups, and it worked well. Sometimes using a different flour blend may change the dough consistency. The dough should be very sticky, not firm.
Could the amount of potato water please be clarified? I added one and one quarter cups and it was clearly too much liquid. I'm disappointed and also excited to try it again with the correct amount of liquid. Thanks!
Please could you tell me if this is with GF bread flour or GF plain flour?
Kristina
Anu, this is a denser bread and the eggs play a big part in this recipe giving the bread a good texture. You could try and replace the eggs with flax eggs and add a 1/2 teaspoon of baking soda. However, I have not tried this version so i don't know how the potato bread will turn out. If you do replace the eggs, please let us know how the bread tastes.
Bread looks so yummy, what can I use in place of eggs? (Allergic) Thanks
I made this bread last night it was a big hit. My husband is German and celiac and he said that this is the first bread that reminds him of the bread her grew up with. This morning I toasted it for him (yes double toasted), omg it is sooooooo good, thank you so much for creating this recipe. Oh, and I love your German apple cake, I bake it every Sunday.
Kristina
Stephanie, how many cups of potato water did you add?
This recipe just is not correct. Approx three cups of dry to to almost two cups of liquid the result is a thick soup like dough. So disappointed.
Kristina
Sorry Sheryl, I have not tried the bread maker version. If you do make it in the bread maker, please let us know how the bread turned out. Thank you.
Could you make this in a bread maker with gluten option?? Many thanks
the bread turned out delicious with a good texture
Kristina
In the recipe it says add 3/4 cup mashed potatoes Deborah, thank you.
Since all potatoes are vary in size, approximately what is the amount in cups of mashed potatoes do you use? This looks wonderful.
Kristina
It is measure for measure gluten free flour Claire, the link should be working now. Not bread flour. Sorry.
Is this GF bread flour or GF plain flour please?
Kristina
We have updated the link Pooja, thank you for letting us know.
Kristina
I have not tried to use a flax egg or powdered egg replacer for this recipe, so I don't know if it will work Catherine. The eggs keep the bread light. If you do try the recipe with egg replacer please let us know how the bread turns out, thank you!
Can you substitute eggs with something else for a vegan potato bread?
Hi, The link for the gluten free flour blend isn't active in the list of ingredients. Could you please update the link so that we can see the brand you use? Thanks!