Instant Pot Pork And Sauerkraut {Keto, Paleo, Gluten-Free}
Prep Time
10 Minutes
Difficulty
Easy
Cook Time
70 Minutes
Serves
4 - 6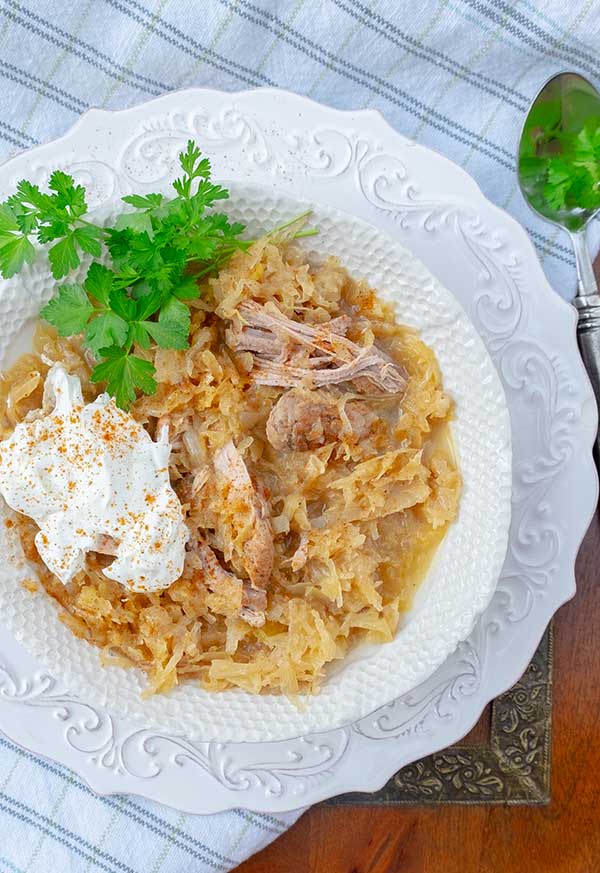 Be the first to rate this recipe.
Instant Pot is a huge time saver when it comes to recipes that normally take 4 hours or more to cook. This is why this pork and sauerkraut dish is a perfect choice for an instant pot. Ordinarily, this dish would take more than 6 hours to cook, this is why I chose to make it in an instant pot, and it is the easiest cooking method by far. For some reason, it also tastes better when cooked in an instant pot.
The pork is tender enough that you can shred it with a fork and the sauerkraut is flavoured with delicious pork broth. What I love about this naturally gluten-free recipe is, it is low in carbs, only about 5 net grams per serving, and it is also paleo friendly. Sauerkraut is low in calories and high in fiber both of which help with weight loss. On a side note, did you know that pressure-cooked vegetables may retain up to 90 percent of their vitamin C
Ingredients
1 lb. pork tenderloin, cut into 4 equal pieces
1 medium yellow onion, chopped
3 garlic cloves, chopped
1 Tbsp. GF paprika
1 tsp. GF caraway seeds
1 GF bay leaf
4 cups of water
Himalayan salt and GF ground black pepper to taste
Optional toppings: chopped parsley, yogurt, sour cream, cayenne pepper
Instructions
Generously season the pork with salt and pepper
Set Instant Pot to sauté. Add olive oil, once heated sear pot on both sides, about 3 minutes per side.
Remove the pork and add onions and garlic. Sauté for 5 minutes stirring frequently. Turn instant pot off. Add paprika, caraway seeds and bay leaf, stir to combine
Return pork back to the pot with sauerkraut and water. Do not add salt, the sauerkraut has plenty of salt, you can add more salt if needed at the end
Lock the lid with the valve in closed position. Set to manual, and set the timer to 60 minutes. Once done, turn the instant pot off and release steam naturally. Shred the pork with a fork and adjust seasoning if needed
Similar Recipes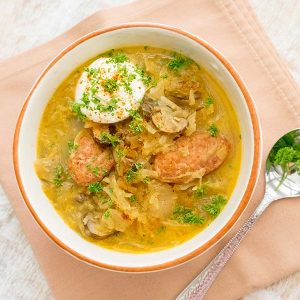 Sauerkraut Soup Recipe
This is the most delicious sauerkraut soup recipe. One of the best sauerkraut soups originates from Slovakia.  There are many versions of sauerkraut soup, but this one is by far the best one. Fermented sauerkraut has many health benefits. It is naturally gluten free, rich in dietary fiber, vitamin C, K and iron, and is […] Read More
Prep Time
15 Minutes
Difficulty
Easy
Cook Time
180 Minutes
Serves
6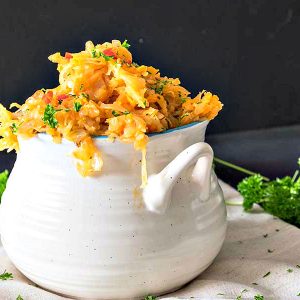 Sauerkraut Salad With Carrots And Red Pepper
Fermented cabbage has 200 times more vitamin C than raw cabbage before fermentation. As per Dr. Natasha Campbell-McBride, MD, "With every mouthful of sauerkraut you're consuming billions of beneficial microbes which will be killing the pathogens in your gut driving them out and replenishing the beneficial flora in your digestive tract." In this healthy sauerkraut […] Read More
Prep Time
10 Minutes
Difficulty
Easy
Cook Time
10 Minutes
Serves
4-6