Best Gluten-Free Rustic Bread Recipe
Prep Time
15 Minutes
Difficulty
Easy
Cook Time
45 Minutes
Serves
1 loaf
Average Rating: 4.5 | Rated By: 5 users
You will love this gluten-free rustic bread recipe for its taste and simplicity. This rustic bread is made with chia seeds and buckwheat flour which give this delicious bread crispy crust and rustic German rye flavour.
Ingredients
1 ½ cup warm water
1 ½ tsp. GF rapid yeast
1 Tbsp. agave nectar
1/3 cup GF chia seeds
3 cups all purpose gluten-free flour blend
½ cup buckwheat flour
1 ½ tsp. sea salt
1/3 cup extra virgin olive oil
Instructions
Preheat oven to 350 F
In a small bowl mix water, yeast and agave and set aside for 15 minutes
In a large bowl mix chia seeds, flour and sea salt.
Add yeast mixture and olive oil into dry ingredients and with a spatula mix together until you have a bread dough consistency.
Cover with a dry dishcloth and let the dough rise to twice its size. About 1 hour Take the dough out of the bowl and knead for about a minute. Place in a bread loaf pan and cover with a dry dishcloth for another hour
Using a sharp knife make 4 slices across the top about ¼ inch deep and place the bread in a pre-heated oven on the middle rack.
Bake for 40 – 45 minutes or until the crust becomes golden brown.
Remove bread from the pan and place on a wire rack to cool. Enjoy!
Similar Recipes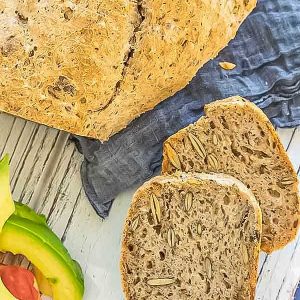 Best Gluten-Free Artisan Bread
Finding a gluten-free artisan bread recipe that is simple to make and tastes this good is not easy. Before I decided to make the bread, I tried various combinations of flours and seeds until finally, I got that perfect gluten-free artisan bread. This is a rustic bread packed with seeds and grains. The bread has […] Read More
Prep Time
10 Minutes
Difficulty
Easy
Cook Time
40 Minutes
Serves
1 loaf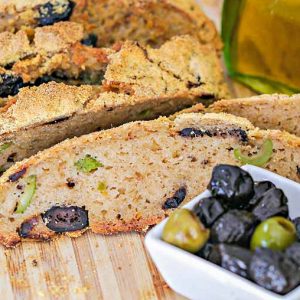 Gluten Free Mediterranean Olive Bread
If you like olives, you will love this gluten-free olive bread, it is mouthwatering with a crispy crust and is very addictive. This recipe is super easy to make no need for long kneading, but you will need a cast iron pot with a lid that is big enough to fit the bread in. Read More
Prep Time
15 + 3 hours resting Minutes
Difficulty
Easy
Cook Time
50 Minutes
Serves
12
Gluten Free Herb and Garlic Bread
See how easy it is to make this no fail gluten free herb and garlic bread. The bread is soft on the inside and has delightful herb and garlic flavour throughout. This bread makes a lovely presentation when baked in a bundt pan When you think of making gluten free bread, let your favourite herbs […] Read More
Prep Time
15 Minutes
Difficulty
Easy
Cook Time
60 Minutes